Just in time for the holidays, Meraki, located at 939 S. 2nd St., has launched a new bar program under the direction of new front of house manager, Shannon Stich.
Stich is the former assistant general manager and bar manager at Zarletti Mequon. She is also a past participant in numerous bartender competitions, including the Guinness "Perfect Pint" cocktail competition in April, the Jim Beam sazarac competition in May and most recently the winner of the Korbel Old Fashioned bartender competition which wrapped up in November, during which she debuted the Autumn Day Old-Fashioned, incorporating apple cinnamon syrup and smoke.
Among new offerings are a number of "culinary inspired" cocktails mixed up based on season ingredients being used in the restaurant's kitchen.
"For us, 'culinary inspired' is really working with the kitchen," says Stich. "I'm pulling things out of the cooler, out of the freezer. And I'm taking a basic recipe for a dish and putting it into cocktail form. It's really something that's setting us apart from other places."
Here are four of the new cocktails to try on your next visit.
1. Radio Black
The radio black, demonstrated by Stich, features gin infused with cranberries, simple syrup infused with Chinese black tea, cranberry juice and selzer with rosemary and lime for garnish.
2. Heirloom Mule
"When you think of winter, it's all about squash and storage vegetables," notes Stich. "So, we took acorn squash, roasted it and then infused it into vodka for this take on the Moscow Mule. We added black pepper, cinnamon and demerara sugar syrup. And we top that with ginger beer, which really pops. And it's just like a baked acorn squash. It's pretty too."
3. Using Your Noggin'
"Using Your Noggin' was a collaboration with pastry chef, Chelsea Rolander," says Stich. "She made an eggnog custard which we piked with Captain Morgan spiced rum with housemade marshmallow fluff that's torched and topped with ground nutmeg."
4. Tale of the Raspberry Fox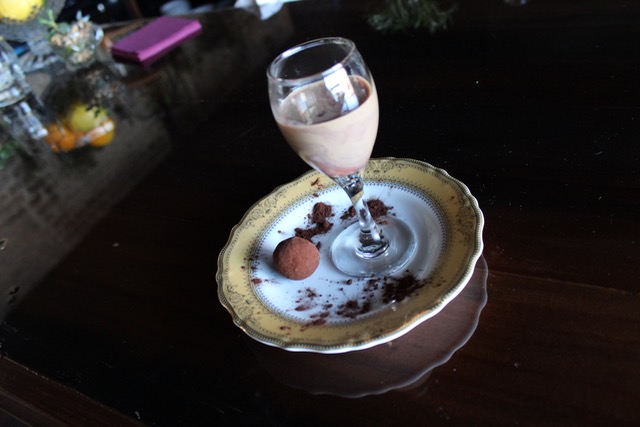 This drink, made from Godiva dark chocolate and Chambord is paired with one of Rolander's chevre and dark chocolate truffles.
Additional cocktails include buttered rum and Stich's award winning Autumn Day-Old Fashioned, with cocktails priced from $6 to $9.
Weekday happy hour specials are also offered Monday through Thursday from 4:30 to 6 p.m. Specials include $7 pours on Meraki's complete selection of wine (regularly priced $7-16), $5 rail drinks and $5 tap beers (regularly $6), including Left Hand milk stout, Founders Dirty Bastard Scotch ale, Brenner Star Baby IPA, Lakefront My Turn Todd and Krombacher Pils. There are also $5 small plates including wings, poutine, spring rolls and chips and dip.
Meraki is open Monday through Saturday from 4:30 p.m. until closing. For reservations call (414) 897-7230 or visit restaurantmeraki.com.
Lori Fredrich (Lo) is an eater, writer, wonderer, bon vivante, traveler, cook, gardener and girlwonder. Born and raised in the Milwaukee area, she has tried to leave many times, but seems to be drawn to this quirky city that smells of beer and alewives.
Some might say that she is a little obsessed with food. Lo would say she is A LOT obsessed with food. After all, she has been cooking, eating and enjoying food for decades and has no plans to retire anytime soon.
Lo's recipes and writing have been featured in a variety of publications including GO: Airtran Inflight Magazine, Cheese Connoisseur, Cooking Light, Edible Milwaukee, Milwaukee Magazine and the Milwaukee Journal Sentinel, as well as on the blog Go Bold with Butter, the web site Wisconsin Cheese Talk, and in the quarterly online magazine Grate. Pair. Share.