The holidays are a great time for getting together with friends and family. They're also an excellent time for indulging in a bit of tippling. And if you're a beer lover, it doesn't get much better than Belgian holiday brews.
The tradition of holiday beer dates back at least 2,000 years. During the winter festival of Saturnalia, the ancient Romans drank wine seasoned with honey and spices, a brew some historians believe was the precursor to spiced winter beers. Similarly, the Vikings created strong malty brews which were to toast Odin and other Norse gods during holiday celebrations. In Europe, similar traditions developed during the Middle ages when beer brewing monks made it a tradition to create soul-warming brews during the winter months.
Today, Christmas beers run the gamut in terms of style and flavor, though most are higher in alcohol than their year-round counterparts, and many feature a combination of fruits, spices or flavorings that evoke the holiday spirit. But not every holiday brew is dark and heavy. Classic brews like Stella Artois and Chimay Blue were both brewed up as holiday beers, neither fitting the stereotypical profile of a hefty spicy brew.
In the spirit of the season, the Lowlands Grand Cafes (Benelux, Centraal and Hollander) have rolled out a very special list of holiday brews that are perfect for enjoying during the holiday season. Among their featured brews for 2016 are classics like Delirium Noel, Silly Burgundy barrel aged Scotch Ale, along with special brews like Gulden Draak Brewmaster's Reserve, the infamous Belgian triple matured on whiskey barrels.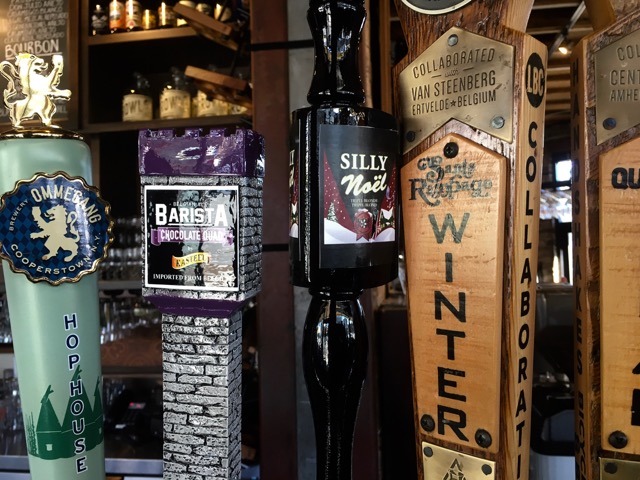 But there are also a number of Lowlands Grand Cafe exclusive offerings which you'll only find in Wisconsin at Lowlands Grand Cafes. And if you sip your way through the list, you'll see examples of how diverse holiday beers really can be.
1. Silly Noel
This beer is brewed by sixth-generation brewer Lionel Van Der Haegen. It's a non-traditional triple that exhibits a clean, fresh flavor with subtle fruit, mild hoppiness and delicate vanilla notes that mask its 9% ABV. It's an excellent food beer that will go with just about anything upon which you'd like to nosh.
2. Petrus Sour Quad
This intentionally sour brew is made by fifth-generation brewer Albert De Brabandere. Offering up the rich flavors of a quad, with a dry finish, this beer is accessible even for folks who don't normally love sour beers. It's a great pairing for fried foods, including the traditional Friday night fish fry.
3. Kapittel Winter
This Abbey Ale pulls together flavors like tart Morello cherries, cumin and coriander along with chocolate aromas and dark malt and dried berry notes.
4. Santa Rampage
This exclusive brew is a result of the Lowlands Brewing Collaborative, namely a partnership with The Brouerij Van Steenberge in Ertvelde, Belgium. Coriander, orange peel and caramel come together in this festive Belgian dubbel that will warm you to the core.
5. Bom Triporteur Bling Bling Imperial King
This exclusive "pimped out" golden ale brings big fun to the table with a crisp bitter-sweet brew that's made with four different house-roasted malts that are baked with real gold. You might not be able to see the flecks of gold in this baby, but you'll taste the sparkle in this bold brew that offers up both a malty mouthfeel along with sweet notes of tropical fruit.
Lori Fredrich (Lo) is an eater, writer, wonderer, bon vivante, traveler, cook, gardener and girlwonder. Born and raised in the Milwaukee area, she has tried to leave many times, but seems to be drawn to this quirky city that smells of beer and alewives.
Some might say that she is a little obsessed with food. Lo would say she is A LOT obsessed with food. After all, she has been cooking, eating and enjoying food for decades and has no plans to retire anytime soon.
Lo's recipes and writing have been featured in a variety of publications including GO: Airtran Inflight Magazine, Cheese Connoisseur, Cooking Light, Edible Milwaukee, Milwaukee Magazine and the Milwaukee Journal Sentinel, as well as on the blog Go Bold with Butter, the web site Wisconsin Cheese Talk, and in the quarterly online magazine Grate. Pair. Share.