Either Dan Nelson is a genius or he's been really lucky.
In 2014, Neson opened the 600 East Cafe and the 600 East Business Center co-working space in the first floor of the building at 606 E. Wisconsin Ave. that he'd bought eight years earlier as a new home for his advertising and marketing business, Nelson Schmidt Inc.
To help engage with passersby, Nelson added a walk-up coffee ordering window to the cafe on the corner of Jackson and Wisconsin.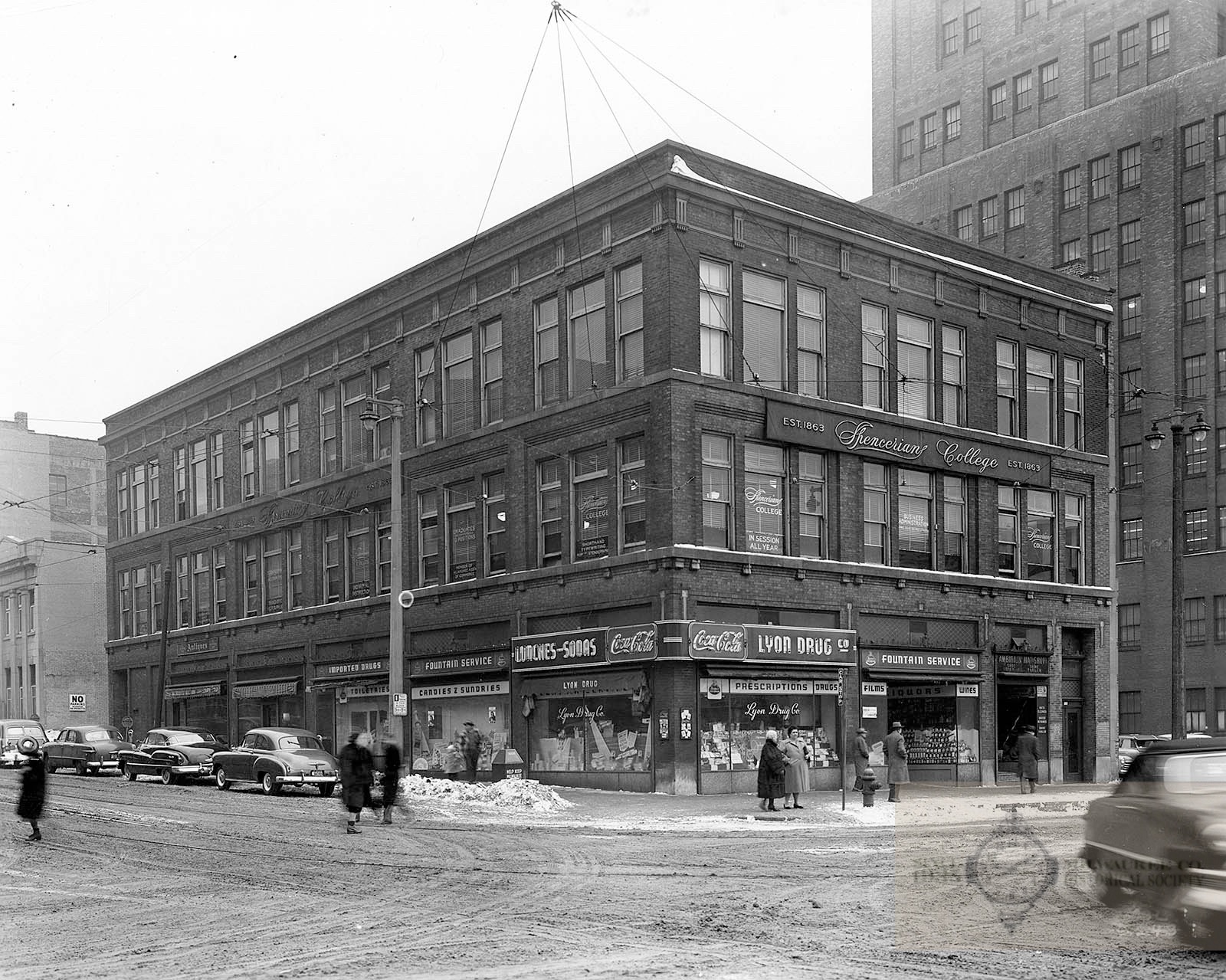 Skip ahead to the arrival of the pandemic, and 600 East was thus already equipped to serve customers who couldn't, or wouldn't, enter a cafe, as well as folks who needed or wanted a workspace that offered social distancing.
"I put the window in as a function of (being) a coffee drinker," Nelson recalls. "We all have our fix and we have our pattern of how we get that, and I figured if we're going to interrupt that pattern, we'd better make it very convenient for customers to find us the first time."
The cafe itself was born out of the idea that Nelson Schmidt's own employees would need good food near their office.
"We had been here from 2006 and this was now 2013," he recalls. "There was no there's no good quality, fast casual stuff down here and we didn't like that."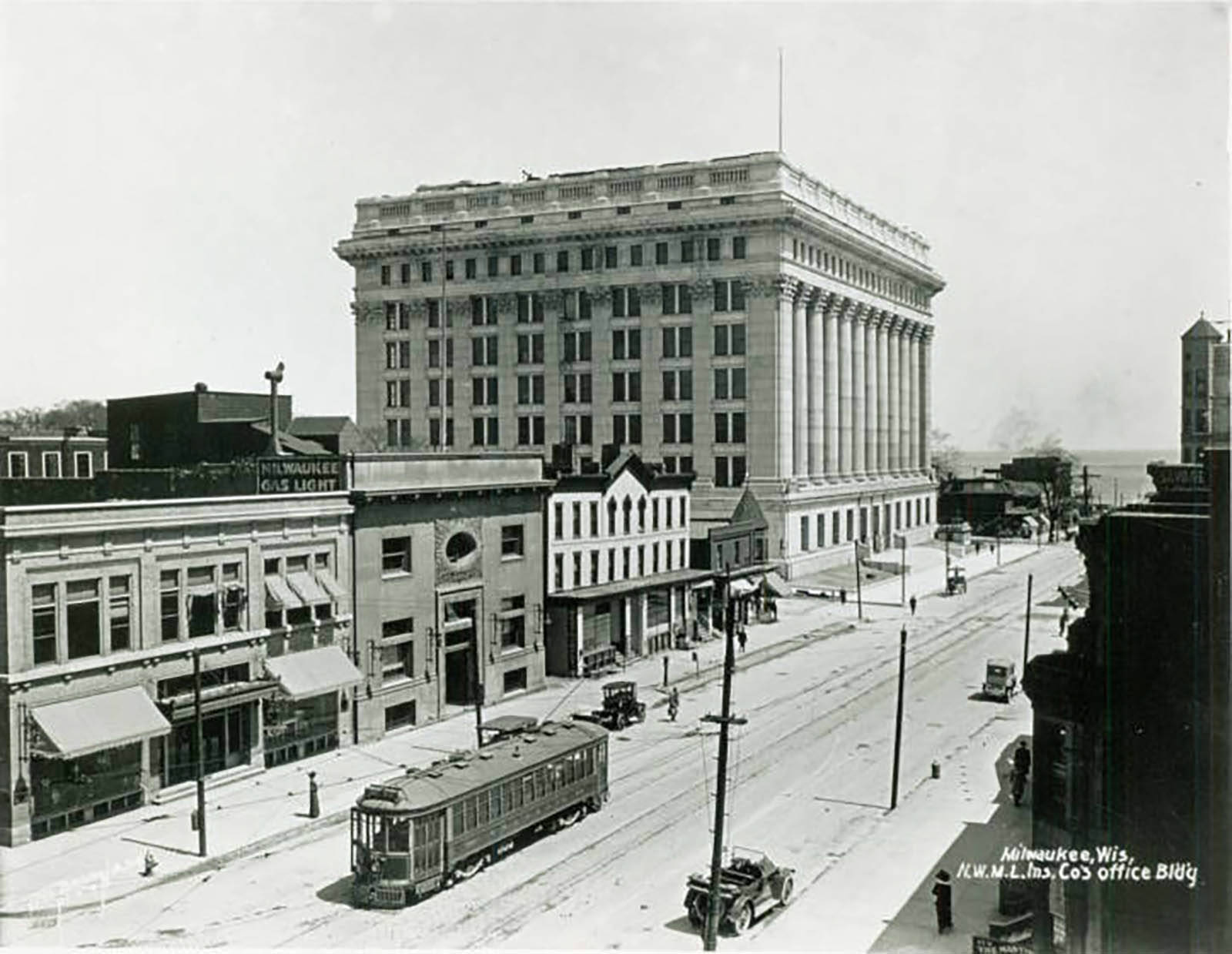 So Nelson – recalling that Starbucks had earlier expressed interest in a 20-year lease on the space ("Starbucks' research department probably knows something I don't," he figured) – thought, "what if we put a cafe in?
"Lo and behold, what we'd learned was not only was it great for Nelson Schmidt employees to have very good quality local ingredients freshly made," he says, "the community responded, too."
As much the window feels like an amenity for those of us seeking coffee on the fly, the cafe has also become a selling point for Nelson Schmidt's HR department, says Nelson.
"Now, (the employees) have taken ownership of it. It's never going to go away. It's become a part of Nelson Schmidt as an employer – for recruiting, for retention – because all of our staff gets free breakfast, free lunch, all the snacks they can have. It's like your office cafeteria, but open to the public."
The co-working space has been similarly popular, especially since the great office exodus of March 2020.
And now that the building's east wall is home to a three-story Mauricio Ramirez mural depicting Giannis Antetokounmpo – Nelson is a long-standing Bucks season ticket holder – the building has drawn international publicity.
If anyone ever wants to know where 600 East is, it's enough to mention the mural. You can hardly buy that kind of presence. These days, you might as well call it the Giannis Mural Building.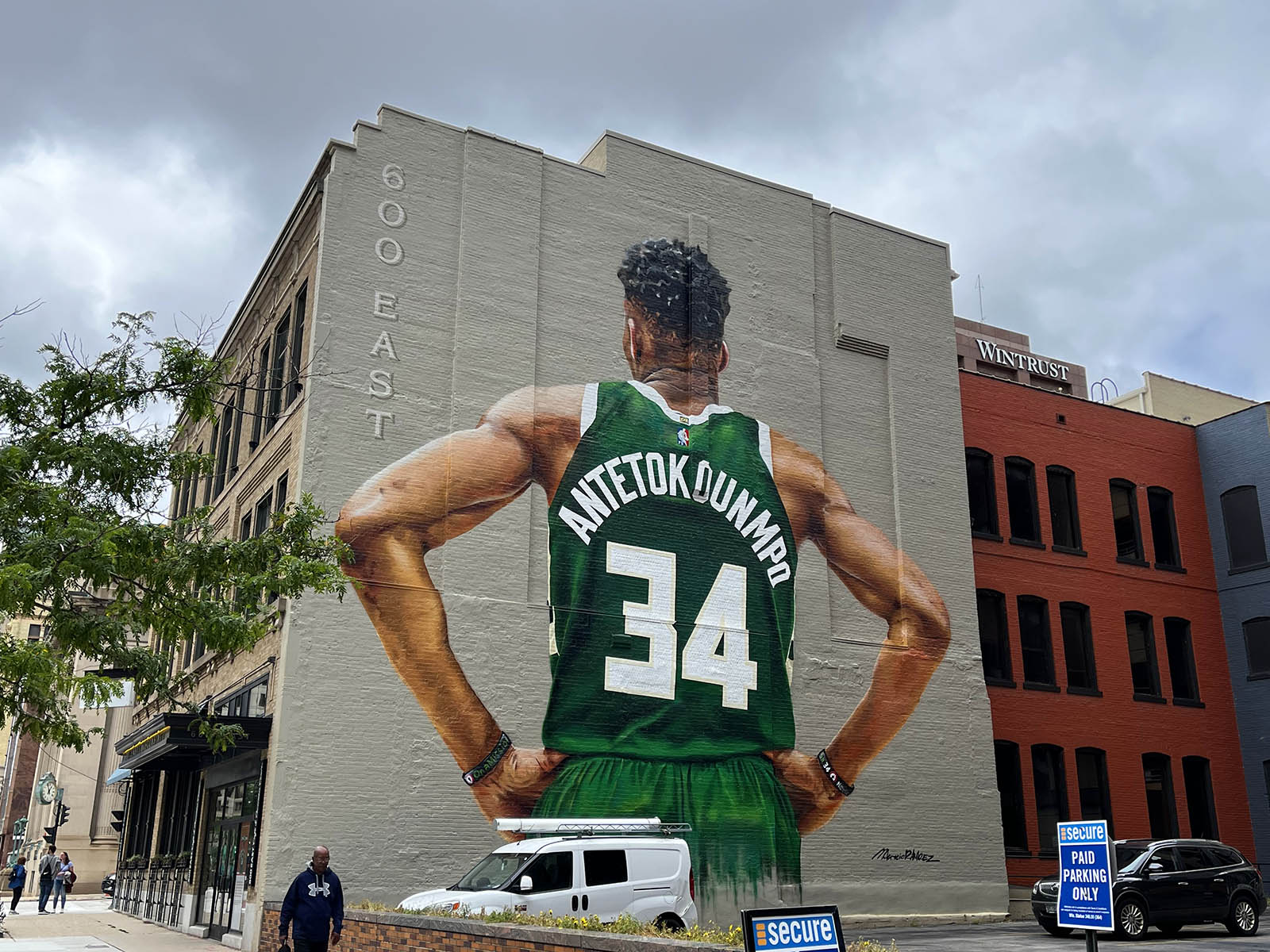 But the 1913 structure, designed by Schnetzky & Son, has a long history and one that's tied not only to two other buildings that were on the street, but also to a long-lived Milwaukee college.
A little history
Erected as a two-story building for the Wisconsin Gas Light Company to use as its showroom, 600 East sat alongside the 1901 Alexander Eschweiler-designed company headquarters.
In 1922-23 a third floor was added.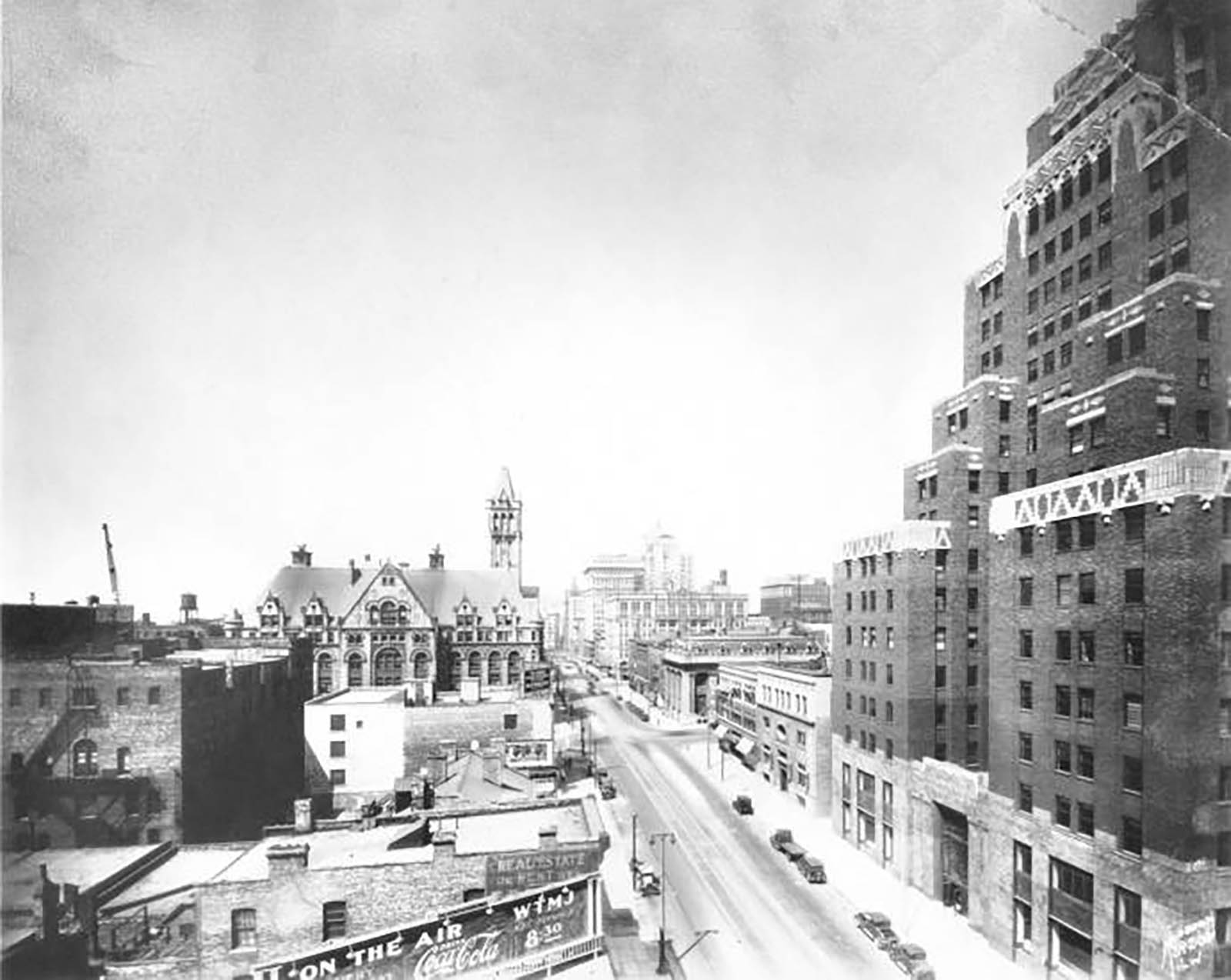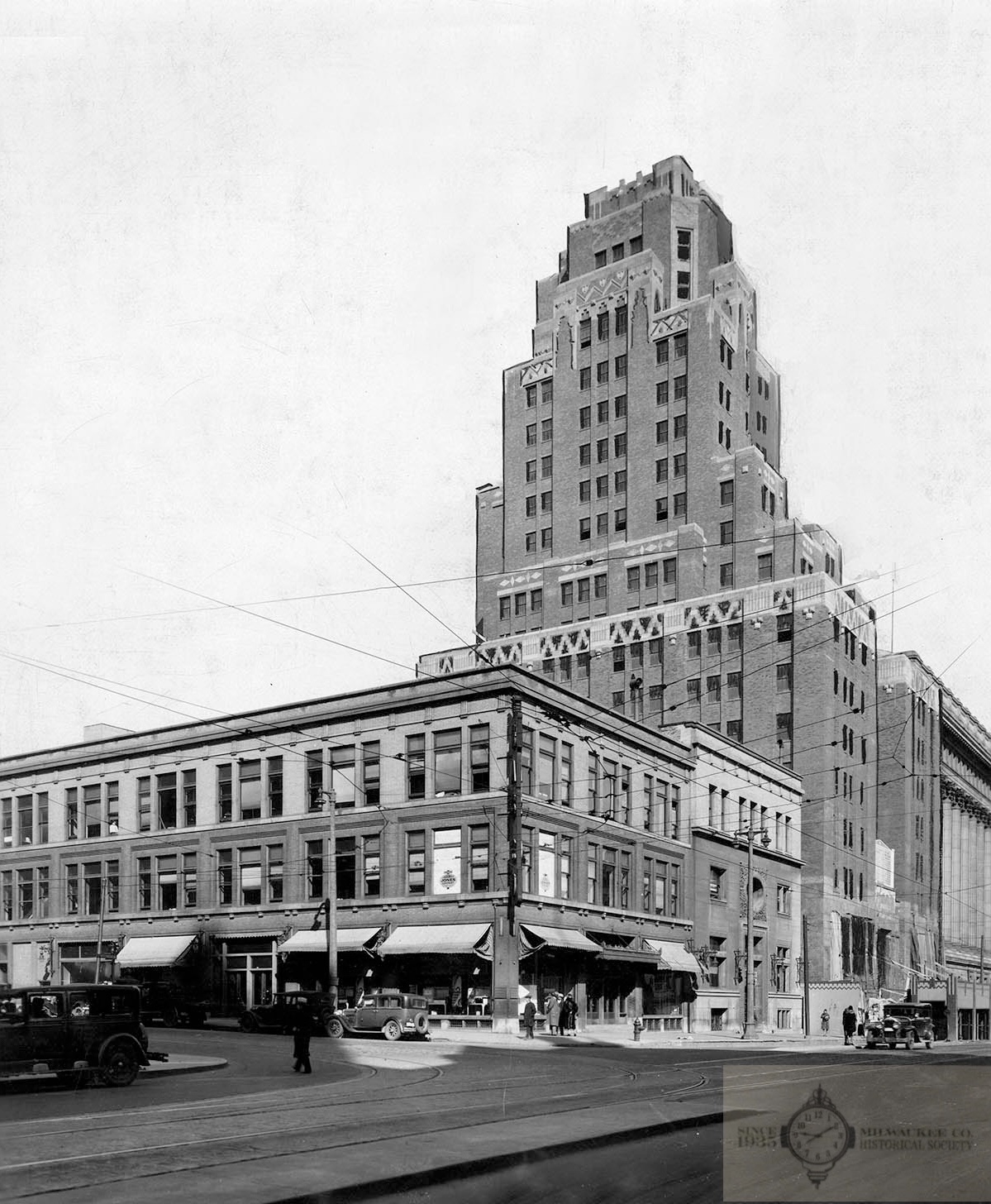 At the end of that decade, Eschweiler drew a towering new headquarters building to the east on the same block and that Art Deco gem has become a Milwaukee icon – especially once the weather-forecasting "flame" was added to the top in 1956.
In 1934, due to what the Journal called a combination of high tax assessments and ebbing demand for office space during the Depression, the earlier Eschweiler building was razed, after discussions of converting it to a restaurant or a nightclub went nowhere.
If you'll allow me an aside, it's worth mentioning that before Wisconsin Gas Light Co. bought the site, it had been the location of an 1850s home built for Judge Andrew Galbraith Miller.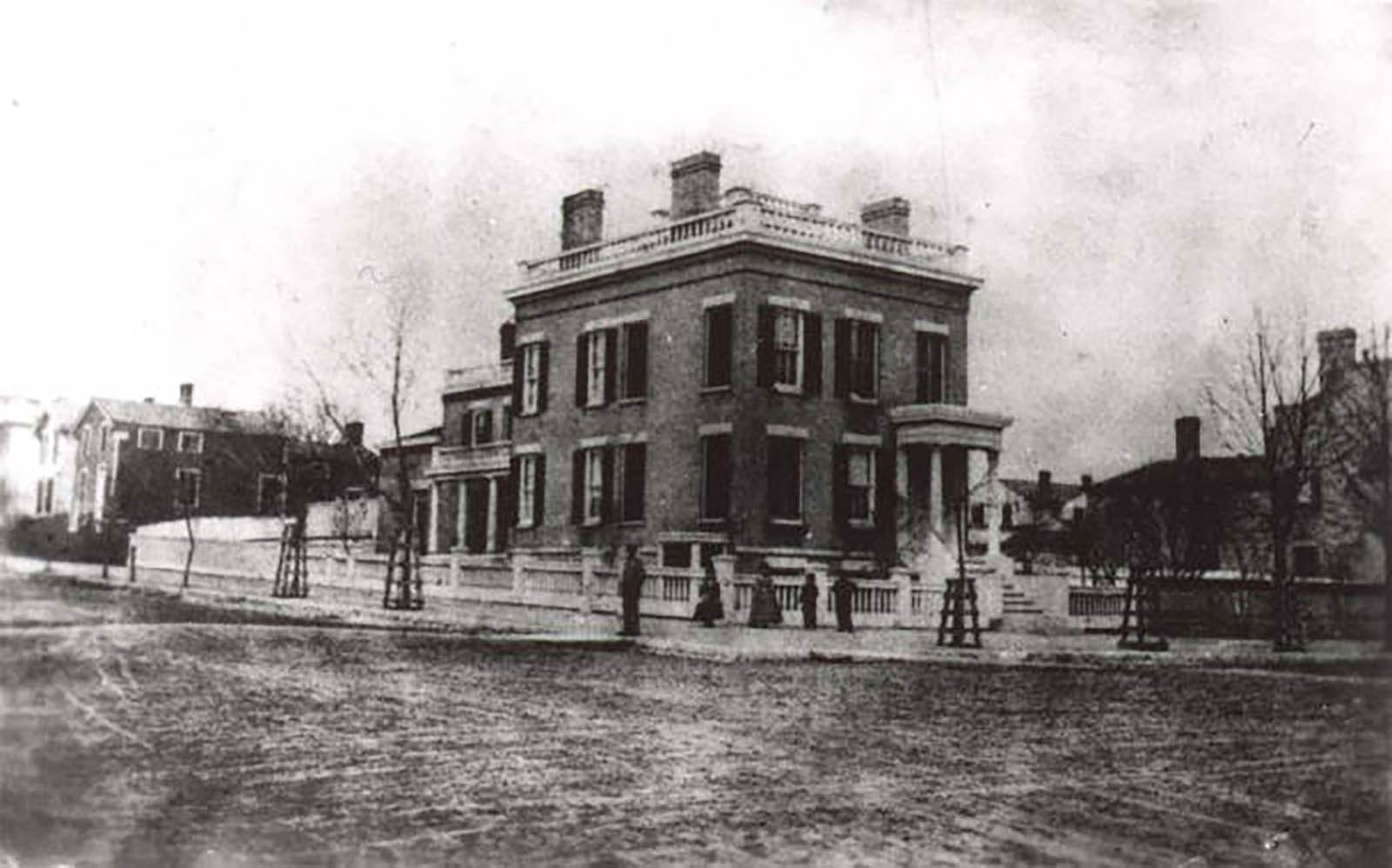 Born in Pennsylvania, Miller graduted from Washington College in that state in 1819 and was admitted to the bar three years later. In 1838, he moved to Milwaukee to take a position as associate justice of the Wisconsin Territorial Supreme Court, a position he held for a decade.
In 1848 – the year Wisconsin achieved statehood – he was appointed judge of the U.S. District Court for Wisconsin, where he served until 1870. He then sat three more years as judge on the U.S. District Court for Eastern Wisconsin.
Retiring in 1873, Miller died a year later.
His home was then purchased by Dr. N. A. Gray.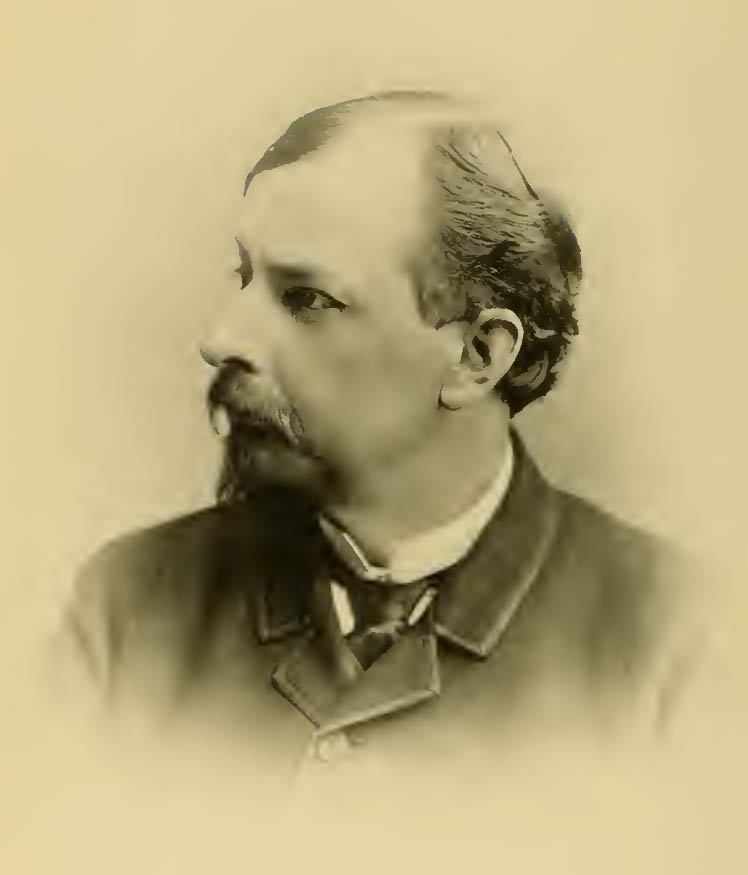 Nathaniel A. Gray was born in Portland, New York, in 1842 and moved to Milwaukee with his parents in 1856. His father, Dr. Alfred W. Gray, was one of the city's earliest physicians, invited here by a homepathic medicine colleague named Dr. Daniel Brown. He was also an occasional preacher who could often be found in the pulpit at the city's First Presbyterian Church.
The elder Gray sent his son Nathaniel to New York to study medicine at the New York Homeopathic College, during which time the latter also worked at Bellevue and New York Homeopathic Hospitals.
Upon graduation in 1867, young Gray returned to Milwaukee, where he set up a successful practice and was a member of the board of trustees at the Milwaukee County Hospital for the Insane and a similar institution in Oshkosh.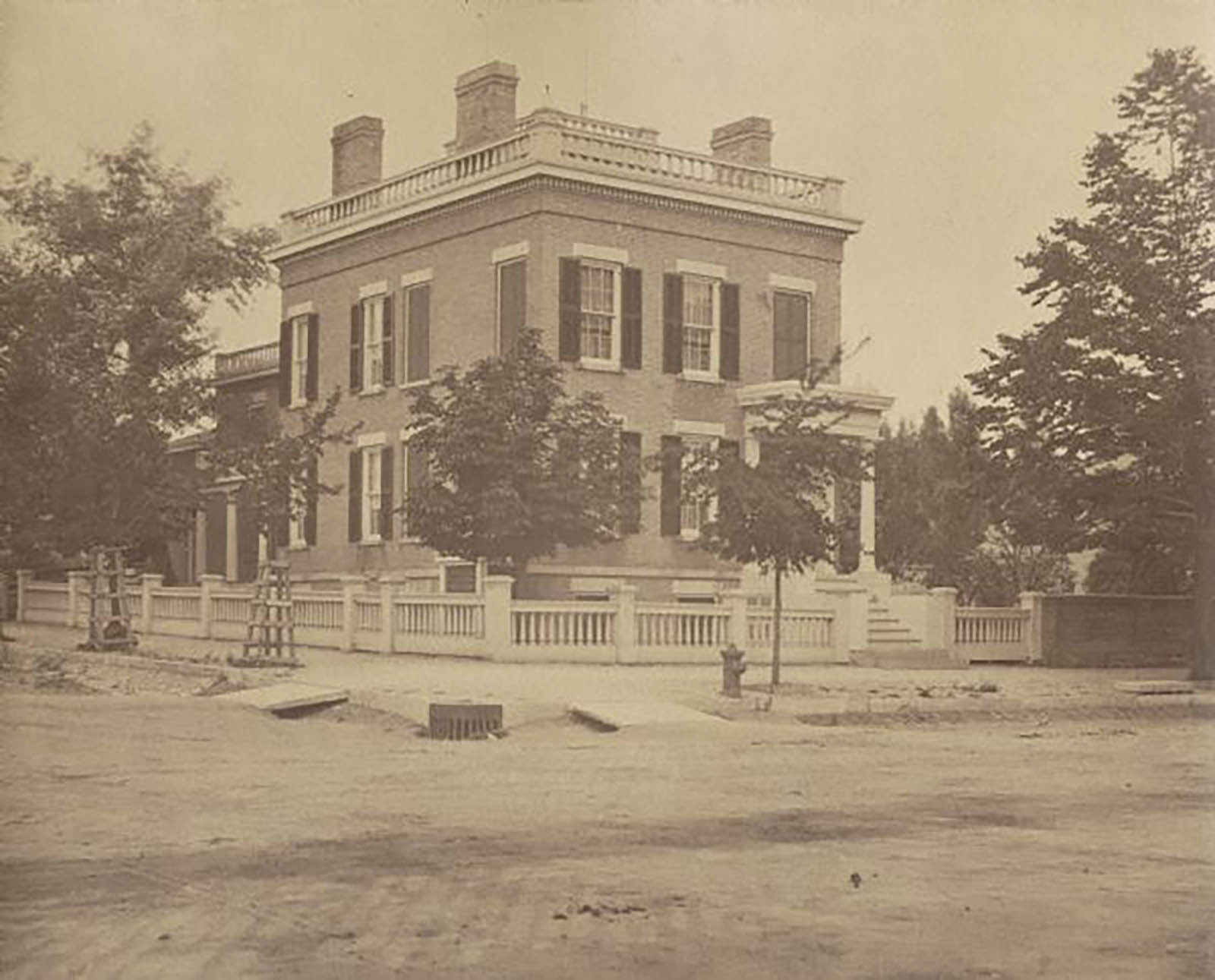 Nathaniel Gray's son, Alfred W., followed in the footsteps of his father and grandfather, also becoming a doctor.
By 1898, however, their Wisconsin Street house was home to a Mrs. Himmel.
Classifieds in 1904 advertise it as a 10-room house for rent and by 1909 it had been operating as a rooming house.
The 1910 Sanborn Fire Insurance map shows the site to, by then, also have two smaller store structures, including one that appears to have been attached to the house. Those were home to a cigar vendor and a tailor and shoeshine stand.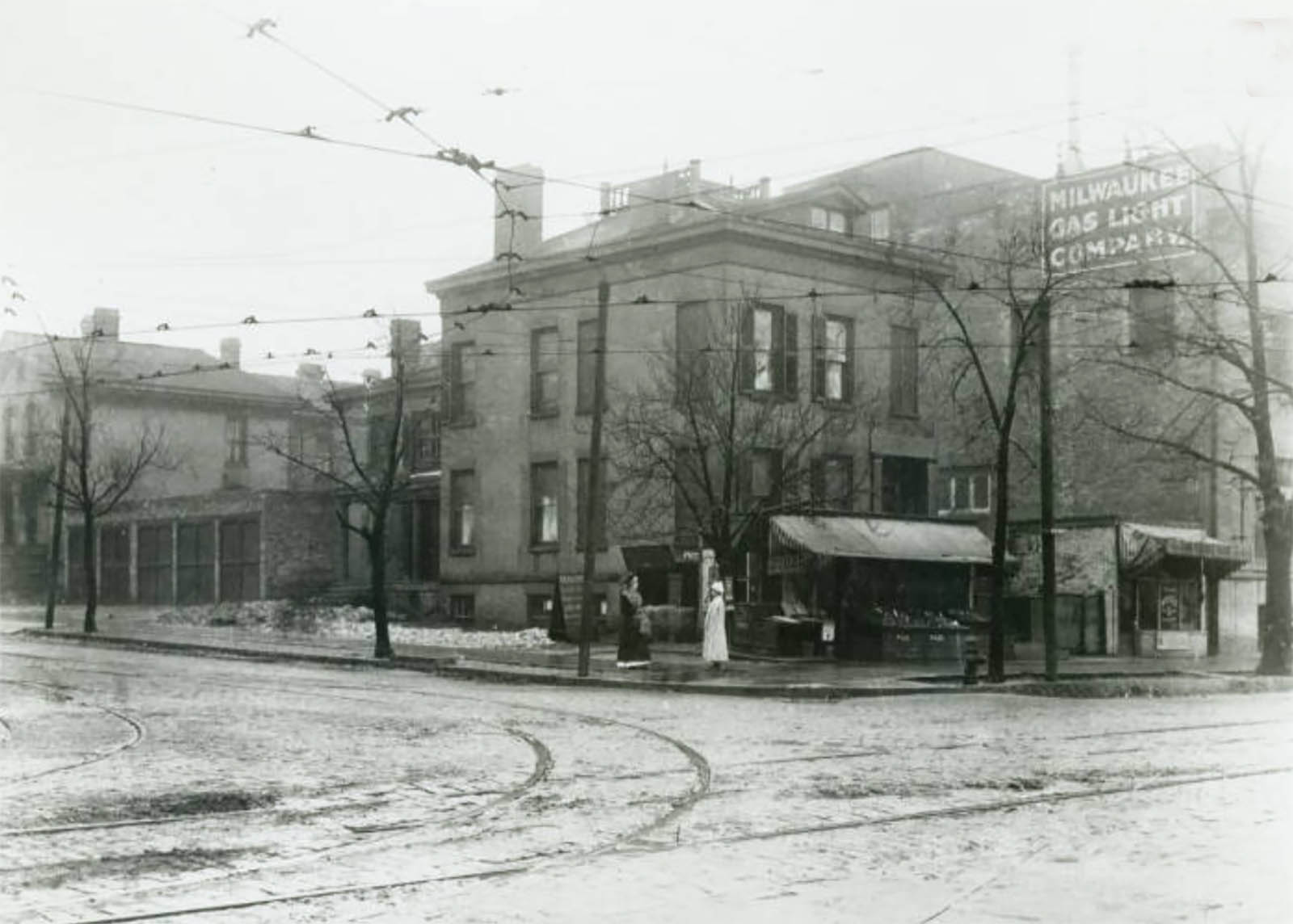 The last reference I find to the house is a somewhat suspect ad, reading, "girls wanted, musical comedy co., no experience necessary, call quick."
Spencerian College
While Wisconsin Gas customers perused gas-fueled appliances in the company's showroom on the main floor of the 1913/1922 building, the upper floors were, for many years, home to Spencerian College, which offered degrees in business skills, including, among others, stenography, court reporting, accounting and medical secretary training.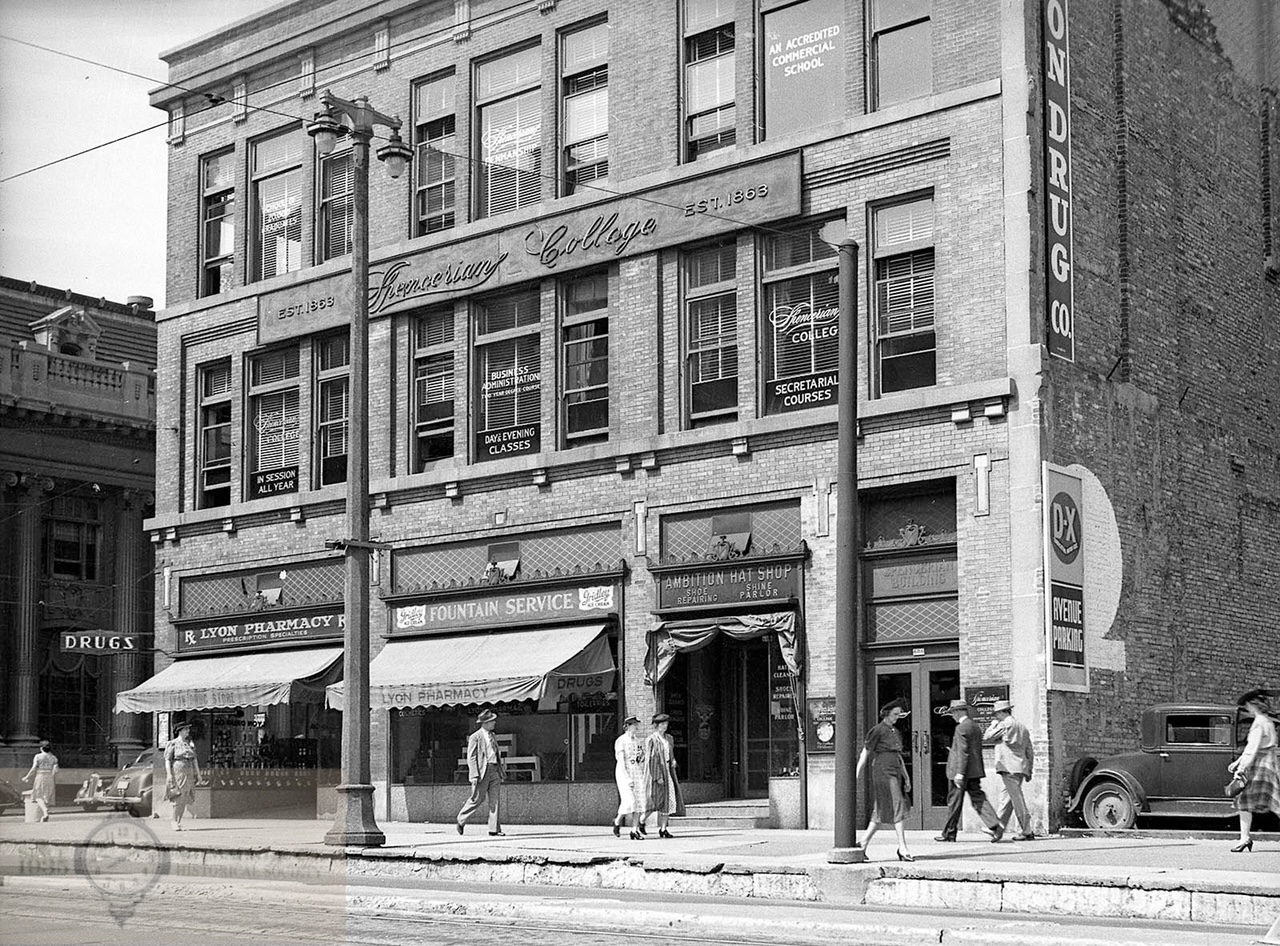 Educator Robert C. Spencer started the school in 1863 and it began granting degrees seven years later. For many years the school occupied space in the Miller Block building on the northeast corner of Broadway and Wisconsin.
Among the graduates that studied in both day and night classes were the likes of Gustav Pabst, Charles Allis and Fred Vogel Jr. (and my grandmother).
The Spencer family opened similar institutions in other cities, too, including Washington, D.C., Louisville/Lexington, Cleveland and Newburgh, New York.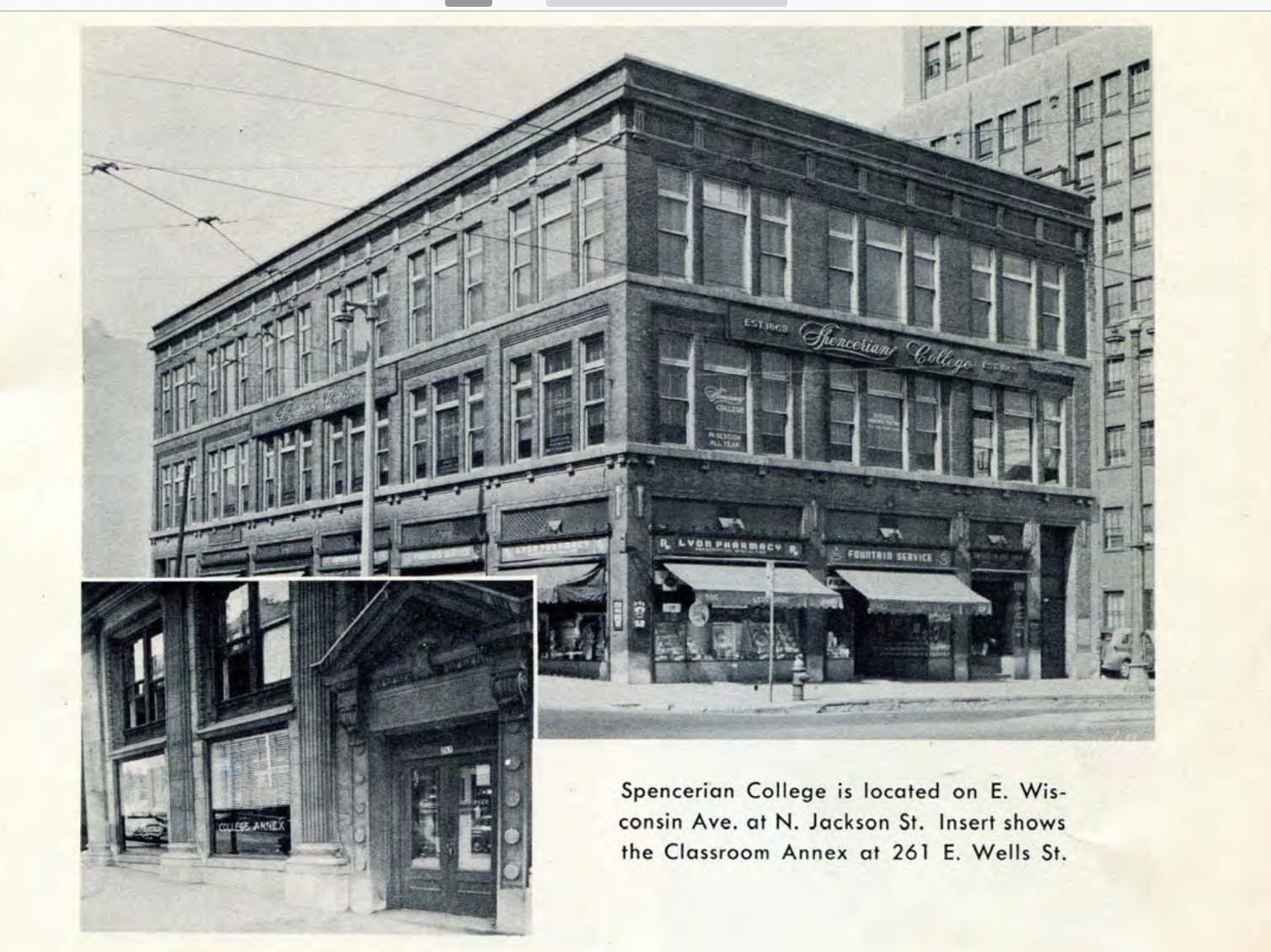 When the Miller Block was torn down in 1928, the school sought a new home and landed at the Wisconsin Gas Building, which had newly freed-up office space thanks to the construction of the gas company's new "skyscraper" next door.
The school – owned since 1923 by educator Ethelyn M. Bennett – remained until 1951, when space demands forced a move.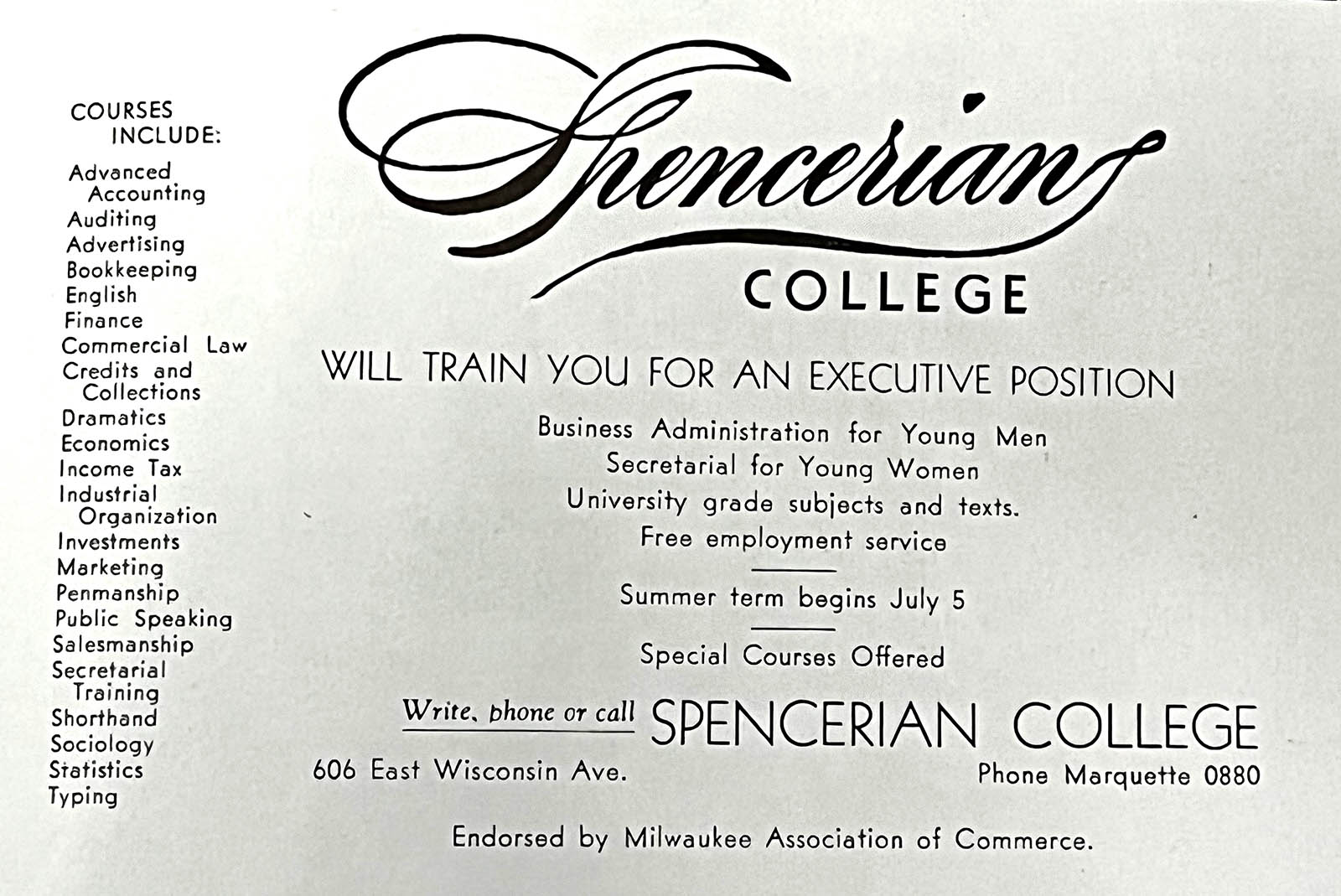 It took up home in an Eschweiler-designed 1911 Georgian Revival Wisconsin Telephone exchange building on 28th and Wright, where it stayed until it built a new building on 24th and Kilbourn in 1972.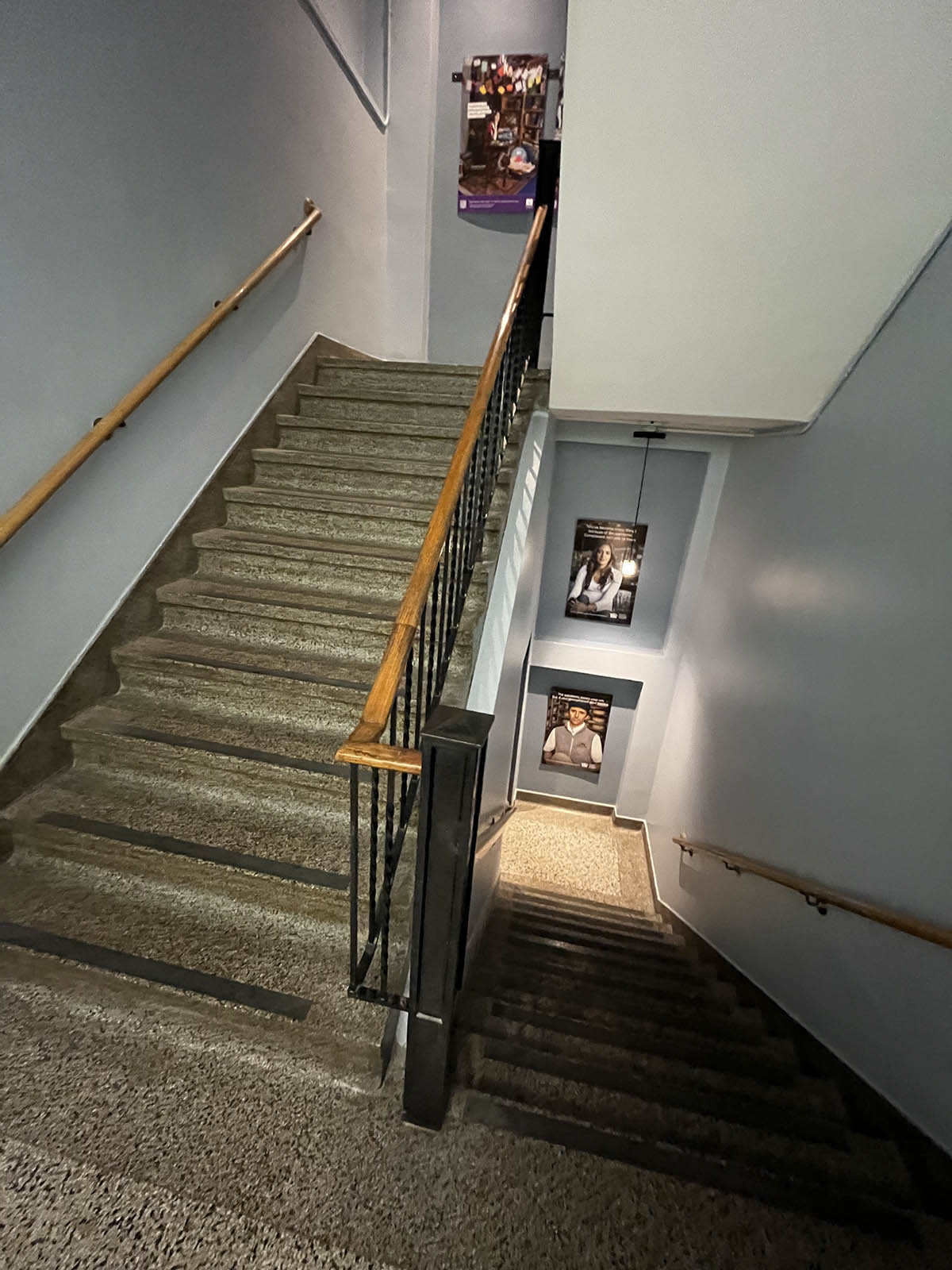 But that three-story building contributed to the school's downfall, as interest payments on it contributed to financial woes.
In 1974, the 498 students that wanted to continue on and earn degrees were able to finish their studies at Concordia College, with which Spencerian had had an arrangement for sharing space and administrators since the previous year.
Later, the first floor space on Wisconsin Avenue was used for retail, including a drug store with a soda fountain.
In more recent years, before Nelson Schmidt arrived, the first floor was home to a printing business that had pretty much turned the building away from the street, covering windows. The upper floors were vacant.
Nelson arrives
Then, Nelson found it while out for a walk one day and made his move. He even passed up space in the Gas Light Building next door to take this building.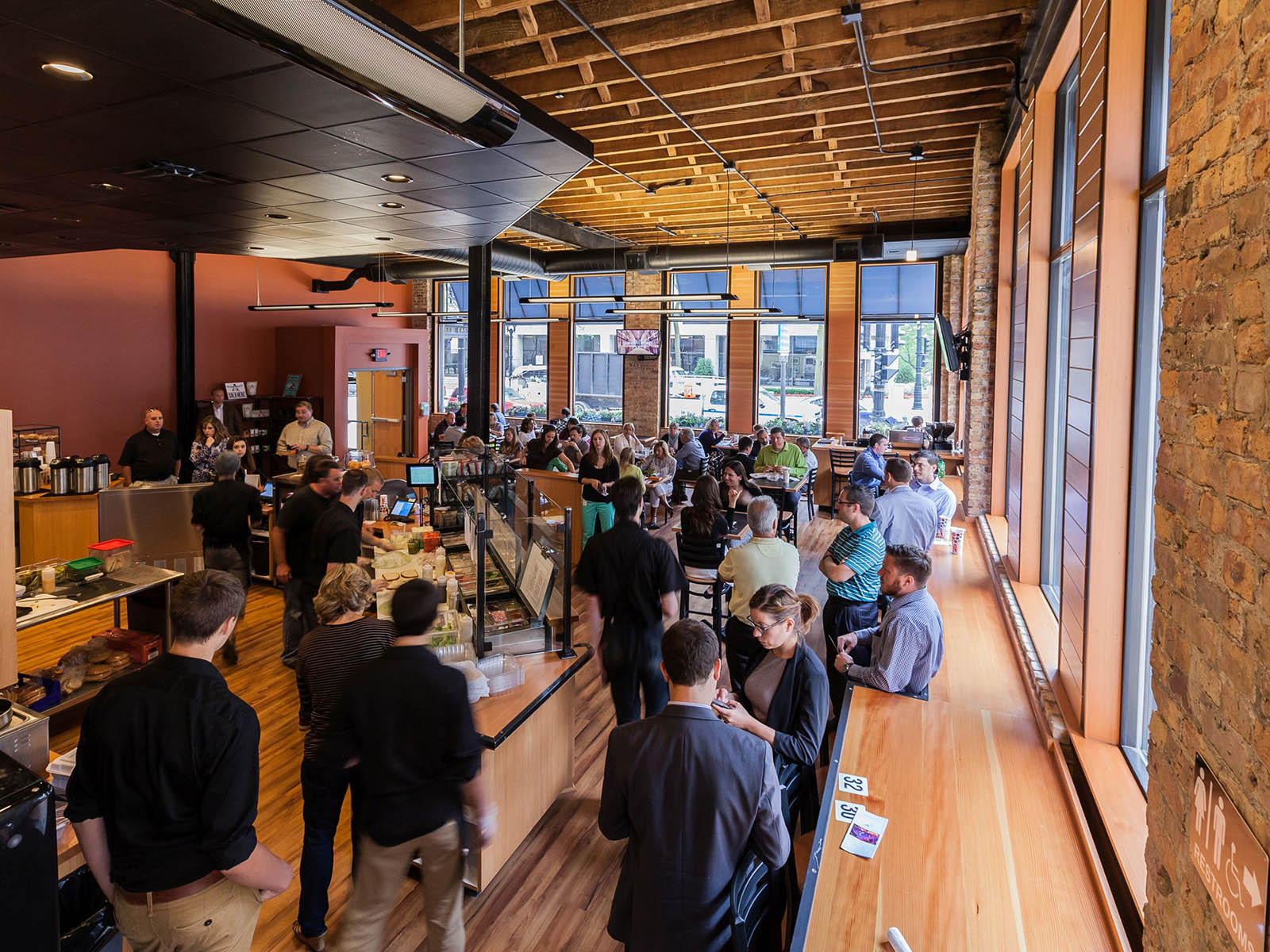 Since then, in addition to creating the cafe and co-working space – where you can see the exposed brick and some steel beam construction so heavy duty it looks like support for a railroad bridge – Nelson has renovated the second and third floors.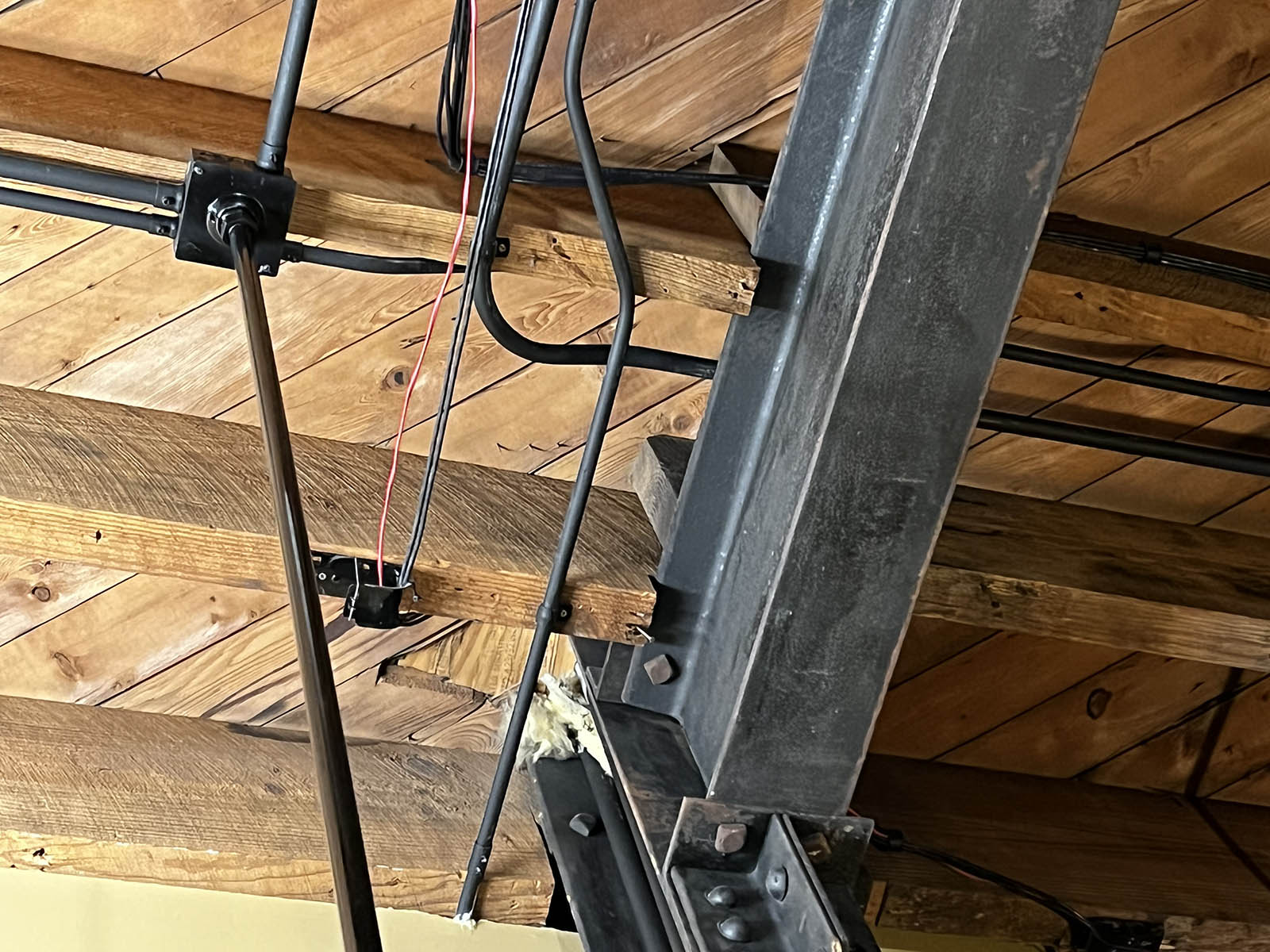 "This is hand-forged on site," says Nelson of those beams. "They had a piece of flat steel and four angle irons and two guys with molten rivets wailing on it with sledgehammers from both sides to fuse it. We know they did it on site because a rivet would pop occasionally and they would do it again."
Some of those dud rivets were tossed aside by workers and Nelson has found them lodged behind the lath and plaster.
He did a ton of work on the space.
"It was all drywall, drop ceilings, classic '70s, '80s type of styling," he recalls. "It was a real eyesore back then. They had fake columns (outside), trying to mirror the Northern Trust building (across the street). They were fiberglass. It was the kind of building you would walk past the not look twice. It was literally invisible in plain sight."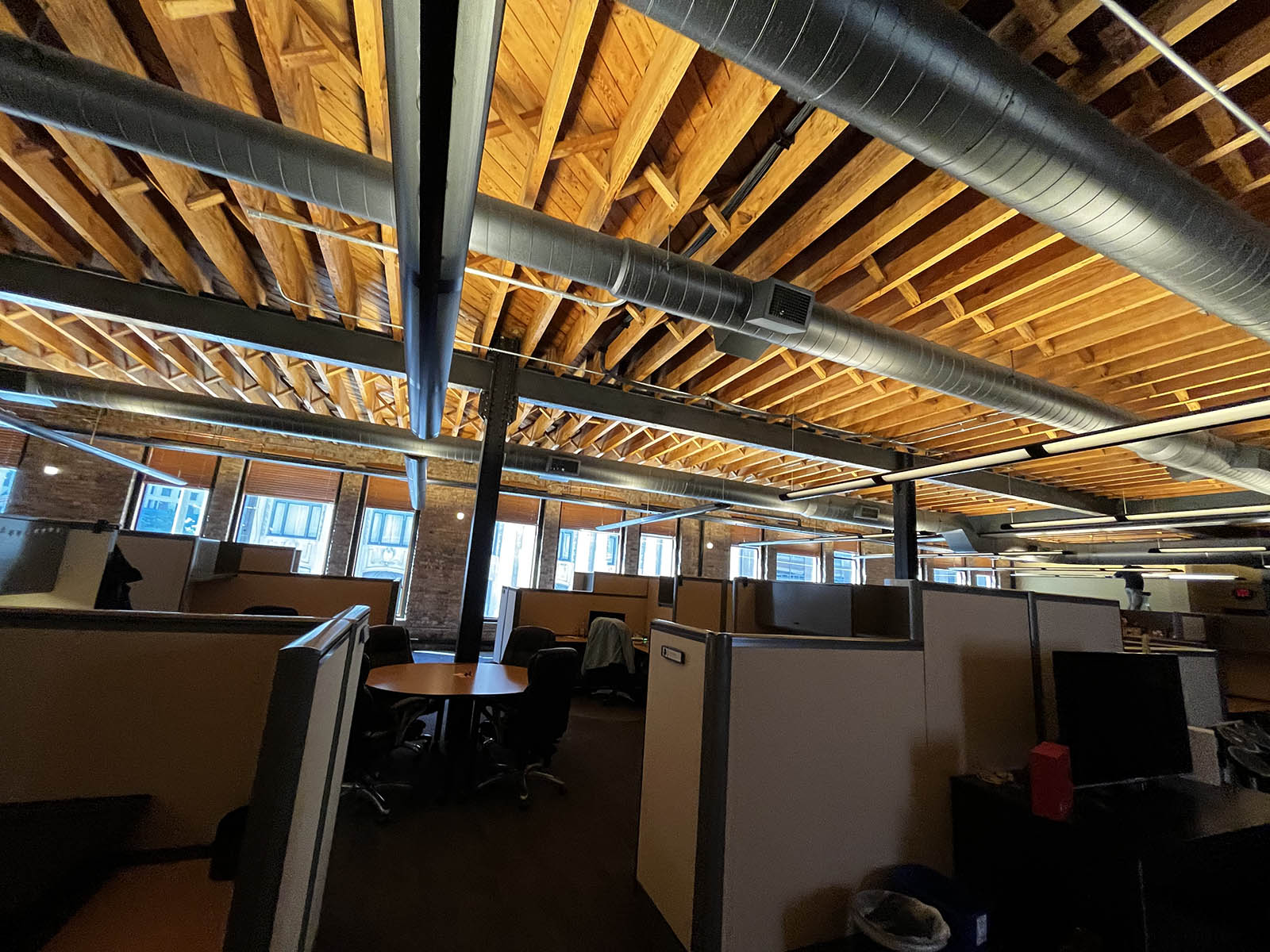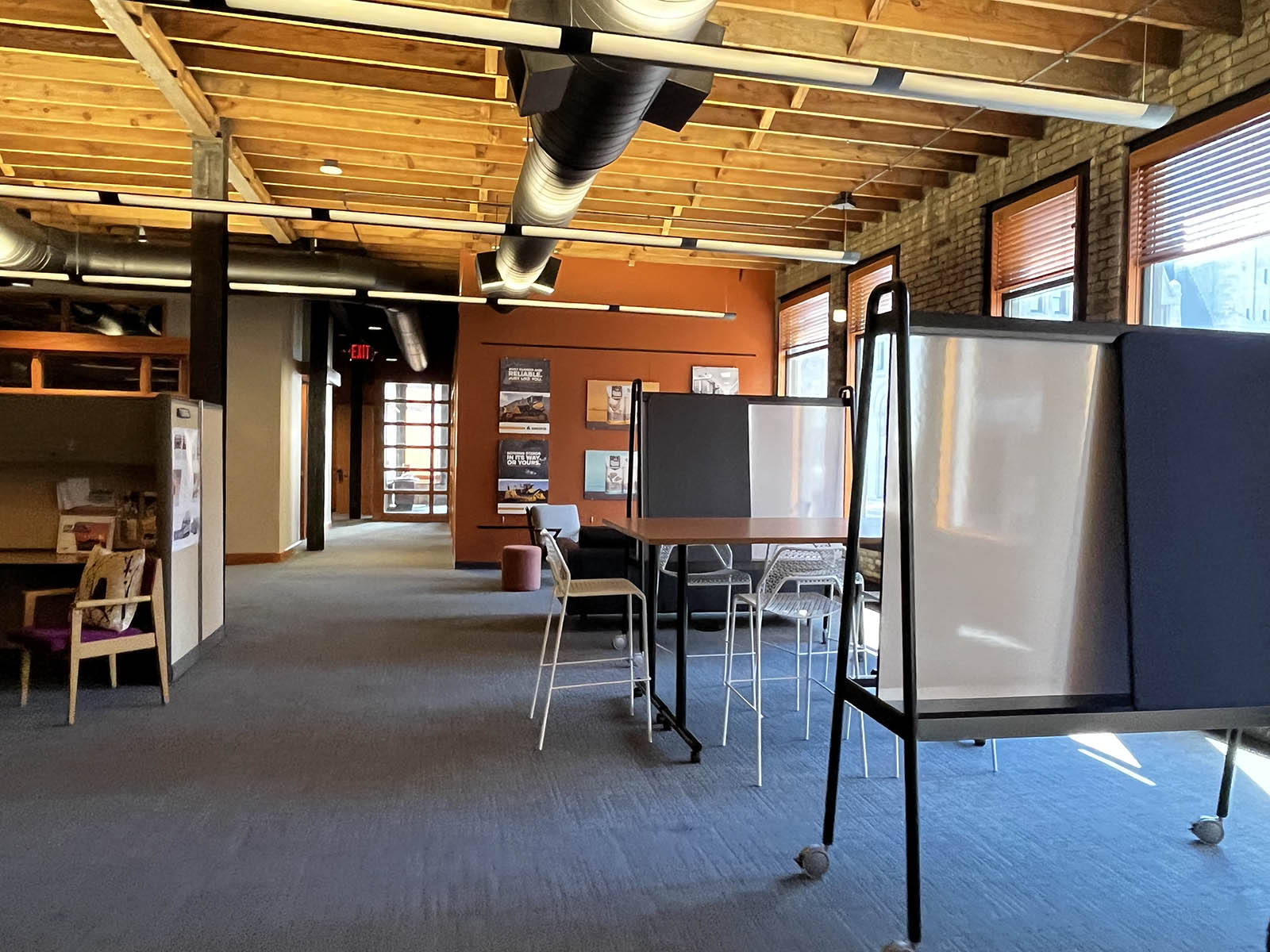 Nelson created office space for his business on the second floor, with exposed brick and high ceilings with exposed joists. It's got warm, low light and feels like a welcoming place to come to each morning.
In a corner office, you can see a heavy steel plate bolted to the brick. According to Nelson this is where streetcar wires had been attached to the building, suspended above the street. Nowadays, there's a sign in that spot outside.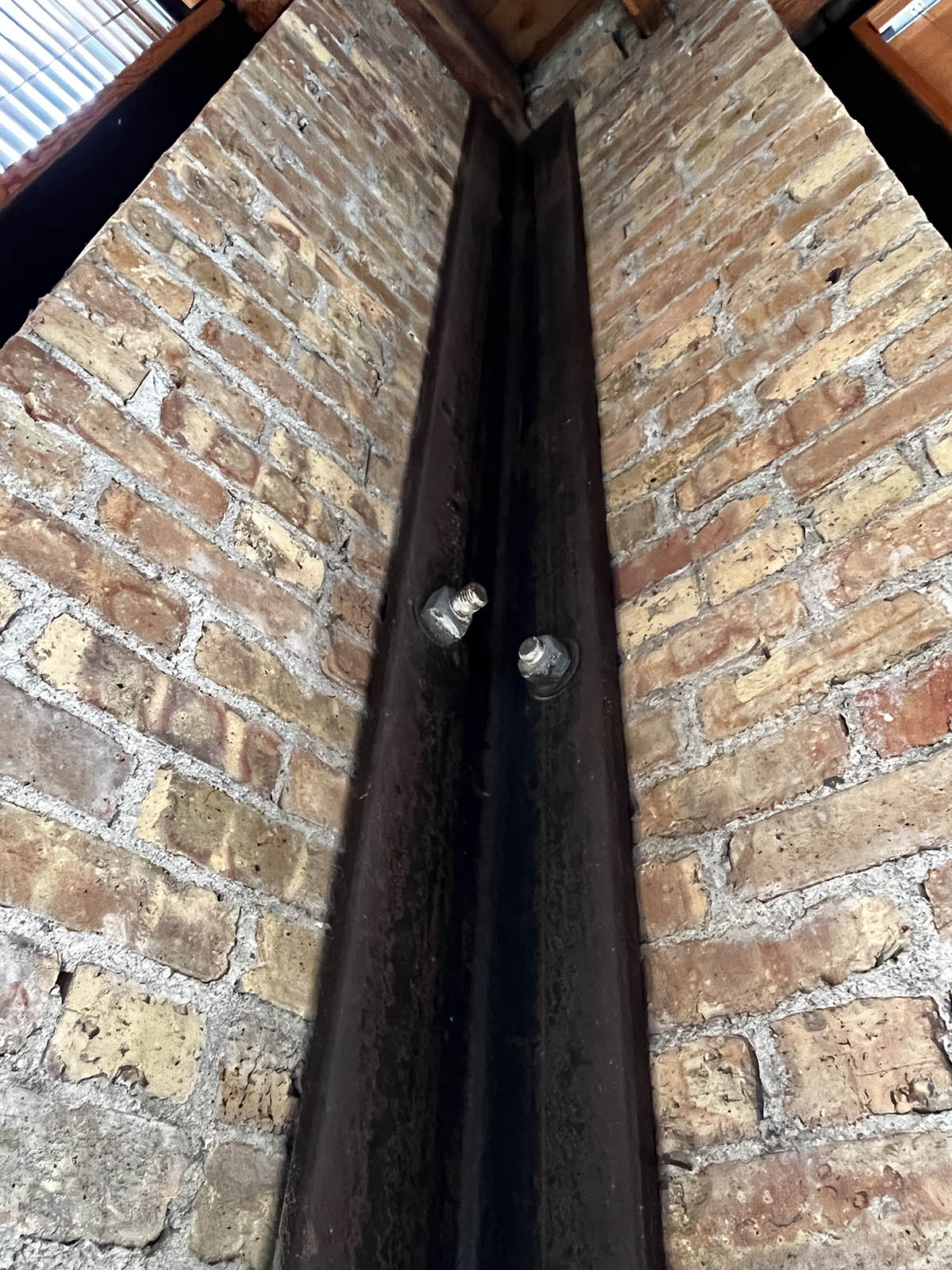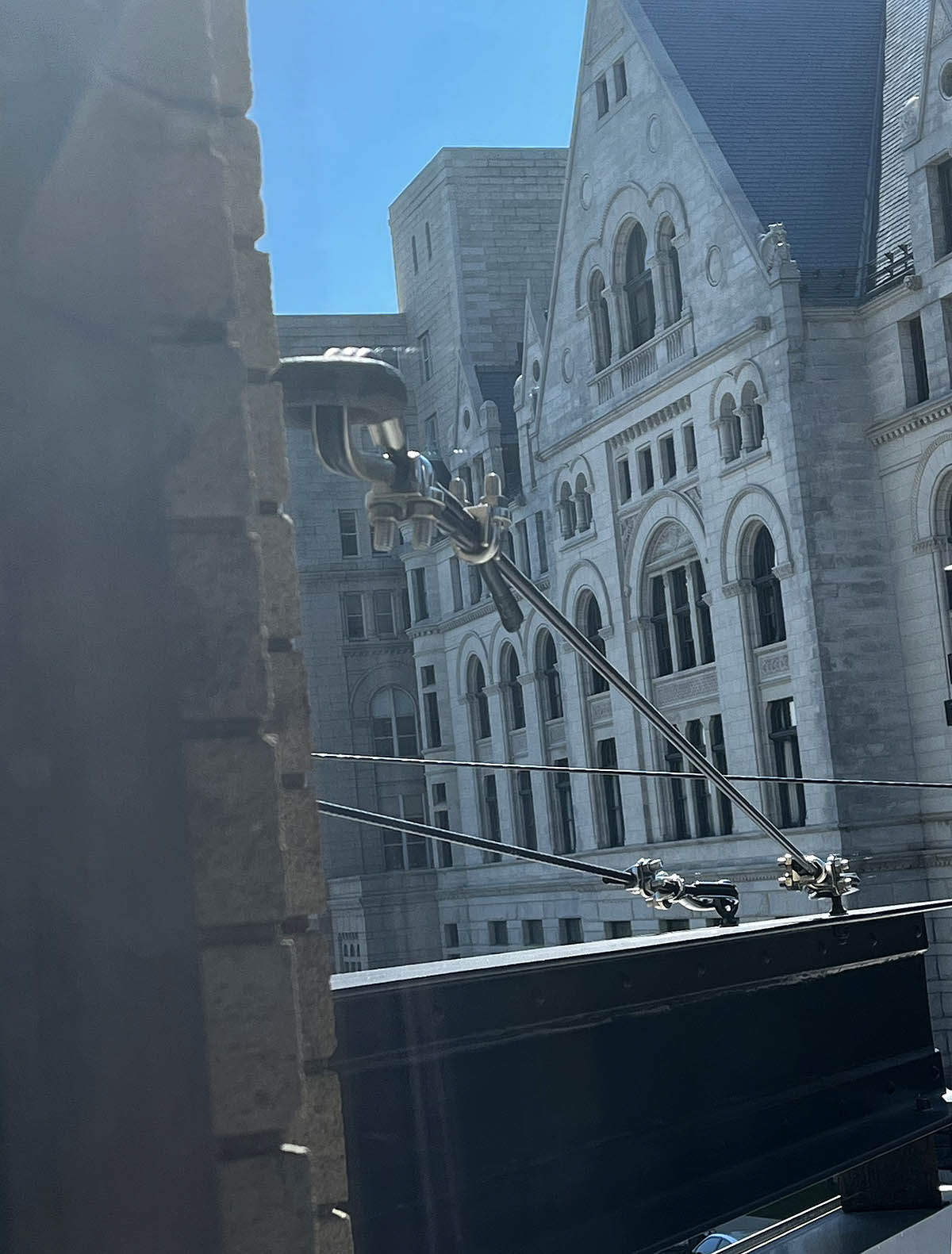 Later, he tackled the third floor, where there is again exposed brick – Nelson can point out where the third floor addition begins in the exterior walls – and an exposed ceiling, where he can also show you the evidence of a fire.
This is a more casual space, with areas to work away from a desk and spaces for more casual meetings, too; an effort, post-pandemic, to try and get workers excited about returning to the office.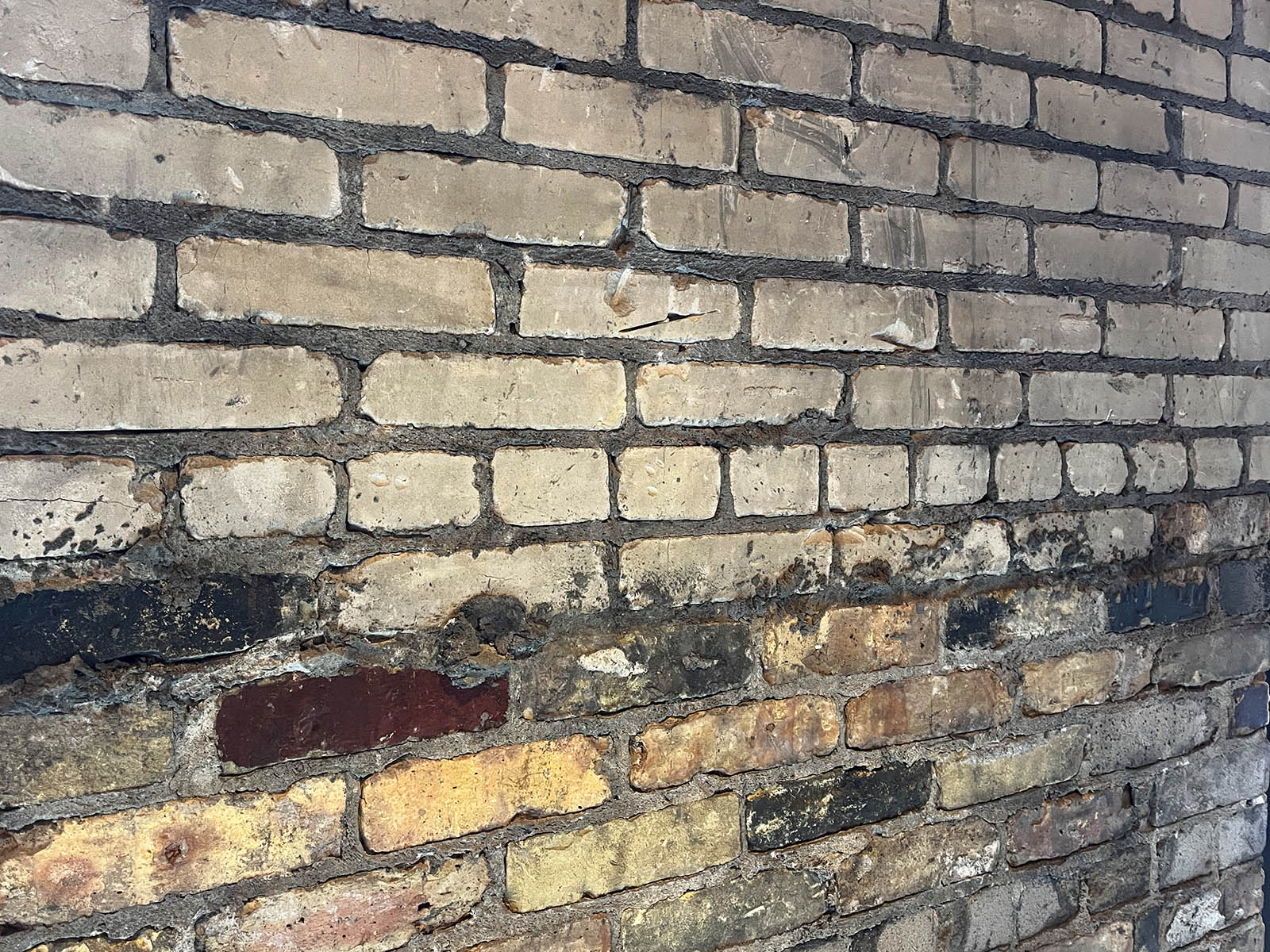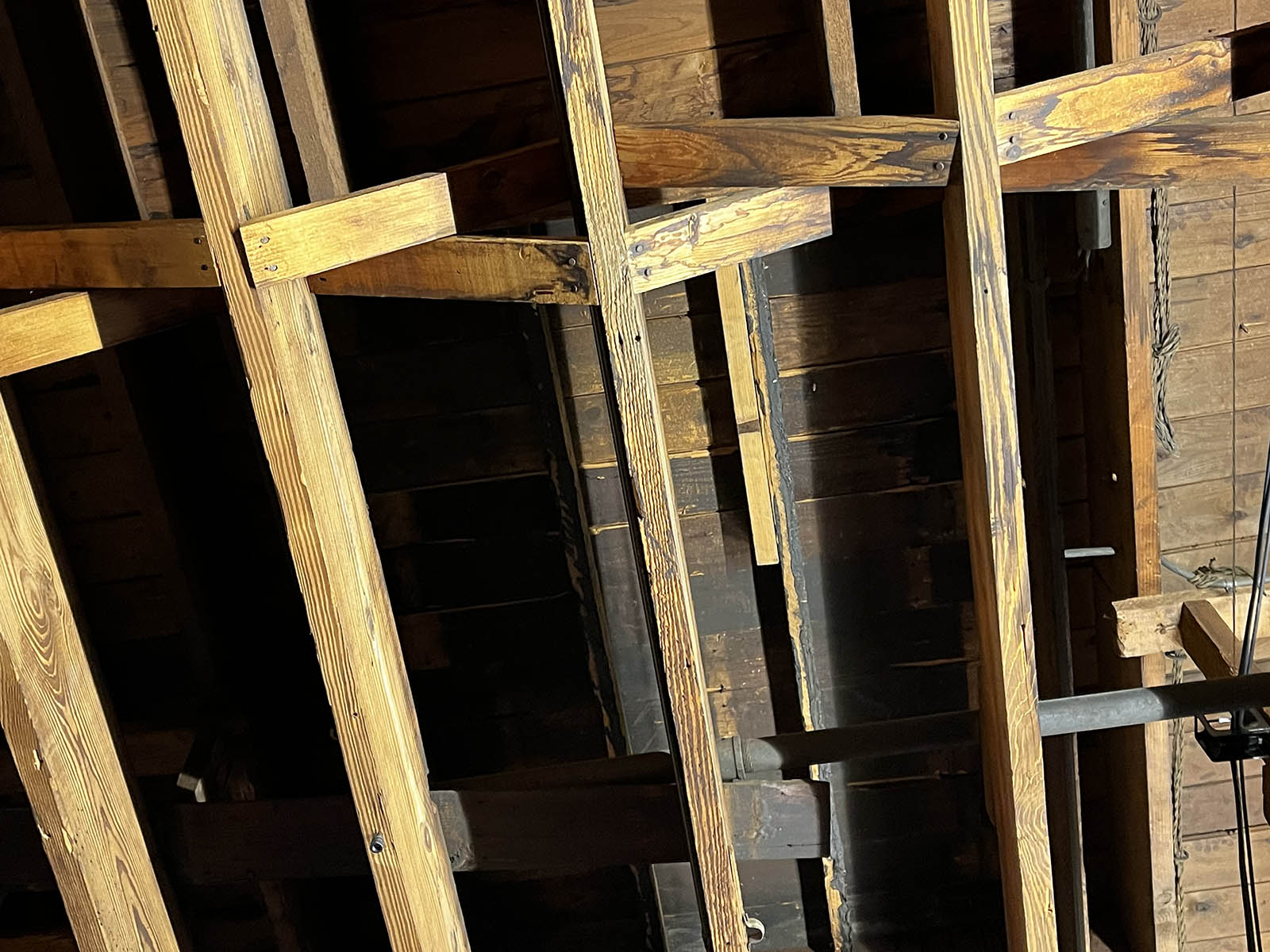 This is also where he and some others have their own offices at the front of the building.
Surprisingly for a history lover, Nelson didn't claim the office in the southeast corner of the third floor. That's where during renovations, a stunning Wisconsin Gas Light ghost sign was uncovered and has been preserved.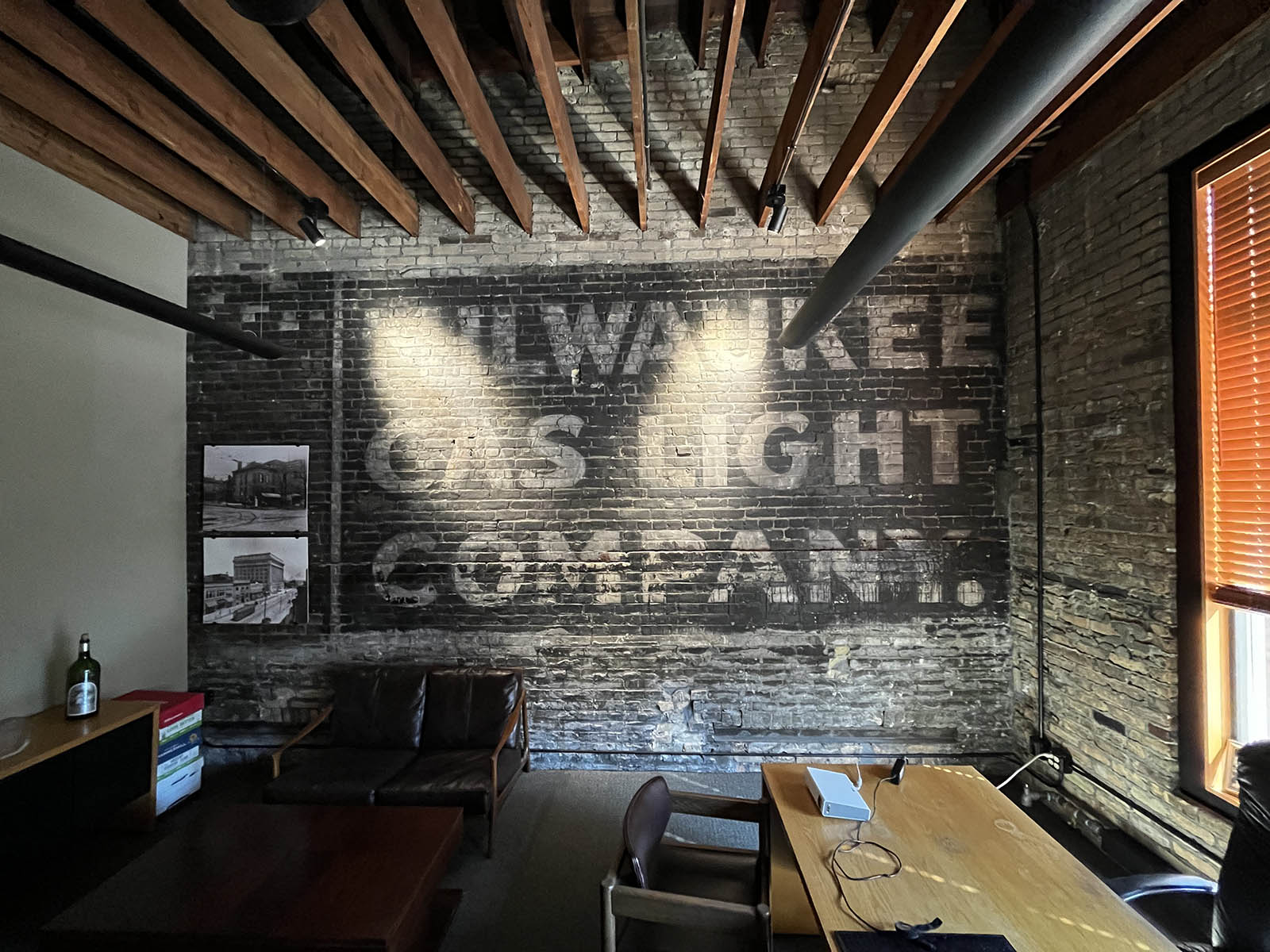 When this building was erected, its didn't get its own east wall.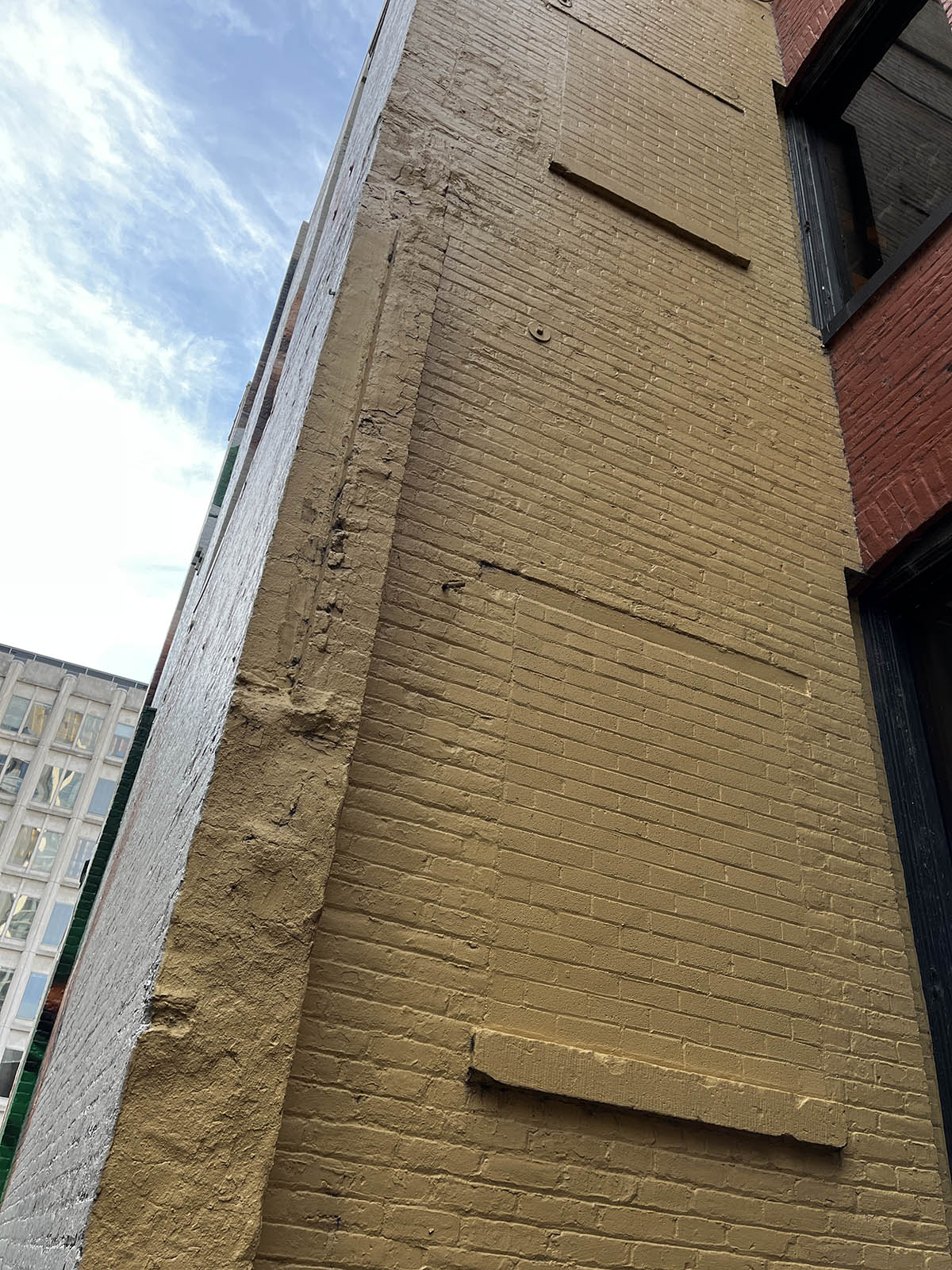 Instead, it was built right up against the old Eschweiler building next door, sharing its wall. And, thus, when that building came down in the 1930s, its west wall had to remain. You can see evidence of this from the outside, too.
On what was once the exterior of that building was this painted sign that survives and is an amazing remnant of a long-gone Eschweiler building.
What's cool to me is that this one wall – which has Giannis painted on the other side – has two of the coolest painted surfaces in Downtown.
Born in Brooklyn, N.Y., where he lived until he was 17, Bobby received his BA-Mass Communications from UWM in 1989 and has lived in Walker's Point, Bay View, Enderis Park, South Milwaukee and on the East Side.
He has published three non-fiction books in Italy – including one about an event in Milwaukee history, which was published in the U.S. in autumn 2010. Four more books, all about Milwaukee, have been published by The History Press.
With his most recent band, The Yell Leaders, Bobby released four LPs and had a songs featured in episodes of TV's "Party of Five" and "Dawson's Creek," and films in Japan, South America and the U.S. The Yell Leaders were named the best unsigned band in their region by VH-1 as part of its Rock Across America 1998 Tour. Most recently, the band contributed tracks to a UK vinyl/CD tribute to the Redskins and collaborated on a track with Italian novelist Enrico Remmert.
He's produced three installments of the "OMCD" series of local music compilations for OnMilwaukee.com and in 2007 produced a CD of Italian music and poetry.
In 2005, he was awarded the City of Asti's (Italy) Journalism Prize for his work focusing on that area. He has also won awards from the Milwaukee Press Club.
He can be heard weekly on 88Nine Radio Milwaukee talking about his "Urban Spelunking" series of stories.