Editor's note: This piece originally ran March 29, 2017. With warmer weather upon us, now is the time to try these! Only applicable links have been updated.
What's better than a delicious, rich milkshake or a frosty ice cream float? How about a milkshake or float spiked with a bit of alcohol?
Wisconsin supper-clubbers have been enjoying boozy ice cream drinks for decades in the form of Grasshoppers and Brandy Alexanders. The Pink Squirrel, a Milwaukee classic invented at Bryant's Cocktail Lounge in the 1940s, is another great example of a deliciously boozy frozen indulgence that marries the richness of ice cream with the zip of a few spirited additions.
But boozy milkshakes and floats are popping up all over the city these days. And here's just a few of the spots where you can find them.
(PHOTO: AJ Bombers)
Grab a burger and order up The Incredible Gulp, which features four scoops of vanilla ice cream enhanced with Tuaca Italian liqueur, Jack Daniels and Sprecher root beer. Sounds OK, no?
(PHOTO: Black Sheep)
Get yourself spiked with the Spiked Shake from Black Sheep, featuring Purple Door salted caramel ice cream with Jameson Irish Whiskey ($10).
3. Merriment Social
There's no holding back with options like the Sarsaparilla Thrilla, featuring dark rum, butterscotch root beer and cherry bark vanilla bitters in a pint glass rimmed with ginger snap frosting, butterscotch candies and crushed Oreo cookies ($14).
(PHOTO: Monarch Lounge)
You can't miss with a boozy float from the Monarch Lounge. For something different, try Sprecher ginger soda with juniper berry and lime ice cream and a shot of Rehorst gin ($9).
There are plenty to choose from at the Point Burger Bar, but you can get a double buzz with the Italian Coffee featuring coffee, Godiva chocolate liqueur and espresso liqueur ($10.95).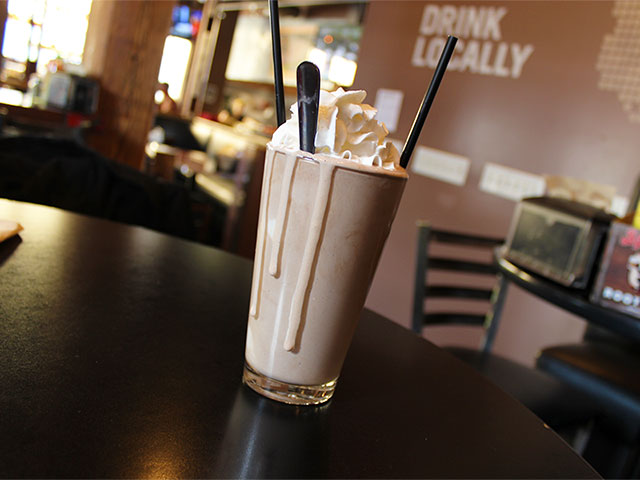 If you love chocolate, there's nothing like The Chocolate Truffle, a rich chocolate shake spiked with cocoa liqueur ($9).
(PHOTO: Supper)
Speaking of Pink Squirrels, you can get one (along with other classics) at Supper. But there are also more modern takes on the ice cream drink, like the Far From the Tree, featuring vanilla ice cream enriched with Laird's Applejack, Daron Calvados and whipped cream, topped with spiced sugar, whipped cream and an apple chip ($12).
Lori Fredrich (Lo) is an eater, writer, wonderer, bon vivante, traveler, cook, gardener and girlwonder. Born and raised in the Milwaukee area, she has tried to leave many times, but seems to be drawn to this quirky city that smells of beer and alewives.
Some might say that she is a little obsessed with food. Lo would say she is A LOT obsessed with food. After all, she has been cooking, eating and enjoying food for decades and has no plans to retire anytime soon.
Lo's recipes and writing have been featured in a variety of publications including GO: Airtran Inflight Magazine, Cheese Connoisseur, Cooking Light, Edible Milwaukee, Milwaukee Magazine and the Milwaukee Journal Sentinel, as well as on the blog Go Bold with Butter, the web site Wisconsin Cheese Talk, and in the quarterly online magazine Grate. Pair. Share.