My 18th annual Brewers Spring Training trip is now complete, and I'm back in chilly Milwaukee, which actually feels a little better after a few days under the beating hot sun of the desert.
This trip was a good one. A really good one. New experiences, old friends and lots and lots of baseball. But you probably know about all that if you read my blog entries this week.
Instead of rehashing that, I'd like to offer seven less obvious reasons I love Brewers Spring Training. I won't even mention the baseball on the field or the weather in the Valley …
1. The access
Rollie Fingers looks unamused. pic.twitter.com/M7xpvRZFiW — Andy Tarnoff (@AndyTarnoff) March 15, 2015
There are literally thousands of baseball people running around the greater Phoenix area. With 15 teams in the Cactus League, you get all the players (big league and minors), the front office, the broadcasters and the umpires doing more-or-less the same stuff you're doing out there. That means you're gonna run into some of them, and they love baseball just as much as we do and are happy to talk about it (if you're respectful, of course). From obvious baseball joints like Don and Charlie's, to the the not-so-secret umpire bar I blogged about yesterday, to just lingering around the practice fields, this is a mecca for fans of the game. Baseball simply takes over this area each March, and it's embraced by most.
2. The like-minded tourists
Similarly, you'll find yourself hanging out with a zillion happy fans, both at the ballparks and around town. Old, young, first-time visitors and snowbirds alike, it's fun to travel when everyone (except Cubs fans, probably) are on their best behavior. Seeing all those smiles is infectious. You're guaranteed to make new friends, ones you might see again … because no one ever says they don't want to come back.
3. The different nightlife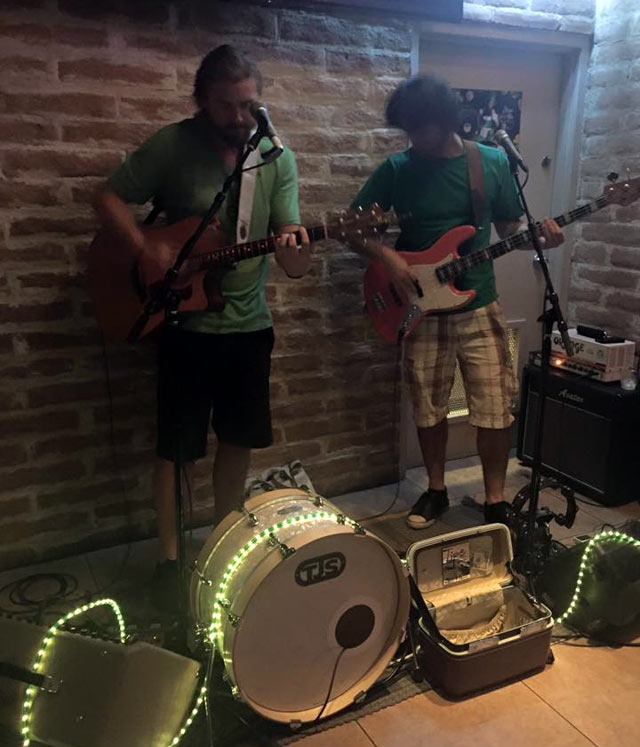 For Milwaukee's amazing bar scene, it's pretty different in Phoenix, Scottsdale and Tempe – and different even between those three cities. There's high-end and hole in the hole-in-the-wall. Beautiful people bars (like Bottled Blonde) and real people bars (like the Old Town Tavern), and everything in between. There's no way you'll hit even a tiny percentage of these places, unless you're here for a whole month. We've done trips that were focused on Phoenix and Tempe; this year, we stayed in Scottsdale and barely scratched the surface of bars we wanted to sample. With efficient, cheap and easy public transportation, this town has its nightlife completely figured out.
4. The great food
And now brisket at @BOOTLEGGERSPHX. This is must visit in Scottsdale. pic.twitter.com/gTIxcCnKZr — Andy Tarnoff (@AndyTarnoff) March 17, 2015
Same goes for the dining scene. I've almost never had a bad meal out here, and this year was no exception. In fact, every dinner we had was amazing. I was especially fond of Bootleggers Modern American Smokehouse this year and plan on visiting again.
5. The physical beauty
I'm not talking about the beautiful people, but that's noticeable, too. What I mean is that the valley looks like absolutely nothing back home, and it's easy to get transfixed by the mountains, desert vegetation, crazy rock formations, and of course, the wonderful natural smells the permeate the air. Arizona sometimes feels to me like the surface of Mars, with outposts placed around impossible obstacles and somehow made to look pretty. It almost takes a suspension of disbelief not to drive right off the road while staring at it all.
6. The weirdness
And that's just part of the Valley's weirdness. Because it's a cultural melting pot, because it's so hot, because of bizarre sprawling urban planning, and because of many factors I'm not privy to, there's a whole lot of weirdness out here. You can drive from areas teeming with Bentleys and Ferraris and lush golf courses, to scenes right out of "Breaking Bad," in minutes. Just outside Maryville Baseball Park, you can buy rusty engine parts and velvet Elvis rugs on the side of the road, or you can find yourself in the middle of the longest line of strip malls you'll ever see that suddenly stops next to open desert. You'll high-end boutiques, people with holstered side arms on the highway (that's legal here) and shady strip clubs all over the place. This place is weird, and I love it.
7. The optimism
Hello, Arizona. pic.twitter.com/n3dJLzwsjn — Andy Tarnoff (@AndyTarnoff) March 15, 2015
How can you not sense the optimism around Phoenix? It's not just baseball that's being reborn, but rather an area that is finally trying to grow the right way. There's a college vibe in Tempe, a fun hipster vibe now in Phoenix, but also a successful new light rail system, too. Scottsdale remains a desert oasis of beauty, and despite politics as weird as Wisconsin's right now, hope really does spring eternal in the area. It's a lot of fun to be a part of each year.
Andy is the president, publisher and founder of OnMilwaukee. He returned to Milwaukee in 1996 after living on the East Coast for nine years, where he wrote for The Dallas Morning News Washington Bureau and worked in the White House Office of Communications. He was also Associate Editor of The GW Hatchet, his college newspaper at The George Washington University.
Before launching OnMilwaukee.com in 1998 at age 23, he worked in public relations for two Milwaukee firms, most of the time daydreaming about starting his own publication.
Hobbies include running when he finds the time, fixing the rust on his '75 MGB, mowing the lawn at his cottage in the Northwoods, and making an annual pilgrimage to Phoenix for Brewers Spring Training.