BLUE MOUNDS – It seems to always happen in a farm field. A kid sees the mother of God, a white buffalo is born, an astonishing cave full of prehistoric paintings is accidentally uncovered.
That's where Wisconsin and the world stumbled upon one of the state's most stunning natural attractions, Cave of the Mounds, too, in 1939.
Workers using explosives to mine limestone on the Brigham family farm in Blue Mounds, southwest of Madison, accidentally blew open an entrance into a subterranean wonder world of stalactites, stalagmites, crystal clear ponds and streams, cavernous openings and all manner of stunning mineral formations.
It didn't take long for word to spread and soon so many people were coming to the old Brigham place that the cave was closed to protect it. But that was short-lived. Less than a year after it was discovered, lights and walkways were installed and the Cave of the Mounds was open for business.
And during the intervening 76 years, the Caves haven't lost any of their mystique and allure.
If you haven't seen this Wisconsin wonder recently – or, gasp, at all – then it's time to go back.
"I think caves specifically have an allure because we, as a species, used them for shelter in our ancient past," said general manager Joe Klimczak. "Many people do not have an opportunity to experience the natural world on a daily basis, so on vacation they want to spend some quality time with mother nature.
"A visit to Cave of the Mounds is a soft adventure. It feels adventurous because people are not used to being underground. In reality, as you saw, it is not a bit dangerous, being more like a museum tour."
Blue Mounds – named for a pair of notable hills in the area (the Cave of the Mounds sits beneath the slope of one of them) – is located in one of the loveliest parts of Wisconsin, with rolling hills and lush green farm lands as far as the eye can see. A bit to the south is New Glarus. Not far north is Spring Green.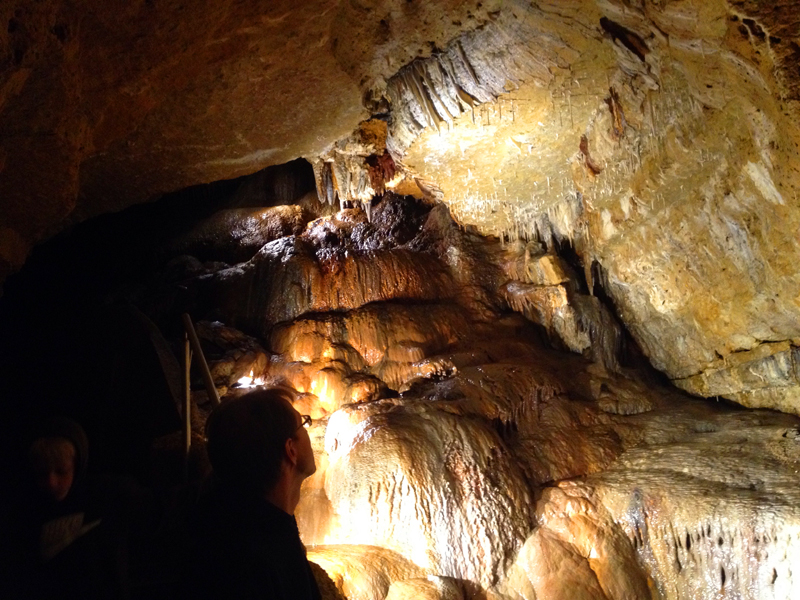 So, the experience really starts after you exit the Beltway on the southwest edge of Madison. But entering the Cave of the Mounds parking lot, you see the beautiful grounds. The terrain slopes, dipping and rising. A mix of natural and tended garden, the landscape is perfect for strolls on the nature trails or picnics on the grass.
Down a short road is the visitor's center, which looks like a rustic, woodlands UFO. Crossing over a babbling brook, head inside to buy tour tickets, gemstones, pick a geode to crack open, use the restroom (there's none in the cave) or pick up a quick snack. Kids will absolutely love selecting a rocky-looking geode and having one of the staff crack it open right in front of their eyes to reveal a stunning explosion of color inside.
On the rise above the visitor's center is the old Brigham farm barn and just back across the brook is Quarry's Edge Gemstone Mine, where you can pan for sparkling gemstones. This is another of the site's attractions that will lure kids like iron filings to a magnet.
Next to Quarry's Edge is the stone building that houses a gift shop and, more importantly, the entrance to the cave. Timed tours begin with a 10-minute video that discusses the history and the formation of the caves and then you're off, down the stairs and into a underground wonderland.
Despite the damp and the dark, even little kids will marvel at the giant fissures, the stalactites that appear to drip like candle wax from the ceilings, the almost lunar-like stalagmites, the dripping water collecting in crystal clear pools of almost entirely motionless water.
Most of all, they'll be amazed by the differently colored mineral formations that appear to seep and ooze out of cracks, looking almost liquid.
Especially fun is navigating the narrows section, where you often have to turn sideways and dip your head. But it's not easy to remember to do those things because your eyes are drawn to the eye-catching formations all around.
And when the tour guide explains that it can take well over a century for the mineral deposits to add a cubic inch to these formations, the mind boggles at the millennia required to create such a stunning environment.
Klimczak said that the Cave of the Mounds staff is well aware of its duty to preserve the natural environment of that environment.
"The conservation of this geologic wonder is a key part of our mission, so we take a number of steps to insure that," he said. "First, we are very strict about limiting the tour size so we can insure that visitors do not touch the fragile formations. We also have a lighting system where the lights are off when visitors are not in a zone. Above ground, we have built rain gardens adjacent to our parking lot to filter runoff and protect the cave below. In addition, we have extensive prairie and savannah restoration projects to return the area to the pre-settlement habitat.
"Also, we are fortunate the our area has plenty of moisture, so there is no danger of the cave drying out as in some locations in the Southwestern U.S. The cave formations are fragile and a change in the cave conditions could alter their growth. Visitors to our cave do not significantly alter that environment. Additionally, since Cave of the Mounds was completely sealed until its accidental discovery in 1939, there are no animals living in the cave. Caves with natural opening have very unusual ecosystems with a (usually threatened) variety of species.
But, don't worry, the Cave is not being threatened by visitors, said Klimczak, who notes that visitors are not numerous enough to affects the natural environment underground or the satisfaction of the visitors themselves.
In fact, when we visited on a beautiful spring Sunday, there were certainly people on the grounds, in the visitors center and taking the tours, but parking was easy, and there were no "crowds" to "battle."
"We are open year round," Klimczak said, "but even in the busy summer months there is always plenty of tour availability."
The caves host a range of events each year, including a series of Halloween family fun, Christmastime caroling in the caves and romantic Valentine's Day couples events, too.
Born in Brooklyn, N.Y., where he lived until he was 17, Bobby received his BA-Mass Communications from UWM in 1989 and has lived in Walker's Point, Bay View, Enderis Park, South Milwaukee and on the East Side.
He has published three non-fiction books in Italy – including one about an event in Milwaukee history, which was published in the U.S. in autumn 2010. Four more books, all about Milwaukee, have been published by The History Press.
With his most recent band, The Yell Leaders, Bobby released four LPs and had a songs featured in episodes of TV's "Party of Five" and "Dawson's Creek," and films in Japan, South America and the U.S. The Yell Leaders were named the best unsigned band in their region by VH-1 as part of its Rock Across America 1998 Tour. Most recently, the band contributed tracks to a UK vinyl/CD tribute to the Redskins and collaborated on a track with Italian novelist Enrico Remmert.
He's produced three installments of the "OMCD" series of local music compilations for OnMilwaukee.com and in 2007 produced a CD of Italian music and poetry.
In 2005, he was awarded the City of Asti's (Italy) Journalism Prize for his work focusing on that area. He has also won awards from the Milwaukee Press Club.
He can be heard weekly on 88Nine Radio Milwaukee talking about his "Urban Spelunking" series of stories.