One of the beauties of the internet is that it has become a place for people to share their passions. Take, for example, Wisconsin Bandshells and Stands, a website created by Marjorie A. Kozich.
Kozich has created a database of nearly 150 bandshells – centers of civic activity in everything from small towns to big cities – around the state of Wisconsin.
Not only is it a great resource for information on these places that are hallmarks of local pride and the arts, but the site is a fascinating tour of communities around the Badger State.
Kozich, who is retired, says she's working on adding a few more bandshells to the site, but she took some time out to tell us about this labor of love she maintains for all the world to see.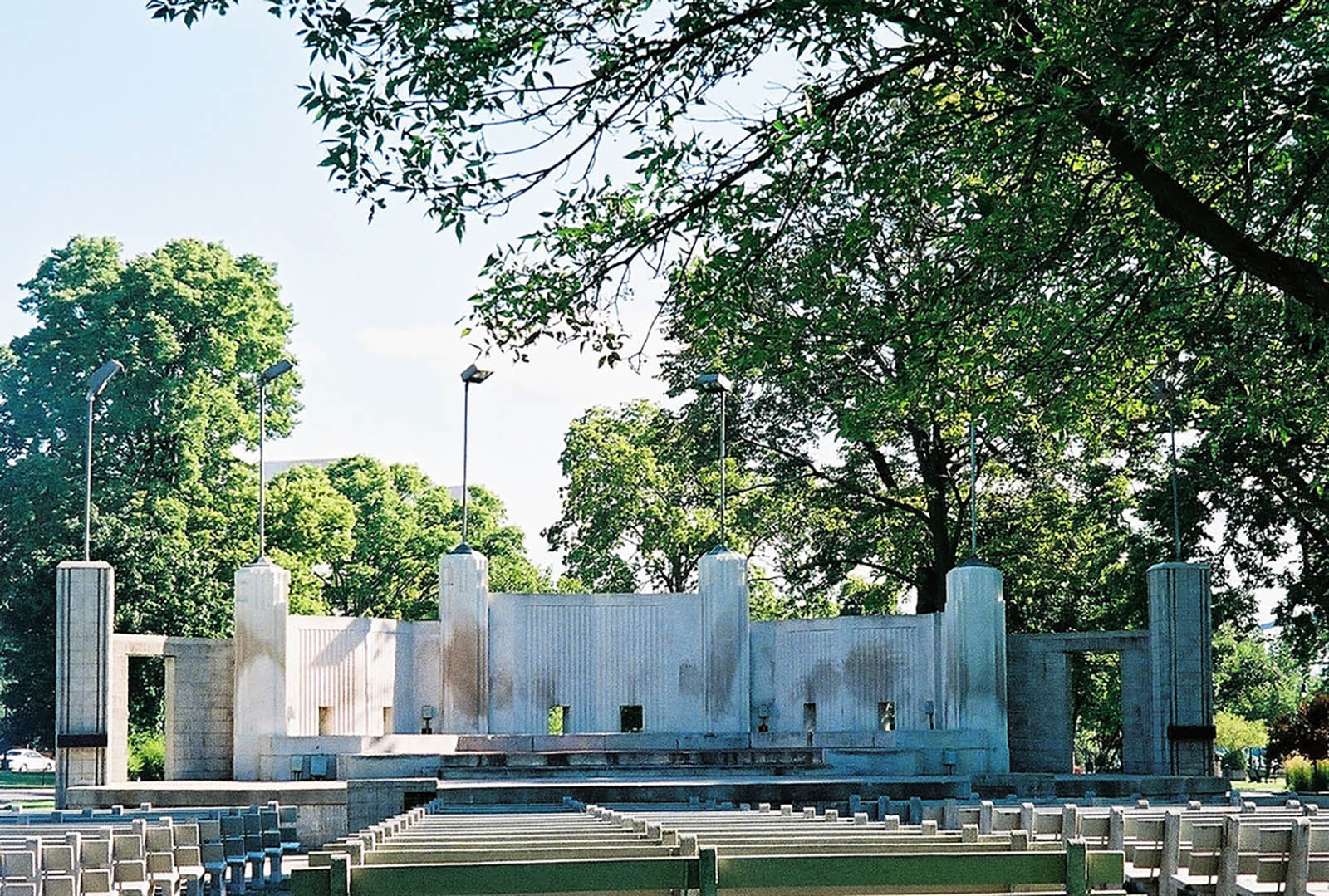 OnMilwaukee: What is it that makes bandshells special?
Marjorie Kozich: I first became intrigued with them many years ago on a visit to Minneapolis where we happened upon the one on Lake Harriet where an evening concert was happening. See https://onthegrid.city/minneapolis-st-paul/linden-hills/lake-harriet-bandshell
I thought it was a wonderful community resource and wondered about what ones were in WI - there must be some! So, that started my interest in them. I started with local area ones, then expanded my research to regional and state ones. I have used the WI State Historical Society, local historical societies, libraries, city/county/village parks departments to find them - also used Google a lot!
I have found that each and every one has a story to tell, everyone loves theirs and most are happy to share their stories, and in this day and age they are not controversial! Everyone relates positively to them and they play a part for all generations who attend events there. People flock to concerts held there, whether they have local, regional, or national type artists performing.
They reflect the community in design and artwork that surrounds them. The locations are in wonderful community places: parks, downtown renovations or by the water: Great Lakes, small inland lakes, or rivers.
Community members have supported them. Service groups such as Rotary and Kiwanis in many instances are front and center in being the driving force in their creation. Both public and private funding have built them and sustained them. Many have a Friends group to help. During the Great Depression, I have found 11 across the state that were built with WPA funding; they are still going strong.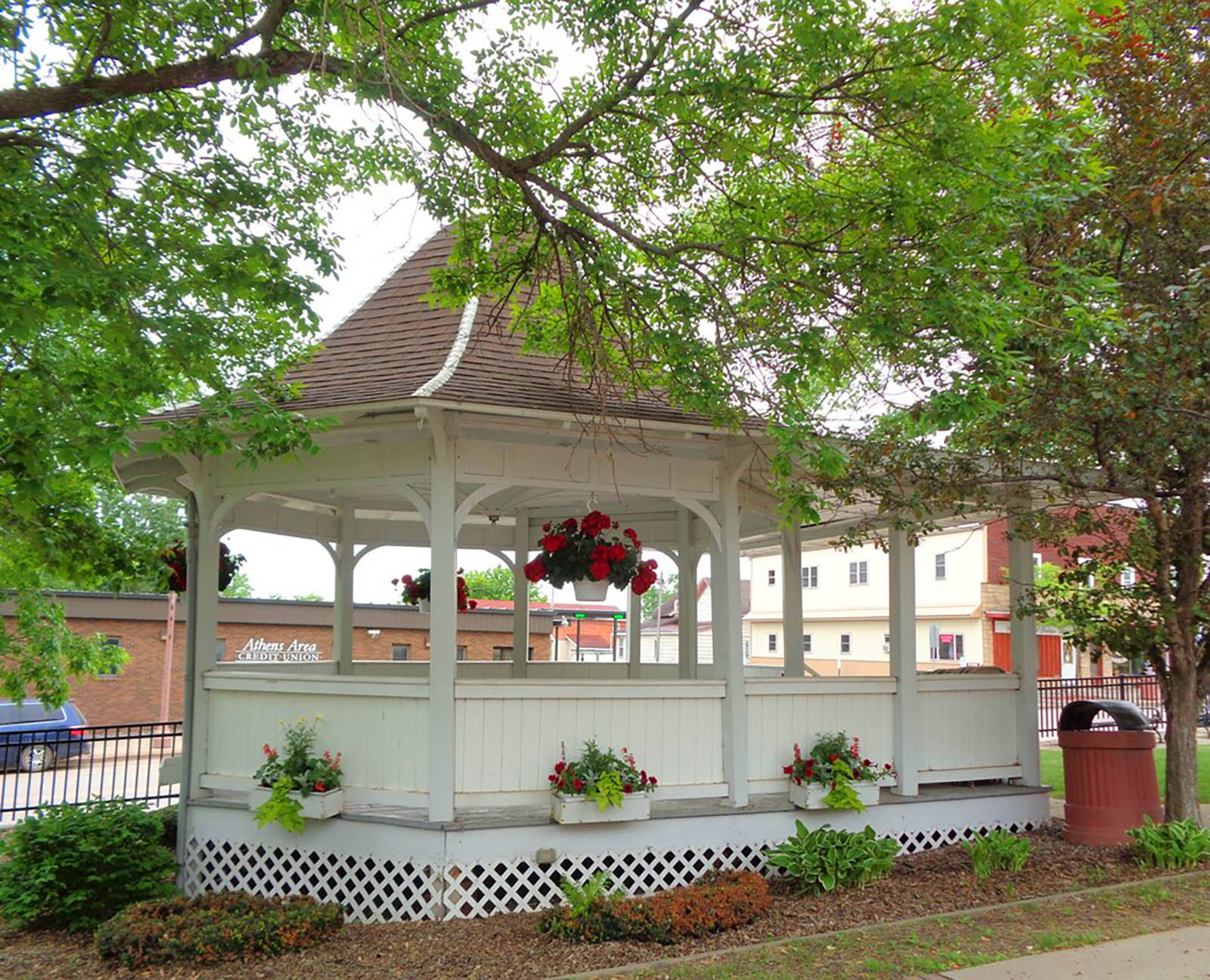 Does Wisconsin seem to have or fewer bandshells than other states or about an average amount?
I have no idea! However, when traveling, I "collect" photos of those I have encountered and have quite a few from various states – Florida, North Carolina, California, Arizona, Missouri, Illinois to name a few – also Mexico. People have sent me photos, too, including some from Europe.
When and why did you start the site?
I started collecting information about bandshells/stands after I retired in 2004. However, all my files disappeared into the basement for about 10 years. I had originally thought of putting a book together. Then websites crossed my mind and my teenage neighbor helped me set up the Weebly website. Also my granddaughter told me her 8th grade computer teacher had recommended the Weebly software _ easy to use _ and it is! I find that with a website, you can easily add and modify your work. It is not static.
Over the last few years, I have enjoyed visiting all of the sites in Wisconsin. My husband – chauffeur – and I have thoroughly enjoyed this. Along the way, we have met several local historians who have collected local information and are happy to meet with you. Also, libraries, city/county government units and local historical societies have been great to help compile information.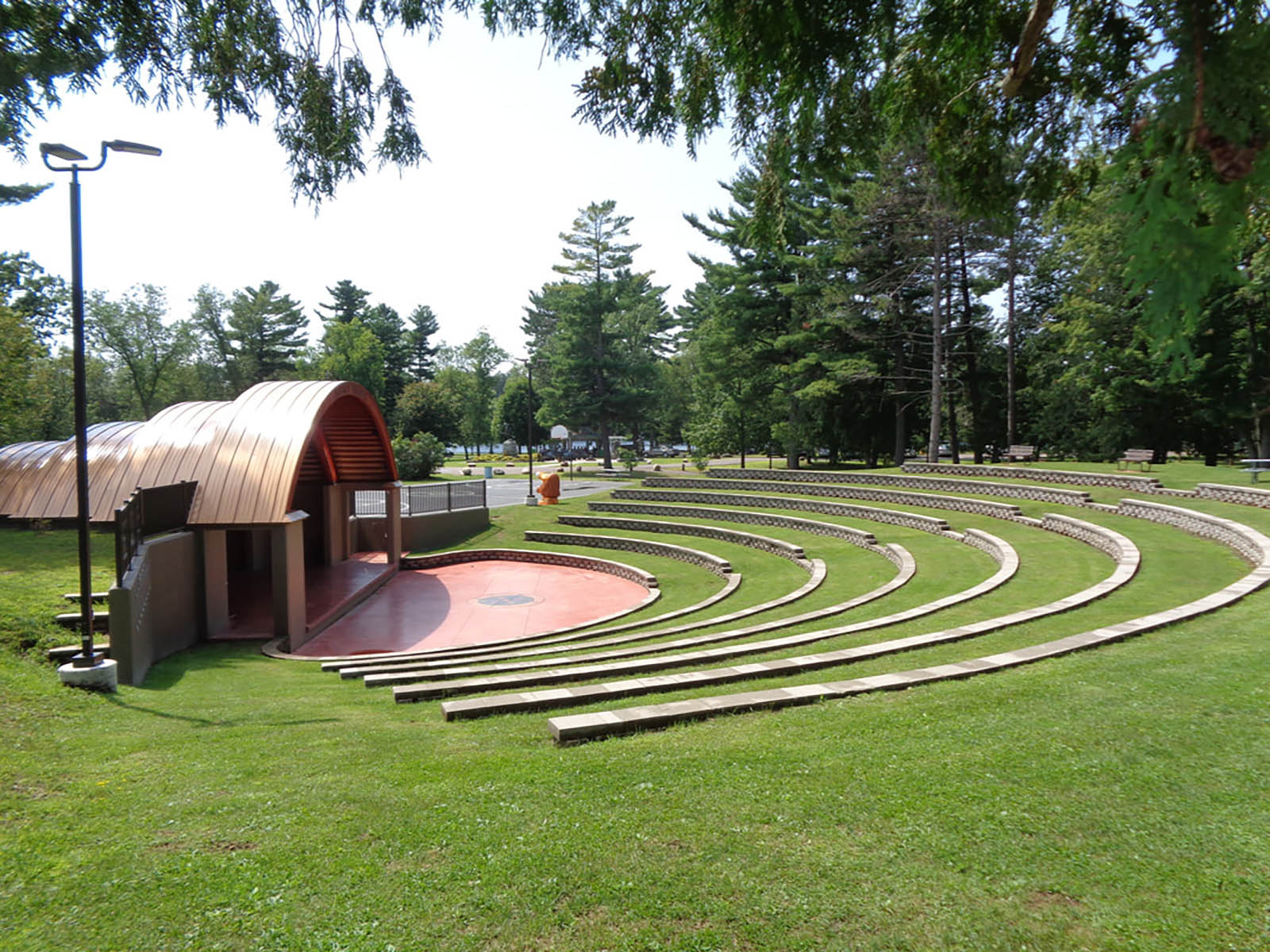 Do you have a goal for the site?
Well, I am still collecting and adding, so that has been how I have spent my time with this although I think I have caught up although I do know of a few more in the works. I love to share it. I was invited to do a presentation but interrupted by COVID. This may still be done in the spring.
I have thought of a book, but have not had time yet to do this. My kids think I should do this, and perhaps in the near future I will. I have talked with PBS Wisconsin a little, so maybe in the future it may do something?
You mentioned that there's been something of resurgence in the construction of bandshells. Why do you think that is?
I just reviewed the numbers I have. From 2011 to 2020, there have been 31 built, the most of any decade since the first one built and still standing in 1894 in Berlin. Others were built around that time, but have experienced storms that required rebuilding.
Many were a part of revitalization of downtown sites: Wausau 400 BLOCK, Marshfield Wenzel Family Plaza, Janesville Town Square, Sheboygan City Green, Appleton Jones Park, Chippewa Falls Riverfront Park, Stoughton Rotary Park, and West Bend Old Settlers Park.
At least 17 were additions to existing parks in the community. One beautiful one is at the Green Bay Botanical Garden, a fabulous site because it is a garden but requires one to pay to get into it. Another one charging admission is in Williams Bay. Only one other, Solon Springs, requires payment to its concerts, but you can visit it at any other time. It's part of a county park.
The other decade that had the second most was 1930-39. In that time, there were 20 built, many using WPA funding. Obviously the reason was to put people to work, thus one of the many WPA projects that were done in the state.
Nine opened in 2018 some with many years of planning, the rest are spread out rather evenly over those years. I am guessing, but think that people all thought this was a good idea – more community spirit – the economy was better after coming out of the 2008 financial collapse, and thus here we are. I have just put the database together, so a lot of questions like this probably will come up.
(PHOTOS: Courtesy of Marjorie Kozich)
Born in Brooklyn, N.Y., where he lived until he was 17, Bobby received his BA-Mass Communications from UWM in 1989 and has lived in Walker's Point, Bay View, Enderis Park, South Milwaukee and on the East Side.
He has published three non-fiction books in Italy – including one about an event in Milwaukee history, which was published in the U.S. in autumn 2010. Four more books, all about Milwaukee, have been published by The History Press.
With his most recent band, The Yell Leaders, Bobby released four LPs and had a songs featured in episodes of TV's "Party of Five" and "Dawson's Creek," and films in Japan, South America and the U.S. The Yell Leaders were named the best unsigned band in their region by VH-1 as part of its Rock Across America 1998 Tour. Most recently, the band contributed tracks to a UK vinyl/CD tribute to the Redskins and collaborated on a track with Italian novelist Enrico Remmert.
He's produced three installments of the "OMCD" series of local music compilations for OnMilwaukee.com and in 2007 produced a CD of Italian music and poetry.
In 2005, he was awarded the City of Asti's (Italy) Journalism Prize for his work focusing on that area. He has also won awards from the Milwaukee Press Club.
He can be heard weekly on 88Nine Radio Milwaukee talking about his "Urban Spelunking" series of stories.