The Mitchell Park Horticultural Conservatory is the perfect place to be this summer when the weather is bad but you still feel like being among nature.
You can mimic being outside in the three domes that are home to tropical and desert plants, as well as pretty landscapes. Bring your kids and let them learn about plants not native to Wisconsin or the United States.
The Domes are especially important this time of year because lots of plants are in bloom. For example, the infamous stinky corpse flower bloomed June 12-13 and drew large visiting crowds. This is the first time any of the 10 corpse flowers at the Domes bloomed, as it does so only once every seven to 10 years.
Here are eight other plants you should look out for while visiting:
1. Sensitive Plant
Tropical Dome
This plant, like the corpse plant, has a mechanism for survival. However, it is not a bad smell. The sensitive plant's leaves fold in and bend upward when touched. You can see the stem on the far left has just been touched in two places because the leaves are bent and haven't returned to their normal state yet.
2. Cocoa/Cacao tree
Tropical Dome
These trees can be found natively in South America, but are planted all over the globe because they are the main ingredient in helping produce everyone's favorite delicacy: chocolate. The cacao seeds, cut from the tree and aged on the ground, can also make cocoa and cocoa butter.
3. Banana
Tropical Dome
Here is another favorite food the Domes produce: yellow fruit. The "tree" is actually more similar to a celery stick than a tree; it is a giant herb made of tightly wrapped, overlapping leaves. The whole plant grows from an underground rhizome, not a seed.
4. Sausage Fruit Tree
Tropical Dome
I had the pleasure of seeing this tree while it was in fruit. It was nothing like I'd ever seen before. In nature, if you were to walk past one of these trees, you'd have to be careful not to accidentally whack yourself in the head with one of the hanging sausage-like fruits. The typically two-foot-long berry fruit weighs around 20 pounds. While it is inedible to humans, it is consumable to the animals in Africa, where this tree is native.
5. Jelly Bean Plant
Desert Dome
In the desert dome, you can find many succulents and cacti. This succulent plant's leaves resemble jelly beans and originates in Mexico. Despite the name, it actually is not edible and is poisonous to cats and dogs. It can only grow up to about a foot tall.
6. Serrano Chili Pepper
Desert Dome
This is another fun plant to look at, because your kids have probably seen the pepper but not the plant. It is named after the mountains (sierras) of the Mexican states Puebla and Hidalgo, where the plant originated.
7. Living Stones
Desert Dome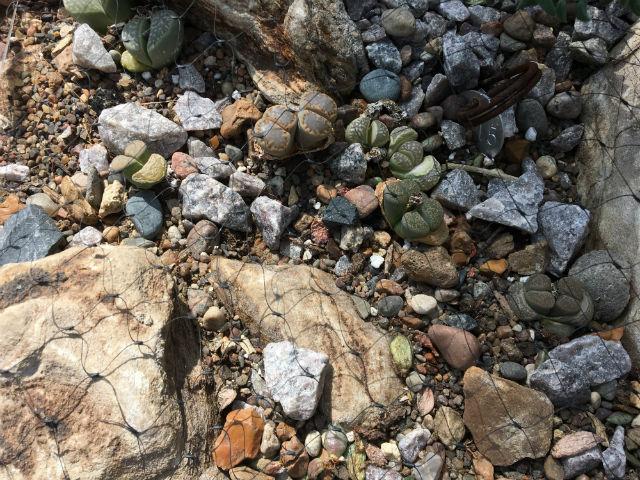 Look closely at this picture and you may notice that all of the rocks don't appear the same. That's because some of them – the rounder ones in pairs – aren't actually rocks. These nifty little plants, as the name suggests, look like stones, which helps them to survive in the wild in South Africa and not be found and eaten.
The marshmallow-looking texture is fascinating; the "windows," or little patterns of clear skin on top, filter sunlight so the plant isn't overloaded with too much.
8. Candelabra Tree
Desert Dome
This tree looks like a prickly and painful trap to be tangled up in. Native to southern Africa, its milky latex can be extremely poisonous and a dangerous irritant. However, if used correctly, the candelabra tree can be a purgative or a drug for curing ulcers.
I hope you learned a thing or two – and there's lots more where all this came from at the Domes. A visit can be educational and fun, so be sure to explore all the Mitchell Park Domes have to offer.