Pantone may have proclaimed that greenery is the color of 2017, but consumers have spoken and they've demanded a very particular shade of pink. New York Magazine perfectly describes it as a "toned-down version of its foil, Barbie Pink, a softer shade that looks as if all the blue notes have been taken out." I see this rosy hue worn on Milwaukeeans everywhere I go, and I have to say that it looks good on just about everyone.
In honor of rosewater macaroons, pink frosted cupcakes and fluffy sticks of cotton candy, here are eight ways to wear "millennial pink" this year.
1. Wear a pretty pair of bow slides to Bradford Beach
These Fenty sandals are equal parts adorable and chic. They're also available in a variety of other colors like marshmallow and in men's and women's sizes. If you're having trouble tracking these down, House of Fashion Boutique offers a similar pair for $40.
(PHOTO: Puma)
Fenty Puma by Rihanna bow slide sandals, $90, Puma.
2. Opt for a pair of playful heels
Embrace the pom pom trend with a pair of whimsical heels. These Loeffler Randall sandals are crafted from suede, while these ASOS block heels offer style on a budget.
(PHOTO: Shopbop and ASOS)
Loeffler Randall Bea wrap sandals (left), $375, Shopbop. Pom pom mid heels (right), $56, ASOS.
3. Wear a pair of pink yoga pants to your morning yoga practice or weekend pilates class
Or just take a nap in them.
Thanks to Stella McCartney's partnership with Adidas, you can combine your love of athleisure leggings with your impeccable taste in fashion. These light pink leggings will keep you comfortable and dry during workouts.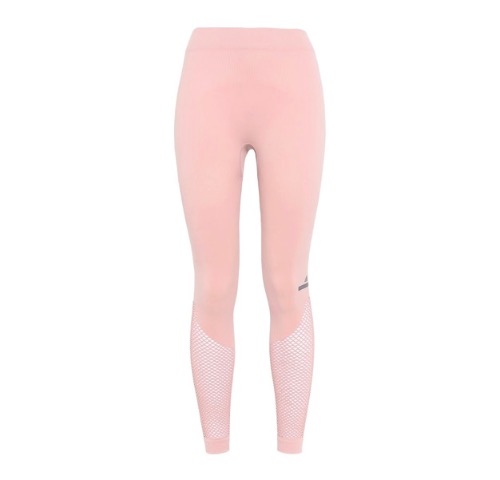 (PHOTO: Stella McCartney)
Adidas by Stella McCartney light pink leggings, $85, Stella McCartney.
4. Wear a pink off-the-shoulder dress
This dress from Luci Boutique is perfect for a dinner party or ladies' lunch.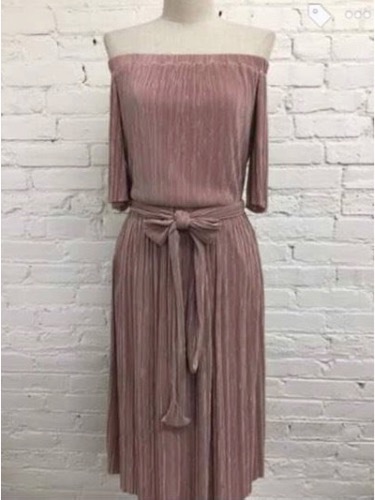 (PHOTO: Luci Boutique)
Pink off-the-shoulder dress, $94, Luci Boutique (Downtown Milwaukee and Mequon).
5. Try a new lipstick color
Adding a muted rose lipstick to your beauty routine is of the easiest ways to wear millennial pink this season. You may even discover a new favorite that becomes a permanent staple in your cosmetic pouch.
(PHOTO: MAC cosmetics, Tarte cosmetics, ColourPop)
From left to right: MAC lipstick in 'angel,' $17, available online and in stores; Amazonian butter lipstick in golden pink, $17, Tarte; and ultra glossy lip color in 'hack,' $6, ColourPop.
6. Invest in the perfect pink bag
Pop & Suki is a relatively new brand created by the very stylish Poppy Jamie and Suki Waterhouse. Their sleek camera bag is the perfect size for all of your essentials. If you're feeling funky and want to go hands free, add a fanny pack strap.
(PHOTO: Pop & Suki)
Camera bag in cotton candy, $195, Pop & Suki.
7. Just add sparkle
Take your outfit to the next level by adding a pair of glamorous pink earrings or a candy-colored statement necklace.
(PHOTO: Nordstrom)
BaubleBar oracle drop earrings in blush (left), $34, Nordstrom. Kendra Scott Elisa pavé pendant necklace in peach clear glass and rose gold (right), $80, Nordstrom.
8. Travel in style
You'll need a place to pack all of your new pink clothing, shoes and accessories. This 20-inch hardside carry-on in the perfect piece to accompany you on your summer vacation. Packing for a longer trip? Complete the set with the 28-inch version of this suitcase and a matching cosmetic bag or travel duffel.
(PHOTO: Target.com)
Designlovefest 20-inch hardside spinner carry-on luggage, $99.99, Target.