If you like this article, read more about Milwaukee-area history and architecture in the hundreds of other similar articles in the Urban Spelunking series here.
One of the city's oldest houses is about to go on the market, which means you could own and live in a little piece of Milwaukee history.
The four-bedroom, 2,190-square-foot home on a double lot at 8447 W. Lisbon Ave. officially gets listed for sale on Aug. 18, and the first open house is slated for Aug. 23, from 10 a.m. until 2 p.m.
It's being listed by The Duerr Group - Bluebell Realty at $214,900.
But just how old is it? That's hard to say.
According to the city's tax assessment records, there are a dozen homes in the city that were built by 1840. The problem is that most of those dates are surely wrong. One of them listed as being built in 1832 is dated by the Wisconsin Historical Society to 1896 with an addition in 1932. Another is dated 1800 – 18 years before Solomon Juneau arrived here!
As anyone who has done historical research using these records knows, many times a date of 1900 was placed on homes when no date was known, suggesting that accuracy is not always these records' strongest suit.
"The City Assessor's records can be way off as I have discovered over all the years of researching," Carlen Hatala of the city's Historic Preservation office tells me, and there are few people as knowledgeable about this kind of research than she. "It is unclear where some of the assessor's dates came from.
"I would be very skeptical of those early dates without a lot of research. There was not much here in the 1840s. You have to check atlases, The Walling 1858 Map, tax rolls, etc."
And, she says, you have to look closely at the buildings themselves.
"You would also have to do a lot of forensic research on the building itself although many of these appear to have been significantly altered so original clues may well be long gone," Hatala says.
Which brings us back to the house for sale in Kops Park, which was once the residence on a sprawling horse farm that would have been cut through by Schoonmaker Creek. It is clearly quite old.
The floor joists in the basement are hand-hewn, clearly showing the axe marks, and the cross members appear to have marks suggesting they were pit-sawed with a long two-person saw.
The foundation is of uncut stone.
Despite the fact that the city assessor places the construction of this house at 1835, the Wisconsin Historical Society dates it later and explains why:
"This is undoubtedly too early, as the original land grant was in 1839, from the Territory of Wisconsin to Maurice and Elizabeth Pixley, who then sold it to Martin and Caroline Curtis in 1840. George Washington Brown and his wife Minerva L. Brown purchased 80A (the eastern half of the quarter section) in 1848, and it is believed that he is the one who built the house. Brown originally came from Peterborough, New Hampshire, but was not mentioned in the biographies of early Wauwatosa Township settlers by Watrous, or by the 1876 atlas. Brown obtained a mortgage for $250 from Leander Comstock in 1850, and one for $600 in 1863 from David Richards of Bethany, New York. The 1858 Atlas, however, shows no house on 80A. By 1876, the date of the next county atlas, a house is shown (on) 70.5A, though it is not individually illustrated. Mrs. Rasmussen, who was born in the house in 1890s, said that it was built about 1850. Thus, although the exact date of construction has not been determined, research so far indicates that the house was built in the 1850s or early 1860s."
According to James Buck's "Pioneer History of Milwaukee," Pixley arrived in Milwaukee in 1836 with his brother John, and they settled in Juneau Town, east of the river, where they opened a general merchandise store.
In 1841, Pixley was on the board of fire wardens of Milwaukee, along with Alexander Mitchell and Daniel Wells, suggesting not only that he was a respected citizen but that he was also still living in Milwaukee, not out in the Town of Wauwatosa.
The next owner, Martin Curtis, owned a huge farm in the area, encompassing as much as 320 acres, upon a part of which he erected a horse racing track along the east bank of the Menomonee River (probably around where Mount Mary University is now located).
A print of Curtis' farmstead was produced by Belden & Co. in its book "Milwaukee County" in 1876, but that location is surely elsewhere in the Town of Wauwatosa as the Browns had long since purchased the Lisbon Avenue property.
Hatala concurs with the information presented by the WHS and believes the home to date to the 1850s or '60s.
Neither Pixley nor Curtis – to whom Pixley reportedly sold the property in 1840 – are listed in that year's census as living in Wauwatosa, suggesting there was no house yet.
In an article about cream city brick that appeared in the Milwaukee Journal in October 1988, a caption accompanying a photo of the Lisbon Avenue home claims that construction on it began in 1846 and ended in 1848, but no source for this information is included.
However, George Washington Brown IS listed as living in Wauwatosa in the census in 1850 and so, I believe that this information might be the most accurate.
Though that's later than 1835, it would be nearly a decade older than this Italianate gem a few blocks to the east.
Regardless of the exact construction date, the lovely cream city brick Greek Revival home is quite old and surely among the oldest in the city, which is probably the most anyone can say about any of these early homes at this point.
And it was an important farmstead, along a key highway, the Lisbon Plank Road, laid along an old Native American trail in 1850 using planks cut at a sawmill nearby on the banks of the Menomonee River. Originally, Lisbon was a toll road, with a toll collected at two booths, including the first one at 27th and Lisbon.
A ride between the two toll booths and back in 1899 took nearly the entire day, from 9 a.m. until 4 p.m., which you can read about in this post.
A popular stop along the road was the Five Mile House tavern and inn at the Five Corners in Smithville, where Gard's now stands.
The WHS notes that the Browns lived there until 1881, followed by their son, until the Burbach family arrived in 1891, remaining until 1896.
For most of the second half of the 20th century, the house was home to the Jablonski family.
It's interesting to see a few vintage photos that hang on the walls of the home. They're almost all undated but some surely date before the era of automobiles, and from them we can see the same exterior of the house as it appears today, with the main house, a low kitchen addition and the attached garage, which was built as a carriage house.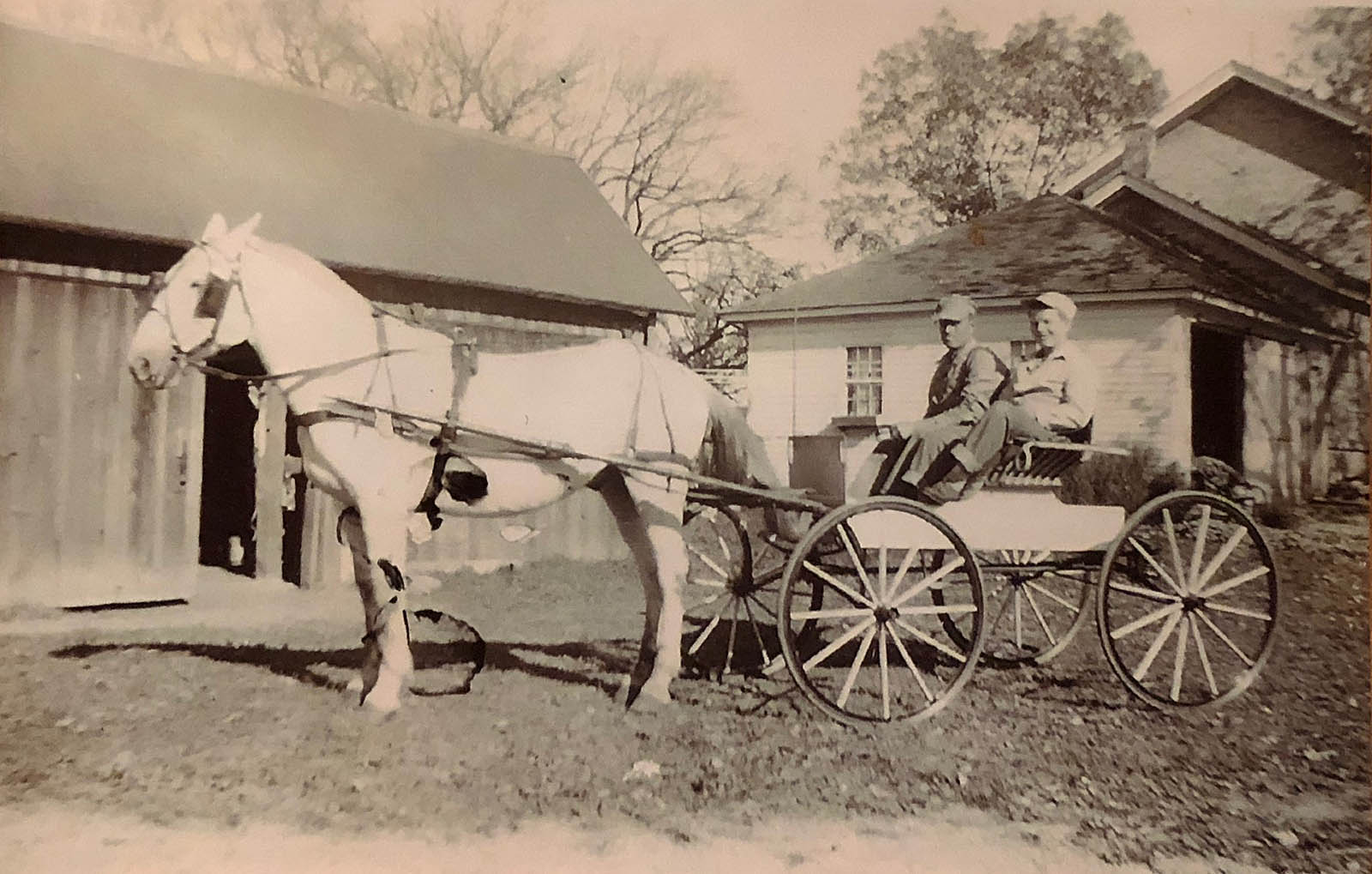 Long gone are a barn that can be seen in a 1911 photo that also shows Lisbon Avenue and another outbuilding next to the garage that can be seen in one of the undated photographs.
There are brick fireplaces and exposed cream city brick inside, as well as a beautiful banister and railing, as well as some hardwood floor that if not original are clearly very old.
The basement has a cool entrance built under the porch and there are a couple walled over spots that seem intriguing. (Root cellars? Tunnels?)
The house in 1956.
If you've ever wanted to live in a home brimming with history, you'll want to check this place out.
"The perfect buyer will be someone who appreciates the history," says realtor Austin Duerr, who is a friend of the current owner/seller.
"We really hope to find that perfect buyer."
Born in Brooklyn, N.Y., where he lived until he was 17, Bobby received his BA-Mass Communications from UWM in 1989 and has lived in Walker's Point, Bay View, Enderis Park, South Milwaukee and on the East Side.
He has published three non-fiction books in Italy – including one about an event in Milwaukee history, which was published in the U.S. in autumn 2010. Four more books, all about Milwaukee, have been published by The History Press.
With his most recent band, The Yell Leaders, Bobby released four LPs and had a songs featured in episodes of TV's "Party of Five" and "Dawson's Creek," and films in Japan, South America and the U.S. The Yell Leaders were named the best unsigned band in their region by VH-1 as part of its Rock Across America 1998 Tour. Most recently, the band contributed tracks to a UK vinyl/CD tribute to the Redskins and collaborated on a track with Italian novelist Enrico Remmert.
He's produced three installments of the "OMCD" series of local music compilations for OnMilwaukee.com and in 2007 produced a CD of Italian music and poetry.
In 2005, he was awarded the City of Asti's (Italy) Journalism Prize for his work focusing on that area.
He can be heard weekly on 88Nine Radio Milwaukee talking about his "Urban Spelunking" series of stories.