Every day there's something to celebrate here in Milwaukee – and today, it's the pretzel. After all, it's National Pretzel Day, a date set aside to honor the deliciousness of a time-honored snack that it's estimated Americans consume at a rate of about two pounds per year.
Although National Pretzel Day honors pretzels of all spots and stripes, including the crunchy kind, we're partial to the Bavarian-style soft pretzels that are served (fittingly) at countless places around town. After all, they're generally huge and shareable, so you can enjoy them in the company of friends. Plus, they're perfect served up with a local beer.
There are plenty of spots around town to find them. But in the spirit of the day, we've curated eight great spots, in no particular order, to get your pretzel fix – today or just about any day.
1. Beer gardens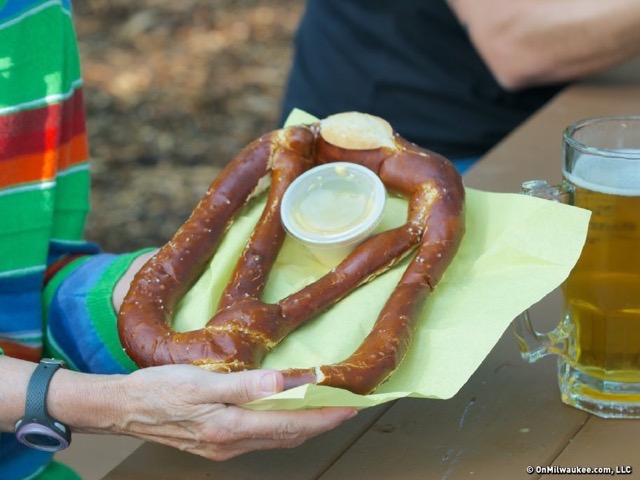 Just about all of Milwaukee's beer gardens offer up classic soft pretzels, usually served with some sort of dipping sauce. You can get this doozy at Hubbard Park.
There are plenty of pretzel-based options at the Bavarian Bierhaus, including pretzel encrusted saurkraut balls and pretzel buns (on just about everything). But if you're just hankering for pretzels, grab the basket of Bavarian pretzels served with a signature beer cheese dip ($10.95). Or, if you're a bit hungrier, try the meat and cheese board featuring assorted Bayerische deli meat and cheese, bier radish, pickles, Obatzer, a Bavarian pretzel and rye bread ($21.95)
The Camino "everything" pretzel (just like the bagel) is delivered to your table soft and warm with a side of beer mustard ($7).

(PHOTO: Visit Milwaukee)
If you want old school charm, and a pretzel to boot, Mader's is a great place to get your fix. The pretzel is served with German-style mustard, as it should be. Don't forget to add a German brew on the side.
Another spot to find a giant shareable pretzel is the Old German Beer Hall, which serves "Groß Brezn," a legendary 10-ounce pretzel that has origins in Munich ($7.50). This baby comes complete with a dollop of mustard for dipping.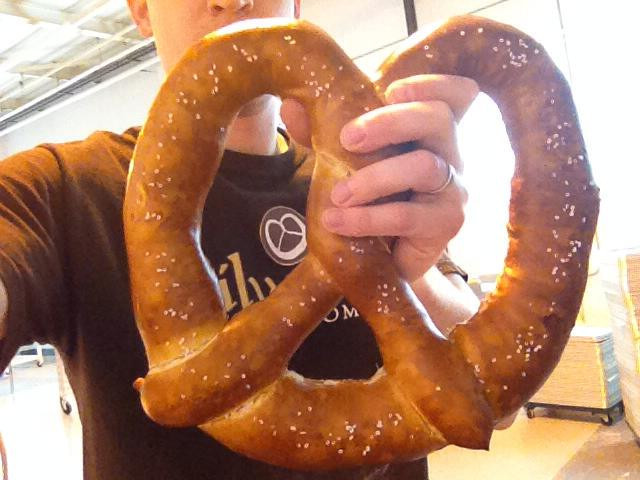 (PHOTO: Milwaukee Pretzel Company)
Soothe your hunger for an authentic German pretzel with a soft, freshly baked Milwaukee pretzel company Bavarian pretzel served with beer cheese sauce for $5.50.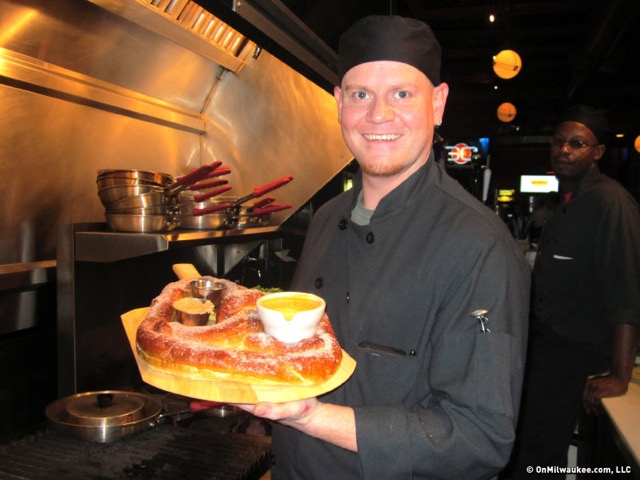 Here you can find "Milwaukee's Biggest Pretzel," a beast that weighs in at over a pound. It's brushed with butter, sprinkled with coarse salt and served with your choice of dipping sauces including honey dijon mustard, jalapeno beer cheese or whipped cinnamon sugar butter.
Another classic spot to enjoy a big, soft delicious pretzel is at Von Trier, which serves 10.5-ounce locally baked Miller Bakery pretzels served with imported sweet Handlemeier, mild Mittelscharf and spicy Lowensenf Extra mustards ($10).
Lori Fredrich (Lo) is an eater, writer, wonderer, bon vivante, traveler, cook, gardener and girlwonder. Born and raised in the Milwaukee area, she has tried to leave many times, but seems to be drawn to this quirky city that smells of beer and alewives.
Some might say that she is a little obsessed with food. Lo would say she is A LOT obsessed with food. After all, she has been cooking, eating and enjoying food for decades and has no plans to retire anytime soon.
Lo's recipes and writing have been featured in a variety of publications including GO: Airtran Inflight Magazine, Cheese Connoisseur, Cooking Light, Edible Milwaukee, Milwaukee Magazine and the Milwaukee Journal Sentinel, as well as on the blog Go Bold with Butter, the web site Wisconsin Cheese Talk, and in the quarterly online magazine Grate. Pair. Share.