Something cool is coming back to Milwaukee this weekend. No, not that fall and winter chill in the air – something much better and more welcome than that: the return of Milwaukee Admirals hockey.
That's right: After a cancelled 2019-20 postseason and sitting out the 2020-21 season, the Admirals are back in gliding, goal-scoring, glove-dropping action, starting Saturday night at the UWM Panther Arena with their home opener against the Grand Rapids Griffins. (For tickets, visit the Admirals' website.) An Admirals game is always major-league level competition and a major league good time – one we've greatly missed for more than 365 days.
Here are four reasons why you should be skating your way over to an Admirals game this season.
1. It's been too dang long
March 11, 2020. That's how long it's been since the Milwaukee Admirals last took the ice – or, to put it more vaguely yet also more accurately, too long.
Thanks the COVID-19 pandemic and the crowd size/economic ramifications during this "new normal" period, the ice has been thawed at UWM Panther Arena for more than a year – and to make things even more unfortunate, last we checked, the Admirals had the best record in the entire AHL, bracing for a hopefully deep Calder Cup playoffs run. But then the world broke – and so did the Admirals' hopes of their first title since 2004.
So here's to the long-awaited return of live hockey in Brew City – and here's to the Ads picking right back up where they left off.
2. New year, new look
We all looked a little different coming out of quarantine – maybe we lost a little weight or didn't get our hair cut in a long time. And the Admirals are no different, coming back from a year and a half away with a new look.
No, it's not another fighting fridge (though we would love a cameo from him again this season) but the team's new third logo and uniform is another alternate reality throwback imagining the Admirals back in the '50s and '60s with a bravado-filled ice-skating cartoon admiral on a retro cream sweater with blue and red accents. It's not an actual logo from the Ads' past, so maybe it's less of a throwback and more of a "faux-back," but it's such a nifty, authentic and timeless look that we're happily willing to pretend it has a legacy (and, in my case, write fan-fiction about him fighting crime with the sentient fridge).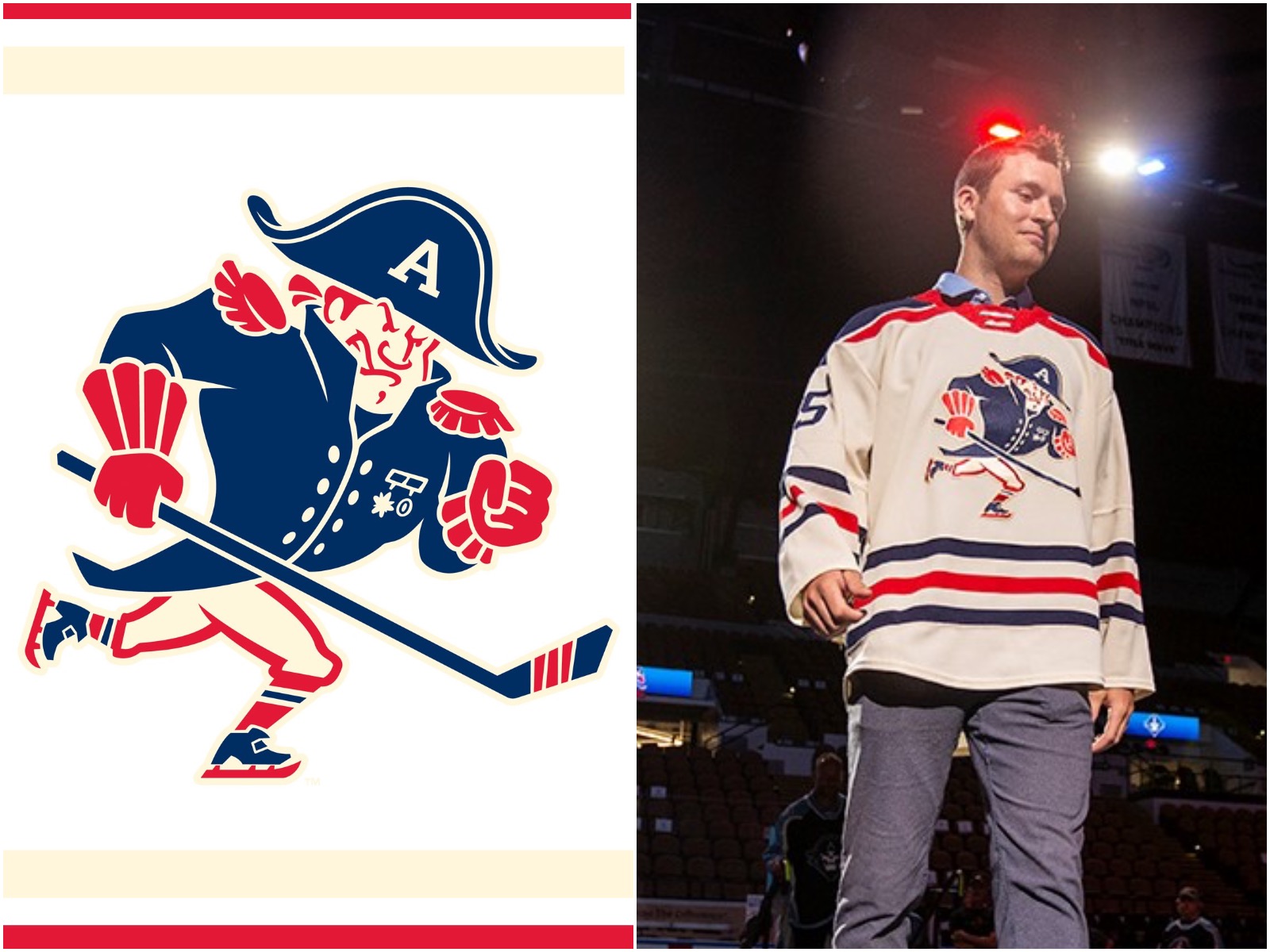 And if for some reason you don't like this peppy-looking admiral, don't worry: The more aggressive bony sergeant of the sea you're used to is still the team's primary look.
3. Beyond the rink
Hockey is, of course, the featured event at Admirals games – but it is by no means the only attraction in the arena. Game days always feature great entertainment on and off the ice, from Roscoe's rowdy behavior to fun games (I'm always partial to the human hockey puck, which hopefully makes a rolling, rollicking return) and much more.
And that's just what you can expect from your standard night out at the rink. We haven't even gotten to the special themed evenings, this year including a benefit night for March of Dimes, magical Harry Potter night, Pride Night, a performance from Wisconsin icon Pat McCurdy, a salute to wrestling (complete with actual wrestlers in attendance), a tribute to both "Letterkenny" and Canada, and not one but two dog games. Because good boys love goals. So clearly there's something for everyone this upcoming Admirals season – hockey fan or hockey noob, two legs or four.
For more information on the Admirals schedule and other fun set for the season, visit the Ads' website.
4. A peak at pro hockey
Thanks to the Admirals' posititon as an affiliate of the Nashville Predators, Brew City's been blessed with seeing some of Nashville's best over the years – including Filip Forsberg, Roman Josi, Pekka Rinne, Ryan Suter, Jordin Tootoo, Kimmo Timonen and Shea Weber – with only more future Predators players to come. So when Nashville raises its first Stanley Cup one of these seasons, you'll not only be able to celebrate just as hard up here in Milwaukee but you'll be able to brag that you saw their stars first.
As much as it is a gigantic cliché to say that one has always had a passion for film, Matt Mueller has always had a passion for film. Whether it was bringing in the latest movie reviews for his first grade show-and-tell or writing film reviews for the St. Norbert College Times as a high school student, Matt is way too obsessed with movies for his own good.
When he's not writing about the latest blockbuster or talking much too glowingly about "Piranha 3D," Matt can probably be found watching literally any sport (minus cricket) or working at - get this - a local movie theater. Or watching a movie. Yeah, he's probably watching a movie.