I've been OnMilwaukee's sports editor for a little more than two years, and the job has enabled me to do some pretty cool stuff, from playing a Harlem Globetrotter in H-O-R-S-E to tailgating at Brewers Spring Training and a lot more. Just last weekend, I got to ride the Zamboni at an Admirals game, explore the bowels of the UW-Milwaukee Panther Arena and afterward rock out right in front of the stage at a Joan Jett concert.
But the thing is: you don't need to be a glamorous and elaborately credentialed media member to get that VIP treatment. (Ed. note: just say media member.)
Thanks to a new partnership between the Admirals and SpringHill Suites, diehard fans can have the once-in-a-lifetime opportunity to watch and feel the game up close, on the ice, behind the scenes and from the best seats in the house, then eat well and sleep soundly at a hotel that is quite literally a block away. SpringHill Suites announced its #Milhockey Package in December, promising the ultimate VIP experience that makes you part of the action at an Admirals game – available through the end of the season – and I can say firsthand that it delivers.
Before I recount the details of my Admirals-game adventure, let me tell you what the SpringHill Suites #Milhockey package includes:
Two or four seats at center ice for any game the rest of this season; a behind-the-scenes tour beforehand (based on availability); an exclusive ride for one on the Zamboni or participation in the Human Hockey Puck (based on availability); an official game puck signed by a player; two Admirals bobbleheads; a photo with team mascot Roscoe; a $25 voucher for food, beverages or merchandise at the UW-Milwaukee Panther Arena on game night; VIP space on the carpeted ice in front of the music stage after the game (if tickets are for a concert night); a free room upgrade at SpringHill Suites and a $50 dining certificate for four (or $25 for two) at the in-hotel restaurant DOC's Commerce Smokehouse. Go book the package now; I'll wait.
I've stayed at SpringHill Suites before, writing about it in November as a great option for visitors going to a Bucks game, since the BMO Harris Bradley Center is a three-minute walk away. While that's still very much true, do you know what's even better than a three-minute walk in winter? A two-minute walk, and that's as long as it will take you to scurry from SpringHill, 744 N. 4th St., to the UW-Milwaukee Panther Arena for a VIP hockey experience.
Developed by the local Jackson Street Holdings LLC, which bought and renovated the historic, six-story Commerce Building – built in 1927 but underused for years – SpringHill opened in July 2016. It's one of the newest hotels in Downtown's fast-growing lodging landscape and sits in the heart of rapidly revitalizing Westown. The centrally located, all-suite establishment – a Marriott franchise but a new brand for Milwaukee – is fresh and upscale, with 155 functional (and relatively spacious) rooms, a sleek-yet-casual lobby and one of the best hotel restaurants in the city.
I checked in on Saturday afternoon with Shyesha Sellers, the delightfully helpful front desk attendant, and when I got up to my room found it arranged with Admirals swag – a couple of t-shirts, the bobbleheads, Ads blankets, the tickets, vouchers and other items.
Being lousy at packing, traveling and general preparedness, I realized the clothes I brought were dirty and needed to a load of laundry. But being also a person who never has any cash at all on them, I realized I didn't have money. When I went down to the lobby to ask about an ATM and offhandedly mentioned the reason to Shyesha, she instantly took out two dollars from her own wallet, exchanged them at the front desk for quarters and handed them to me. Sheepishly, I accepted and thanked her profusely, though she waved off the favor as nothing because she is wonderful.
I'd invited my little sister to join me because she's a huge Joan Jett fan and had never been to an Admirals game. We walked over to the arena wearing our Ads shirts, went inside and met up with the team staffers who were coordinating the pregame Zamboni ride. (I chose the Zamboni over the Human Hockey Puck because, even though I would have much preferred the excitement of the latter, I had recently ruptured my Achilles' tendon and was on crutches, so it didn't seem like a great idea.)
The activity before a game is pretty chaotic, and with the package's exclusive access, you really see everything that goes into getting the arena ready.
After watching the teams warm up from right behind the glass, I hopped onto the Zamboni for the all-important pregame ice resurfacing. It was fun, in a wave-to-the-crowd-at-a-parade sort of way, and I took some cool pictures, Snapchatting the ride and enjoying the moment.
I totally nailed riding the Zamboni #MILhockey pic.twitter.com/eNIW9fE8nf — Jimmy Carlton (@jimmycarlton88) February 14, 2018
Afterward, we wandered around the venue, played some games in the interactive area and used our concessions card to get chicken tenders and fries from "The Coop," drinks and Cedar Crest ice cream. Eventually, we found our Section 210 seats, 1 and 2 in Row 8, and watched the game.
And what a game it was. Facing the San Antonio Rampage, who were just ahead of Milwaukee in the conference standings, and wearing their Nashville-inspired yellow jerseys, the Admirals scored first – on a Derek Army goal off a deft assist from Tyler Moy – and dominated the opening period. But the second belonged to San Antonio, which scored three goals – Milwaukee got one, courtesy of Freddy Allard – and led, 3-2, heading into the second intermission.

(PHOTO: Ty Helbach)
In the third period, the Admirals evened it up on a Mark Zengerle roofer, but with a little more than five minutes remaining, the Rampage again took the lead and looked like they'd win it.
But then, with just 10 seconds left in regulation and playing with an empty net, Admirals captain Trevor Smith deflected a shot past the Rampage goalie, tying the game at 4-4 and sending it into overtime. One minute into the extra period, Alex Carrier blasted a one-timer into the goal to give Milwaukee the dramatic comeback victory, exhilarating the crowd of 7,839. I've covered a lot of sporting events, but the feeling of being a real fan and cheering a big home win is always awesome.
When we'd finally come back down from the excitement, my sister – who said she loved the fast pace and action of hockey – and I made our way to the lower level and out onto the ice for the postgame Joan Jett concert. We were stoked – getting to watch a Rock 'N Roll Hall of Famer and music legend from 10 feet away – and it didn't disappoint.
Joan Jett and the Blackhearts rocked out and put on a terrific show, seeming truly happy to be there, and the acoustics in the arena were surprisingly good. We mingled with the fans around us and left smiling.

(PHOTOS: Ty Helbach)
Following the short walk back to the hotel, I collapsed, exhausted, into bed and then slept through SpringHill's breakfast. That didn't matter, though, because I got to have lunch at DOC's Commerce Smokehouse, its massive and superb in-house restaurant.
DOC's serves myriad craft beers and cocktails from the white oak-topped bar and bare-meat Southern barbecue at the tables, which are equipped with a roll of paper towels that come in (literally) handy for cleaning up its five finger-licking regional sauces – spicy Texas style, tangy Memphis, vinegary Carolina pepper, savory white Alabama style and sugary Doc's signature sweet sauce. The service is prompt, the atmosphere is relaxed – sports on the TVs, live music on weekends – and the food is excellent. I had a three-meat platter last time I ate at DOC's, so this time I embraced my true self and got the Redneck Fries.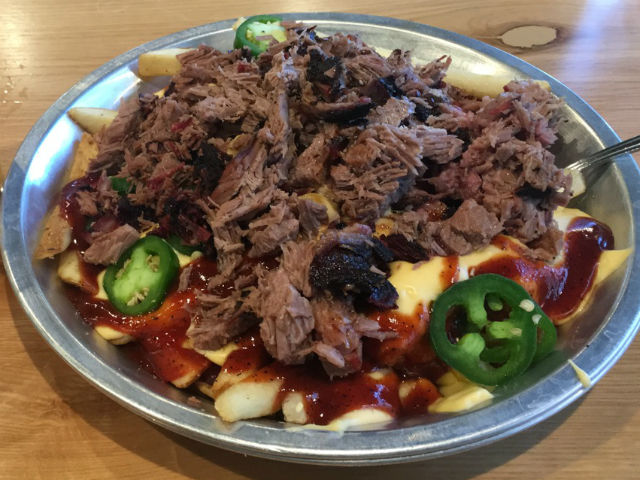 The Admirals were playing at home again that Sunday afternoon, and people had already started to gather at DOC's, a great spot for a drink and a bite before the game. Hopefully, next time you're there it's because you booked SpringHill Suites' #Milhockey package for the ultimate fan experience.

(PHOTOS: Ty Helbach)
Born in Milwaukee but a product of Shorewood High School (go 'Hounds!) and Northwestern University (go 'Cats!), Jimmy never knew the schoolboy bliss of cheering for a winning football, basketball or baseball team. So he ditched being a fan in order to cover sports professionally - occasionally objectively, always passionately. He's lived in Chicago, New York and Dallas, but now resides again in his beloved Brew City and is an ardent attacker of the notorious Milwaukee Inferiority Complex.
After interning at print publications like Birds and Blooms (official motto: "America's #1 backyard birding and gardening magazine!"), Sports Illustrated (unofficial motto: "Subscribe and save up to 90% off the cover price!") and The Dallas Morning News (a newspaper!), Jimmy worked for web outlets like CBSSports.com, where he was a Packers beat reporter, and FOX Sports Wisconsin, where he managed digital content. He's a proponent and frequent user of em dashes, parenthetical asides, descriptive appositives and, really, anything that makes his sentences longer and more needlessly complex.
Jimmy appreciates references to late '90s Brewers and Bucks players and is the curator of the unofficial John Jaha Hall of Fame. He also enjoys running, biking and soccer, but isn't too annoying about them. He writes about sports - both mainstream and unconventional - and non-sports, including history, music, food, art and even golf (just kidding!), and welcomes reader suggestions for off-the-beaten-path story ideas.