The reasons I fell in love with Alanis Morissette in the mid-90s are the same reasons why I adored tonight's show at the American Family Insurance Amphitheater. She was passionate and playful; dead serious and self-deprecating; tough as nails yet comfortably vulnerable.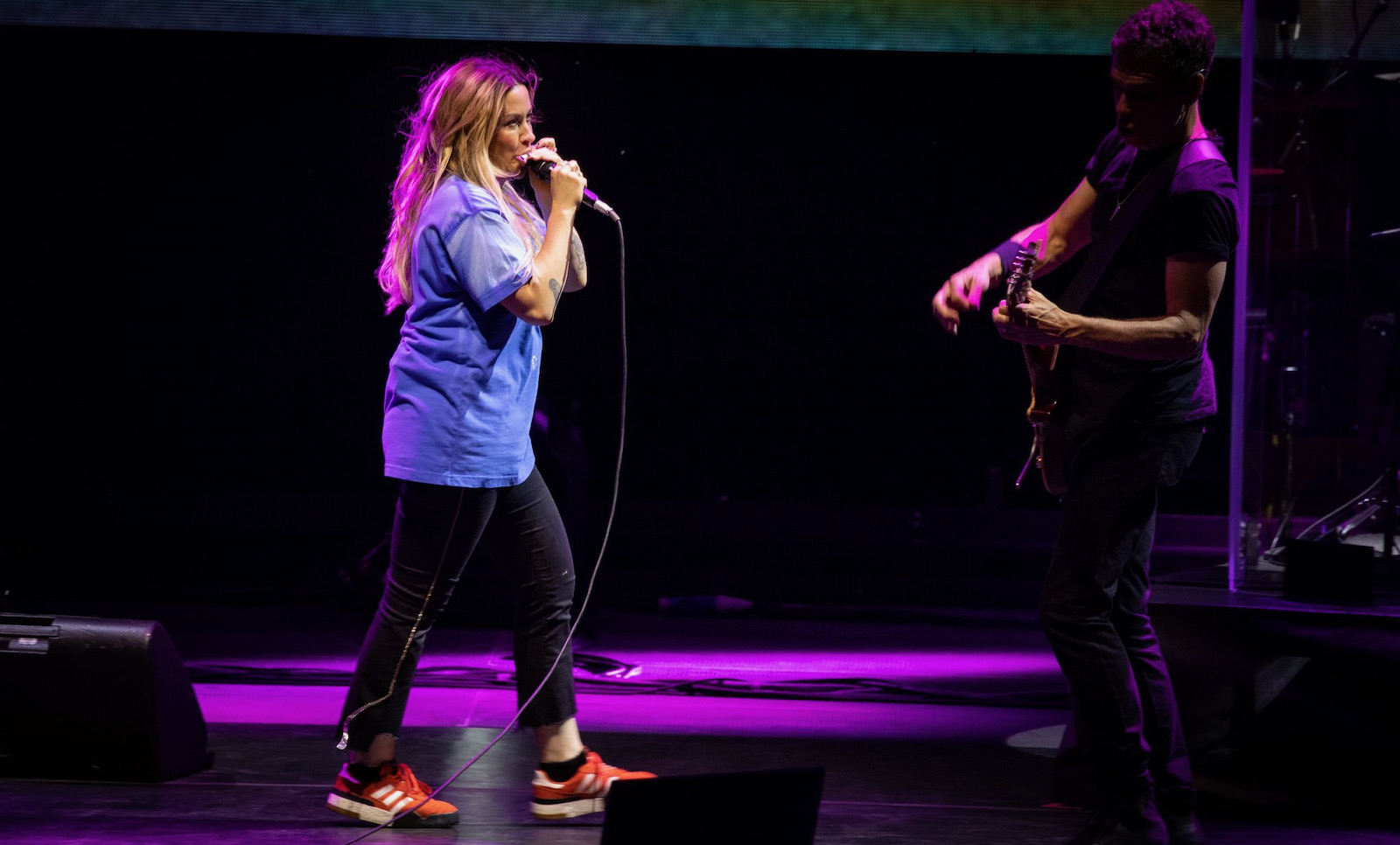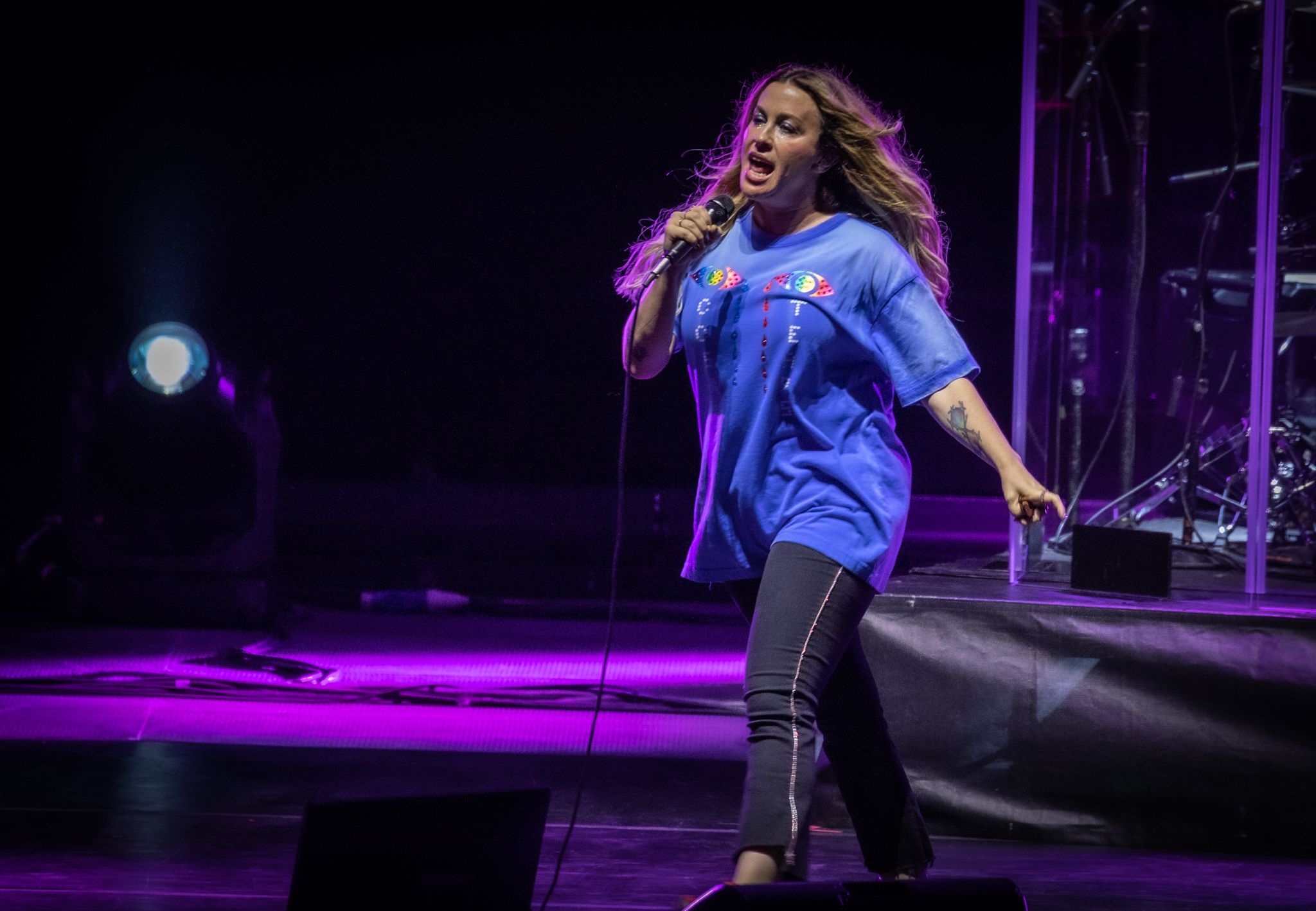 Over the past two decades, Morissette spent much of her time focusing on spirituality, meditation and motherhood – and it shows. After suffering through teen years plagued with #metoo moments and a groundbreaking record that made her as much of a star as it did a target.
Tonight, despite the strong storms, Morissette brought her 25-year-anniversary tour of "Jagged Little Pill" to the American Family Insurance Amphitheater. (The classic album actually came out 27 years ago.)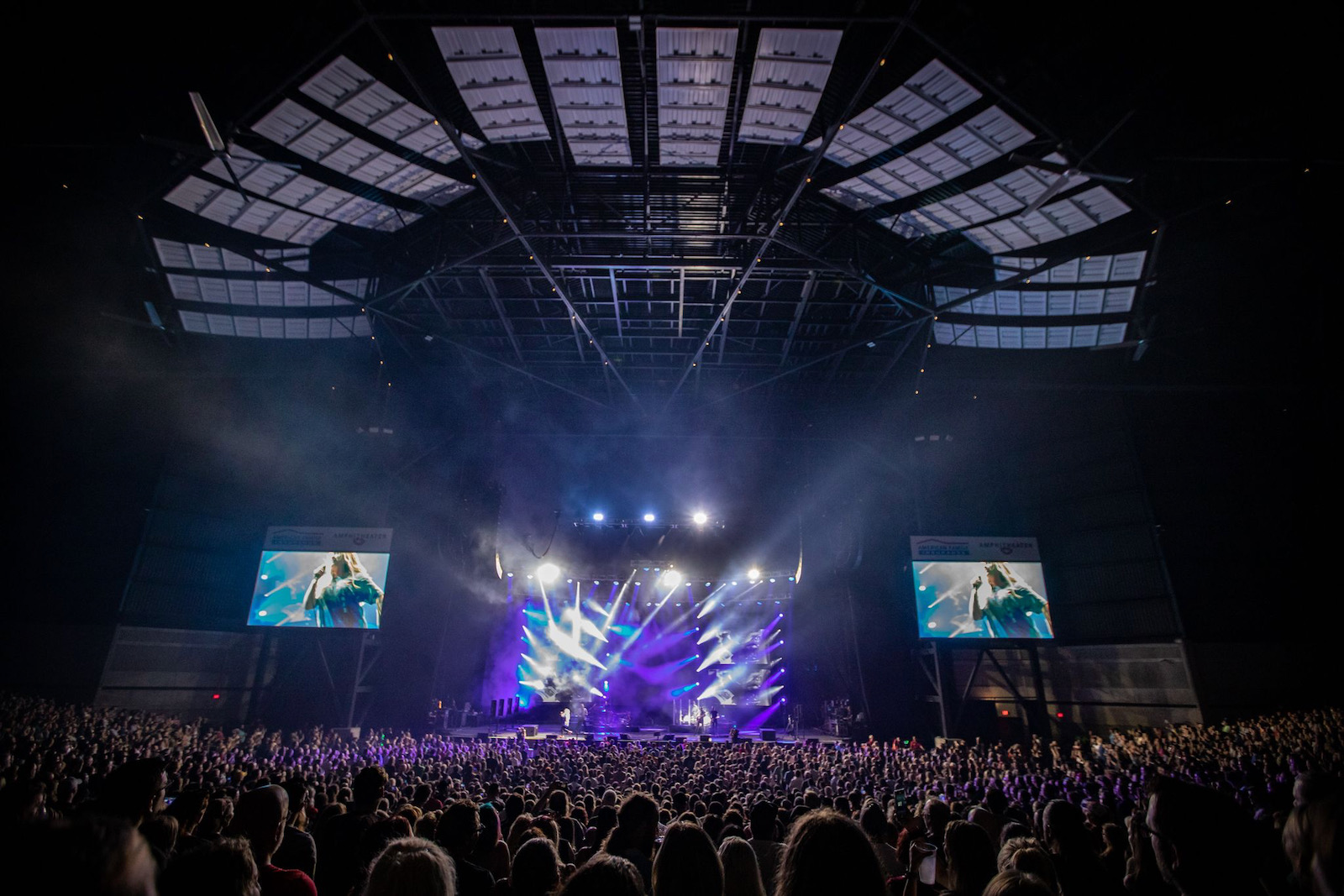 But for those of us fortunate enough to be sitting in the covered seating, the only storm we were privy to was the one on stage, whipped up by a 48-year-old performer with long blonde hair and casually dressed in a T-shirt, jeans and sneakers who stomped, marched, swayed, twirled, shouted and sprinted from stage left to right all the while delivering a 23-song setlist and a three-song encore with unwavering vocals.
Morissette played the entire "Jagged Little Pill" album, albeit mostly out of order. She included snippets of later tracks interspersed throughout her earliest hits, which seemed like a reasonable compromise with the audience, most of whom undoubtedly showed up for the anthemic "Jagged" tunes and the incredibly heartwarming sing-a-longs.
The show began with a video montage that included footage from her child actor and Canadian teen pop star days along with late night show appearances, self-deprecating sketches, clips from her role as God in Kevin Smith's "Dogma" and her witty appearance on "Curb Your Enthusiasm."
Morissette's refusal to take herself too seriously and even poke fun at her own celebrity zenith is one of her most endearing qualities. For years, everyone from DJs to English professors have declared nothing on her song "Ironic" as actually being ironic by definition, and yet she has many times in the past made light of the lyrics. Tonight she just owned them. ("Ironic" was also touchingly sung in memory of Taylor Hawkins, who drummed with Morissette before joining Foo Fighters.)
Morissette opened with "Jagged" hits "All I Really Want," "Hand in My Pocket" and "Right Through You." Her voice was absolutely astounding on "Ironic" and "Mary Jane" as well as the newer track "Sympathetic Character" where she held notes much longer than on the original recordings.
Her ability to produce a harmonica seemingly out of nowhere was a delight and her solid guitar playing reminded us she is a skilled musician on many fronts. Plus, her encouragement for us to scream "It's all your faaaaault!" with thousands of other fans will go down in favorite concert moments of all time.
The video aspect of the show was entertaining, meaningful and varied ranging from adorable videos of her kids during "Ablaze" to a car suspiciously engulfed in flames during "You Oughta Know."
Those of us who fan-girled or fan-boyed Alanis in the 90s undoubtedly fan-womaned and fan-manned over her tonight. She was a big deal back then, but she was huge tonight. Vivacious, grateful and engaged. A woman who literally and proverbially took her space.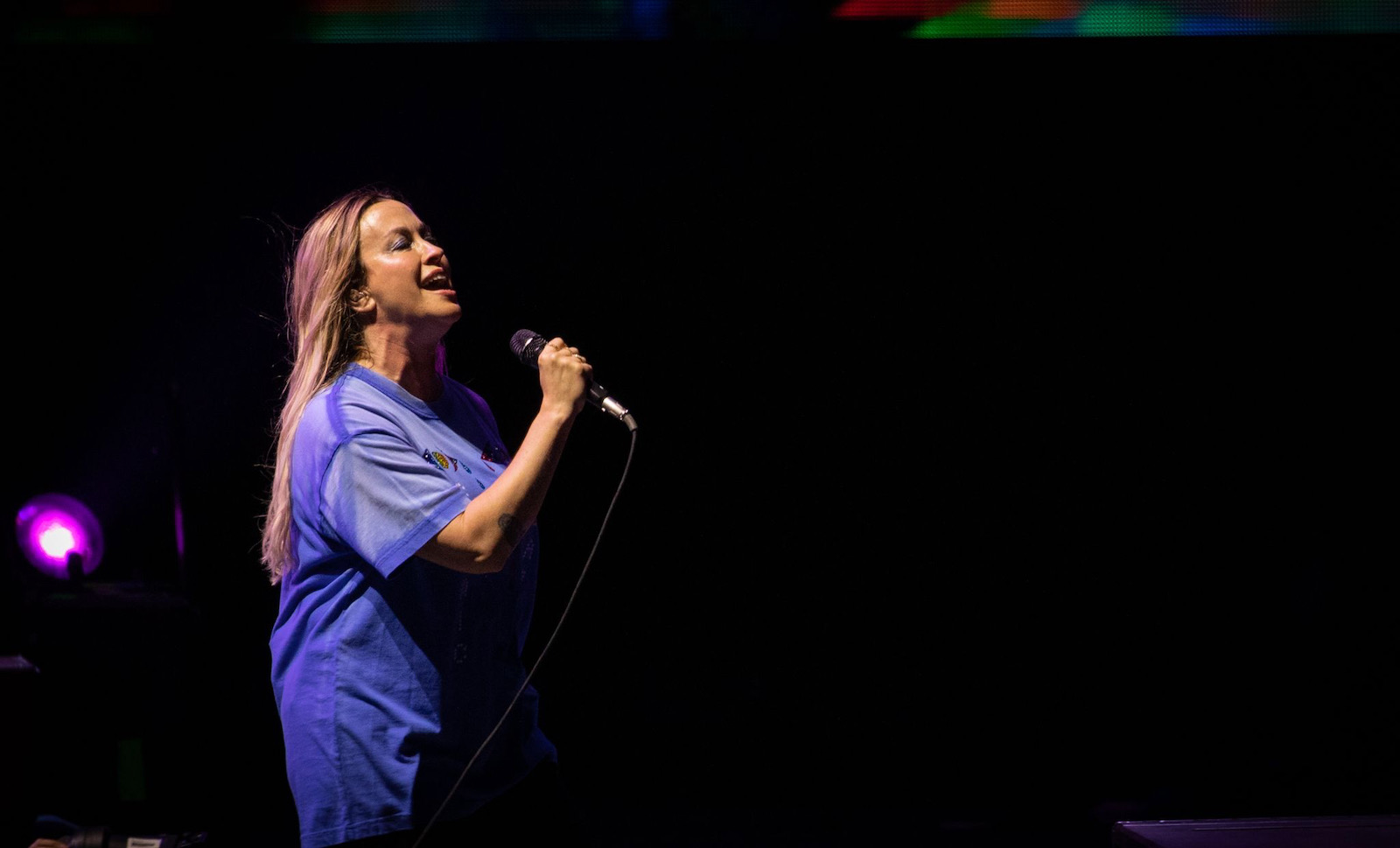 She's not gonna go down on anyone in a theater these days, but she's definitely still got one hand in her pocket, a place where she saved some of her very best treasures for the second half of her life.
Garbage featuring the incomparable Shirley Manson opened tonight's show with a quick-but-satisfying performance.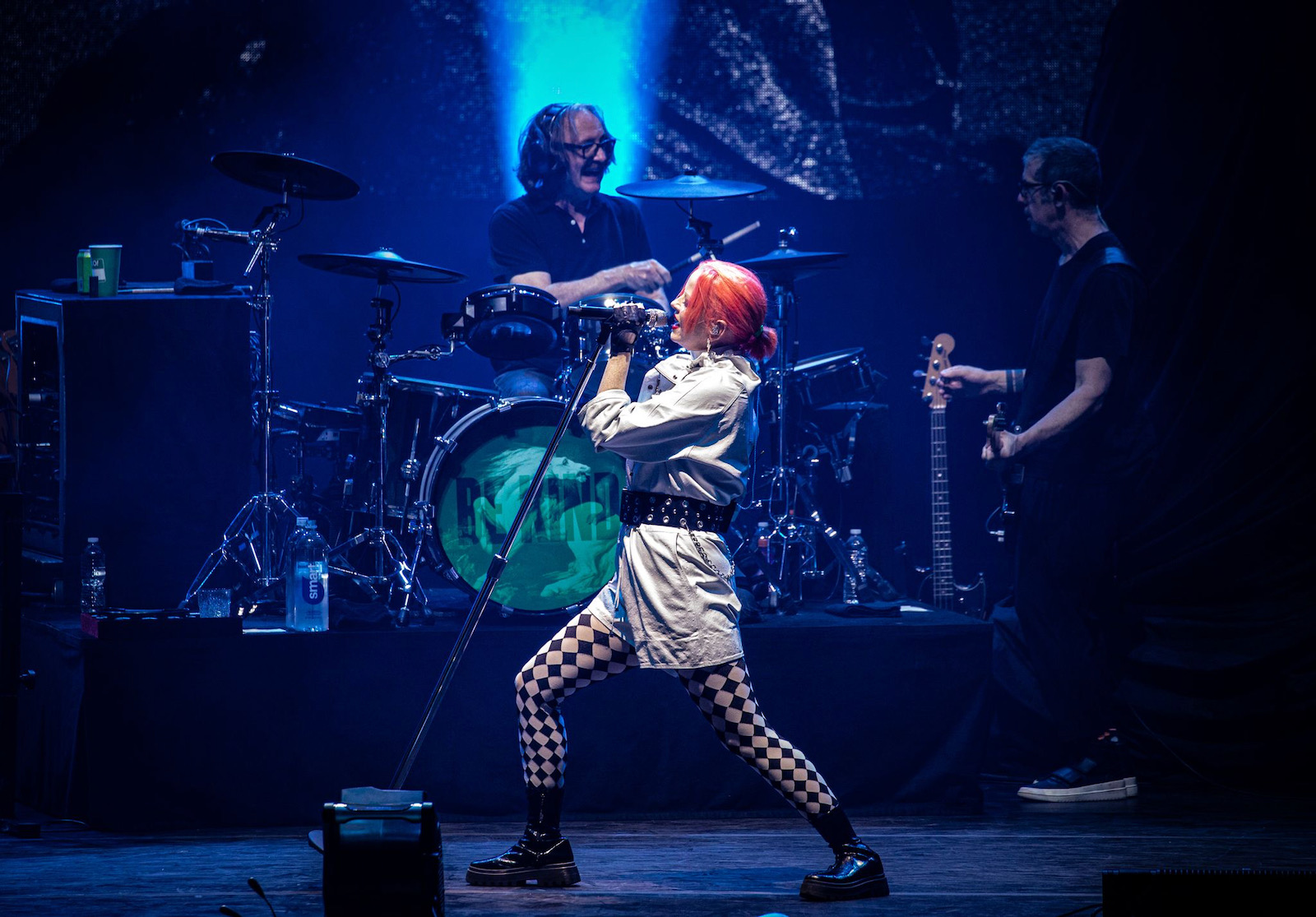 Alanis Morissette setlist:
All I Really Want
Hand in My Pocket
Right Through You
You Learn
Hands Clean (Snippet)
Forgiven
Everything (Snippet)
Mary Jane
Diagnosis (Snippet)
Reasons I Drink
Head Over Feet
So Unsexy (Snippet)
Ablaze
Nemesis (Snippet)
Perfect
Losing the Plot (Snippet)
Wake Up
Not the Doctor
Ironic
Sympathetic Character (Snippet)
Smiling
I Remain (Snippet)
You Oughta Know
Encore:
Your House
Uninvited
Thank U

Molly Snyder started writing and publishing her work at the age 10, when her community newspaper printed her poem, "The Unicorn." Since then, she's expanded beyond the subject of mythical creatures and written in many different mediums but, nearest and dearest to her heart, thousands of articles for OnMilwaukee.

Molly is a regular contributor to FOX6 News and numerous radio stations as well as the co-host of "Dandelions: A Podcast For Women." She's received five Milwaukee Press Club Awards, served as the Pfister Narrator and is the Wisconsin State Fair's Celebrity Cream Puff Eating Champion of 2019.