When Brooklyn's Other Half Brewing Company announced All Together IPA international brewing collaboration in March to help support struggling brewers and service industry works, more than 700 breweries worldwide signed on, including six in the Milwaukee area.
Other Half created a flexible recipe and label art and shared them, open-source style – on a website.
In addition to being a nice source of potential income for craft brewers and their taproom staffs – brewers were told they could use the funds from the sale of the beer in whatever way they wanted – All Together was a tasty sign of solidarity in the business.
From a beer lover's point of view, it was also a chance to see how the brewer's touch could render unique each iteration of All Together.
I decided to taste all six local All Together IPAs and when 1840 Brewing Company founder Kyle Vetter suggested we taste them together, I jumped at the offer to have an experienced brewer on board.
Vetter says that the recipe was a good foundation, but it left some things open to interpretation and brewers were also encouraged to adjust their recipes to their specific needs.
"The recipe says you could do West Coast or East Coast style," he says as an example, meaning it can be hazy or not.
"Also, the color can change based on how vigorously you boil," Vetter adds.
The recipe recommended using yeast similar to London Ale III strain (or Chico), but when Imperial Yeast offered its Juice (popular with hazy and juicy IPA brewers) yeast at a discount for folks brewing All Together, some took that route. Similarly, Milwaukee's Malteurop offered All Together makers its malt at a discount.
And when it came to the hops, four were recommended at specific proportions, but some brewers opted to tinker that hops bill. Even still, there was enough room for a brewer to put her/his stamp on the final project.
"We did two dry hops, one during fermentation and one after," says Vetter, who made an All Together.
"The recipe just said to dry hop. It didn't tell you when. We did all four hops in equal proportions during fermentation and in the end we followed their recommendations for proportions."
In the end, it's safe to say that every single All Together IPA will be at least slightly different for these reasons as well as others, including water and other inputs, which can vary from place to place.
"I like to say in wine the terroir is the soil and in beer terroir is the brewer," Vetter says. "There are so many little ways you can affect the results."
That is why last Friday, Vetter set up six sparkling clean glasses at one end of the 1840 taproom bar and six more at the opposite end, so that we could taste All Together ... together ... yet apart.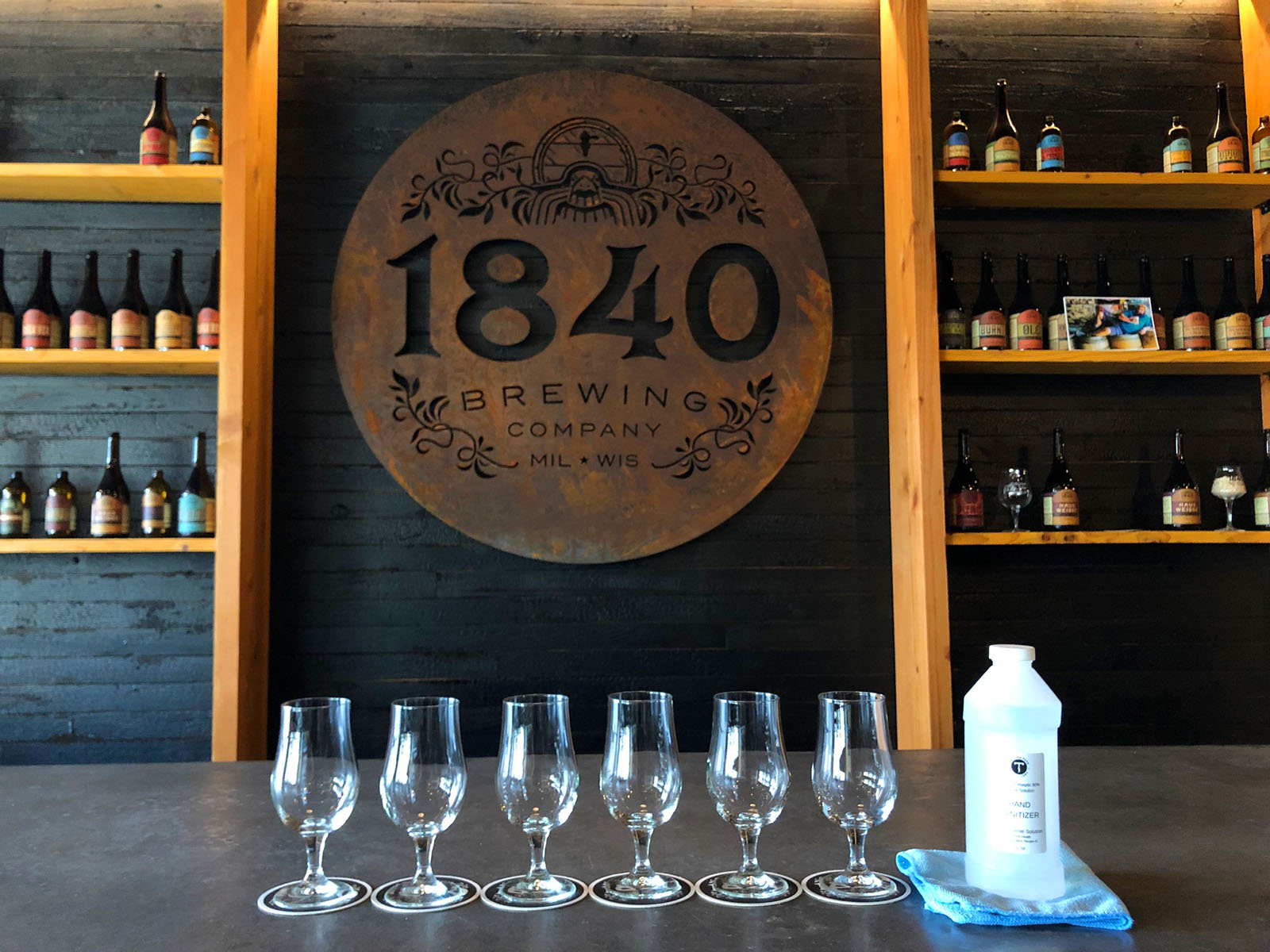 Our goal was to talk about the beers and their similarities and differences. We were not there to rate the beers (if we had, it wouldn't have been fair to include Vetter's own version; or maybe to include Vetter at all).
Interestingly, when we poured all six, one stood out because it looked completely unlike the others.
Hacienda Beer Co. was the only brewer to decide against going heavy on the haze.
Though it's iteration was ever so lightly hazy, from a distance, the golden brew almost appeared to be a pilsner.
It was also the only brewer to change the hops bill.
While the recipe called for Mosaic, Casade, Simcoe and Citra hops, Hacienda opted to replace the Cascade and Citra with Centennial and Michigan Chinook. It also used its own house Vermont ale yeast.
The result is a fresh, snappy ale with tropical fruit aromas – passionfruit, mango, some citrus – and on the palate and a rich pine finish.
Component's version arrived in crowlers and while I tasted only from one can, Vetter tried two and found different results, likely as a result of the crowler. Despite its can-like appearance, a crowler is similar to a growler in terms of how soon it should be purchased.
When he tried one the day after it had been put in the crowler, Vetter says, "it was almost spicy with hops. It seems like they used the most hops (of any of the example).
When we tasted the other crowler a week later, that hoppiness was still there but softened and was very hazy and lightly citrusy.
Examples from 3 Sheeps in Sheboygan and The Fermentorium in Cedarburg shared some similarities. Both were very hazy and a tad darker in color and both were heavy on dried apricot flavors.
While the 3 Sheeps version was a little softer with vanilla notes balancing it on the palate, The Fermentorium got a boost of citrus on the tongue and pine on the finish from the hops.
"It's the hoppiest beer we've ever done," says The Fermentorium's Maggie Skinner.
Interestingly, while The Fermentorium brew (and all the others' too) clocks in at the 6.5 percent alcohol by volume indicated in the recipe, 3 Sheeps' version is an easier-drinking 5.2 percent.
One of the brightest-colored examples came from Third Space, which doesn't really dive deep into hazies.
In fact, says Vetter, who is a fan, "This is my first hazy beer from Third Space. They've only done a few."
This iteration has a nice creamy body, good head retention and lacing on the glass that comes from the inclusion of oats and carapils malt in the grain bill.
Third Space Co-Founder and Brewmaster Kevin Wright says that he tinkered with the recipe a bit to achieve his results.
"They provided a base recipe with malts and hops but didn't provide recommendations for yeasts or water," says Wright. "We followed the malt and hop recipes but had to create our own water profile and select our yeast. We decided to use a yeast we had not used before called London Fog from White Labs as we wanted to make the hazy version of the recipe.
Like 1840, Third Space tinkered not with the choice of hops, but with how they're used.
"We modified the hopping schedule as it was left open to us to interpret what worked best for our system. We adjusted the whirlpool additions to be a cooled whirlpool addition to cut down on bitterness, because we were doing the hazy. We also modified the dry hopping to split into 2 additions because we have had success with that in the past."
The Third Space brew is also quite eye-pleasing.
"It has that nice orange juice color that people want to see in their IPAs," says Vetter. "It makes for good Instagram posts."
And he should know, pretty pictures help sell his beer, which likely explains why 1840's All Together is definitely the most photogenic with a bright, lively color and excellent head retention.
"Visual appearance is super important," says Vetter. "I sell beer on the internet. If I can make a pretty beer I'm more likely to get someone to try it."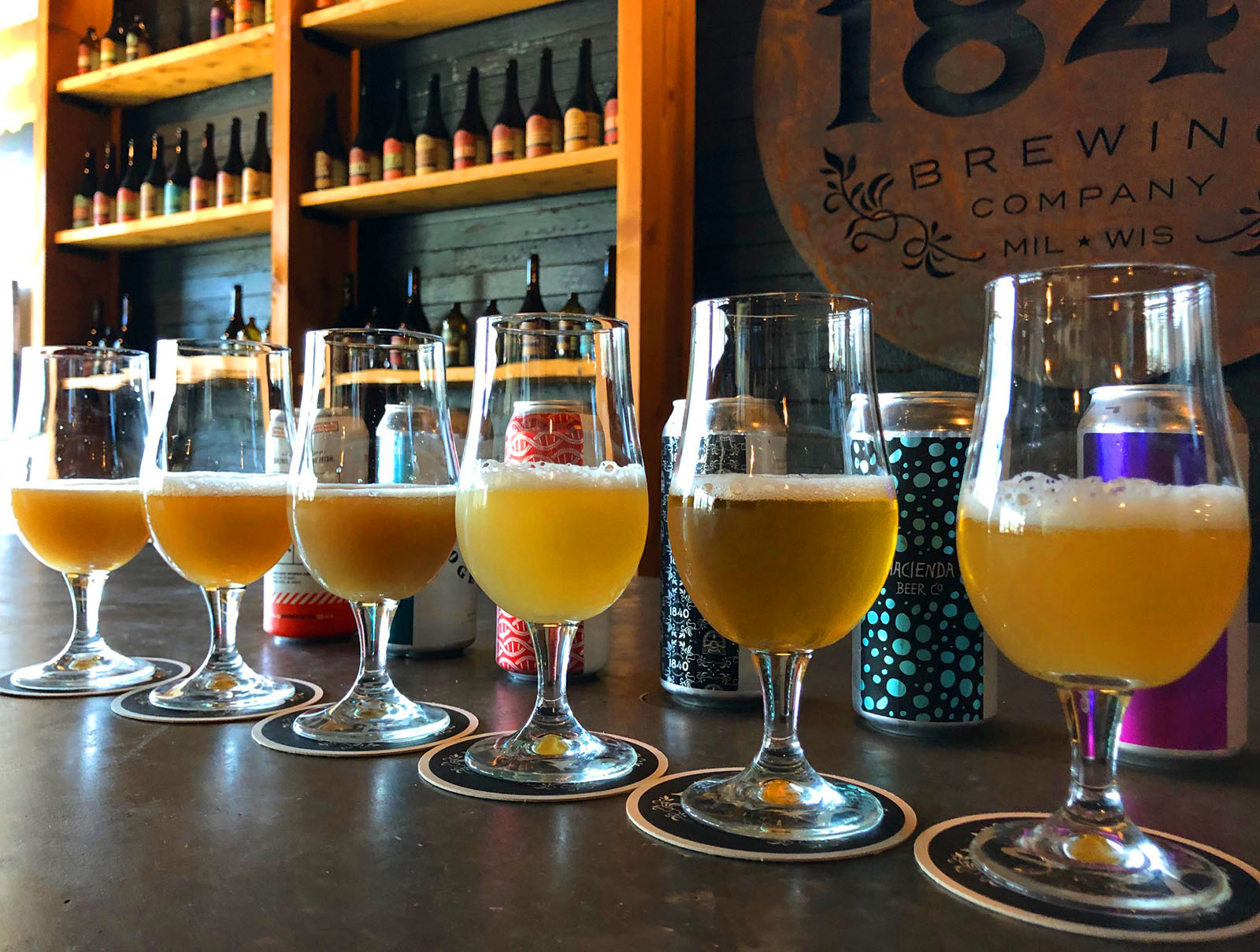 Vetter's hazy version is also the most aromatic, with blueberry and blackberry notes from the Mosaic (which the brewer says to him, "tastes like the color blue") and a dank pininess courtesy of Cascade.
All in all, if Milwaukee's examples are an accurate microcosm of the hundreds of versions of All Together IPA being brewed around the world, there is an incredibly vast rainbow of All Together colors, levels of haze, variety of flavors and aromas out there, all being created by brewers who, like the rest of us, are all in this together.
Born in Brooklyn, N.Y., where he lived until he was 17, Bobby received his BA-Mass Communications from UWM in 1989 and has lived in Walker's Point, Bay View, Enderis Park, South Milwaukee and on the East Side.
He has published three non-fiction books in Italy – including one about an event in Milwaukee history, which was published in the U.S. in autumn 2010. Four more books, all about Milwaukee, have been published by The History Press.
With his most recent band, The Yell Leaders, Bobby released four LPs and had a songs featured in episodes of TV's "Party of Five" and "Dawson's Creek," and films in Japan, South America and the U.S. The Yell Leaders were named the best unsigned band in their region by VH-1 as part of its Rock Across America 1998 Tour. Most recently, the band contributed tracks to a UK vinyl/CD tribute to the Redskins and collaborated on a track with Italian novelist Enrico Remmert.
He's produced three installments of the "OMCD" series of local music compilations for OnMilwaukee.com and in 2007 produced a CD of Italian music and poetry.
In 2005, he was awarded the City of Asti's (Italy) Journalism Prize for his work focusing on that area. He has also won awards from the Milwaukee Press Club.
He can be heard weekly on 88Nine Radio Milwaukee talking about his "Urban Spelunking" series of stories.