This story started off as a feature about Lightning Rods, the internet famous over-the-top, big-as-your-forearm mozzarella sticks sold at Alphonso's The Original, 1119 S. 108th St. in West Allis.
I expected to wax poetic about their crisp, herb-studded breadcrumb crust and the legendary cheese pull you get when you break open one of the monstrous 11-inch sticks filled end to end with mozzarella cheese (they weigh in at about 14 ounces each).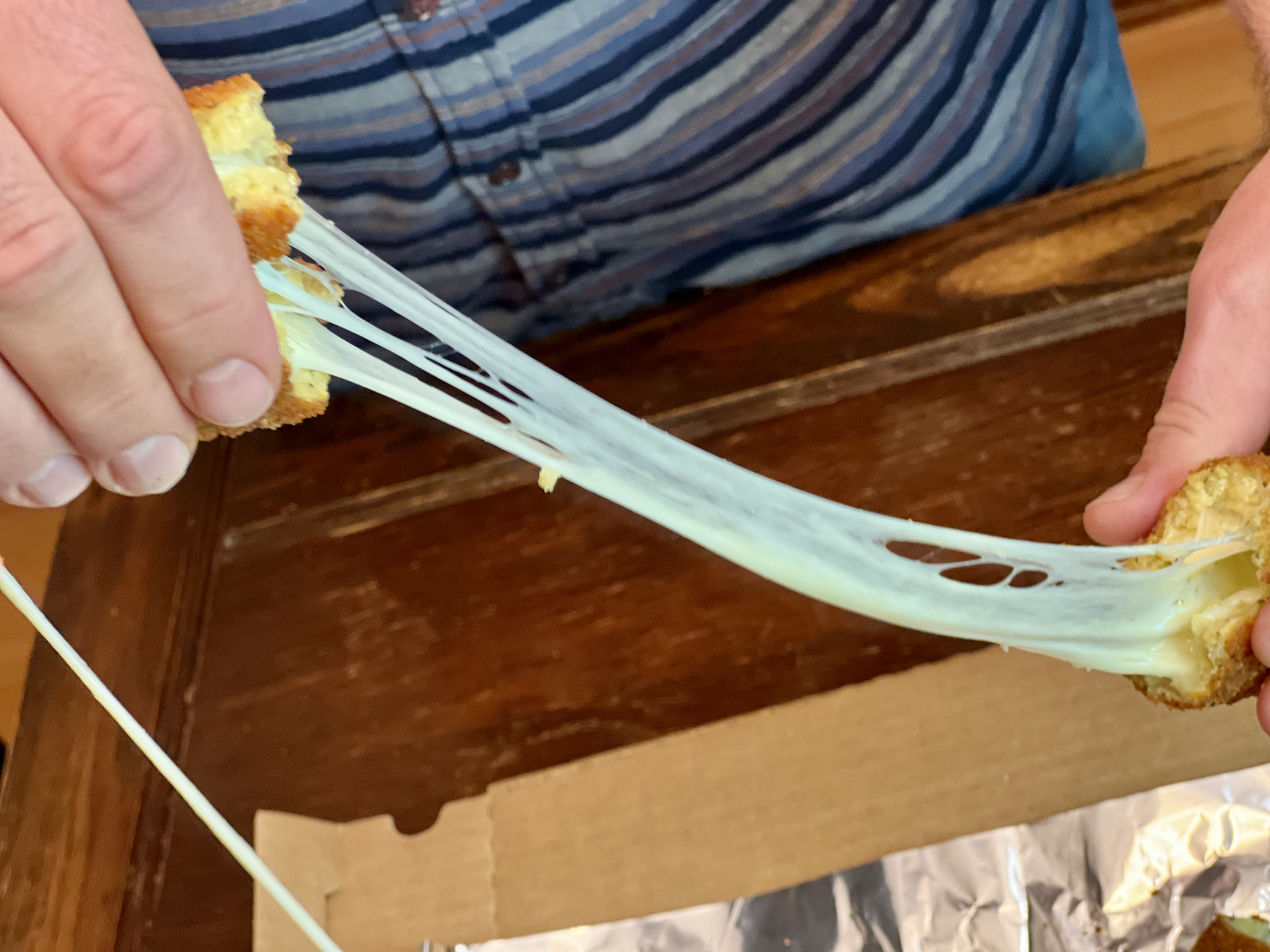 And yes, the abominably huge cheese sticks are every bit as satisfyingly cheesy as you'd expect, making it well worth your while to put in an order and give them a try.
But what began as a story about mozzarella sticks took a turn when I placed my order at Alphonso's on a dreary weeknight in October only to find that the "former" pizzeria was no longer serving pizza. Their pizza oven had broken down. So – while I could absolutely get my mozzarella cheese fix – I'd have to wait until they moved to their new location at 9130 W. Greenfield Ave. to indulge my craving for the Malibu, a fresh vegetable based pie topped with artichokes, basil, spinach and tomatoes.
So, I placed my order for two Lightning Rods (which I supplemented with a carry-out pizza from another local joint) and I moved on with my life.
But I couldn't get rid of a nagging feeling that I should call Szuta and see if there was an update on the pizza oven and new pizzeria location. So, ultimately, that's what I did.
Great pizza with a quirky story
If you've ever read the story of Alphonso's The Original that's been tucked underneath the glass counter at the restaurant, you already know that the Alphonso's story isn't just any story. In fact, it reads like a fairytale about two young boys, a car and a chance meeting that changed their lives.
"It was 1993," says Szuta, "And we were just kids. But we met Alphonso, this cool Italian guy who loved classic cars. Over the years, we built a relationship with him. We helped him out, did odd jobs, and he became a friend. When Alphonso passed away in 2005, he left us the things he loved most: two cars [a 1969 Z28 Camaro and a 1968 Chevelle] and a book of family recipes that had been passed down through the generations."
Szuta says he knew they had to honor Alphonso's legacy by making sure his family recipes (particularly his delicious pizza) lived on.
"I knew I had to see it through at all costs," he says. "I didn't have a lot, but I was able to get together just enough money to open up the restaurant."
Pepped up on optimism and determination, the two friends opened up Alphonso's The Original in February of 2010 on little more than a wing and a prayer.
The pizzeria served up pies aptly named for classic cars, including the Firebird (grilled Buffalo chicken with bacon, red onion, black olives, green peppers); the Cutlass Supreme (sausage, mushroom, onion and pepperoni) and the Heavy Chevy (loaded down with every topping on the books).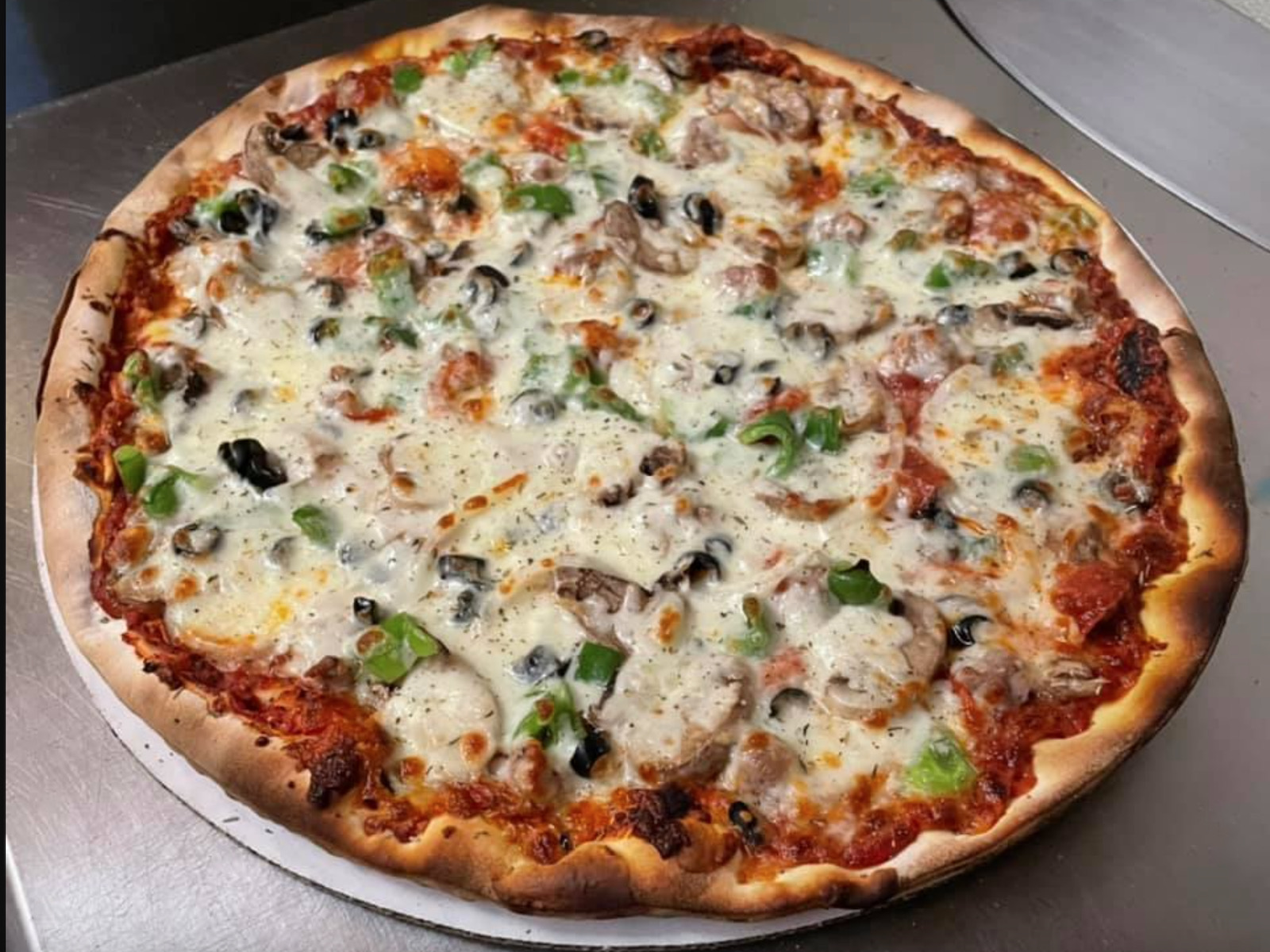 And the two owners did everything they could to bring attention to the business, including quirky stunts like dressing up as "Slicey the Slice and Bongo Man" and dancing around in front of the restaurant and performing skits for the West Allis Fourth of July parade.
At the time, he says, he was still working full-time as a semi driver with a route that ran through some of the worst neighborhoods in South Chicago. It wasn't a glamorous gig.
"I was robbed. I was shot at," he says, "But I kept my job because it paid well and I knew I needed the money to keep things moving forward. I needed to do it for Alphonso."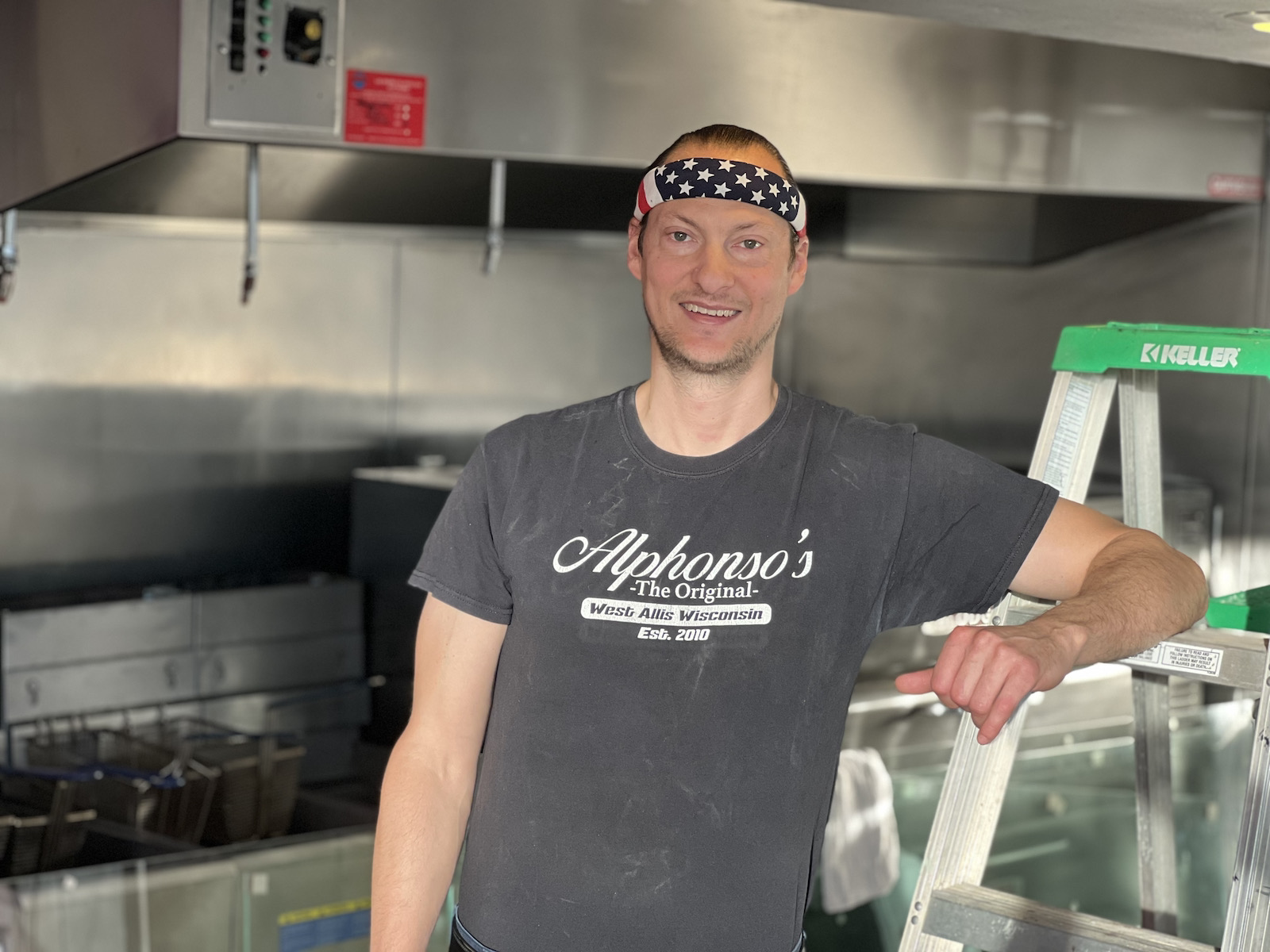 One struggle after another
It wasn't easy, but Alphonso's The Original made it to the five year mark, an accomplishment for any small restaurant. But in 2015, tragedy struck. Szuta sustained a tragic accident on his rig that left him with multiple injuries to his shoulder and back.
"I was left with the choice of getting work to pay for the surgery to fix my back or taking a workmans comp settlement," says Szuta, who ultimately chose the latter, entering into a multi-year process to collect his settlement.
"A lot of people didn't understand my decision; and admittedly I gave up a lot. I lost friends. I lost family in the process. But I cashed out my 401K and gave up my career to go all in on the pizza business because I wanted to make it work."
Within the year, Szuta says he faced another difficulty: parting ways with his longtime friend and co-owner Corey Washington and becoming sole owner of the pizzeria.
"Suffice it to say, we didn't leave things on a very good note," he says, noting that in the absence of his co-owner, he put everything he had into running the business.
By 2019, he had his settlement in hand and he put it towards a down payment on the property at 91st and Greenfield, looking forward to building a new (and more spacious) home for the pizza restaurant.
"Since then, I've spent all of my time trying to rebuild the business and make enough money to finish the buildout on the new place," he says. "I put all of my pain and problems aside and I followed my heart. I knew I was going to make this happen, no matter what the cost."
The double edged sword
By 2020, the pizza restaurant had garnered a good amount of recognition. But things took off in a new way when he introduced a brand new menu item: Lightning Rods, gigantic mozzarella sticks named for an aftermarket performance automobile shifter that rose to fame in the 1980s.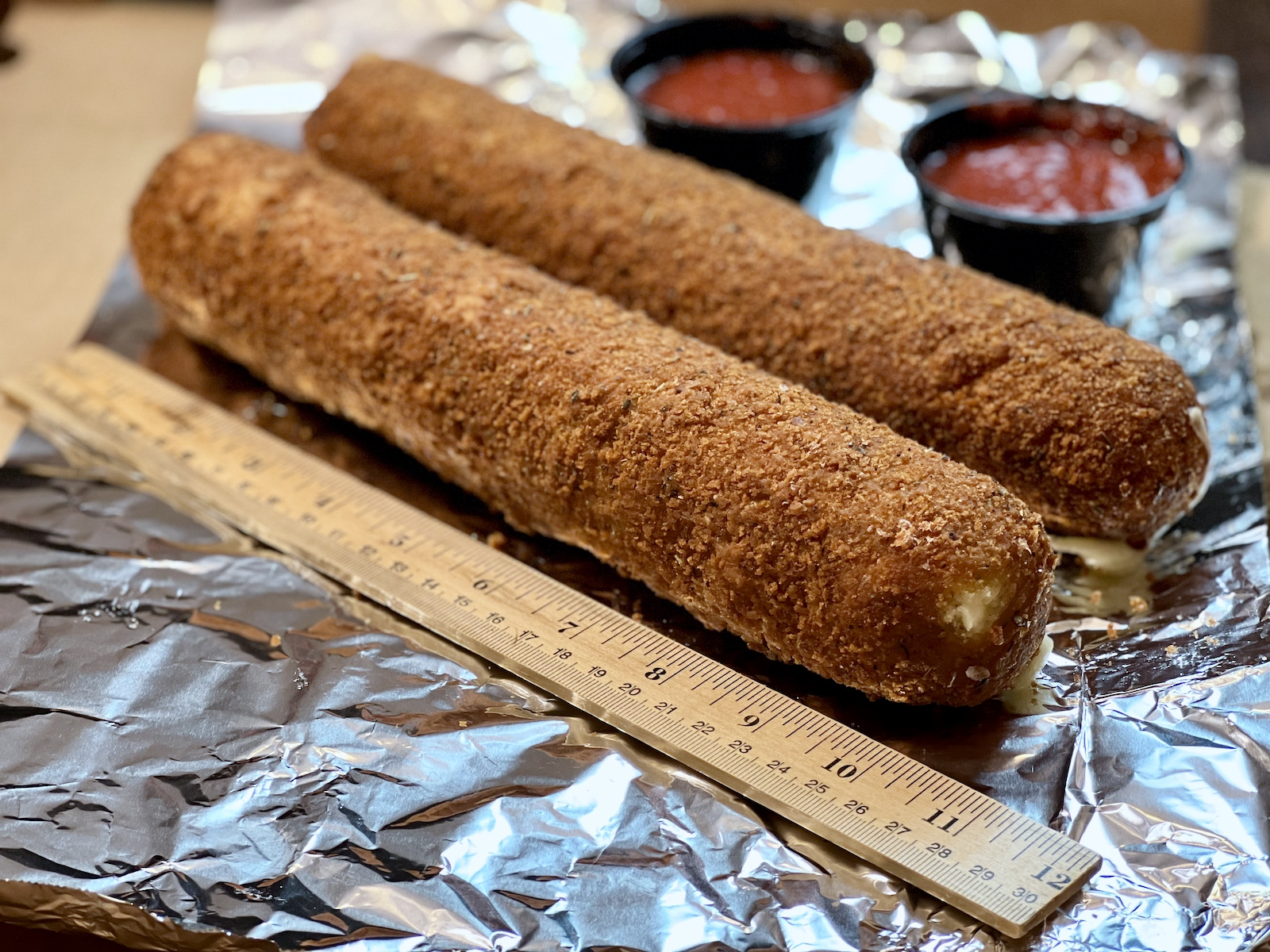 "From day one, we had mozzarella sticks," says Szuta. "But one day, I was playing around in the kitchen and … I don't even remember the moment, but I created the very first Lightning Rod. And I started selling them for $3 a piece. We totally lost money on them at first; but it was worth it because it made people smile."
Szuta pauses. "That's really all I ever wanted out of this business," he says, "To give people great food and make people happy."
The Lightning Rods did just that, and more. In fact, the mozzarella sticks went viral. It started with a Facebook post. Then came a post on Reddit, which gleaned over one million views in less than 8 hours, along with a tiktok video by @thekatcurtis, which set off another host of videos and establishing #alphonsostheoriginal, which currently has 1.6 million views.
'We had lines around the block," says Szuta. "And every time someone put something out there, they'd surge in popularity again. And things got really good for a moment."
Sales rose. But the viral mozzarella sticks boosted revenue enough for 2020 that Szuta says he didn't qualify for a much-needed PPP loan, which would have assisted him in finishing up work on the new location and taking advantage of the newfound momentum.
Instead, he found himself stuck in his tiny hot box of a kitchen, trying to keep up with demand.
And then, in the middle of a huge rush last April, the Alphonso's pizza oven died. Szuta says he brought in numerous repair people, all of whom told him the oven would need a complete rebuild or full replacement. It was an expense Szuta says he couldn't afford, particularly since he'd been pumping all of his money into the build-out for the new location.
"Just as we were catching up, business came to a halt," he says. "It's been really frustrating. Despite all the popularity, I'm back to square one. I had to lay off all of my employees, and now it's just me, one fryer and these crazy viral mozzarella sticks."
And yet, the lightning rods continued to gain popularity, most recently earning a write-up in the New York Times.
'Right now, I'm pretty much homeless," he adds, noting that pizza is really what kept the business afloat. "All I have is a car, a new building and this dream... to make this pizza business work. So, I'm not giving up."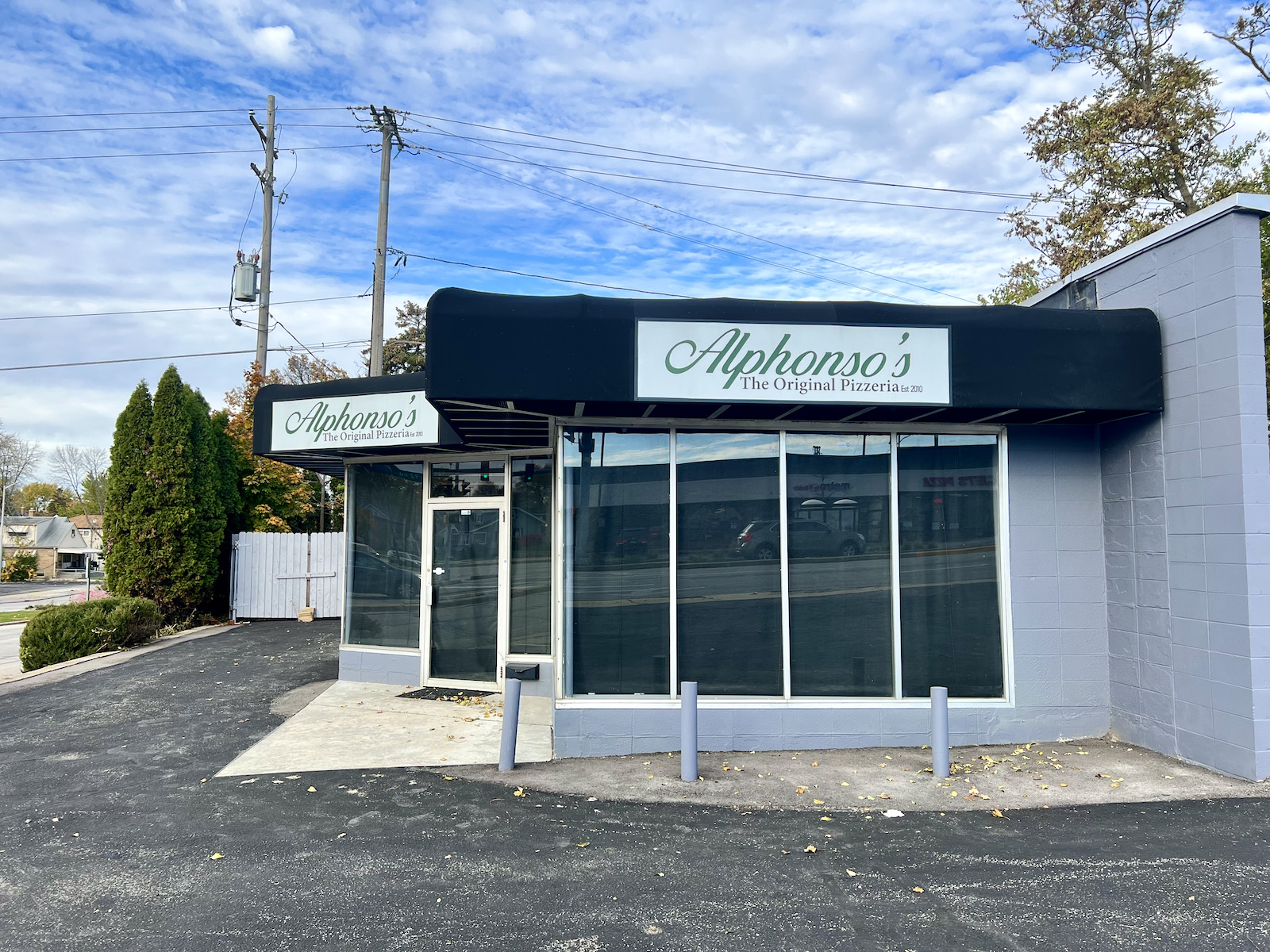 Living on hope
Szuta says he's working hard – despite delays caused by a limited budget and supply chain issues that have delayed needed equipment – with the hope of opening the new location (which has a fully operational oven and three fryers) by the end of the year.
"Currently, I'm one guy with one fryer, making really famous mozzarella sticks," he says. "I'm selling stuff left and right to get the cash I need. And I'm spending all of my spare time – with help from my brothers – getting the new restaurant done. And I'm so close. I just need a POS system and I need the materials to arrive so that I can finish up the counter."
He says it's been tough to admit that he's struggling, despite having a business that's gleaned national notoriety.
"I want people to realize that I'm here and I'm working really hard,' he says. "And I want folks to stick with me. I got into this business because I wanted to make people happy. I want to make things that make people smile. I also want to make enough money that I can give back to the community. I want to be positive and inspire people. This is something I believe in. It's something I feel is worth fighting for."
Szuta says he wakes up every morning and goes to work with the goal of turning things around.
"Ultimately, this is no longer Alphonso's dream. It's my dream," he says with a shrug. "And in the end, if this doesn't work, I'm just a guy with a busted up body who can make really big mozzarella sticks."
Lori is an avid cook whose accrual of condiments and spices is rivaled only by her cookbook collection. Her passion for the culinary industry was birthed while balancing A&W root beer mugs as a teenage carhop, fed by insatiable curiosity and fueled by the people whose stories entwine with each and every dish. She's had the privilege of chronicling these tales via numerous media, including OnMilwaukee and in her book "Milwaukee Food." Her work has garnered journalism awards from entities including the Milwaukee Press Club.
When she's not eating, photographing food, writing or recording the FoodCrush podcast, you'll find Lori seeking out adventures with her husband Paul, traveling, cooking, reading, learning, snuggling with her cats and looking for ways to make a difference.