If you haven't visited in a while, please know that the Ambassador Hotel, 2308 W. Wisconsin Ave., isn't your parents' Ambassador anymore. In fact, it hasn't been for a long time.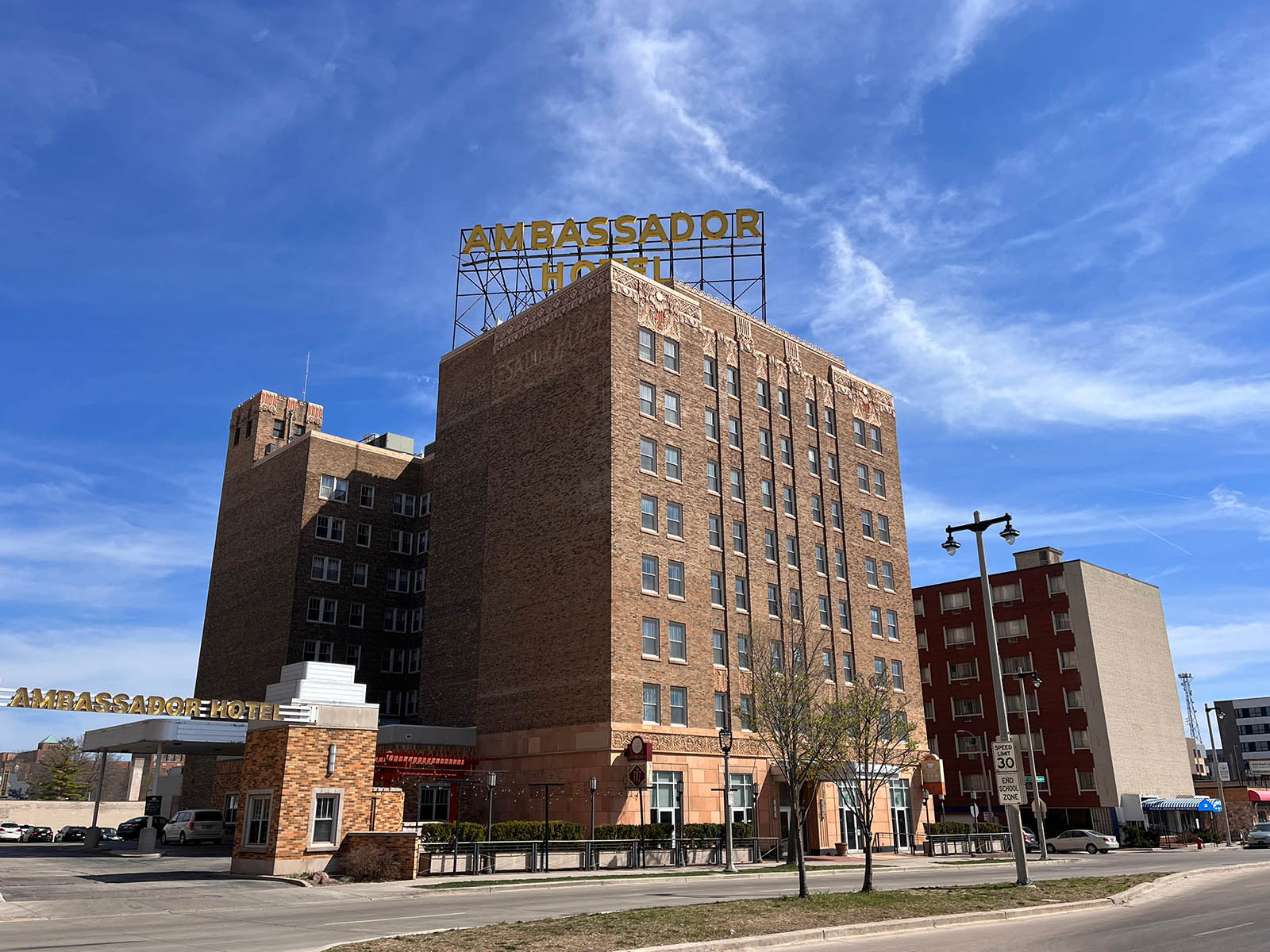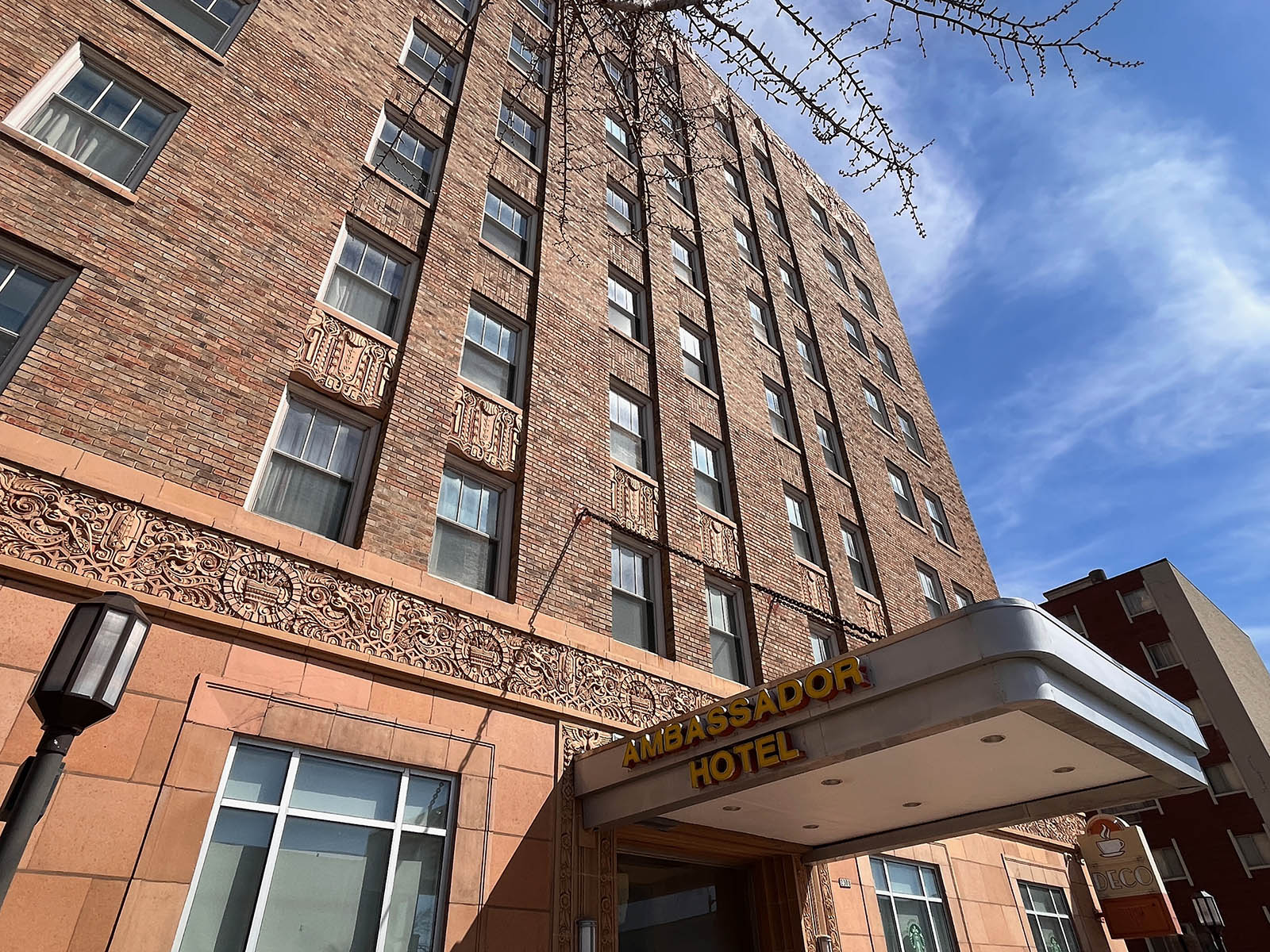 Opened in 1929, this West Side Art Deco gem definitely experienced a rough patch, but ever since developer Rick Wiegand bought it nearly 30 years ago, it's been one of the best-kept architectural secrets in town.
If you haven't walked into the hotel's restored lobby, you're really missing out.
As the eight-story, 132-room Ambassador celebrates its recent flying of the Wyndham Trademark Collection flag – and kicks off its 95th year – Mayor Cavalier Johnson will declare May 4 to be Ambassador Hotel Day in the City of Milwaukee.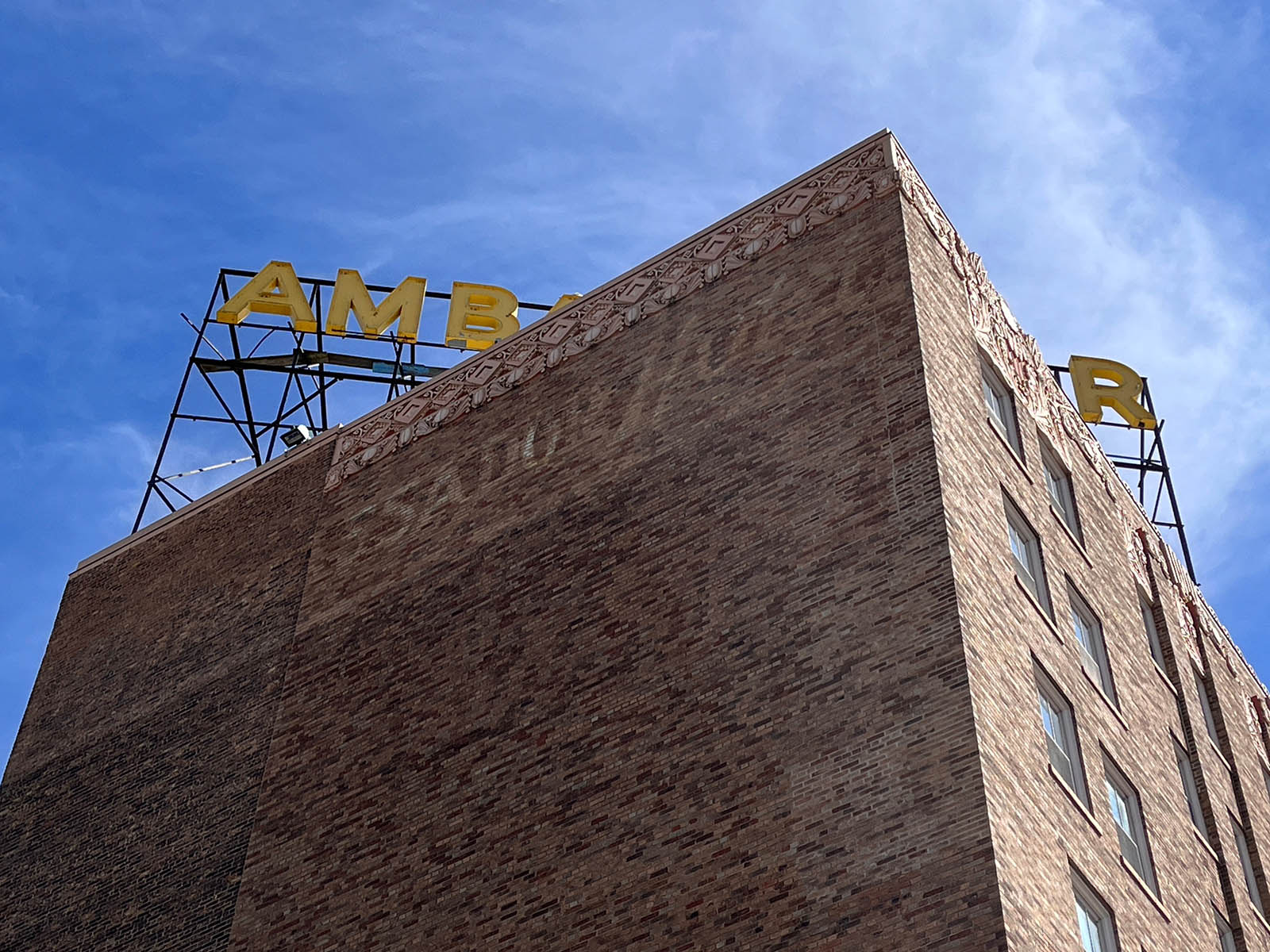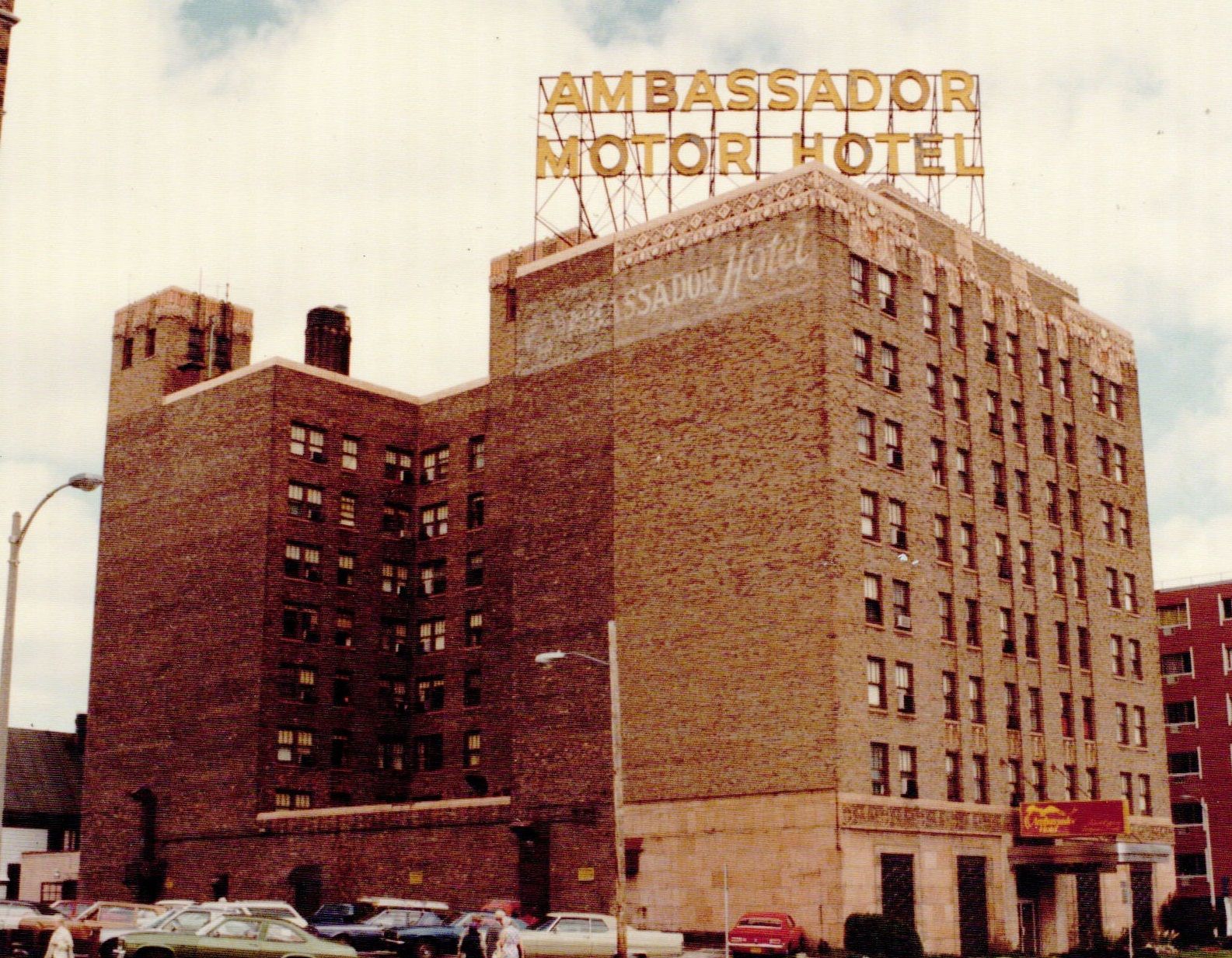 The hotel's restaurant, The Fitz, will reopen that day, too. It, like the Deco Cafe and Gin Rickey cocktail lounge – both of which have already come back online – were closed for a few years due to the pandemic.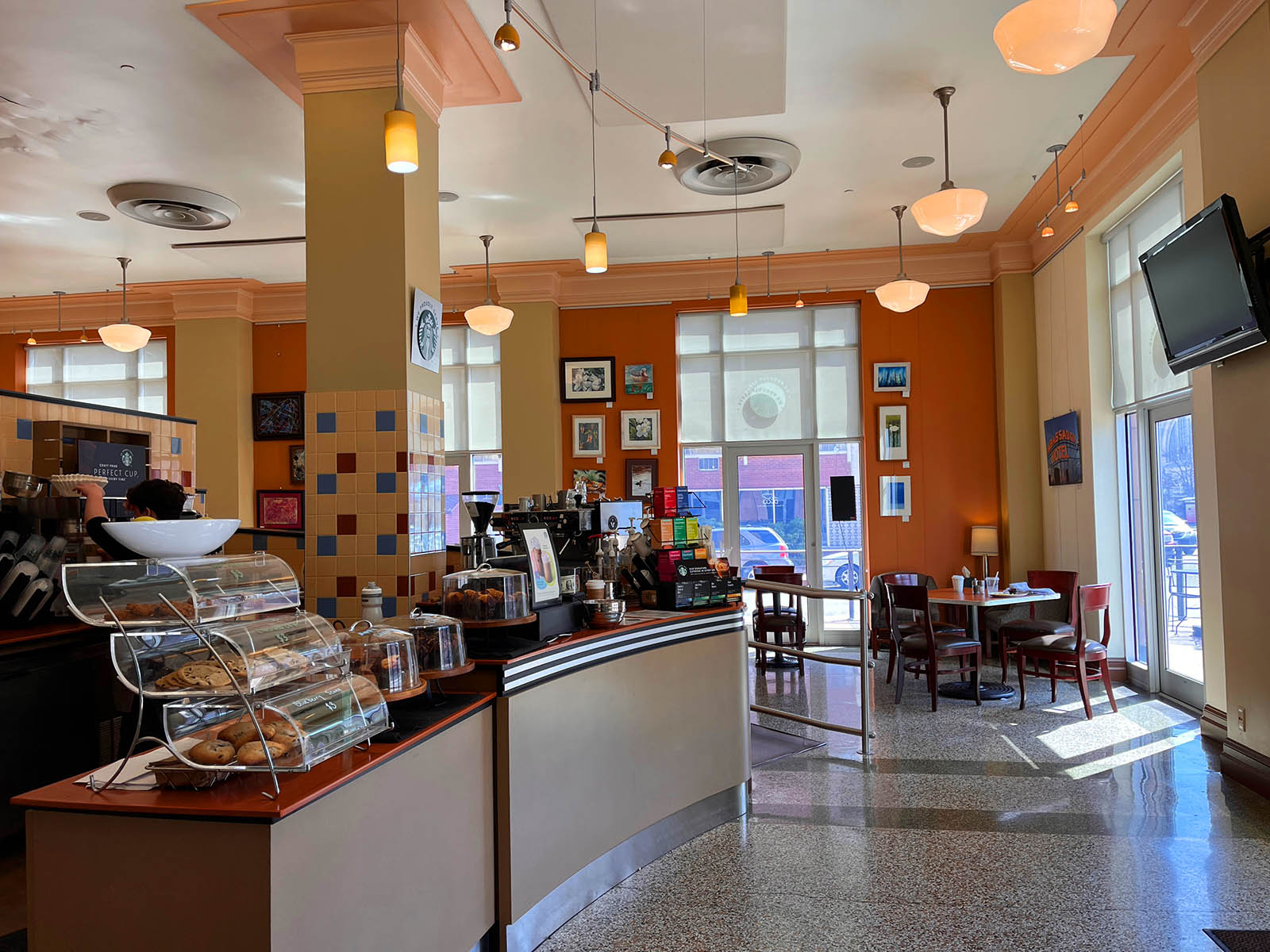 "We have been independent since we reopened in '95," Wiegand says, "but it's become more and more challenging over the years with all the branded hotels that have opened up in Downtown Milwaukee. So we explored various options and decided to go with Wyndham and their Trademark Collection.
"It's a soft brand, which means we can keep our identity and name, and we don't have all of the requirements that a hard brand has. Other brands would've required us to gut our historic bathrooms, (and) to create a corridor through our historic lobby. So Wyndham was very good to deal with."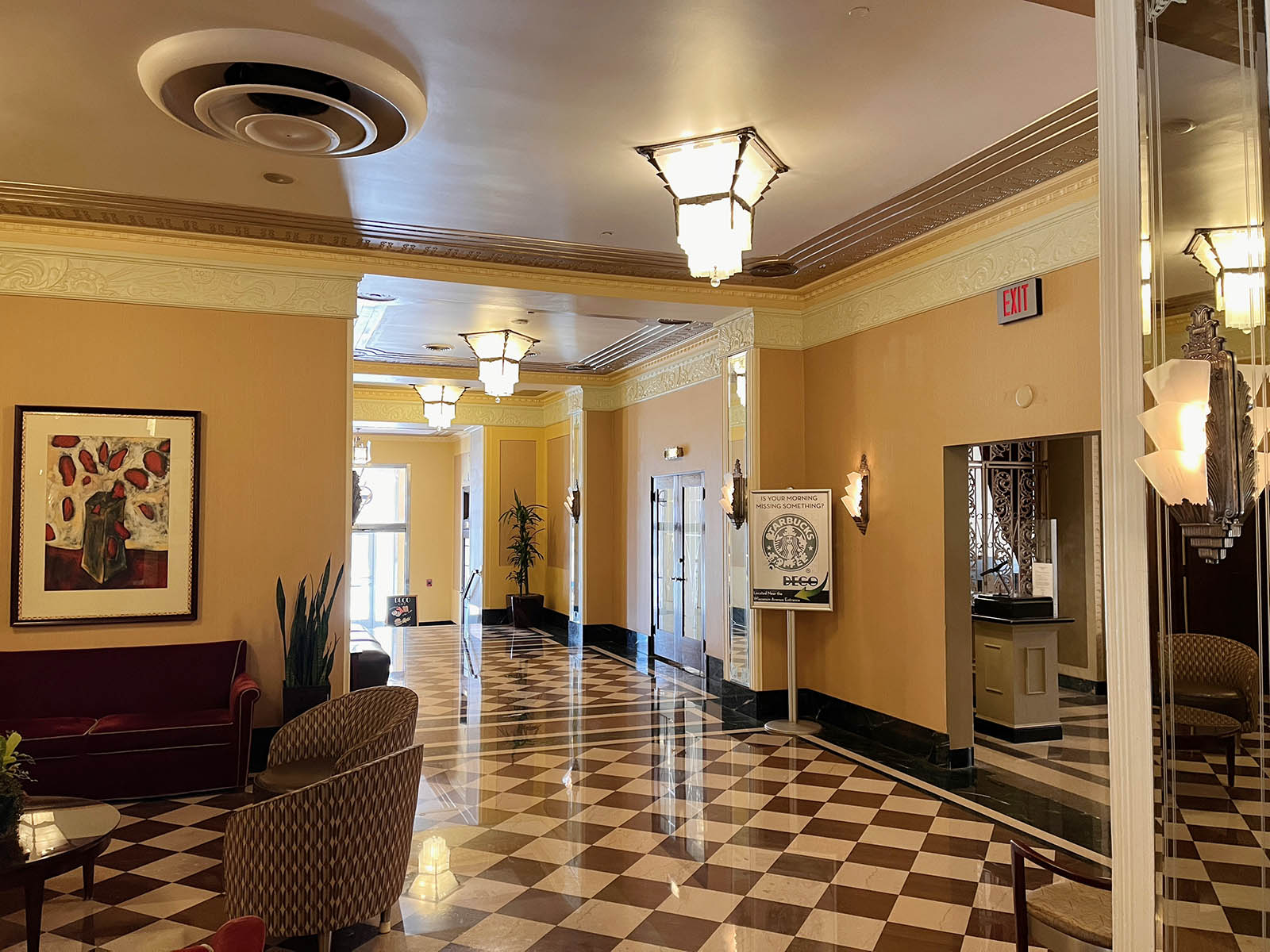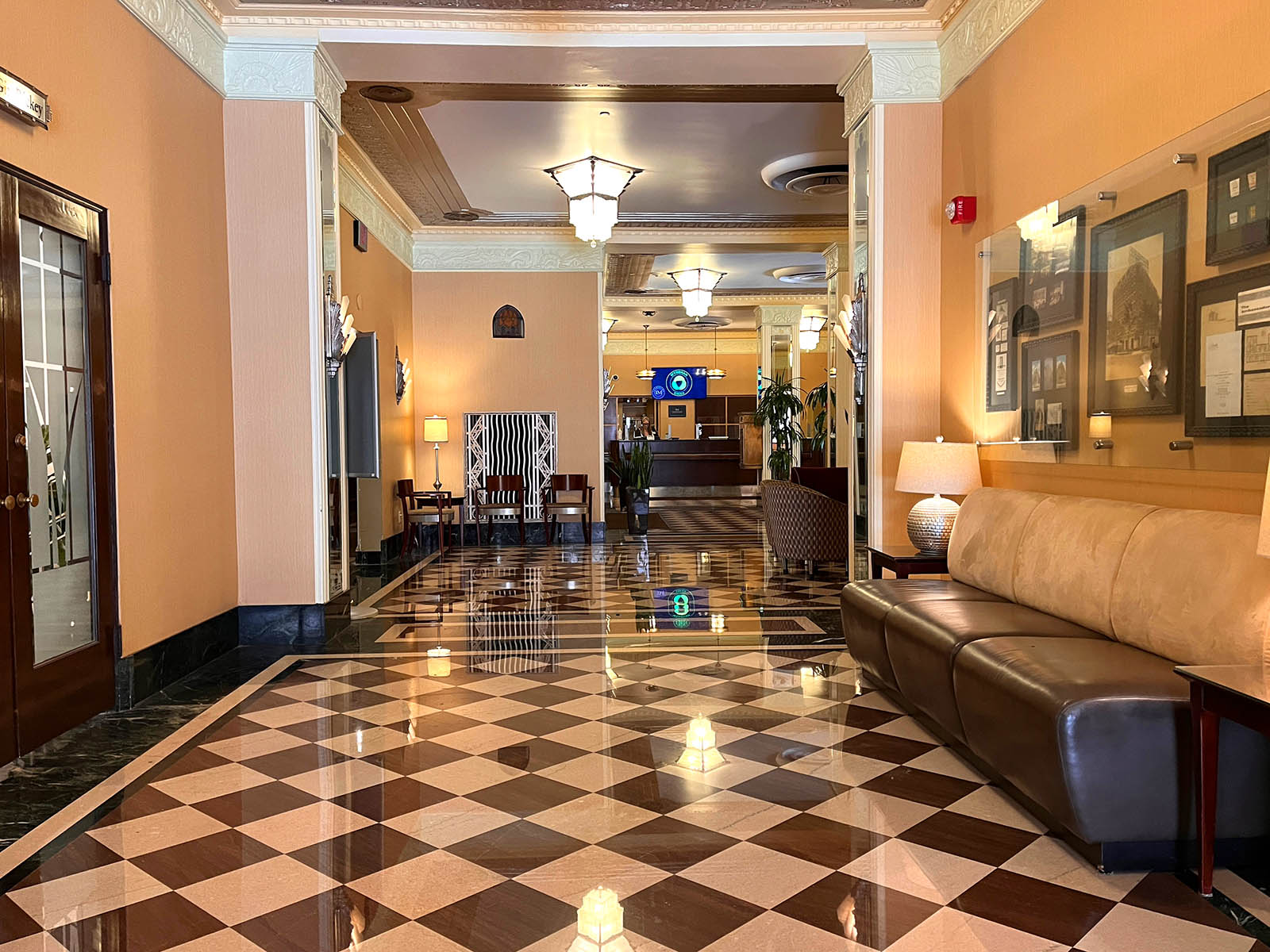 Being a part of the Trademark Collection means the Ambassador can tap into Wyndham's reservation system – which required a complete changeover in the hotel's reservations technology – as well as drawing its rewards members.
"We're getting rewards customers (already)," says Wiegand, "and they have a good sales and revenue management team that helps out, too. It's been working very well."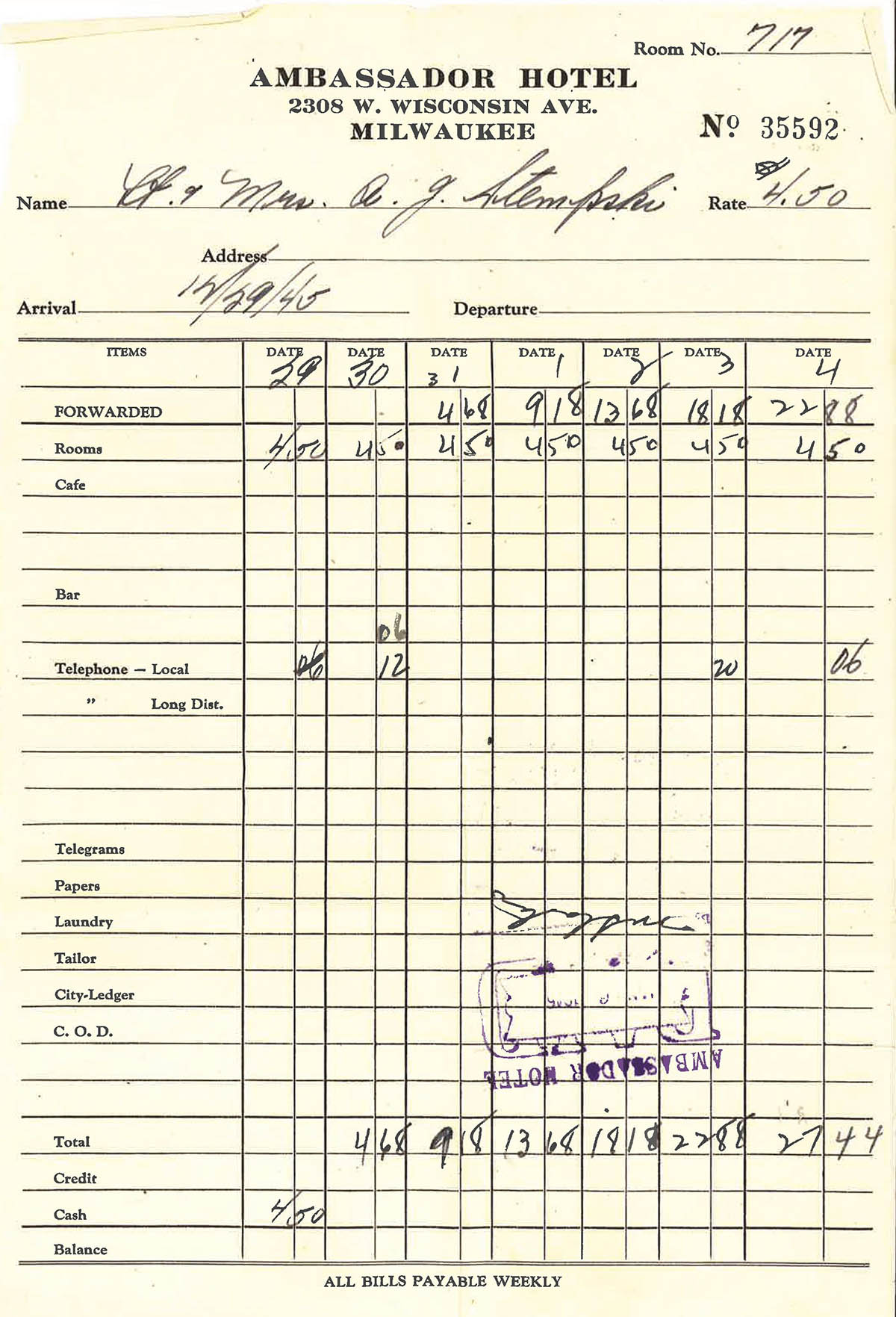 Like all brands, this one came with a property improvement plan.
"All they required was some minor updating to the rooms," says Wiegand, "because we've kept the hotel in excellent condition over the years. So there really wasn't much to do."
But that definitely wasn't the case when Wiegand bought the hotel. To get to that point, let's go back...
Although for many years the building had been attributed to architects Urban Peacock and Armin Frank, multiple sources prove that the actual firm was Backes and Uthus, with Bruce Uthus taking the lead on the project.
"Uthus has attained much success as an architect in the past seven years," wrote the Sentinel when the hotel opened in 1929, saying he was, "An honor graduate of the University of Illinois and has been identified with some of the leading architects in Chicago."
According to the paper, Uthus had been practicing in Milwaukee for five years. Either alone or in partnership with Nicholas Backes, Uthus designed a number of high-profile apartment buildings and residential hotels – which is what the Ambassador was initially – including the Sheridan Apartments at 24th and Wisconsin, the Sydney Apartment Hotel at 770 N. Marshall St., the Sovereign Apartments at 18th and Wisconsin and the Wolff Apartments at 25th and Wisconsin.
Other designs included homes on the developing West Side and some smaller apartment buildings, too.
But the Ambassador – built by the Charenton Realty Co. – was anything but small. In fact, it was extremely ambitious.
What appears to be an opening day newspaper advertorial boasted, "Reminscent of New York's Park Avenue or Chicago's Lake Drive, or the Parisian Rue de L'Opera, the locale of The Ambassador in Milwaukee's finest residential district is a tribute to those who originated the project.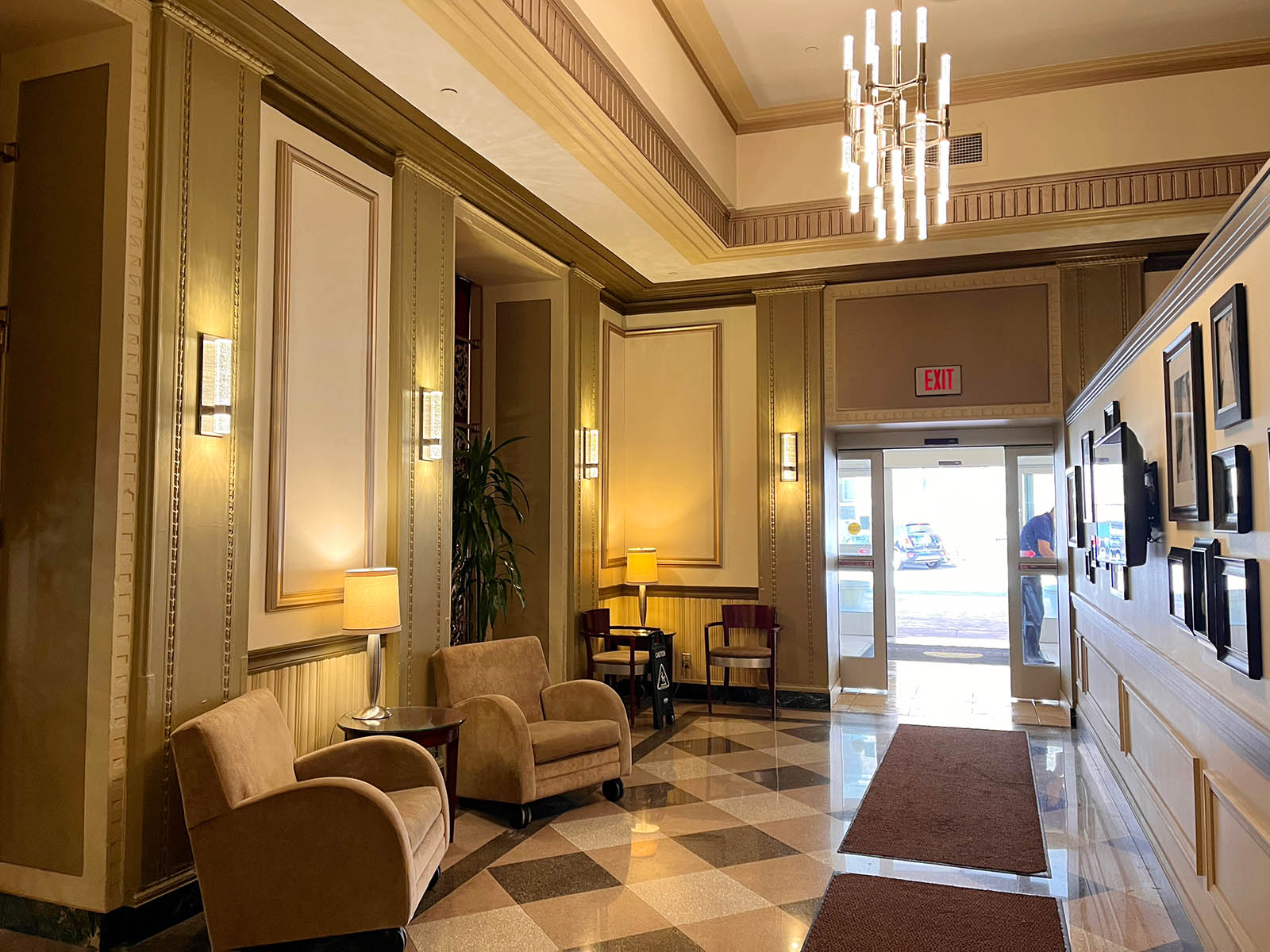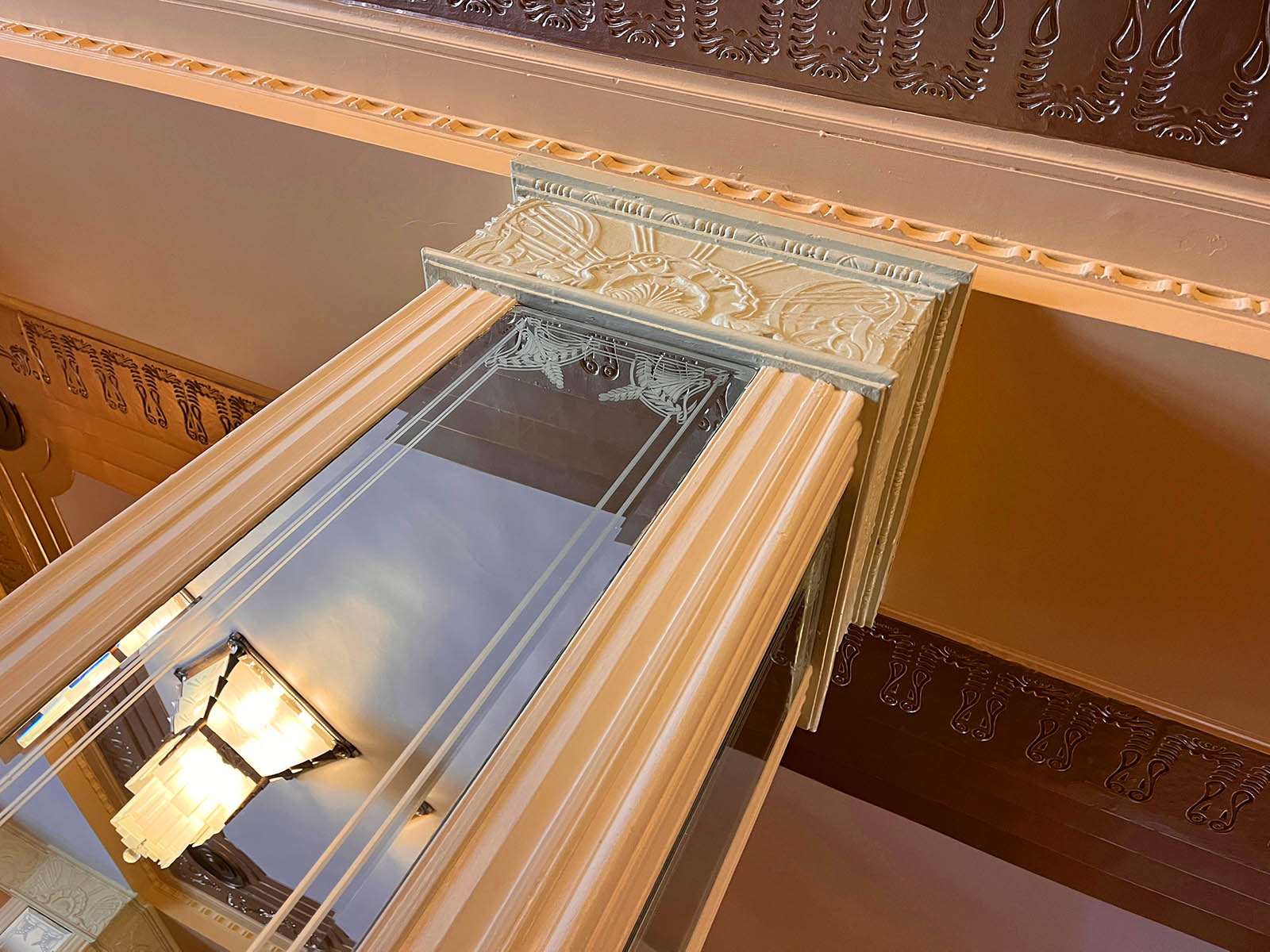 "Picture to yourself an apartment in The Ambassador – Milwaukee's finest apartment and transient hotel. You will have every convenience that modern ingenuity has provided. Maid service, valet service, a barber shop, beauty studio (run by Miss Cora Smith) and a dining room in the building ... a lounge wherein you may read or chat ... rooms that are larger than usual and decorated in the modern manner, yet with a restraint connoting irreproachable taste. And a bath-and-shower, a lavatory tiled in the tint of your choice.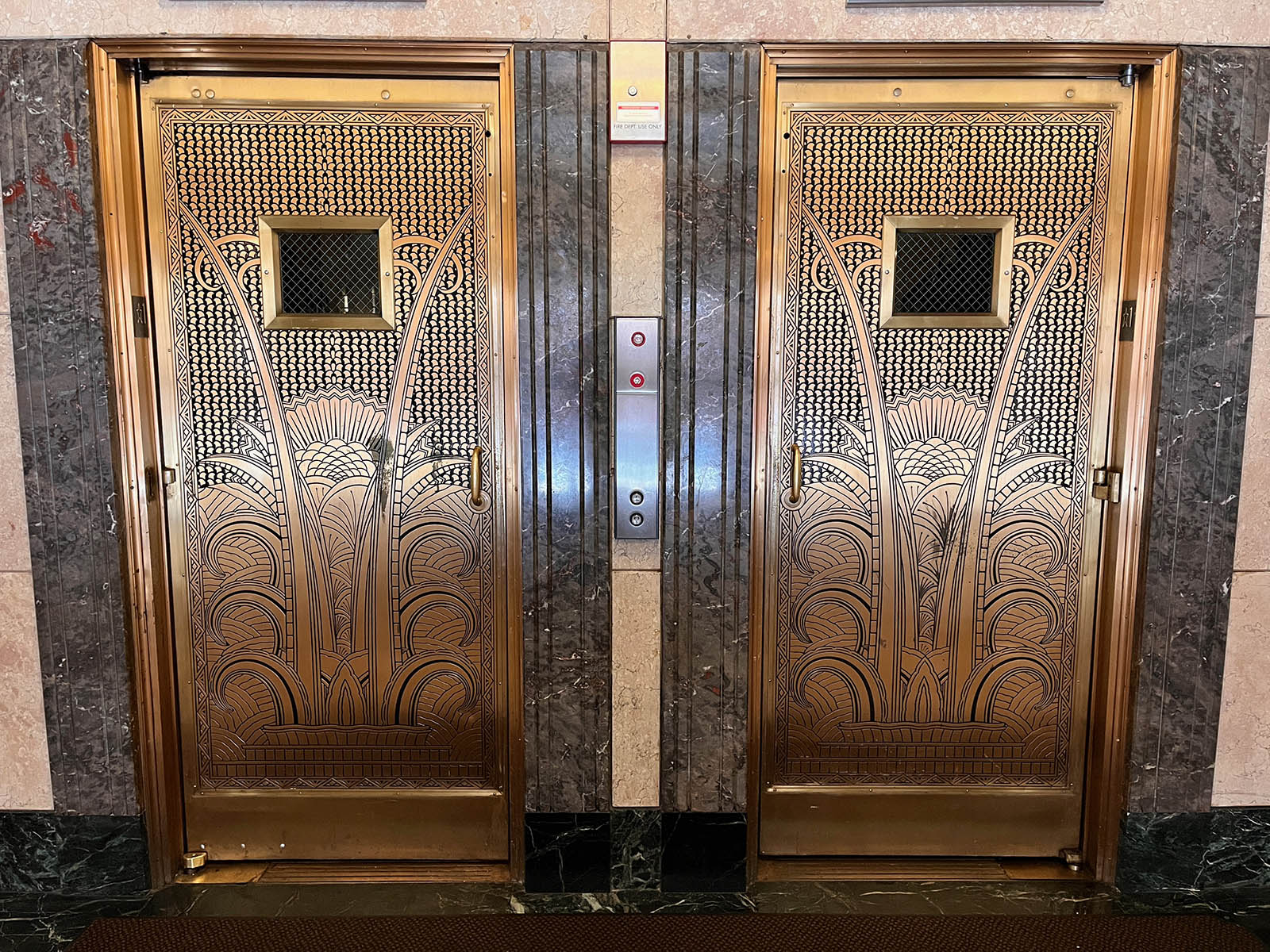 "With marble floors and trim, with entrance doors of bronze, and spacious grand lobby is sumptuously furnished in exquisite taste; the style being Moderne Directoire. ... In all Milwaukee there is no more desirable place of residence than that provided by The Ambassador ... the apartment hotel catering to the aristocracy of a city long known for its many exclusive families whose names read like a page from the Social Register."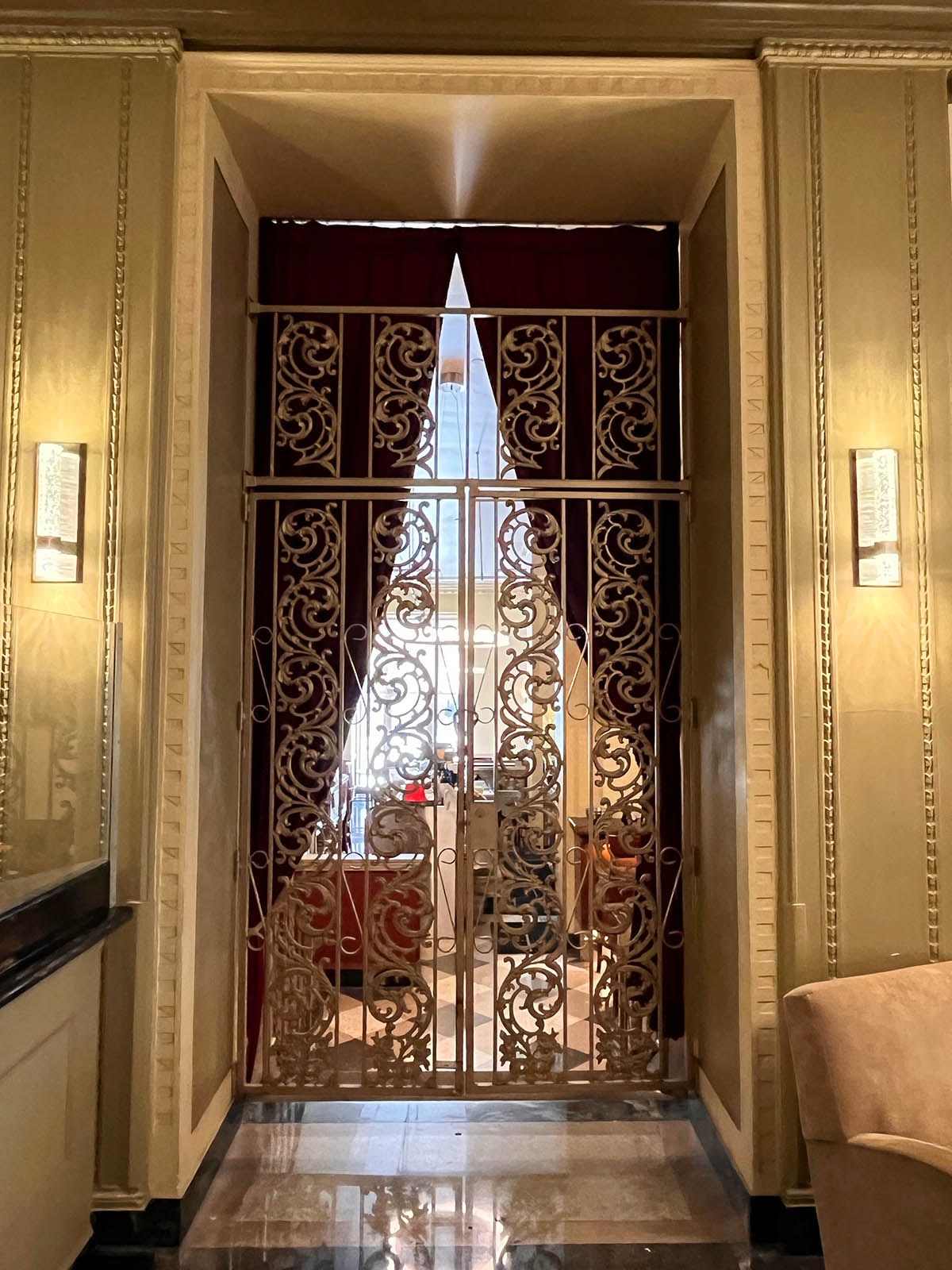 Whoa, calm down there, folks.
The Ambassador – which had 266 rooms when it opened under the watchful eye of VP and Managing Director M.J. Essex – was quite beautiful and we know that because much of the grandeur of the exterior and, especially, the lobby, can still be seen today.
There was (and in many cases, still is) ornamental iron, grilles and railings made by Milwaukee's Badger Wire & Iron Works, terrazzo floors by H. Neidner & Co., plasterwork by the Walsh-Dufton Co., gorgeous light fixtures by Chas. Polacheck & Bros., interior decoration by Chicago's Andrew Jasinski Co., ornamental and stained glass by Wagner Brothers ... all in a building erected by under general contractor Theodore Stark & Co.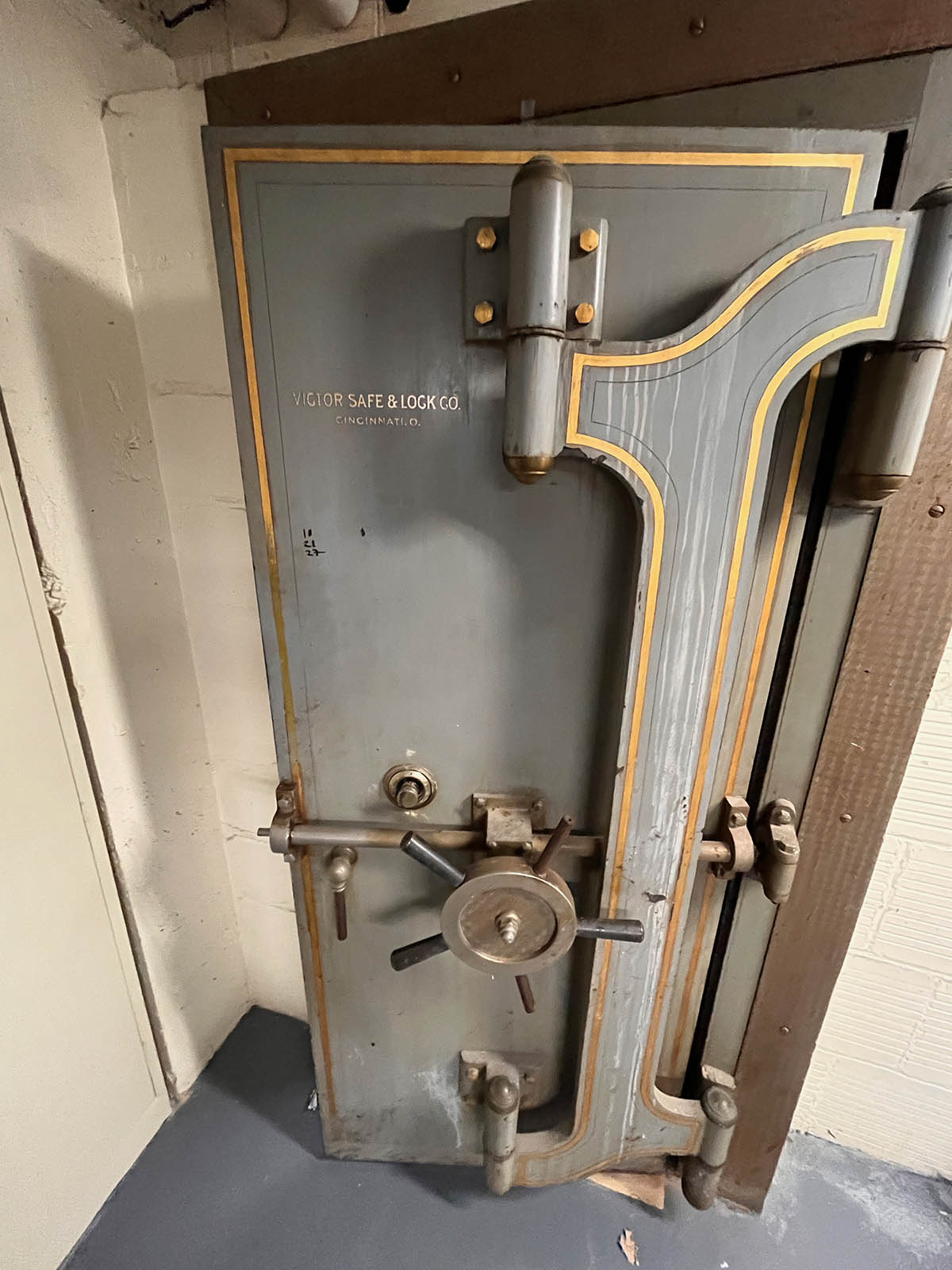 In the basement, a large walk-in vault was installed to protect residents' furs and other valuables.
Outside, there are great terra cotta details made by the Illinois-based American Terra Cotta and Ceramic Co. that coordinate nicely with the orange and brown brick veneer of the building.
An "intricate belt course ... has portraits of jesters with their flamboyant, spirally caps," notes Ben Tyjeski in his book, "Architectural Terra Cotta of Milwaukee County."
"Their heads float in a whimsical design full of energy and adrenaline. One could imagine the jesters frolicking to music while imaginary monarchs and court guests sit a round table and feast. Similar patterns and rhythms are represented in the spandrels above. There are also two birds in each pane.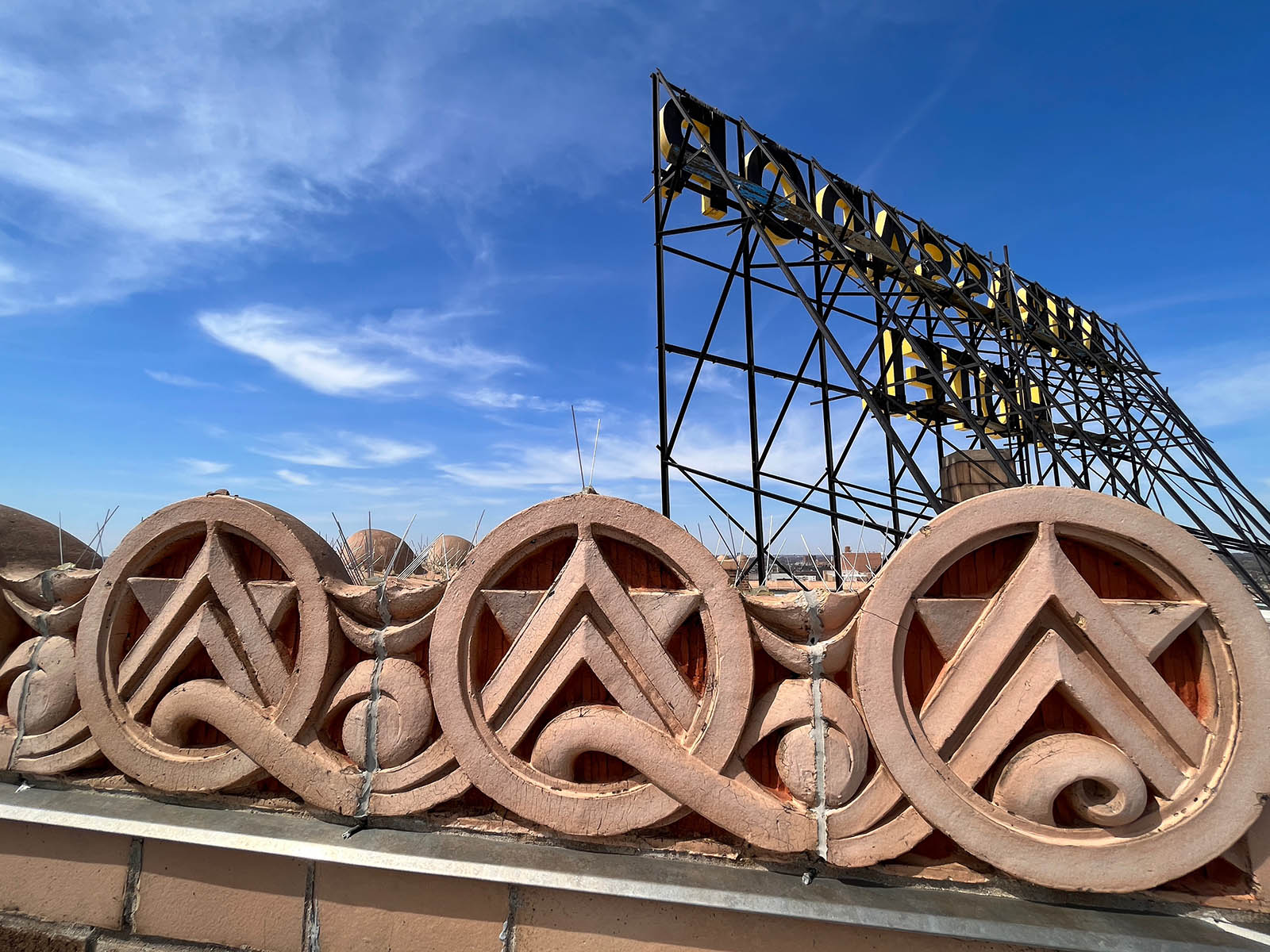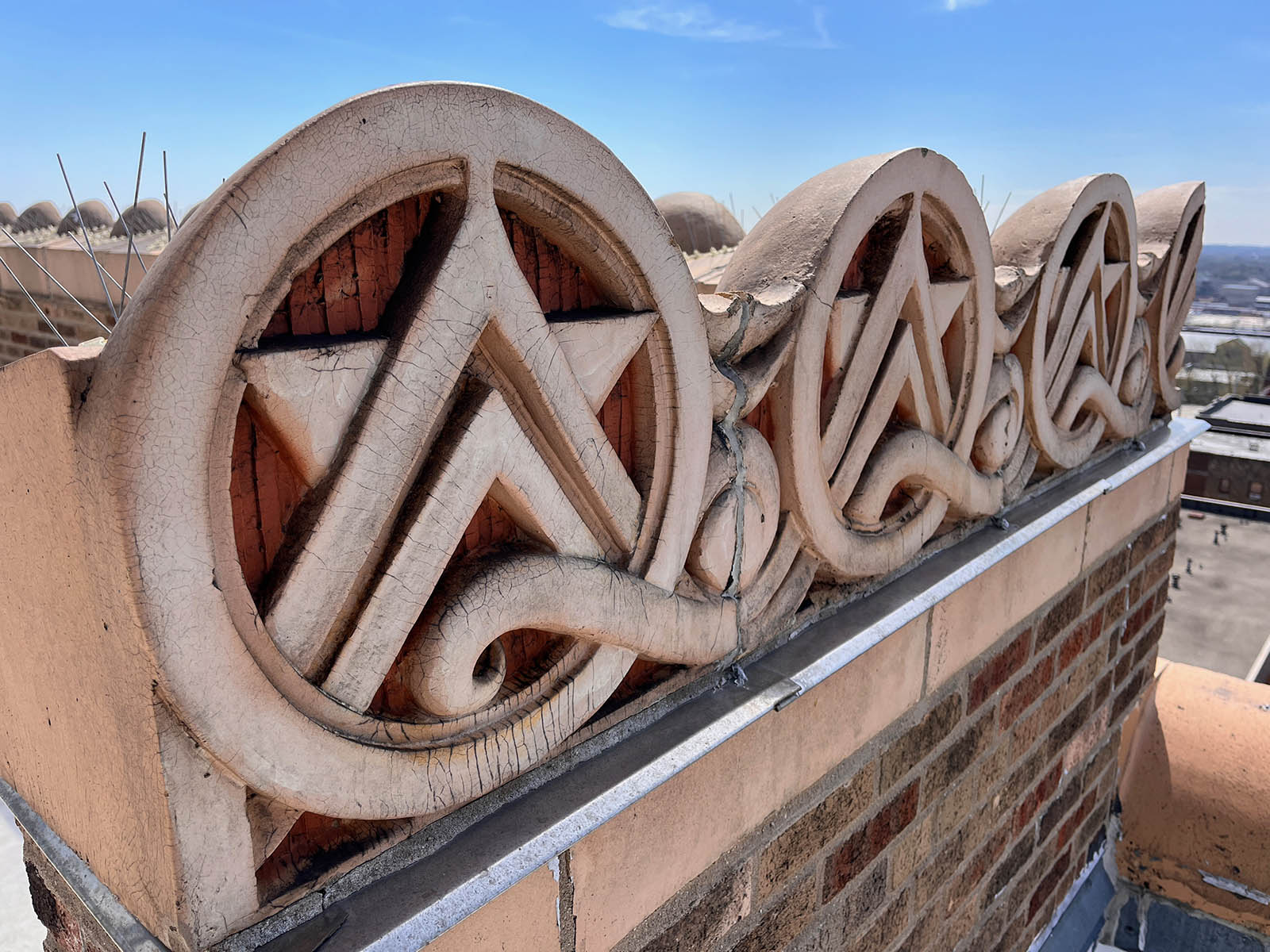 "Ornamental units along the parapet are even more elaborate and lavish. Volutes (scrolls) sprout from about the windows like a feathered headdress. Buttreses are capped with decorative bells and medallions. Zigzags and wavy lines also interlace between rings of five-pointed stars along the roofline. The totality of its stellar craftsmanship is breathtaking and even seductive."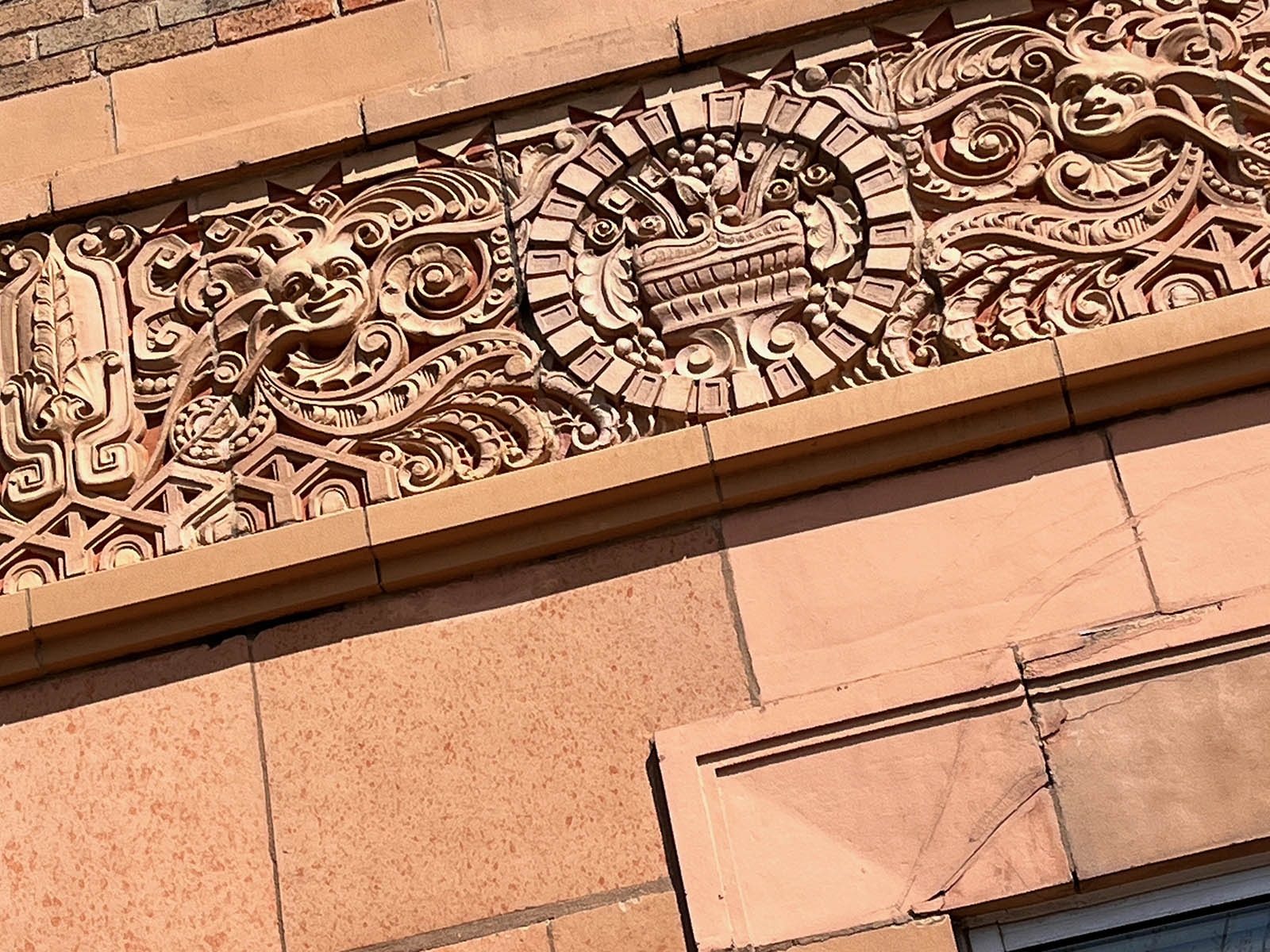 The whole thing opened with a bang on May 11, 1929 (though some folks may have already moved in by then).
"The new million-dollar Ambassador Hotel was formally opened Saturday night with a dinner dance and cabaret," the Sentinel reported the following day.
"Approximately 200 guests, including Ward B. Moore, president of the Northwestern Hotel association, and Bernard A. Lehnberg of the Schroeder Hotels, attended the opening. Harry J. Bell, executive director of the Association of Commerce, made a short talk, complimenting Mr. Essex upon the building ... (which) is ready for occupancy."
The Ambassador underwent a number of changes in management and ownership over the decades, but it remained a popular site for wedding receptions, card parties, meetings, balls, dances and similar events. Unlike as is the case with many hotels of the era, however, I wasn't able to find ads promoting performances by big name touring musicians or performers.
In the 1960s, The Ambassador was among the hotels listed in "The Green Book" guide to restaurants and hotels that welcomed African-American customers, published from 1936 to '67.
Over time, however, both the neighborhood and The Ambassador lost their luster. That's how it was when Wiegand arrived on the scene.
"It was a high-end residential hotel," he affirms, "but then in the '60s, I believe, I'm not sure if Concordia University used it as a dorm, but I know Marquette used it as a dorm for a period of time in the '70s. They rented several floors here. But then the neighborhood started to decline."
Wiegand, who already owned a number of properties in the area had considered buying the hotel but then stepped back.
"Then Marquette announced its Campus Circle project in 1991 and I thought, 'well, if Marquette is going to invest this kind of money in the neighborhood, maybe it's actually time that this neighborhood could be turned around'."
And so, Wiegand, returned to the table and closed a deal for the hotel, which he purchased on a land contract. He then proceeded to spend $14 million on its restoration.
"It was still open (at the time I bought it)," he recalls. "It was being operated as a weekly residence for drug dealers, prostitutes and a lot of people that really needed a place other than a hotel to stay in. People that couldn't afford to put down a security deposit on an apartment. A lot of people had been here for decades as their home.
"A lot of the historic character was still in place. It hadn't been destroyed, but the mechanical systems were old, there was no updated life safety, no sprinkler system."
And so Wiegand set to work replacing mechanical systems, ripping up old carpet to re-expose marble and terrazzo floors, pulling down dropped ceilings to reveal more Deco details.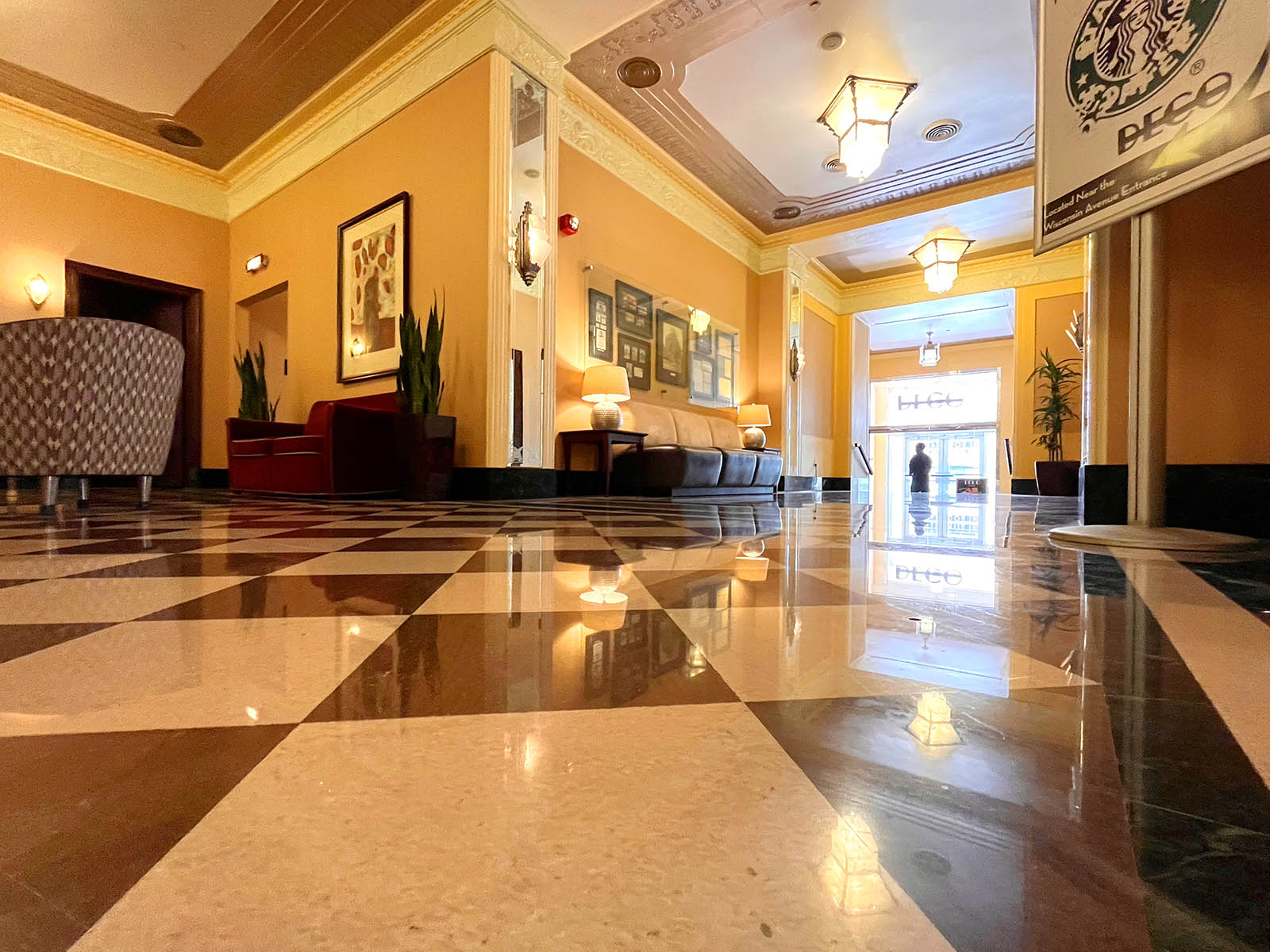 Slowly, the building's beauty re-emerged.
Wiegand started by renovating the top two floors into the new hotel, but quickly realized he needed to do the whole thing.
More challenging was burnishing the hotel's reputation.
"It was a challenge, of course, to do all of this work," he recalls, but it was a bigger challenge changing people's minds about what the Ambassador was.
"I actually had a consulting team at the time deciding how to reposition the hotel," Wiegand recalls. "The Ambassador had such a negative perception because of the drug dealing, it was on the list of (city nuisance) properties.
"A lot of people thought it should be torn down, rather than restored."
Walk in today and you might be astonished to think some wanted the place demolished. You'll also be glad that didn't happen.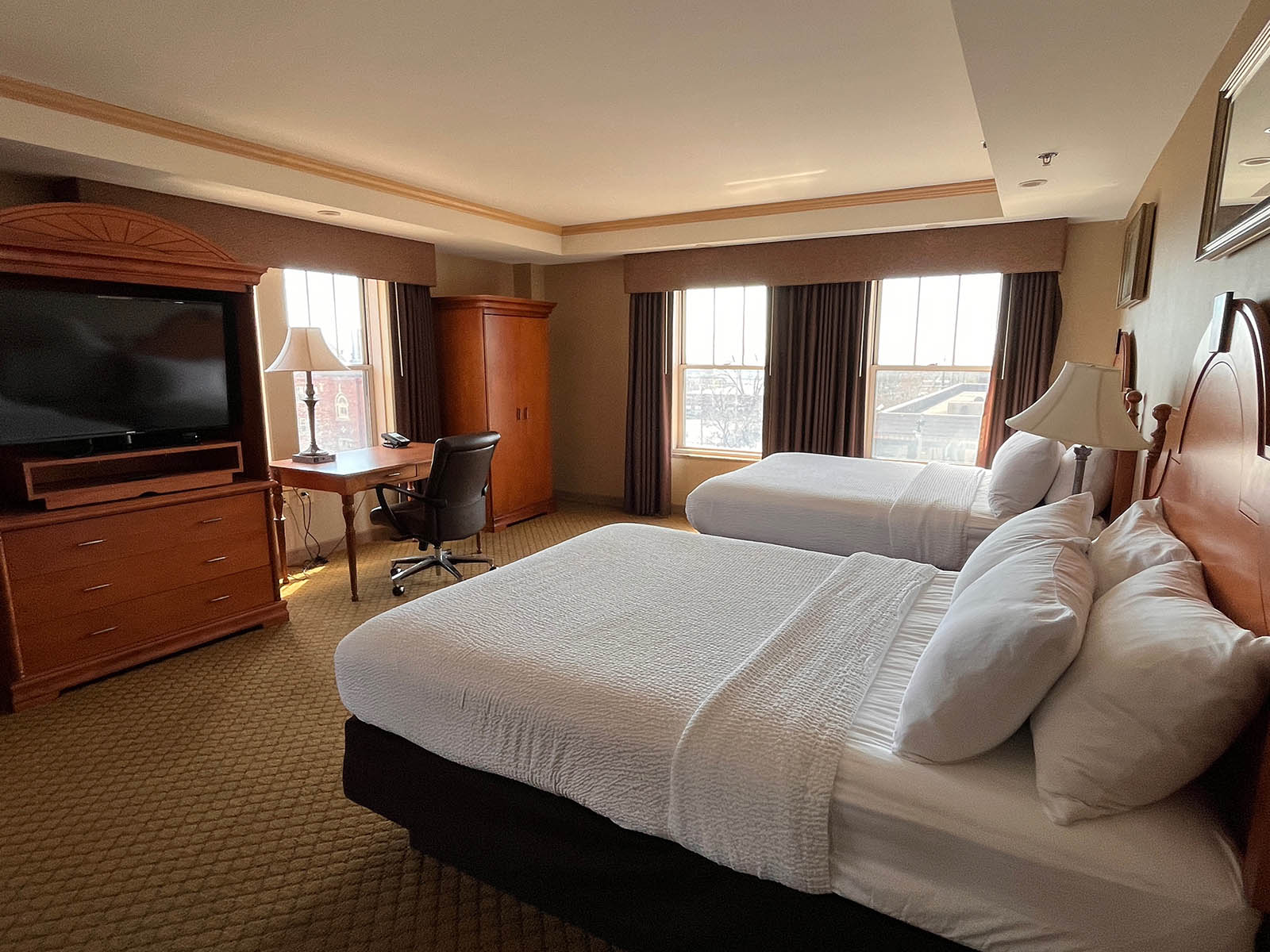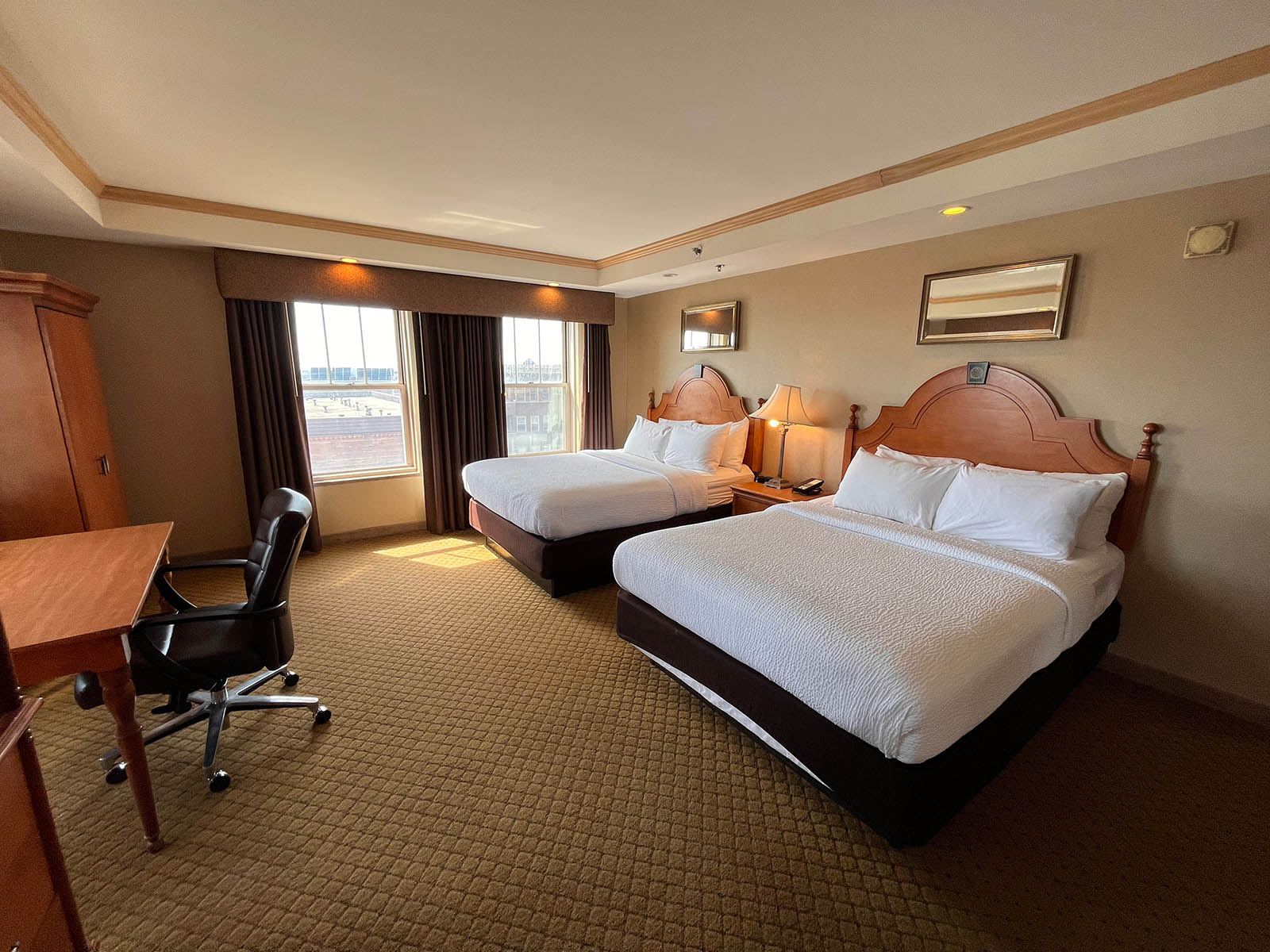 The rooms are clean and comfortable, some with great views. There's a fitness center, on-site parking, the lounge, restaurant and cafe and that stunning lobby.
"All our consultants said you can't keep the name," Wiegand remembers. "(They said), 'You've got to get away from the Ambassador name' and 'there's no way this can be an upscale hotel, it's got to be a lower- to mid-tier brand.'
"I said, 'that's bad advice. We need to go back to the original or keep the original name and, and promote the grandeur and the history that it had and play on the good reputation that it had.' It worked."
Born in Brooklyn, N.Y., where he lived until he was 17, Bobby received his BA-Mass Communications from UWM in 1989 and has lived in Walker's Point, Bay View, Enderis Park, South Milwaukee and on the East Side.
He has published three non-fiction books in Italy – including one about an event in Milwaukee history, which was published in the U.S. in autumn 2010. Four more books, all about Milwaukee, have been published by The History Press.
With his most recent band, The Yell Leaders, Bobby released four LPs and had a songs featured in episodes of TV's "Party of Five" and "Dawson's Creek," and films in Japan, South America and the U.S. The Yell Leaders were named the best unsigned band in their region by VH-1 as part of its Rock Across America 1998 Tour. Most recently, the band contributed tracks to a UK vinyl/CD tribute to the Redskins and collaborated on a track with Italian novelist Enrico Remmert.
He's produced three installments of the "OMCD" series of local music compilations for OnMilwaukee.com and in 2007 produced a CD of Italian music and poetry.
In 2005, he was awarded the City of Asti's (Italy) Journalism Prize for his work focusing on that area. He has also won awards from the Milwaukee Press Club.
He can be heard weekly on 88Nine Radio Milwaukee talking about his "Urban Spelunking" series of stories.