Hill Bill Volume 2 is sponsored by Educators Credit Union. To learn more about what Educators can do for you, pedal over to ecu.com.
Americus Kates, Jr. is just as likely to set up his drum kit on the corner of a busy Milwaukee intersection during a snowstorm as he is to book a gig at South By Southwest (SXSW) in Austin, Tex.
"I love music. I have loved music since I was born. Love is so important to me because love brings peace," says Kates, a street artist, multi-instrumentalist, event drummer, music instructor and soon-to-be recording artist.
Recently, Kates built an eight-foot cart which he uses to transport his drum kit around the city for his spontaneous curbside performances. He's jammed in front of festivals and gas stations, inside parks and on street corners. And next year, after the release of his first album, Kates plans to embark on a multi-city tour to large-scale music events.
Kates grew up in Milwaukee's Central City. At the age of 18 months, his parents noticed after church one afternoon that he had set up a makeshift drum kit from pots and pans and was actually keeping a beat.
"So they went out and bought me real drum sticks," he says.
Kates started playing piano and violin in first grade at Elm Creative Arts Elementary School and in fourth grade started playing trombone.
"My mother plays the trombone and she made it look so cool that I wanted one so I could jam out next to her," says Kates.
He later added more instruments to his repertoire, including saxophone as well as voice. Kates, who considers himself a singer and rapper as much as a player of instruments, started teaching music lessons at 14.
His first album, "Chasing My Dreams," is scheduled to drop in 2023.
"It's an album about my life and how music saved me," says Kates. "I grew up in the inner-city and the richest people in my neighborhood were dope dealers. They had the cars, the rims, the women; they were the rock stars of our neighborhood. I had to make a decision early on about what I wanted from life."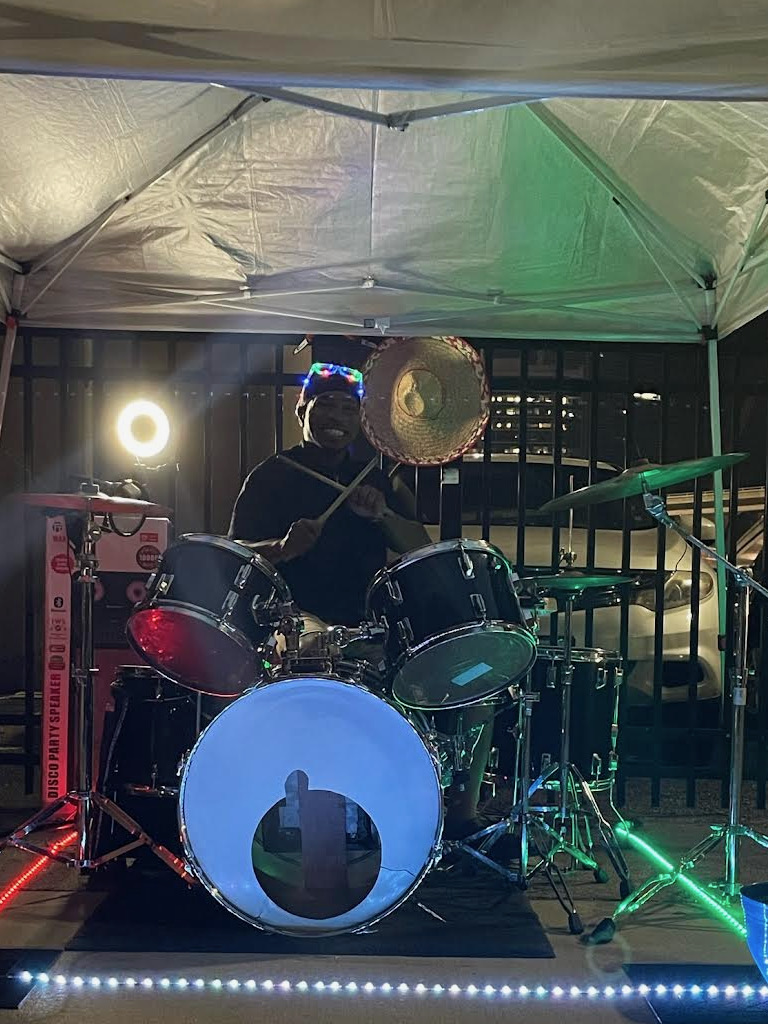 Kates chose music and says the support from his parents helped tremendously.
"I was very lucky growing up because of my parents. I have a song about them on the new album called 'Mother and Father,'" he says.
The recording of "Chasing My Dreams" is completed and he is currently working on cover art. During the next six month he will dedicate his time and energy to making videos.
"My goal is to make a video for every song on the album. I want people to know I am a very hardworking artist. I never take a day off. I spend every night in the studio and many mornings I wake up with sticks still in my hands," he says.
Kates deeply considered an alternative career to music. After graduating from Milwaukee High School of the Arts, he was admitted into a pre-pharmacy program at the University of Wisconsin-Madison. He earned a 4.0 grade point average and interned at both Target and Walgreens pharmacies.
"It just wasn't my cup of tea," says Kates. "I was trying to do music on the side, but I came to a point that wasn't enough and I couldn't fathom a life not dedicated to music. And so I left school and built a studio."
Kates says he plans to gig at both SXSW and the Essence Music Festival next summer and he hopes to nab a spot at Summerfest. He is also working on new albums, each one focusing on a different instrument of choice.
"I'd like to make a drumming album next and then maybe one that's all piano," he says.
During his gig at Hill Bill: Volume 2 presented by Educators Credit Union this weekend Kates is ready to go at it hard. "I have some new equipment and I am ready to jam out all day long," he says.

Molly Snyder started writing and publishing her work at the age 10, when her community newspaper printed her poem, "The Unicorn." Since then, she's expanded beyond the subject of mythical creatures and written in many different mediums but, nearest and dearest to her heart, thousands of articles for OnMilwaukee.

Molly is a regular contributor to FOX6 News and numerous radio stations as well as the co-host of "Dandelions: A Podcast For Women." She's received five Milwaukee Press Club Awards, served as the Pfister Narrator and is the Wisconsin State Fair's Celebrity Cream Puff Eating Champion of 2019.