As Milwaukee gears up for the 120th Harley reunion, one might be excused if they forget that there's another motorcycle company with a rich history with its North American corporate headquarters in Milwaukee. Royal Enfield, the formerly British motorcycle company founded in 1901 and now headquartered in India, chose Brew City as its U.S. base back in 2015.
And in 2023, Royal Enfield is putting its horsepower into local talent, including one name that Milwaukee moto enthusiasts are already familiar with.
Meet Andy Mauk, a bit of a local motorcycle legend in Milwaukee. In addition to a successful career as a road racer for some 35 years, he's also the owner of Moto-Scoot, a vintage bike and scooter sales and repair shop that he's run for 15 years.
But now, Mauk, an engineer by trade, is making a career pivot. He's winding down Moto-Scoot – although he will continue to work on existing clients' bikes – and he's taken a job with Royal Enfield in fleet maintenance.
He's also a brand ambassador: His racing pedigree, local connections and wrenching reputation made Mauk an obvious choice to represent the company as they increase their Milwaukee footprint.
Even though Mauk and his Moto-Scoot business partner, Carlos Martinez, mostly repair and restore old Japanese, British and American bikes, he didn't take this job as a stranger to Royal Enfield.
In fact, he first rode two of them a few years before the brand re-entered the American market.
When he traveled to India several years ago, he found himself on the grounds of the U.S. Embassy and had a chance to zip around on both an old Enfield and a new one – before these bikes were sold in the States. Among old bike afficionados, the old Royal Enfields didn't have a particularly solid reputation, but they're extremely popular and found everywhere in India.
Mauk noticed the difference immediately.
"It's turned into more than I could have even have wished for," says Mauk. "They literally hired a whole bunch of new engineers and designers and just completely revamped their product line."
To wit: His first assignment sent him to Florida to demo bikes, and Mauk found himself very impressed with their quality.
"My second assignment was to go to their warehouse in Texas, build bikes and take them out to San Diego for journalists to ride," he recalls. "We put together 17 brand new bikes, put over 1,000 miles on them and not one single mechanical failure."
Mauk recently criss-crossed the country for work, and it allowed him to combine his passion for racing and his job in bike maintenance. He trucked 10 bikes to Flagstaff, Arizona, then to Vermont the next weekend. From there, he flew to Kansas, raced, then flew back to Vermont to trailer the bikes back to Milwaukee ... just in time to get to another race in Hastings, Nebraska (which he won).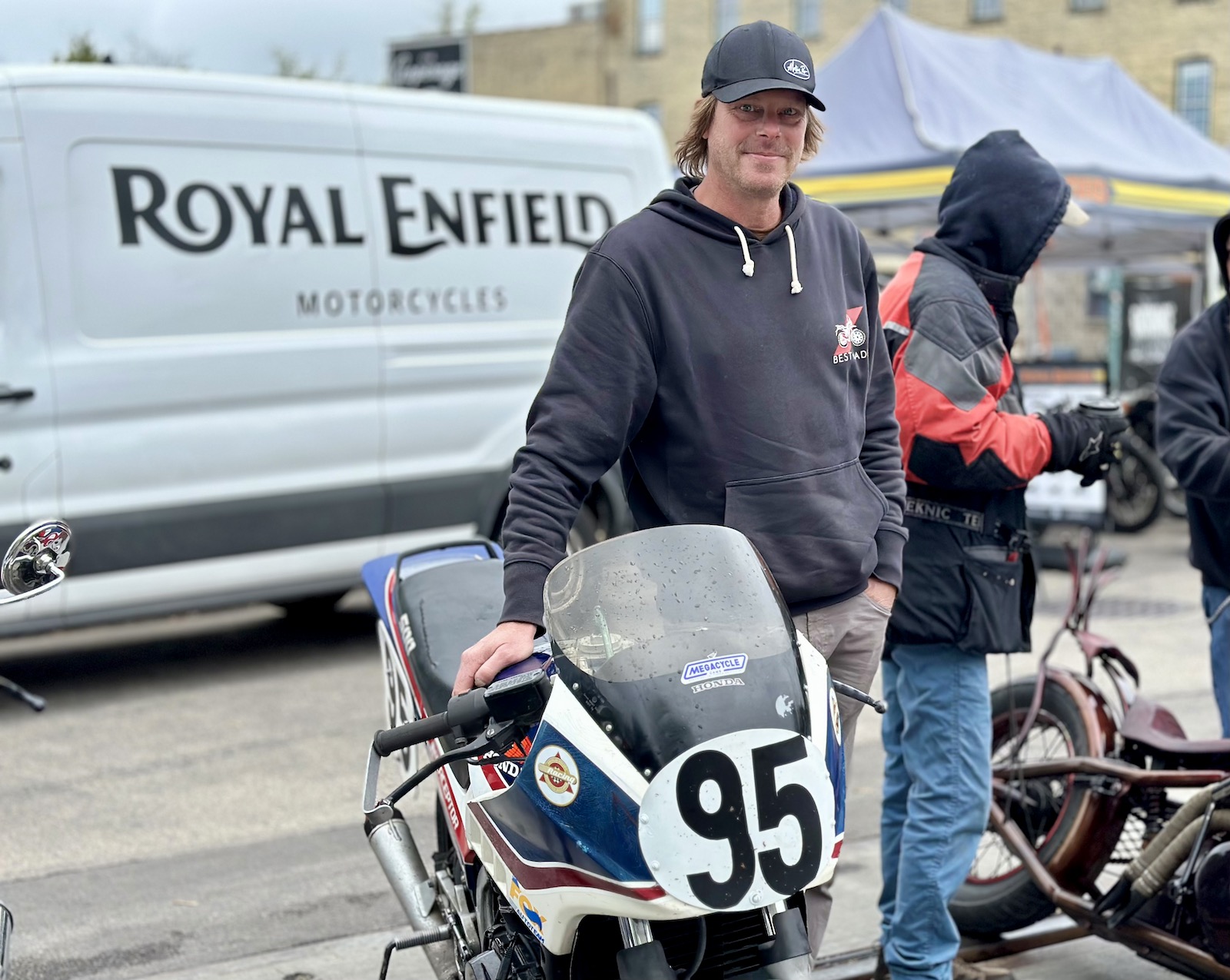 Says Mauk, "Royal Enfield has been very helpful in seeing my race schedule throughout the summer and accommodating me."
Locally, he's the guy to call if you don't want the "dealer experience," because Mauk isn't a salesperson. He and I ripped through Downtown, over the Hoan Bridge, across Jones Island and back (stopping for brats at Groppi's) on a pair of brand-new INT650s, just to see how they stacked up to my much larger Triumph Street Twin. I could tell the difference as I tried to keep up, sure, but at about two-thirds the inestment of my Triumph, Mauk gave me a real-life lesson on why an inexpensive starter bike with killer retro looks could be the perfect first cycle at a great price. Five years ago, I would've bought this motorycle on the spot.
To be clear, Mauk hasn't lost this passion for vintage motorcycles. He's won dozens of races, and currently pilots his '84 Honda Intercepter, '89 Yamaha FCR 400 and '77 Suzuki GS 750.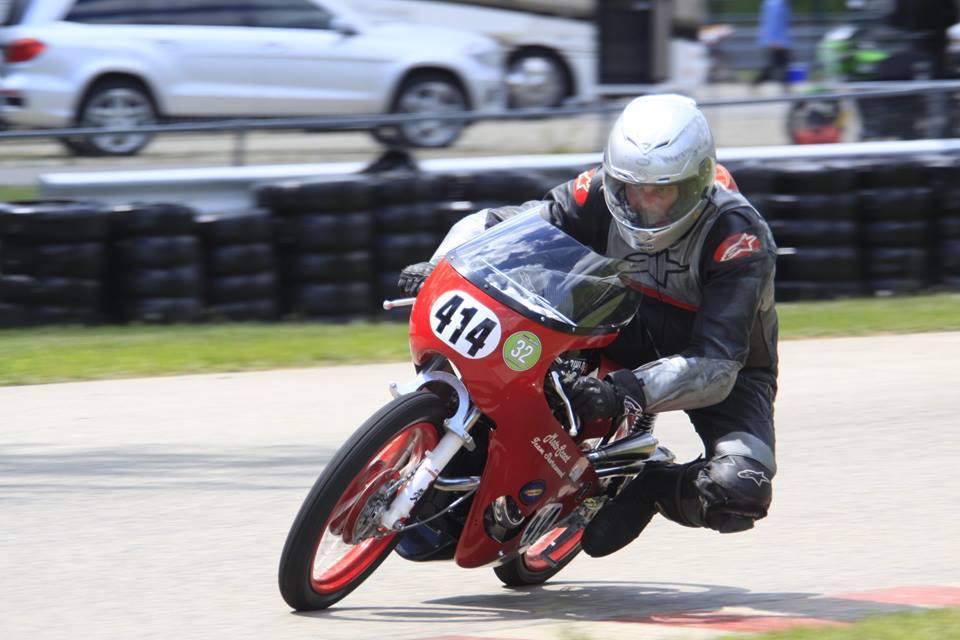 But he's lobbying to start racing a new Royal Enfield GT650 at the AHRMA (American Historic Racing Motorcycle Association) circuit, this time in their modern bike class. Mauk says, without any sarcasm, that he wants to drive circles around the Triumph Thruxton 900, a much more powerful machine. And, as someone who competed in the Manx TT Isle of Man and estimates he wins a handful of races each season, don't count him out.
It's been a literal and figurative ride for Mauk, who started racing dirt bikes at age 15, then pursued a career in engineering, before quitting the rat race and opening his own shop. As a long time entrepreneur, he says he's relieved to earn a regular paycheck … while still having the privilege of working on bikes.
Mauk is also still active as a mentor with BUILD Moto, a local non-profit group that teaches students life skills through building bikes. In fact, in 2018, the group transitioned from Honda 175s to Royal Enfield Classic 500s. While he had ridden them back in India, BUILD Moto offered his first exposure to working on the new generation of these no-frills Indian-made bikes.
So, it's not surprising that Mauk made the decision to hitch his ride to Royal Enfield, although he's hardly settling down. Right now, he's off to a race in Spokane, Washington, then one in Michigan. Mauk puts a lot of miles on his truck and just as many on his motorcycles.
Recently, though, he transported one very special motorcycle.
As Harley gears up for its big party, Royal Enfield (which is technically two years older than H-D, but who's counting?) is bringing its "Project Origin," an authentic working replica of the brand's very first "motor-bicycle," to the Milwaukee Royal Enfield retail showroom in the Third Ward.
Mauk, himself, trailered the Project Origin to the showroom for an event on July 12, before this hand-crafted machine leaves to continue its tour around North America.
This whole journey for Mauk – which is really just starting with Royal Enfield – is a "match made in heaven," he says. Even at 50, he still eats, sleeps and breathes motorcycles and racing culture. He speaks of it humbly, too. I asked him if he was an icon. He says he's just aspiring to be a guru ... someday.
Those who know Mauk know he's already surpsassed guru status in Milwaukee. Even with Mot0-Scoot coming to an end, get Mauk chatting about bikes and be prepare to let him talk and talk. He looks and plays the part of a mechanical savant, but it's not a put-on.
Royal Enfield selected someone who is known for his hard work, fair prices and a wealth of expertise, and a deep connection to local riders. (He not only repaired the '75 Yamaha XS500 I bought for my dad, he did it quickly and reasonably.) It puts a smile on my dad's face when he rides it, and when Mauk hears this, he, too, is smiling.
"For me, it's the adrenaline that I get from the racing, itself," he says with a starry look in his eyes. "It's a high without a hangover, and it's a sense of accomplishment. In addition to that, it's a community. When you get into motorcycles, and especially when you get into a racing community, you go to the racetrack, and you have another family there, like a traveling circus – it's a big family reunion every weekend."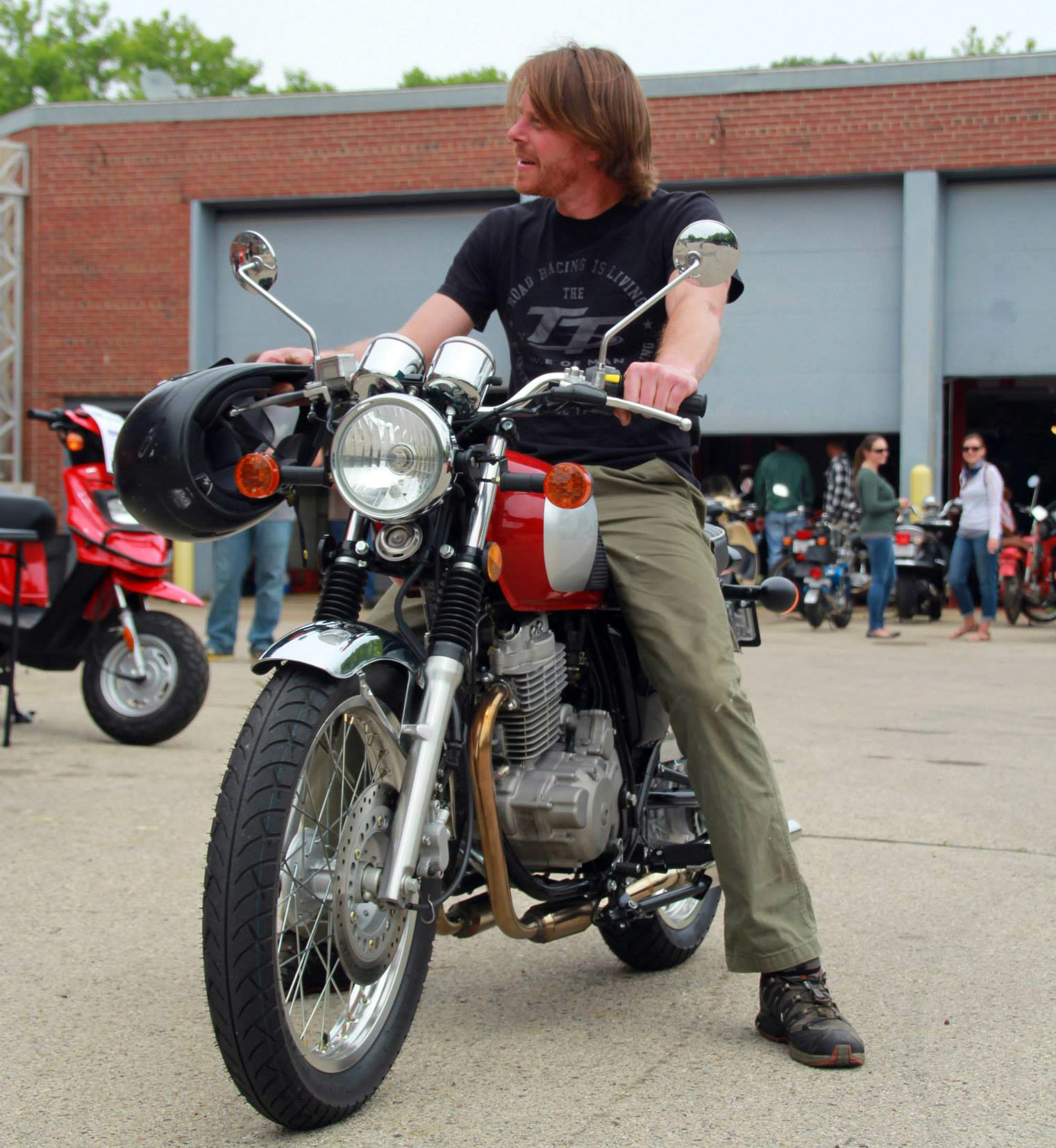 Andy is the president, publisher and founder of OnMilwaukee. He returned to Milwaukee in 1996 after living on the East Coast for nine years, where he wrote for The Dallas Morning News Washington Bureau and worked in the White House Office of Communications. He was also Associate Editor of The GW Hatchet, his college newspaper at The George Washington University.
Before launching OnMilwaukee.com in 1998 at age 23, he worked in public relations for two Milwaukee firms, most of the time daydreaming about starting his own publication.
Hobbies include running when he finds the time, fixing the rust on his '75 MGB, mowing the lawn at his cottage in the Northwoods, and making an annual pilgrimage to Phoenix for Brewers Spring Training.