In late August, a series of six postcards addressed to Chef Van Rite were delivered to Dandan, 360 E. Erie St. Each one was cut from the cardboard album cover of Wolfgang Amadeus Mozart's Cosi Fan Tutte" as performed by the Glyndebourne Festival Orchestra (1983).
Each postcard was adorned with images and text clipped from books, magazines and other papers neatly taped to the back of the card, along with a series of words hand-written in French and German.
Within days, another set arrived addressed to Chef Daniel Jacobs. This set of postcards contained a different collection of cut-outs, each taped to postcards cut from the back cover of the same Mozart album.
"It struck me as a clever prank," says Jacobs. "And. at first. we thought it was one of our former employees just playing with us."
But when Odd Duck posted a photo of a set of postcards which they'd received on Instagram, Jacobs says he and Van Rite started texting other chefs to see if more folks had received them.
The two owners located eight chefs who had received postcards, the first dating back to July. The group included Dane Baldwin of The Diplomat, Karen Bell of Bavette La Boucherie, Kyle Knall of Birch, Justin Carlisle of Ardent and Justin Aprahamian of Sanford.
And then, something even more intriguing happened. Valentine Coffee commented on Odd Duck's postcard post, noting that they had received a series of similar postcards back in November of 2020.
Joe Gilsdorf, co-founder of Valentine says they hung onto the postcards for months, but never really gave much thought to the fact that there might have been other venues who also received them.
"We saved them because they're unique and interesting," he says. "And we thought that we might eventually find out who sent them. We were fairly sure they must have come from a customer of ours. But we don't really know."
Dipping into the mystery
Intrigued, I took a hard look at the collections of postcards, with the hope of putting the pieces together. Here are the general observations I made.
The postcards, most of which were mailed out over the past couple of months, had a great deal in common. Each set of six postcards was cut from an album cover (or the backside of an album). All were hand-written (seemingly by the same individual). Most were addressed to the chef at the restaurant, though the Valentine Coffee postcards were simply addressed to "Awesome Crew" and Ardent's cards were just addressed to "Chef".
All but the Valentine postcards were numbered in the order they were sent (1/6, 2/6 and so forth). All feature the German word "verschmelzung" which means "amalgamation" or "fuse together," a likely reference to the nature of the postcards which, when put together in the proper order, form the image of the album cover. I'm inclined to believe that this means that both the messages and album are somehow connected.
In the cases of most of the chefs' postcards, the word Verschmelzung is accompanied by "No. 2". I'm guessing this groups these chefs together in a particular category; the information below seems to corroborate with that theory.
Exceptions includent Ardent and Sanford, both of which feature the word verschmelzung, but no number; instead, they both feature the words "Hors Serie" followed by the numeric order of the postcards. Based on the translation of the words, it seems to indicate that these two restaurants are part of a unique series (my guess is they are being called out as particularly outstanding).
Birch is unique unto itself. Chef Kyle Knall's postcards are both part of the Verschmelzung No. 2, but also Hors Serie. Hmm.
On the other hand, the Valentine Coffee postcards stand on their own. While they did include the word "Vermelzung," the numbers that followed the term were unique to each card, beginning with 229 and ending with 234. I'm not really sure what this means. But I'm guessing the Valentine postcards are part of what might be another series altogether.
Cleverly, all were accompanied by the signature "Atelier Jean D'Eaux" (Literally translated as Studio John Waters, but more cleverly interpreted phonetically as Studio John Doe).
At the same time, each set of postcards communicates a different message. Some of the messages are more cryptic, laid out almost like riddles. Others are told with images, advertisements or cut-outs of letters, numbers, words and phrases. But all of them seemed to possess a theme which focused on elements of either the chef or the restaurant.
As for the albums themselves, they represented a mix of genres released anywhere between 1958 and 1983. The Mozart album was divided between two chefs that share Dan as a first name; the front and back of a Pat Cooper album were sent to Justin Carlisle and Justin Aprahamian (two Justins).
Two of the albums also seem connected to the postcards' themes. The Sammy Davis Jr. album cover that went to The Diplomat included postcards with a Rat Pack theme; and the title of the Kenny Loggins album that went to Birch had a fire theme that matched the postcards (see below).
To glean more potential insights, I also spoke with the chefs from each of the restaurants, most of whom found the postcards intriguing, but also perplexing.
A look at the actual postcards
Valentine Coffee Roasters
Album: Nat King Cole, "Cole Español" (1958), front cover
First arrived: Nov. 10, 2020
The postcards sent to Valentine Coffee Roasters were tied together by a comic book theme with many of the cut-outs depicting scenes with superheroes. For many folks, the first cup of coffee of the day is a life saver. So it's probably not a stretch to consider a coffee roaster as a sort of modern day superhero. Considering a few of the baristas at the Vliet Street coffee shop are comic book fans, it seems like a pretty nice tribute to a local coffee stop.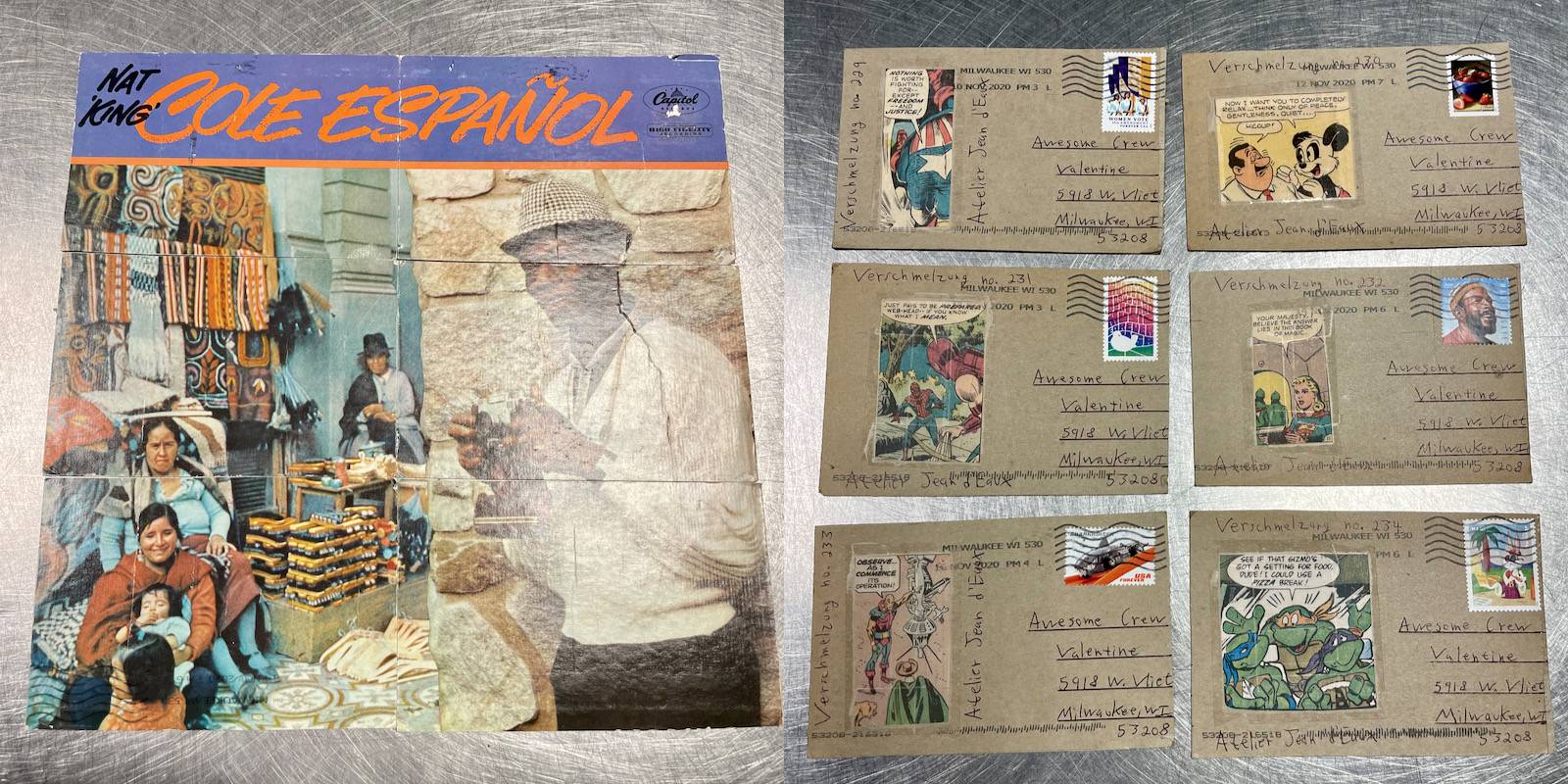 Top left: Captain America comic panel, "Nothing is worth fighting for except freedom and justice!"
Mid left: Spiderman comic panel, "Just pays to be prepared, Web-Head, if you know what I mean."
Bottom left: Ka-Zar comic panel, "Observe as I commence its operation!"
Top right: Andy Panda comic panel, "Now I want you to completely relax… think only of peace, gentleness, quiet."
Mid right: Super Girl comic panel, "Your Majesty, I believe the answer lies in this book of magic."
Bottom right: Teenage Mutant Ninja Turtles comic panel, "See if that gizmo's got a setting for food, dude! I could use a pizza break!"
"We didn't read much into them," notes Gildsdorf, who found them to be artfully intriguing. "We figured it was just someone with albums and comic books who got really crafty."
When asked if he saw meaning behind the largely superhero themed cards, Gilsdorf responded: "Apparently we're just here to save the day."
Justin Carlisle of Ardent
Album: Pat Cooper, "More Saucy Stories" (1968), front cover
First postcard sent: July 27, 2021
Among the eight chefs who received sets of postcards was Carlisle, whose cards all contained cut-outs of a singular word. In my mind, those words are a likely reference to Ardent itself, a restaurant founded on the definition of a singular adjective with multiple meanings. In fact, the word is so central to the concept that the restaurant's website showcases the word's full definition, which means – among other things – "characterized by warmth, passion, emotion or desire."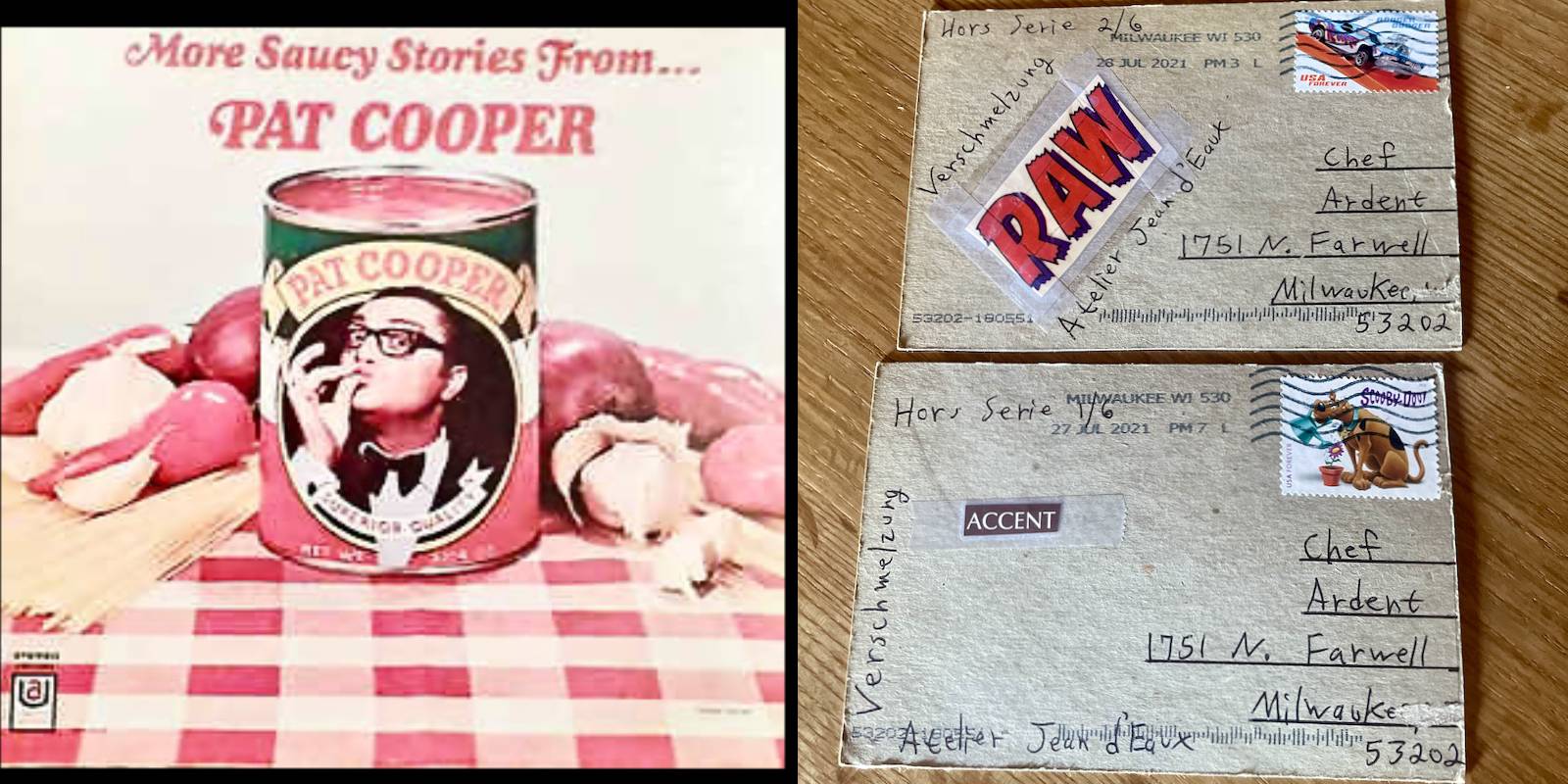 Top: The word "Raw"
Bottom: The word "accent"
Carlisle, who got his first postcard at the end of July, says the postcards made him feel pretty disconcerted. He says he took photos of the first two, but threw the collection away. "It felt like bad juju," he says.
Justin Aprahamian of Sanford
Album: Pat Cooper, "More Saucy Stories" (1968), back cover
First postcard sent: Aug. 2
Pull his artful food out of the equation and Aprahamian's passions lie with craft beer and music, both things he credits with driving his everyday life. So, it's unsurprising that the postcards delivered to Sanford are all created around a music theme.
In fact, if you head to Sanford for dinner, you're likely to hear jazz played in the background (as has been the case since the restaurant's inception). But Aprahamian has also influenced the playlist in more recent years, adding in instrumentals of alt-rock hits from favorite artists, including Radiohead.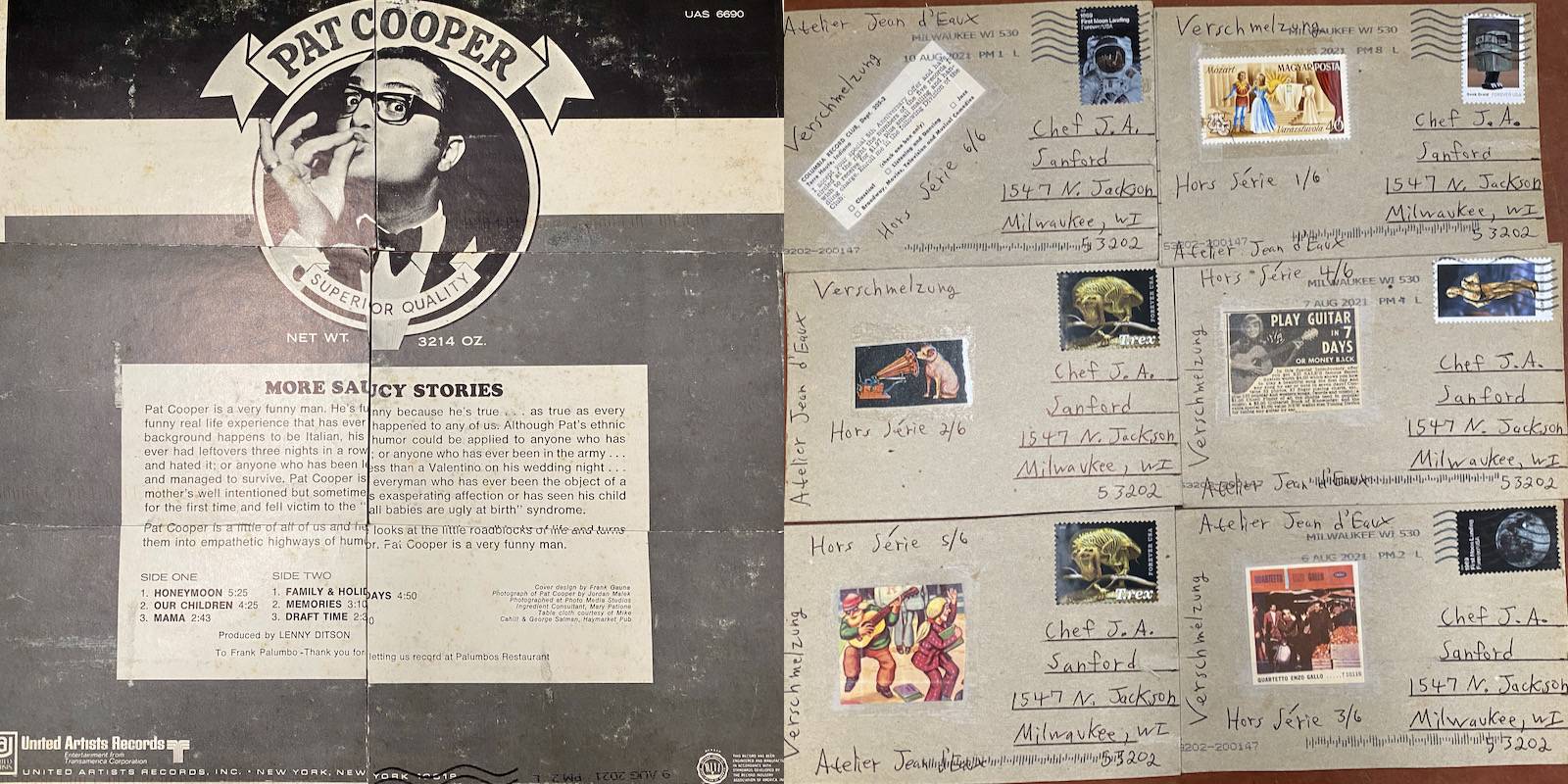 Top left: Columbia Record Club offer
Mid left: A clip of Francis Barraud's famous painting depicting Nipper the dog listening to a gramaphone, which would become the trademark and logo of the Victor Talking Machine Company, later known as RCA Victor.
Bottom left: An illustration depicting a guitar player and woman dancing
Top right: A stamp depicting Mozart's A Varázsfuvola (The Magic Flute)
Mid right: An advertisement for Ed Sale's famous "secret system" which guarantees the user the ability to learn to play guitar in seven days
Bottom right: A clip of the album cover for "Quartetto Enzo Gallo," a cha-cha jazz album
When the anonymous postcards arrived at Sanford, Aprahamian says the entire staff got involved in unraveling the mystery, focusing both on who could have sent them and what they might mean in a broader sense.
"Everyone on staff was looking at them and hypothesizing,' he says, "And they spun every angle that they could… like maybe 'Saucy Stories' was a reference to the grocery store? At some point, we thought maybe it was a friend of ours who was goofing on us. It's funny. It's bizarre. And I guess it's both cool and creepy at the same time."
Kyle Knall of Birch
Album: Kenny Loggins, "Keep the Fire" (1979), front cover
First postcard sent: August 6
The postcards sent to Knall at Birch centered around the theme of fire, likely an apt association to a restaurant which centers around food prepared in a live wood-fired hearth. In this case, there was also a direct correlation between the album's name "Keep the Fire" and the cut-outs taped to each post card.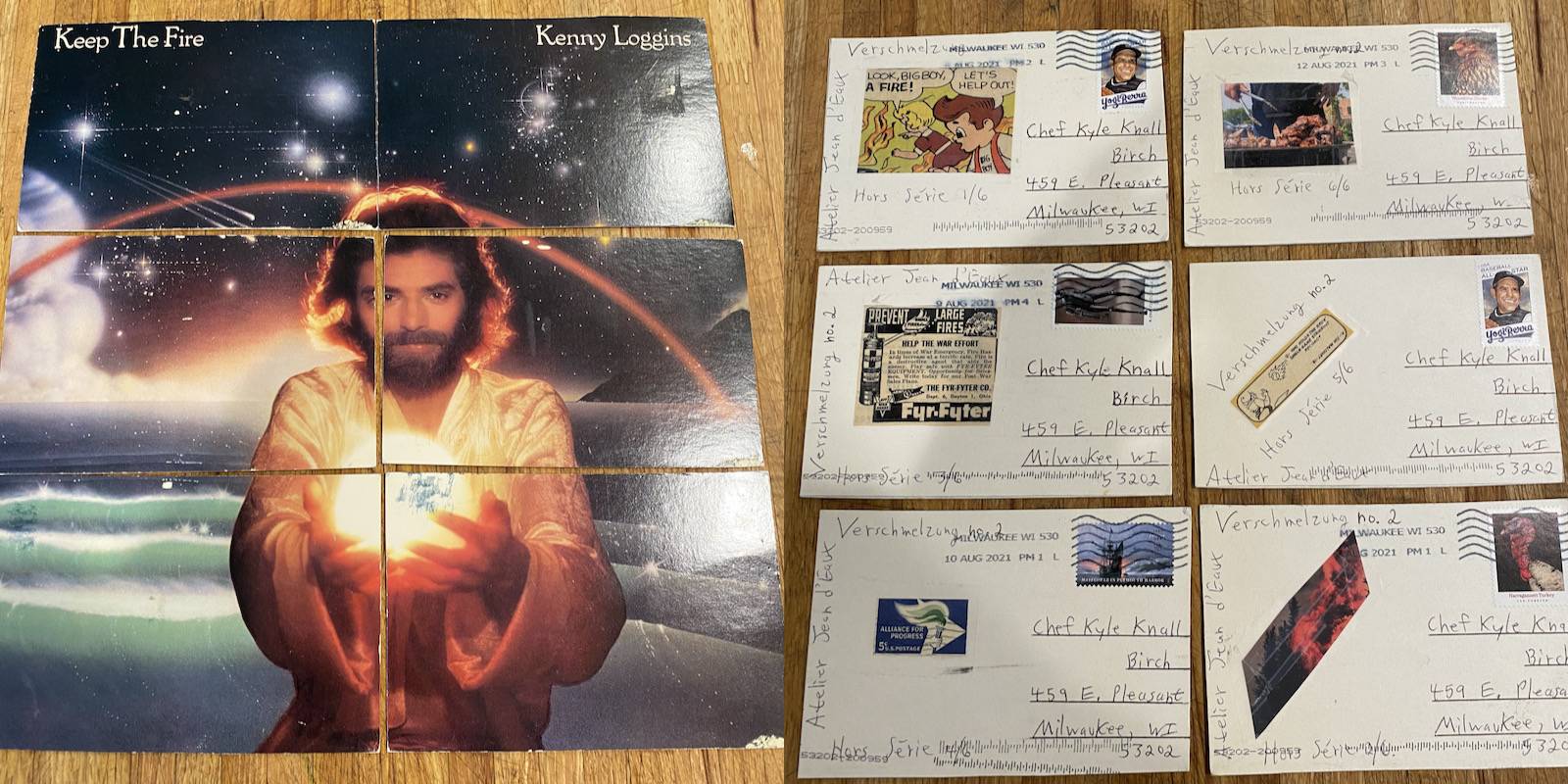 Top left: Big Boy comic panel, "Look, Big Boy, a fire!"
Mid left: A post-war ad for Fyr-Fyter equipment
Bottom left: Alliance for Progress stamp depicting a flaming torch
Top right: A cut-out photo of a man in an apron holding a set of tongs in front of a grill filled with food
Mid right: A clip of baseball trivia depicting a catcher with a flaming baseball flying towards him
Bottom right: A photo of a forest fire clipped out in the shape of a parallelogram
Knall says he was initially a bit disconcerted by the postcards. The first two contained imagery of a hand holding a glowing orb that he surmised looked a bit like Jesus holding fire, and the messaging overall being centered around fire made him wonder what the artist's intentions were. But he says that, as more arrived, the cards seemed more and more harmless. "And when [sous chef] Zach Nelsen Googled 'Keep the Fire,'" Knall says. "And it came up as an album cover, it made a bit more sense."
Karen Bell of Bavette La Boucherie
Kenny Loggins, "Keep the Fire" (1979)
First postcard sent: Aug. 9, 2021
Karen Bell of Bavette has lived and worked in a variety of places, from California to Spain. A good number are represented on her postcards, most in fairly obvious ways. But one locale – Venezuela, where she spent a year after leaving Spain – takes a bit more thought to deduce.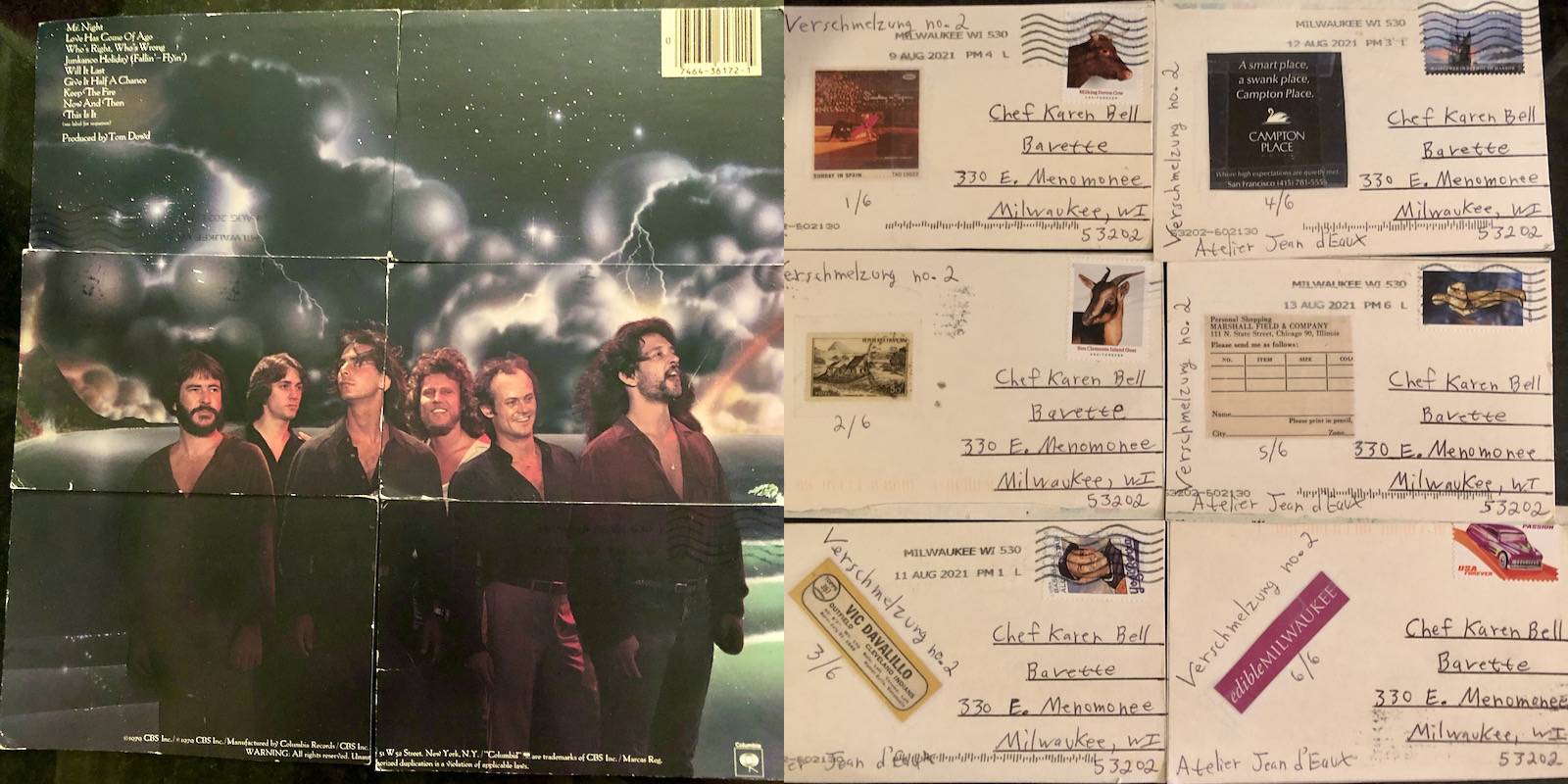 Top left: A clip of the 2007 album cover of "Sunday in Spain: 88 Musicians of Banda Municipal de Madrid"
Mid left: A stamp from the Republic of France
Bottom left: A Topps baseball blurb describing Cleveland Indians outfielder Vic Davalillo, a native of Venezuela
Top right: An ad for Campton Place in San Francisco, California
Mid right: An old personal shopping request from Marshall Field & Co. in Chicago
Bottom right: A magazine cut-out of "edible Milwaukee"
Bell says she didn't actually think very deeply about the postcards, a few of which arrived at the restaurant before she headed out of town.
"I figured they were probably sent by a customer of ours," she says. "And I didn't analyze it too much until this week when Dan Van Rite reached out to me to ask if I'd gotten a set of postcards. After that, I got them out again and I started putting things together. I think they're intriguing, and they definitely got us all talking."
Daniel Jacobs of DanDan
Album: Wolfgang Amadeus Mozart, "Cosi Fan Tutte" by the Glyndebourne Festival Orchestra (1983), back cover
First postcard sent: Late August (postmark illegible)
The postcards sent to Jacobs are themed around the Great Chicago Fire. As the story of the fire goes, a cow kicked over a lantern in a barn owned by Patrick and Catherine O'Leary, located at 138 DeKoven Street on Oct. 8, 1871, resulting in a fire which destroyed 17,000 buildings.
It's a tragedy which predates Jacobs by more than a century, but which did occur in his hometown. Most folks who know Jacobs know that, despite his deep-rooted love for Milwaukee (his adopted home), he's a Chicagoan at heart.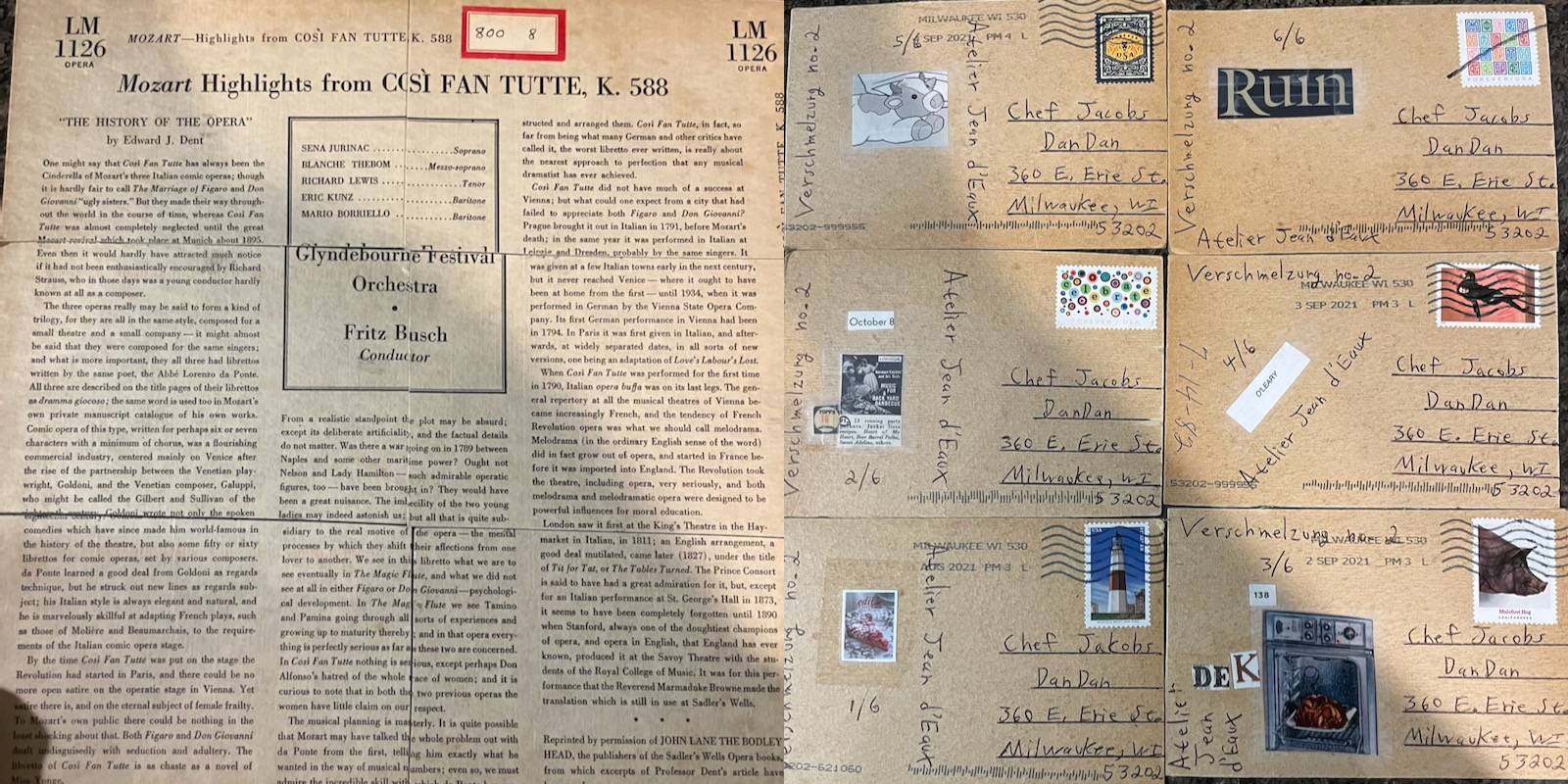 Interestingly, these cards were far more riddle-esque than some, many requiring a close look to decipher.
Top left: An illustration of a baby cow
Mid left: Three cut-outs: 1.) "October 8"; 2.) Topp's 18; 3.) album cover for selection 21: "Music for a Backyard Barbecue" (Together, they comprise the date of the fire on October 8, 1871)
Bottom left: A tiny clip of a photo of "Edible Chicago" magazine
Top right: The word "Ruin"
Mid right: The word "O'Leary"
Bottom right: Four cut-outs: 1.) "138"; 2.) the letters "DE"; 3.) the letter "K"; 4.) a picture of an oven with a turkey inside. (Together, they spell out "138 Dek Oven", the location of the start of the fire)
Unsurprisingly, Jacobs says he picked up on the Chicago theme inherent to his postcards right away, though it took some time to decipher a few of the more coded messages.
Dan Van Rite of DanDan
Album: Wolfgang Amadeus Mozart, "Cosi Fan Tutte" by the Glyndebourne Festival Orchestra" (1983), front cover
First postcard sent: Late August (postmark illegible)
As for the postcards sent to Van Rite, they revolve around a fishing theme. And maybe that's no stretch. After all, when Van Rite headed up the kitchen at Hinterland Erie Street Gastropub, he not only partnered with local farms to source fresh seasonal produce, but also forged connections with fishermen in Honolulu, Seattle and Portland, Maine. As a result, Hinterland would often receive shipments of fish as often as twice a day. It was a detail that not only made Hinterland a great spot to indulge in seafood, but also set the restaurant apart from many in the Midwest.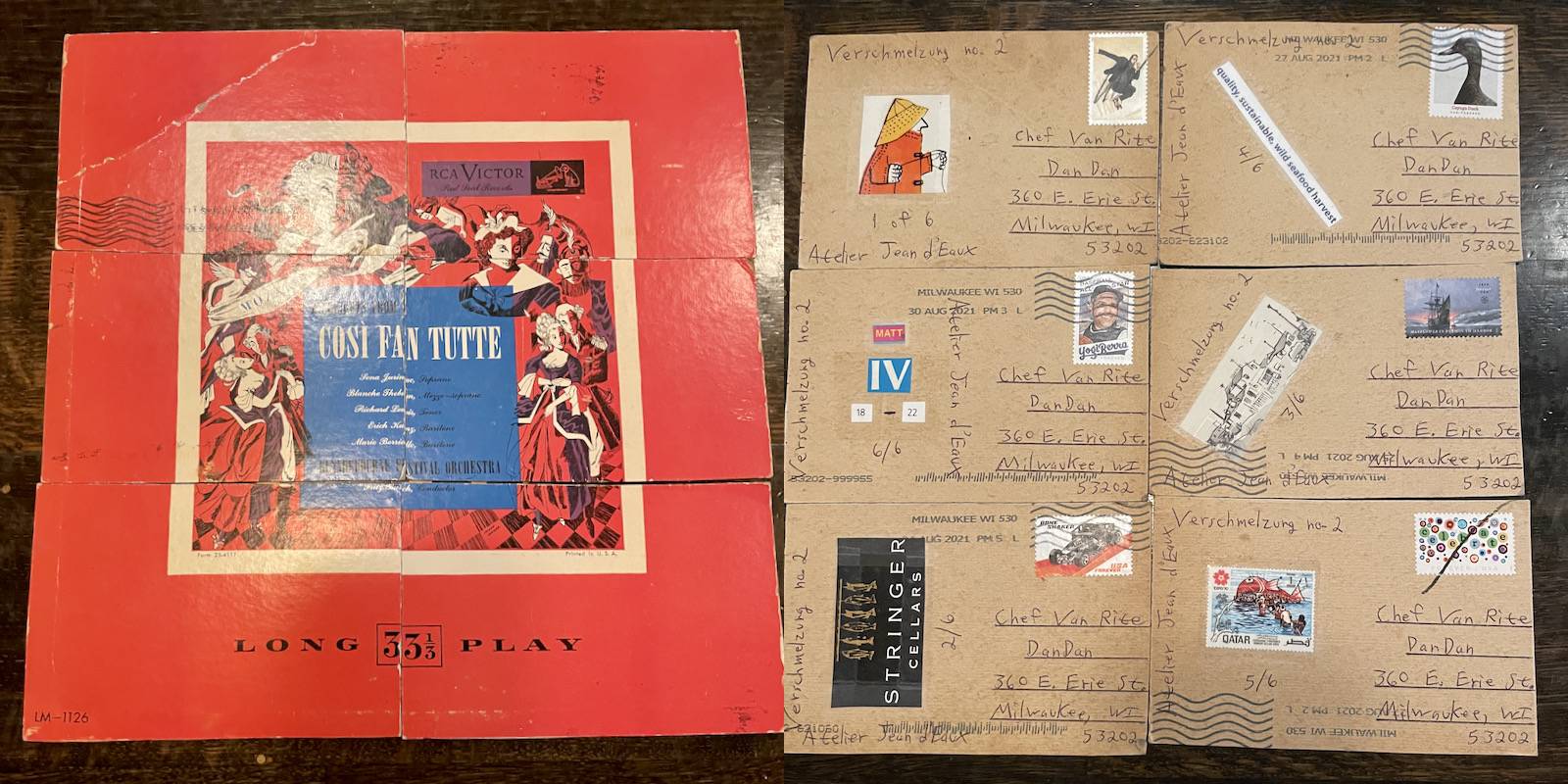 Top left: A cartoon illustration of a fisherman
Mid left: Four cut-outs: 1.) the word "Matt"; 2.) the Roman numerals "IV"; 3.) the number 18; 4.) the number 22 (Together they point to Matthew 4:18-22, a biblical passage which references fishing in conjunction with the christening of the first four disciples of Jesus: Peter, Andrew, James and John)
Bottom left: A Stringer Cellars wine logo (depicts a string of fish)
Top right: A cut-out phrase: "quality, sustainable, wild seafood harvest"
Mid right: An illustration of a marina
Bottom right: A stamp from Qatar featuring a very large red fish with people wading toward it
Van Rite says he picked up on the fishing theme right away, but noted puzzlement that there didn't seem to be a connection between the theme depicted on the cards and the Mozart album they were constructed from.
Ross Bachhuber of Odd Duck
Album: Sammy Davis Jr., self titled album (1963), front cover
First postcard sent: Sept. 6
The Odd Duck postcards all seem to revolve around the theme of oddities, with all of the postcard messages showcasing unusual items.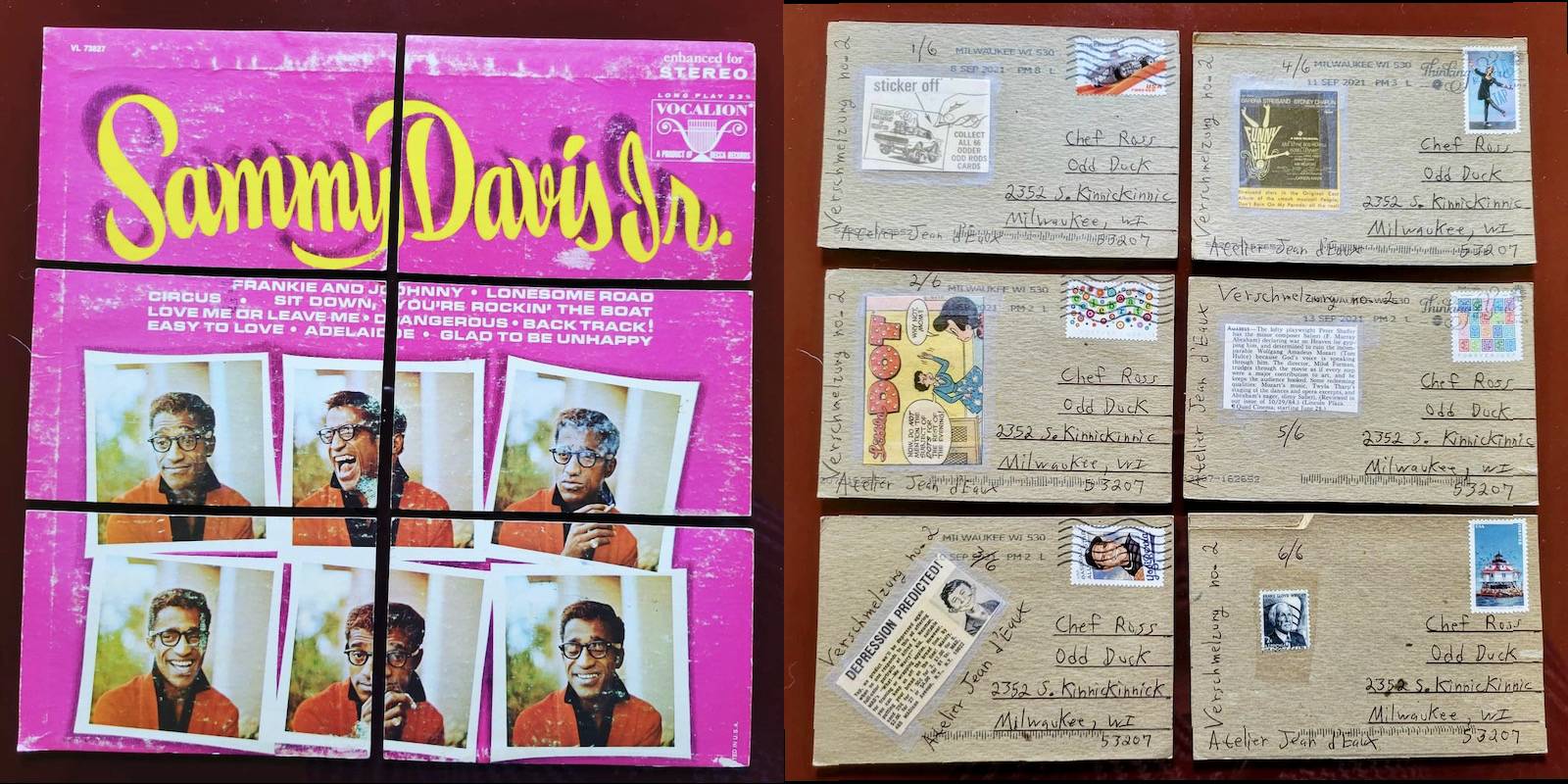 Top left: An ad encouraging the reader to "Collect all 66 Odder Odd Rods Cards," a series illustrated by artist B.K. Taylor. Odd? Yes.
Mid left: A panel from the classic Little Dot Comic in which Little Dot's mom tells her: "Now, do not mention the subject of dots for the rest of the evening!" Overall, Little Dot is an Odd comic featuring a girl obsessed with dots.
Bottom left: An ad from Mad Magazine predicting that the magazine staff will be depressed when no one purchases full-color portraits of Alfred E. Neuman (suitable for framing or wrapping apples). Also odd.
Top right: An advertisement for "Funny Girl" starring Barbra Streisand. Potentially odd?
Mid right: A commentary on "Amadeus" (1984) portraying over-the-top drama between the playwright, composer and director. Definitely an oddity.
Bottom right: A 2-cent stamp depicting Frank Lloyd Wright, a Wisconsin architect whose "outside the box" life was as interesting as the buildings he designed.
Update: Apparently, Odd Duck's request for answers was heeded. Jean d'Eaux sent a follow-up postcard with the "riddle key." Check it out below. The postcard seems to confirm that the postcards had a "friendly" intention. It also confirms that Verschmelzung No. 2 is a series of album postcards directed at "Great Chefs of MKE"... but what about Valentine?
Dane Baldwin of The Diplomat
Album: Sammy Davis Jr., self titled album (1963), back cover
First postcard sent: Sept. 11
Each card in the collection mailed to The Diplomat contains references to members of The Rat Pack, and the album is from one of the Pack's members. While Baldwin says he made little connection between the theme and himself or the restaurant, a bit of research on my end led me to a connection: The Diplomat Beach Resort. The Hollywood, Florida resort, originally built in 1958, was a hot spot for stars like Frank Sinatra and The Rat Pack.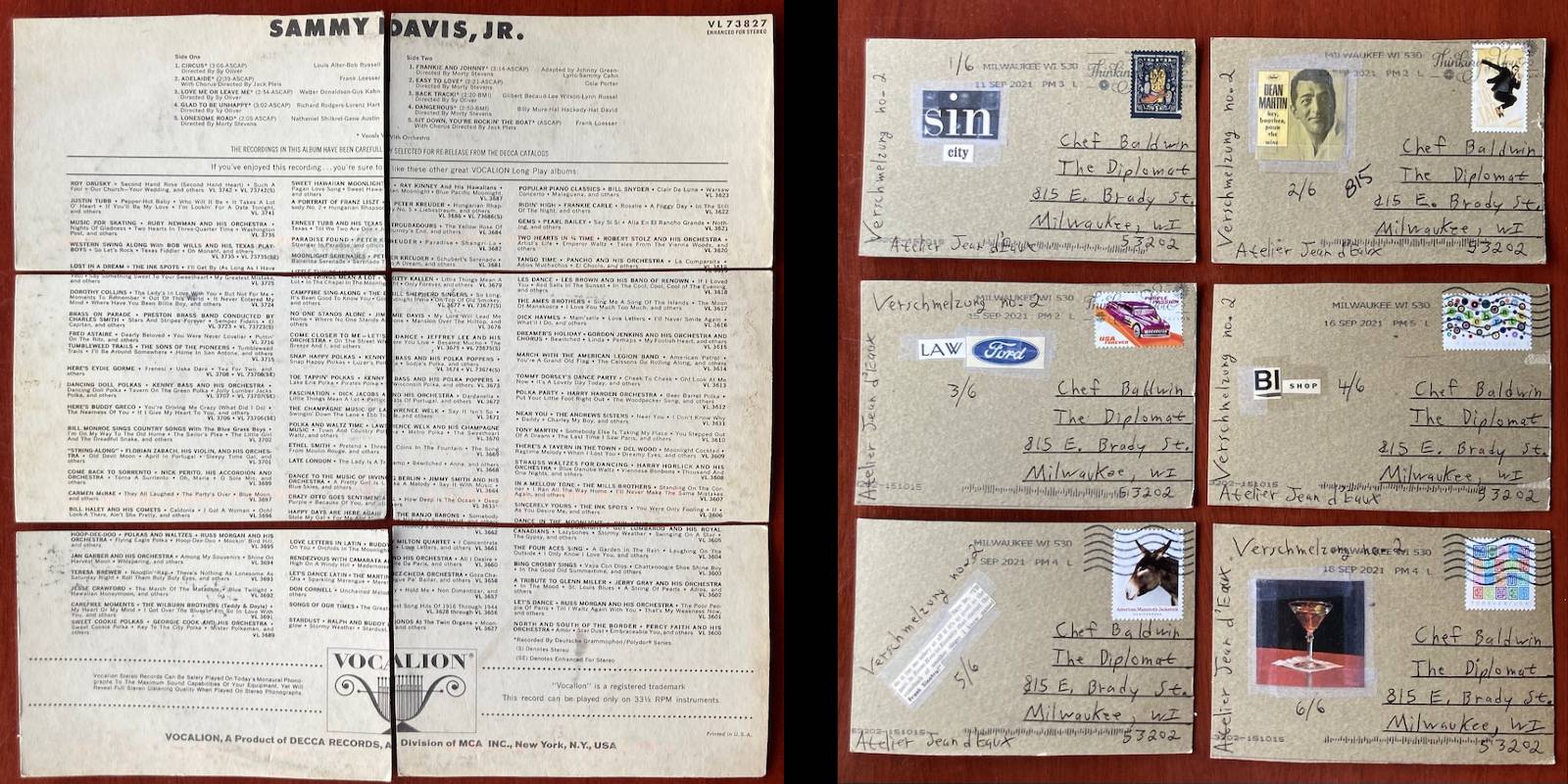 Top left: Two cut-outs of the words "Sin" and "City"
Mid left: Two cut-outs of the word "Law" and the Ford logo
Bottom left: A quote mentioning Frank Sinatra
Top right: Dean Martin album, "Hey Brother, Pour the Wine"
Mid right: Two cut-outs of the letters "BI" and the word "shop"
Bottom right: A picture of a martini
"The first one, I didn't think much of," says Baldwin. "People bring us different things at the restaurant all the time, from laminated articles to thank you notes. But then we realized that it said one of six, and it got intriguing. It definitely has this Clue or Haunted Honeymoon element about it."
Baldwin says the Rat Pack theme doesn't really resonate with him, so he didn't find a personal connection in the postcards at all. But, he says, it struck him at one point that maybe the postcards were some sort of marketing piece. "Or is it an attempt at getting us all together for an event?" he supposed.
Lingering questions
Overall, the postcards bring forth more questions than answers.
For instance: Did the project begin with the Valentine Coffee Roasters postcards in November of 2020? If so, is there a matching set of postcards using the back cover to the Nat King Cole album? And are there hundreds (maybe more) postcards that were sent between November and this summer?
Was this a pandemic project from a food-loving artist who just wished to share his (or her) creations with local businesses? Was it intended to be a mind-bending distraction from the challenges of a very trying time for restaurants? Or a community art project of sorts?
In the end, most of the chefs I spoke with agree that it's been a fascinating journey, and one that brought industry folks together in a creative, roundabout way.
"At the very least, it has connected us all for a moment," notes Baldwin. "It has us all thinking about something and talking to one another."
Questions also linger about the person behind the project. What do we know about the creator of the cards, hailing from Atelier Jean D'Eaux? There's a good chance it's a person who appreciates music and potentially history and pop culture. It's also someone who's obviously creative and interested in the personalities behind Milwaukee's dining scene. It's definitely someone who dedicated a great deal of time and thought, without the immediate need for credit.
And, as Knall points out, the places where the postcards were sent also offer a clue about the person who sent them.
"These were obviously created by someone who appreciates great restaurants and loves great food," he says.
Lori is an avid cook whose accrual of condiments and spices is rivaled only by her cookbook collection. Her passion for the culinary industry was birthed while balancing A&W root beer mugs as a teenage carhop, fed by insatiable curiosity and fueled by the people whose stories entwine with each and every dish. She's had the privilege of chronicling these tales via numerous media, including OnMilwaukee and in her book "Milwaukee Food." Her work has garnered journalism awards from entities including the Milwaukee Press Club.
When she's not eating, photographing food, writing or recording the FoodCrush podcast, you'll find Lori seeking out adventures with her husband Paul, traveling, cooking, reading, learning, snuggling with her cats and looking for ways to make a difference.