This article has been a long time in coming. If I'm honest, I simply haven't had the time to give it its due. But I couldn't let the year end without sharing a follow-up to one of the most interesting stories I had the privilege of writing this year.
On Monday, Sept. 27, I wrote an article about a series of mysterious anonymous postcards which had been sent to nine local businesses. The group included Dan Jacobs and Dan Van Rite of Dandan, Dane Baldwin of The Diplomat, Karen Bell of Bavette La Boucherie, Kyle Knall of Birch, Justin Carlisle of Ardent, Justin Aprahamian of Sanford and the team at Valentine Coffee Roasters.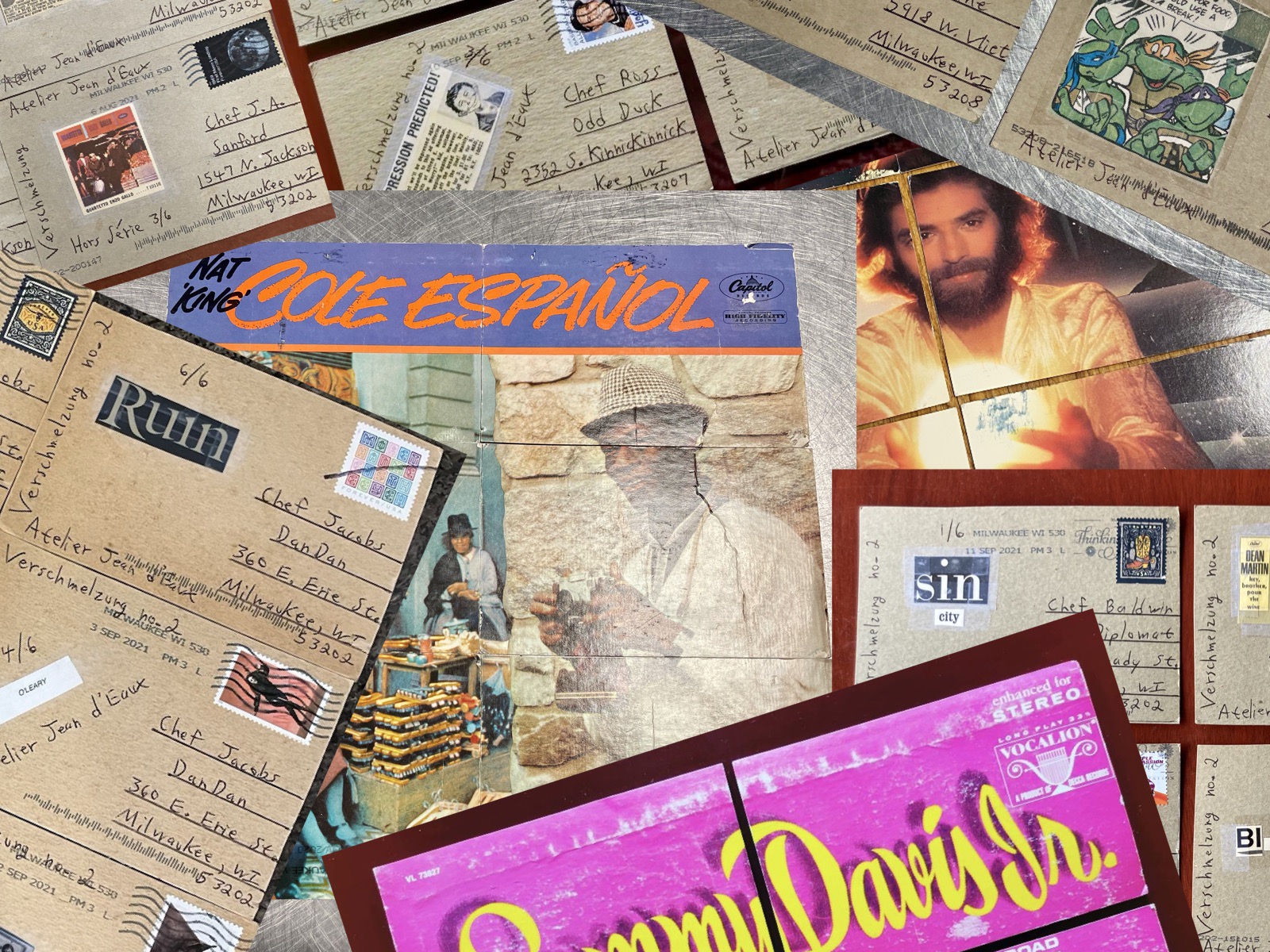 Each one was cut from an album cover and was adorned with images and text clipped from books, magazines and other papers neatly taped to the back of the card, along with a series of words hand-written in French and German (most notably "verschmelzung" and "hors serie"). Most were quite cryptic, and I did my best to decipher them, based on what I knew about each of the chef recipients [read more here].
What I didn't expect is to receive a hand-written letter from the anonymous postcard artist, Jean d'Eaux, written within 24 hours of my article being published and mailed (I can only assume, since there was no dated postmark) in the days which followed.
A few mysteries put to rest
The letter, which was dated Sept. 28, 2021, was addressed to me at the OnMilwaukee office. But, since I work primarily from home, it sat on my desk for a number of weeks before I discovered it. When I did, I was both shocked and elated that the author chose to take the time to respond to my article.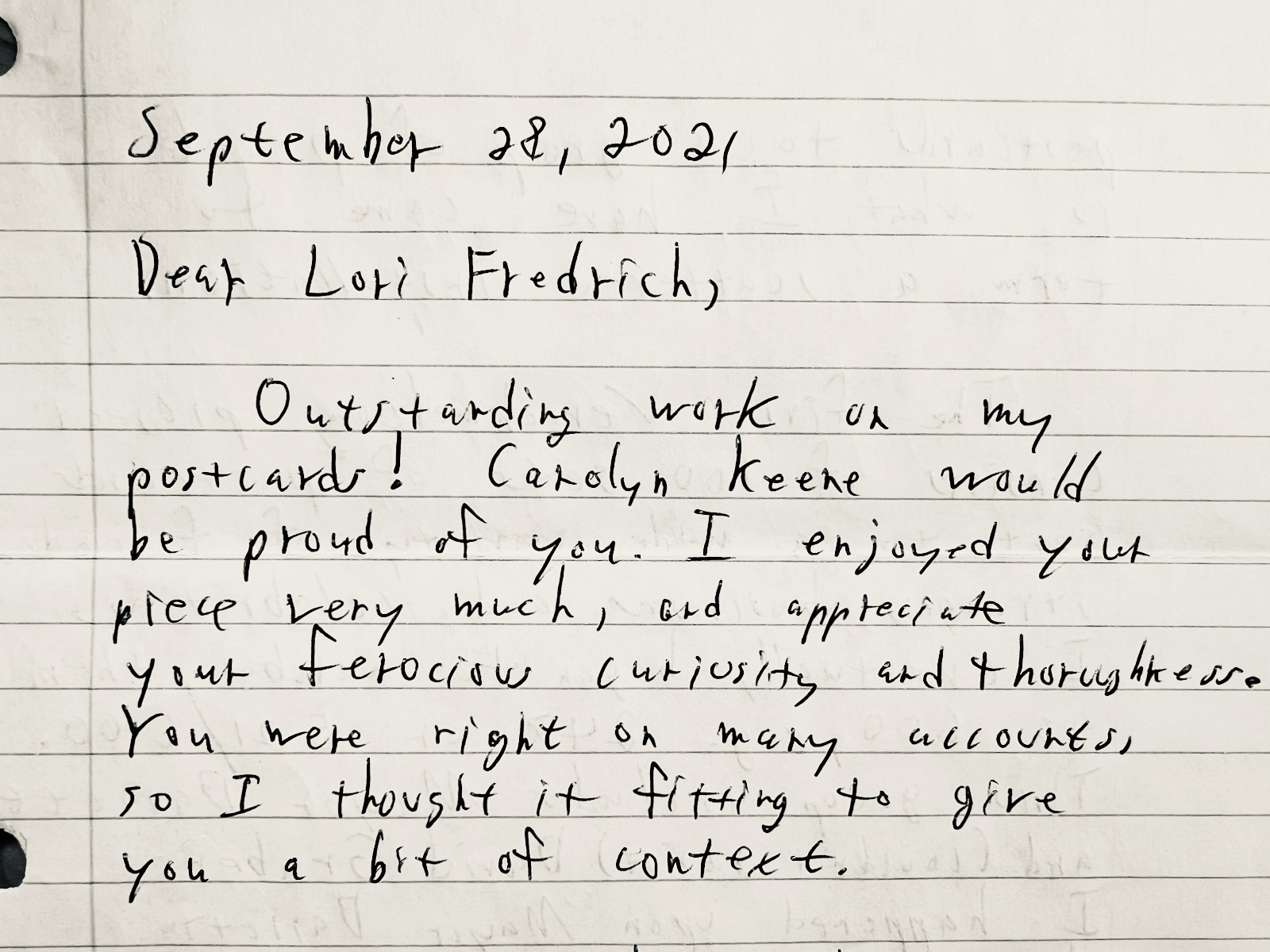 "Dear Lori Fredrich," the letter read. "Outstanding work on my postcards! Carolyne Keene would be proud of you. I enjoyed your piece very much, and appreciated your ferocious curiosity and thoroughness. You were right on many accounts, so I thought it fitting to give you a bit of context."
I was flattered by the handwritten letter, which complimented my curiosity and thoroughness in analyzing the content of the series of postcards. But I was also excited to find that it also offered some answers to the lingering questions I noted about their creator.
"I did, indeed, begin this work during the early darkness of COVID," Jean d'Eaux wrote. "'Fusion' is such a bland word, so I settled on 'Verschmelzung' to capture the collision and potential of bringing together disparate elements.
"I enjoy the process of deconstructing album covers (and backs) as well as various pop culture material. Bringing them together allows for new visual moments, as well as the potential for an entirely new kind of narrative. Sending out sets of postcards to a group of people is what I have come to term a scattered installation."
The letter went on to explain that the postcards I saw were just a smattering among many, sent to a wide variety of locals.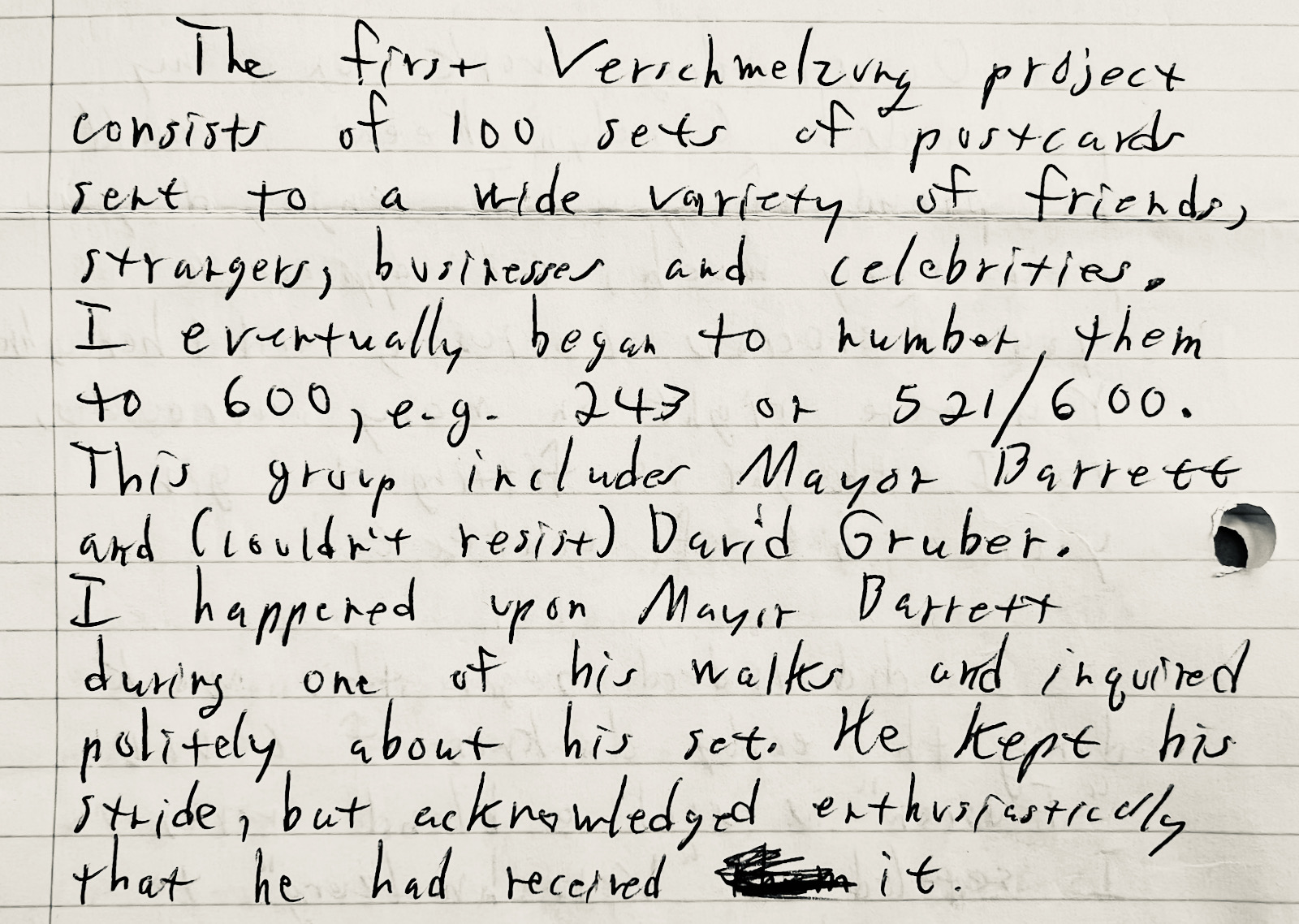 "The first Verschmelzung project consists of 100 sets of postcards sent to a wide variety of friends, strangers, businesses and celeibrities. I eventually began to number them to 600, e.g. 243 or 521/600. This group includes Mayor Barrett and (couldn't resist) David Gruber. I happened upon Mayor Barrett during one of his walks and inquired politely about his set. He kept his stride, but acknowledged enthusiastically that he had received it."
The author also revealed that most of the postcards I saw (and wrote about) were actually part of a second installment of postcards, which were created as the project evolved.
"The second Verschmelzung began as additional sets, so I simply termed them 'Hors serie.' I quickly realized, however, that this was a great opportunity to pay homage to some of the great Chefs of Milwaukee. Thus, 'Verschmelzung no. 2' was born."
Jean d'Eaux also indicated in the letter that a third round of equally focused postcards, "Verschmelzung no. 3" would be released. Since weeks have passed since I received the letter, I'd guess that many of those have already been delivered to their recipients.
A friendly gesture
The second page of the lengthy letter went on to explain more about the author and his intentions.
"Regarding my overall state of mind and intent, my sensibilities are somewhere betwixt Henry Miller (of Big Sur fame) and Henry Rollins (of Black Flag fame). I have meant no ill will, but a few of the postcards are decidedly sassy [Just ask Senator Ron Johnson.]

"Many of my postcards have certainly been thrown away in confusion and apprehension. Fair enough. I relish the creative process and I'm just having fun.

"It's also fair to say that Verschmelzung is an organic statement and reaction to an increasingly toxic digital world. I do not underestimate the value of receiving a piece of personal mail that is inherently tactile."
As a person who has both a love/hate relationship with social media (particularly Facebook) and a longtime love for both sending and receiving cards and letters, the latter sentiment struck a chord. Maybe in 2022 I shall take up more regular correspondance again.
Jean d'Eaux also goes on to explain that he felt anonymity to be a necessity in relation to the project.
"The matter of my anonymity is also a reaction to a culture that has become addicted to the cult of personality. I would prefer to let the album art and curated iconography speak for themselves. It seems unnecessary for a person to think about them through the lens of what they think about me as a person.
"I enjoy a quiet life in my adopted city of Milwaukee and hope to maintain that as long as possible. I never aspired to be some kind of Banksy of postcards."
The letter wrapped up with a conclusion that was equally as flattering as its intro. It made me smile … and blush all at once.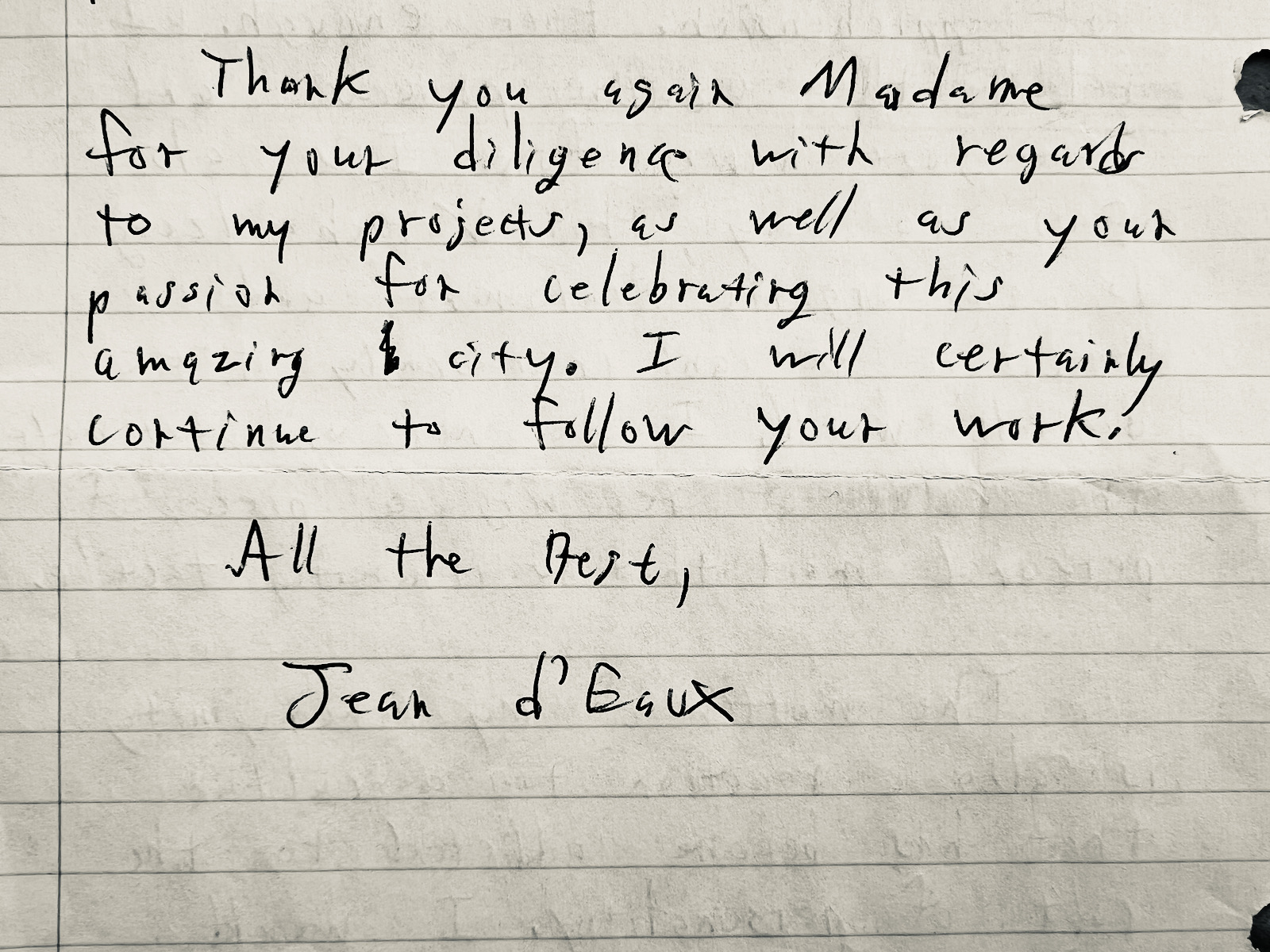 Thank you, Jean d'Eaux. Your kindness (and readership) have not been overlooked.
A little mystery for me
Of course, in classic Jean d'Eaux fashion, the letter also included a little mystery for me to solve.
It came in the form of a singular page of art from a 1970s Marvel comic book "Astonishing Tales #20: The Final Battle" featuring Ka-Zar, Lord of the Hidden Jungle.
The page depicts Ka-Zar being revived by Bobbi Morse, a former love interest and highly trained S.H.I.E.L.D. agent (with a Ph.D in biology) who, as her comic career evolved, took on identities as both The Huntress and Mockingbird (during her work with the Avengers).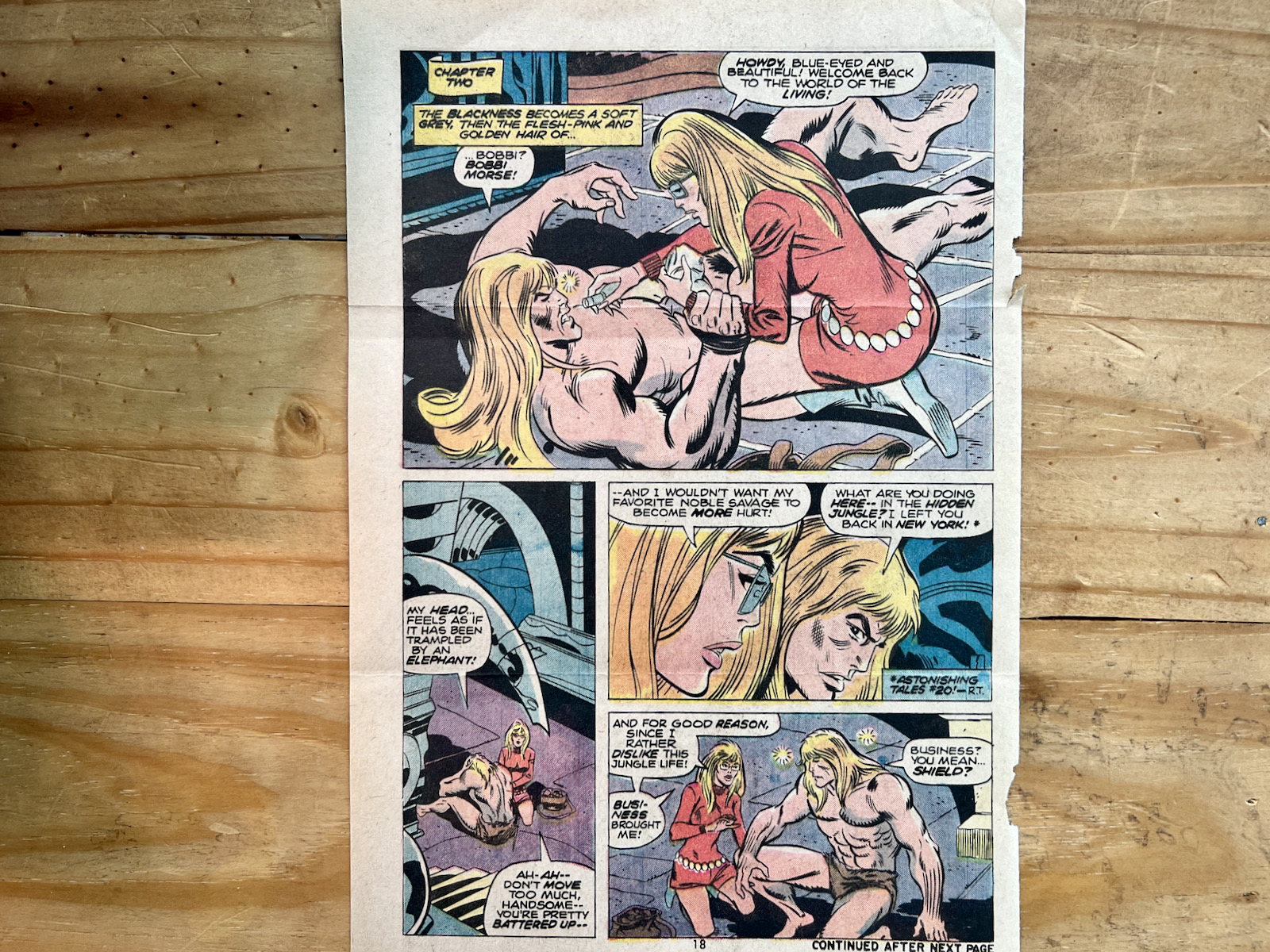 Like most of the chefs I interviewed who received postcards, I wasn't immediately sure of the meaning behind this seemingly random comic page. Even now, I've only made a few small (and potentially incorrect) speculations about it and how it might connect to me. However, here is what I've surmised:
The comic happens to have been written by Michael Friedrich. Despite a very slight difference in the spelling of his last name, the similarity to my own name did not escape notice.
Nor did the choice to include Bobbi Morse, a smart female character with keen investigative instincts. Her comic book career is complex to say the least, evolving impressively over time (Her hair color changes at least once as well, though Jean d'Eaux may or may not have noticed my tendency to do the same *wink*). But, among her accomplishments is playing an integral role in delivering information to Nick Fury, which exposes dozens of subversives within S.H.I.E.L.D.
I don't believe the flipside of the comic page has any significant meaning, but I'm including a photo of it for the sheer sake of thoroughness.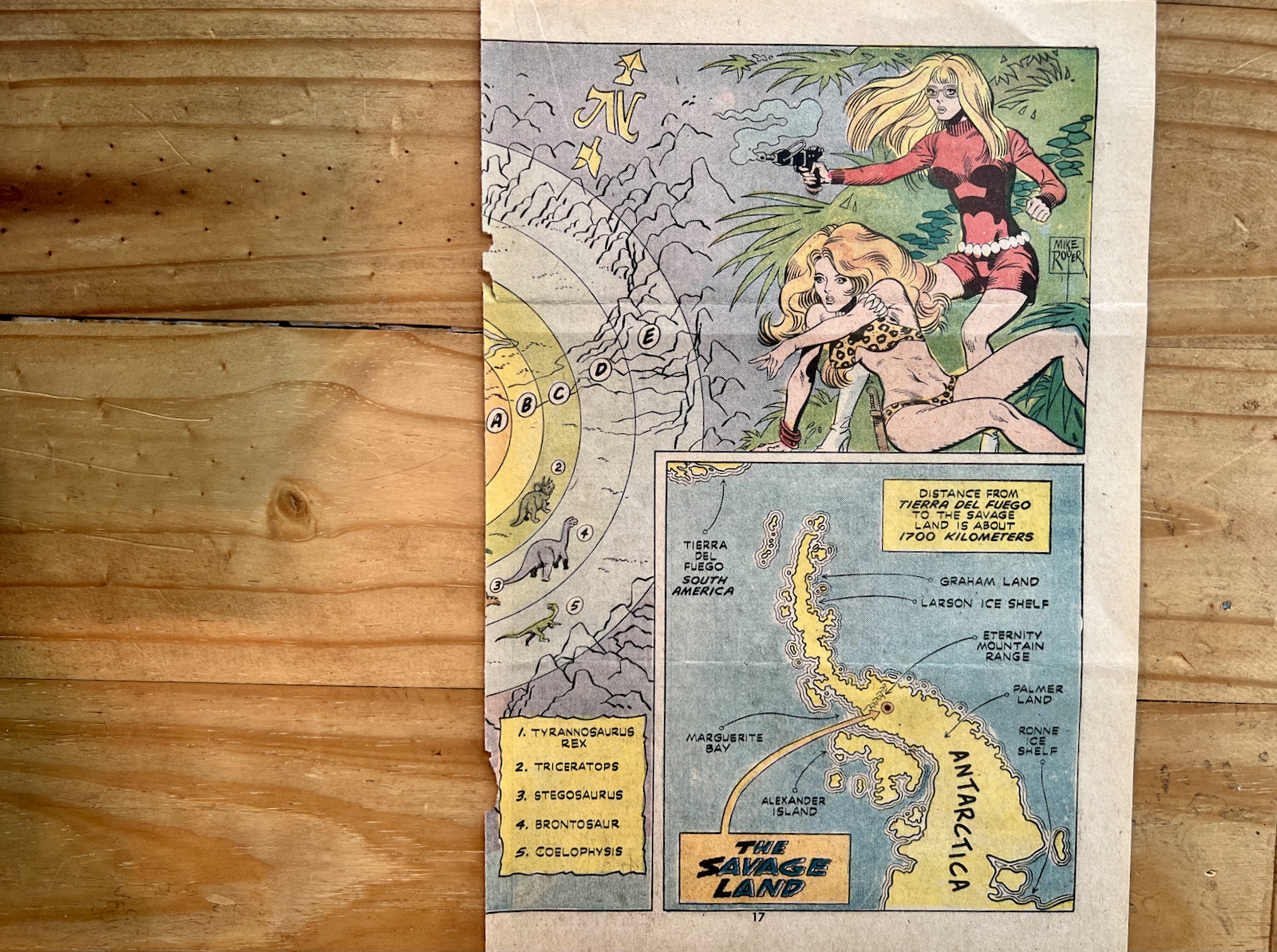 That said, I'm done sleuthing (at least for now). But if you see any cool hidden meaning that I've missed, I'd love to hear from you.
As for you, Jean d'Eaux: Bravo. You've single handedly brought art and intrigue to our city during a very challenging time. You've also brought people together, surrounding your installation of mysterious art. That's a fine accomplishment by any measure.
Lori is an avid cook whose accrual of condiments and spices is rivaled only by her cookbook collection. Her passion for the culinary industry was birthed while balancing A&W root beer mugs as a teenage carhop, fed by insatiable curiosity and fueled by the people whose stories entwine with each and every dish. She's had the privilege of chronicling these tales via numerous media, including OnMilwaukee and in her book "Milwaukee Food." Her work has garnered journalism awards from entities including the Milwaukee Press Club.
When she's not eating, photographing food, writing or recording the FoodCrush podcast, you'll find Lori seeking out adventures with her husband Paul, traveling, cooking, reading, learning, snuggling with her cats and looking for ways to make a difference.