Earlier this summer, three Milwaukeeans – Samuel Alford, Sequanna Taylor and Jessica Fenner – joined forces and created Art-I-Culture. The mission of the venture is to partner with street artists / muralists / space-makers to provide administrative, marketing and curation support for those who prefer to focus solely on their art and the messages it projects into the world.
"It's teamwork," says Taylor. "They create the art and we bring some structure and organization."
Currently, Art-I-Culture works with about a dozen street artists, most of whom prefer not to be identified or to interact with media because they want the spotlight to stay on the issues of justice and the need for change rather than the individual artists.
Milwaukee has strict graffiti laws and many aerosol artists prefer to remain anonymous to avoid being misunderstood by law enforcement. Thus, many of the artists use tag names on social media.
"Milwaukee has been in a cold war against people of color and street art for a very long time," says Alford. "We want to neutralize this."
Art-I-Culture and its team of artists are in the process of creating what Alford calls an "outdoor museum" at 14th and Vliet Streets on the facades of numerous buildings clustered in the area.
So far, three of the five walls are completed. Art-I-Culture curated the appearance on two of the finished walls featuring 21 local leaders.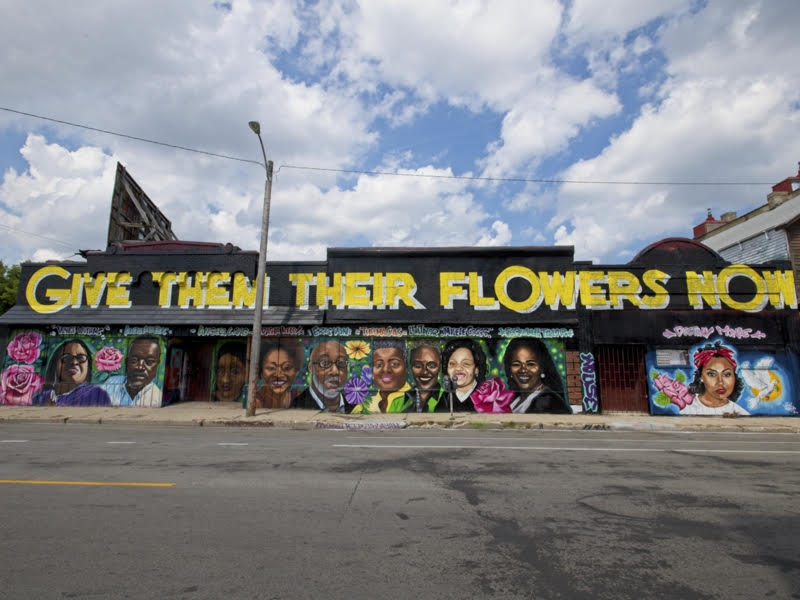 The most prominent mural, facing Vliet Street, features local African American contributors such as Venice Williams, Dasha Kelly, Andre Lee Ellis, Angela Lang, the late Eric Von and more. Above the portraits are the words "Give Them Their Flowers Now" which declares the importance of acknowledging contemporary heroes. The west-facing wall features the words "An Injury To One Is An Injury To All" and features a row of portraits including activist Frank Nitty.
The third completed wall, located on the north side of the building, was not curated by Art-I-Culture, but rather served as a space for the artists to paint whatever they wanted.
There are two more walls on buildings located across the street that are partially painted and will be completed at some point in October. One of the walls will be a tribute to the film "Queen & Slim."
"We are amplifying voices that go unheard in Milwaukee and we are also celebrating our culture," says Alford. "Through the murals, we are telling stories of struggle, but also recognizing our successes like we saw with the popularity of 'Queen & Slim.'"
Last week, Art-I-Culture hosted a gathering at the site to celebrate the art, the individuals and the messages behind them. In the future when public health is in a better place, the plan is to hold more public events in the space.
Art-I-Culture also curated the wall on 6th Street and Greenfield Avenue, a tribute to Joel Acevedo who was killed by an off-duty police officer in June.
"Traditionally, any art recognized in Milwaukee had to fit into a box. We need to let art be raw sometimes," says Fenner. "And most of all, we need to amplify voices right here in Milwaukee, one of the most systematically racist cities in the United States."
Although the summer of 2020 has welcomed an influx of powerful street art, Art-I-Culture's mission is to ensure this is not simply a passing trend.
"Right now, we're having 'our moment in the sun,'" says Alford. "But we are taking this moment and stretching it into a legacy for future generations. We are determined to help create a new, healthy culture for Milwaukee."
At this point, Art-I-Culture and the artists are working without pay, something they hope to change in the future. To help make this happen, they have organized a crowd sourcing effort. For more information go here. Follow Art-I-Culture on Facebook.

Molly Snyder started writing and publishing her work at the age 10, when her community newspaper printed her poem, "The Unicorn." Since then, she's expanded beyond the subject of mythical creatures and written in many different mediums but, nearest and dearest to her heart, thousands of articles for OnMilwaukee.

Molly is a regular contributor to FOX6 News and numerous radio stations as well as the co-host of "Dandelions: A Podcast For Women." She's received five Milwaukee Press Club Awards, served as the Pfister Narrator and is the Wisconsin State Fair's Celebrity Cream Puff Eating Champion of 2019.