Explore the best Milwaukee has to offer with VISIT Milwaukee and OnMilwaukee this summer by "Urban Exploring." We'll be sharing parks to hike, walls to climb, rivers to paddle, trails to bike and so much more. Be a tourist in your own town and experience it with us!

Located an easy two-hour ride from Milwaukee, a visit to Spring Green and its theater scene is unmatched anywhere in the state if you love world-class live performance, the outdoors and cute, quirky small towns. And what's not to love?
Let's begin, of course, with American Players Theatre.
When you hear the words "world class," it can often be an exaggeration. Not in this case. Some of the most respected critics in the world have traveled to Spring Green to watch APT in action.
"APT is the best classical theater company in America," according to Terry Teachout of the Wall Street Journal, who is generally regarded as one of the top three drama critics in the world.
APT stages 10 plays in repertory each summer, five in the 1,100-seat Up The Hill outdoor space and five in the 200-seat indoor Touchstone space.
The high-caliber plays are drawn from the canon of great playwrights, both American and foreign, and the plays are uniformly staged with the absolute highest standards of world theater. Sitting in the outdoor space on a gentle summer's night is an incomparable experience.
The theater is located on 100 acres across from Tower Hill State Park, and visiting has a kind of Madison hippie-rustic-summertime vibe. Shorts and light tops are the most common dress code you'll see outdoors.
APT has a wide variety of amenities outside of the plays to be a major and well-rounded attraction. Perhaps the most obvious is the impressive spread of picnic tables and grills, both gas and charcoal, that are available for pre-show picnics. Guests can also arrange to purchase sandwiches and picnic baskets from Hubbard Avenue Diner, a cool little spot in nearby Middleton. APT also has a gift shop with all kinds of theater trinkets to take home.
There are other things to do that can make your trip to APT a one filled with variety.
If you play golf, The House on the Rock Resort has a spectacular 27-hole course. The course, designed by Robert Trent Jones, opened as The Springs in 1971. It's a strenuous test with some of the most beautiful land you will ever play. I've played several times, and it's more gorgeous and almost as tough as all the Kohler courses in Sheboygan County.
On your way to Spring Green, you pass through the village of Mazomanie, home to an outlet of the world-famous Carr Valley Cheese Company. Carr Valley has won more national and international awards than any other cheesemaker in North America.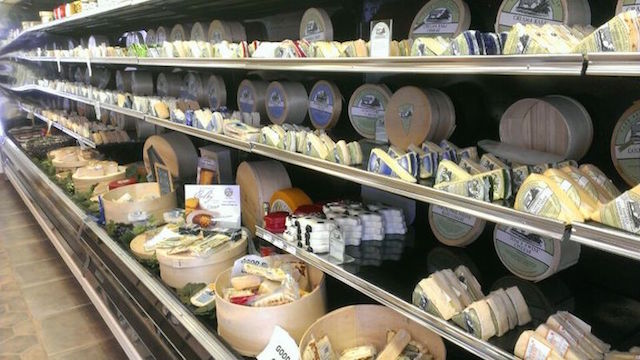 Sid Cook is the fourth-generation master cheesemaker from the company, which has been around since 1902. It's easy to spend an hour or so browsing the coolers full of cheeses you don't find at your local grocery store.
Killing time before the play is easy if you want to visit the tiny town of Spring Green. It's loaded with cute gift shops and bookstores and the kind of thing you might expect to find in a Madison-area town. There are a couple of special places that you shouldn't miss.
The Bird of Paradise Tea and No Rules Gallery is a cool little gift shop, featuring a wide variety of teas and gifts created by local and regional artists. And if you are looking for a bit to eat, let me recommend the mac and cheese at The Shed, a downtown bar that is the frequent haunt of members of the APT company, like actor Marcus Truschinski, a friend and member of the core company who has never met a bar he didn't like.
Of course, Spring Green is home to Frank Lloyd Wright's home and studio at Taliesin, too.
Summer attractions in Wisconsin are many, but few can match the opportunities for a diverse collection of activities as when you visit American Players Theater and Spring Green.
With a history in Milwaukee stretching back decades, Dave tries to bring a unique perspective to his writing, whether it's sports, politics, theater or any other issue.
He's seen Milwaukee grow, suffer pangs of growth, strive for success and has been involved in many efforts to both shape and re-shape the city. He's a happy man, now that he's quit playing golf, and enjoys music, his children and grandchildren and the myriad of sports in this state. He loves great food and hates bullies and people who think they are smarter than everyone else.
This whole Internet thing continues to baffle him, but he's willing to play the game as long as OnMilwaukee.com keeps lending him a helping hand. He is constantly amazed that just a few dedicated people can provide so much news and information to a hungry public.
Despite some opinions to the contrary, Dave likes most stuff. But he is a skeptic who constantly wonders about the world around him. So many questions, so few answers.