Milwaukee was once chock full of hotels of all kinds, from the elegant to the workaday, aimed at travelers and at long-term residents, or both.
Sadly, so many – from the Maryland to the Randolph to the Belmont to the Juneau to the Blatz, the Pabst, the Schlitz and the Miller, and far too many more to count – have long since been erased from the landscape.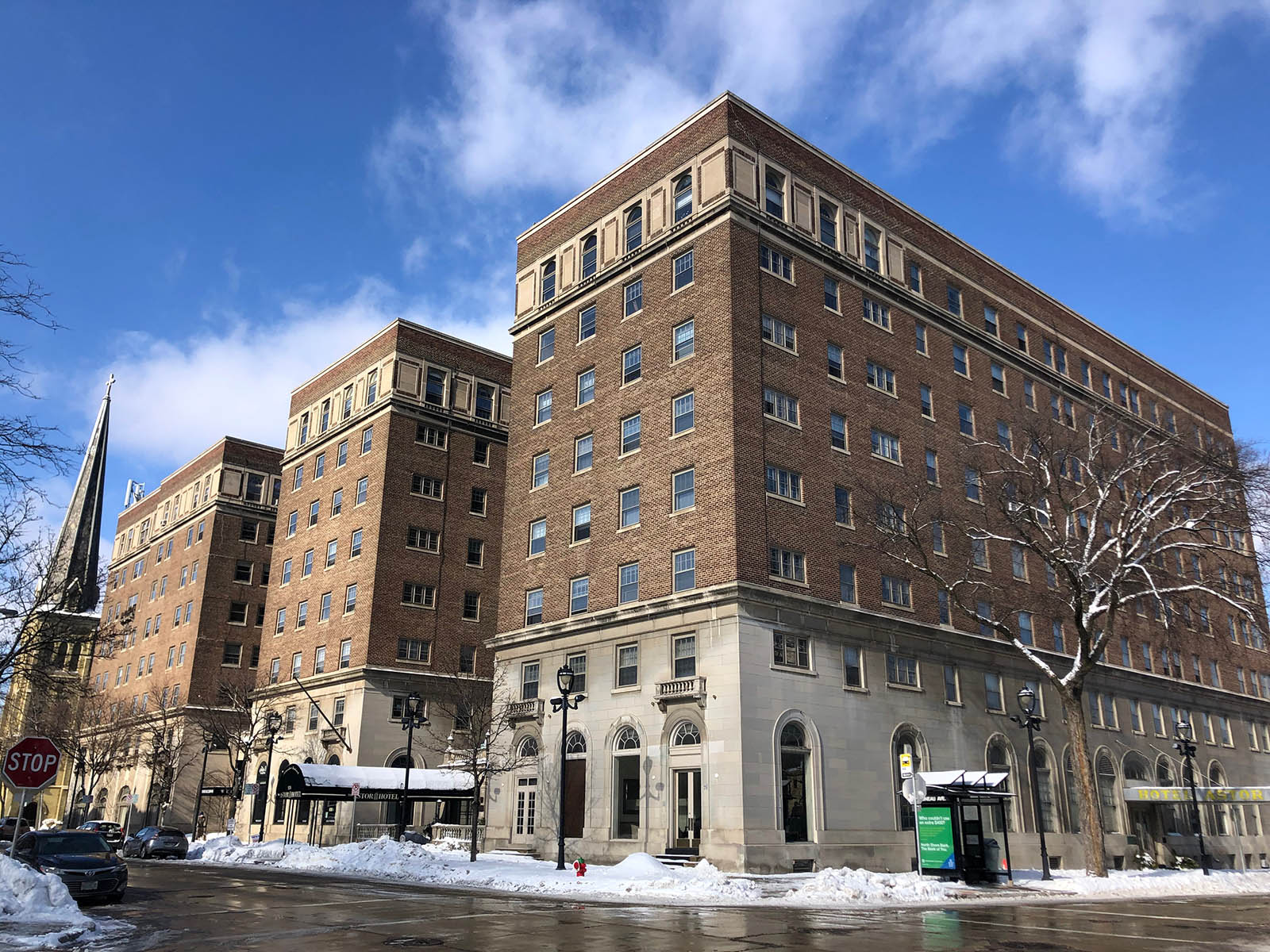 But thankfully, some vintage gems survive, and one of the loveliest and relatively unsung is The Astor Hotel, 924 E. Juneau Ave., in a neighborhood that is desirable now and was even more so a century ago.
The Astor was built in 1920 for burgeoning hotelier Walter Schroeder, who would build a small empire of properties in Milwaukee, Fond du Lac, Madison, Green Bay, Wausau and Duluth (later he'd add a property in Benton Harbor, Michigan, too).
All three of Schroeder's Milwaukee properties – including the 1913 Hotel Wisconsin, the 1927 Hotel Schroeder (now the Hilton City Center – survive, as do some of the others, including the recently restored 1923 Hotel Retlaw in Fond du Lac.
These days, the Astor is primarily an apartment building – though it still rents rooms to shorter-term guests – and we recently stopped in for a tour.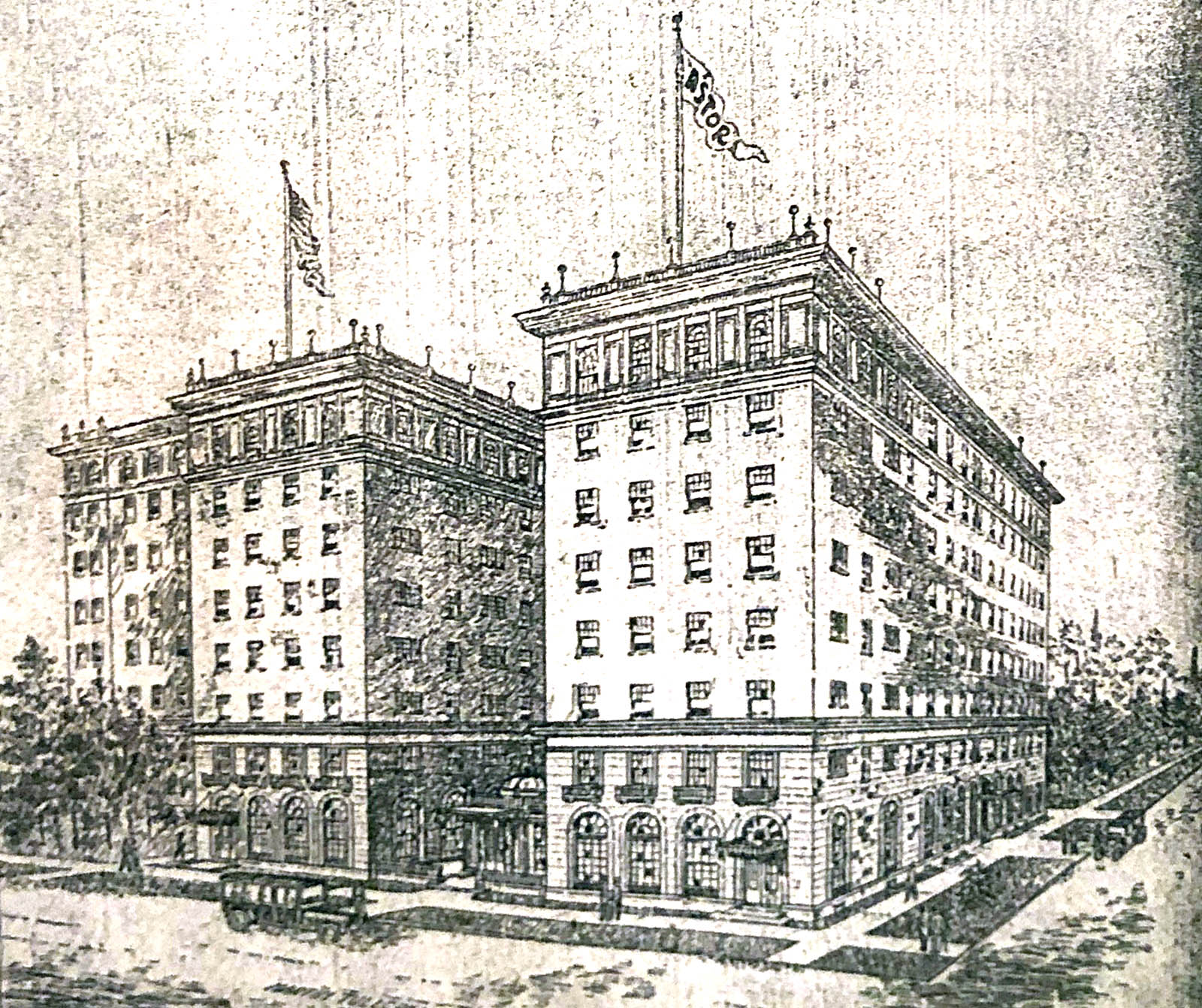 But first, a little bit on Schroeder (lifted from my article on the Retlaw) ...
Who was Walter Schroeder?
Born in Milwaukee in 1878, the son of German immigrants who ran a butcher shop in the Third Ward, Walter Schroeder (pictured below right in an image courtesy of Milwaukee School of Engineering) landed a clerk job in the Register of Deeds office, where, in addition to earning $3.50 a week, he learned the ins and outs of real estate, a business his father had already begun dabbling in with his other sons.
Almost simultaneously, and still fresh out of eighth grade, the 14-year-old Schroeder also began earning another $6 a week as a staffer at the Milwaukee Daily Reporter. In just two years, Schroeder walked into the boss' office and offered to buy the paper. He walked out without a deal and without a job.
So, he started his own newspaper, The Milwaukee Daily Abstractor, attended business school at night and then later bought the Reporter and merged the papers. When he was 21, he joined his father in the real estate and insurance game, soon inheriting the business. Three years later he was already listed in the book, "Notable Men of Wisconsin."
In 1912, Chris. Schroeder & Son provided funds for the refinancing of an $800,000 bond issue for the then-new Hotel Wisconsin, the largest hotel in Wisconsin at the time, and thus did Schroeder become a hotelier.
Recognizing the lack of good management, Schroeder took over running the Wisconsin himself in 1914, which then led him into a new field: the development of a chain of hotels.
Starting with the Hotel Astor on Milwaukee's lower East Side in 1920, Schroeder added the Retlaw in Fond du Lac in 1923, the Hotel Loraine in Madison in 1924 and the Hotel Northland in Green Bay, all designed by the Milwaukee firm of Herbert W. Tullgren & Son (the son being Martin, whose work is also well-known here).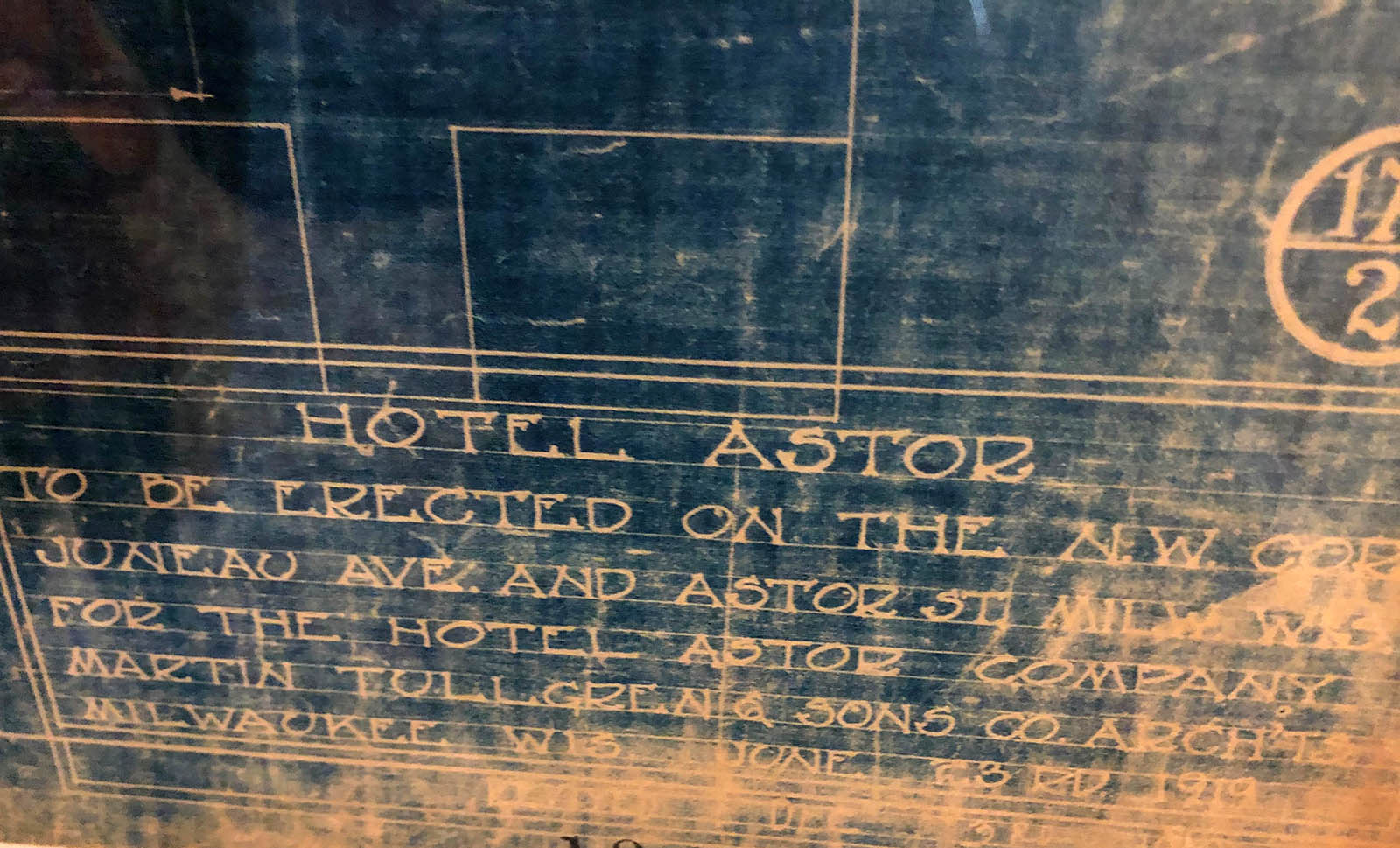 In 1925, he added the Hotel Wausau, in Wausau, and the Hotel Duluth in Minnesota, and two years later, the eponymous Schroeder Hotel (now the Hilton City Center) in Milwaukee. The Wausau, Wisconsin and Schroeder were designed by the Chicago firm of Holabird & Roche; Tullgren did Duluth.
Schroeder also purchased, rather than built, some properties, including the Calumet Hotel in Fond du Lac and the Vincent Hotel across the lake in Benton Harbor, Michigan.
In addition to becoming something of a local celebrity and a much in demand fellow, the ultra-rich Schroeder also gave his money away and, as a result, his name is on a dorm at Marquette University, a library at Milwaukee School of Engineering, a space in the Humphrey Scottish Rite Masonic Center and a YMCA aquatics center.
Though he died in 1967, some say that his spirit lives on, quite literally, in some of his buildings, including the Retlaw, though he did not deign to greet me on my recent visit. You can hear a fun take on Schroeder's many alleged hauntings on this episode of "This American Life."
The story of the Astor
The earliest portion of the Astor Hotel, built in 1920 by developer Oscar Brachman for Schroeder, was right on the corner of Astor and Juneau. It was a U-shaped, eight-story Classical Revival building – another recessed wing jutted out to the west – with a restaurant right at the corner and a drug store in the western wing facing Juneau.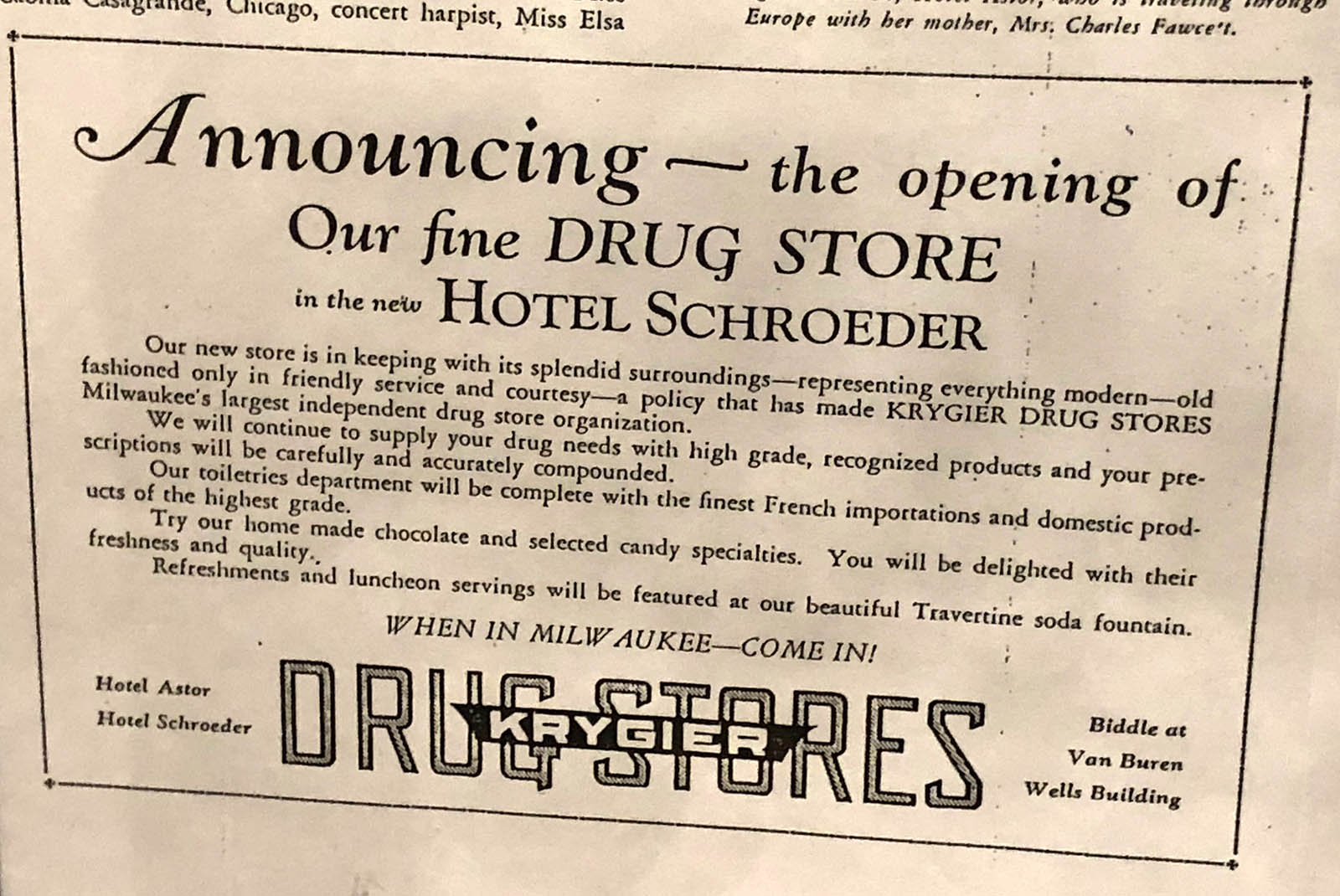 Before it was built, newspapers reported that its lobby would also boast a barber shop, tailor shop and candy store, too. A rootop garden was also planned, and it appears that a rooftop ballroom was constructed.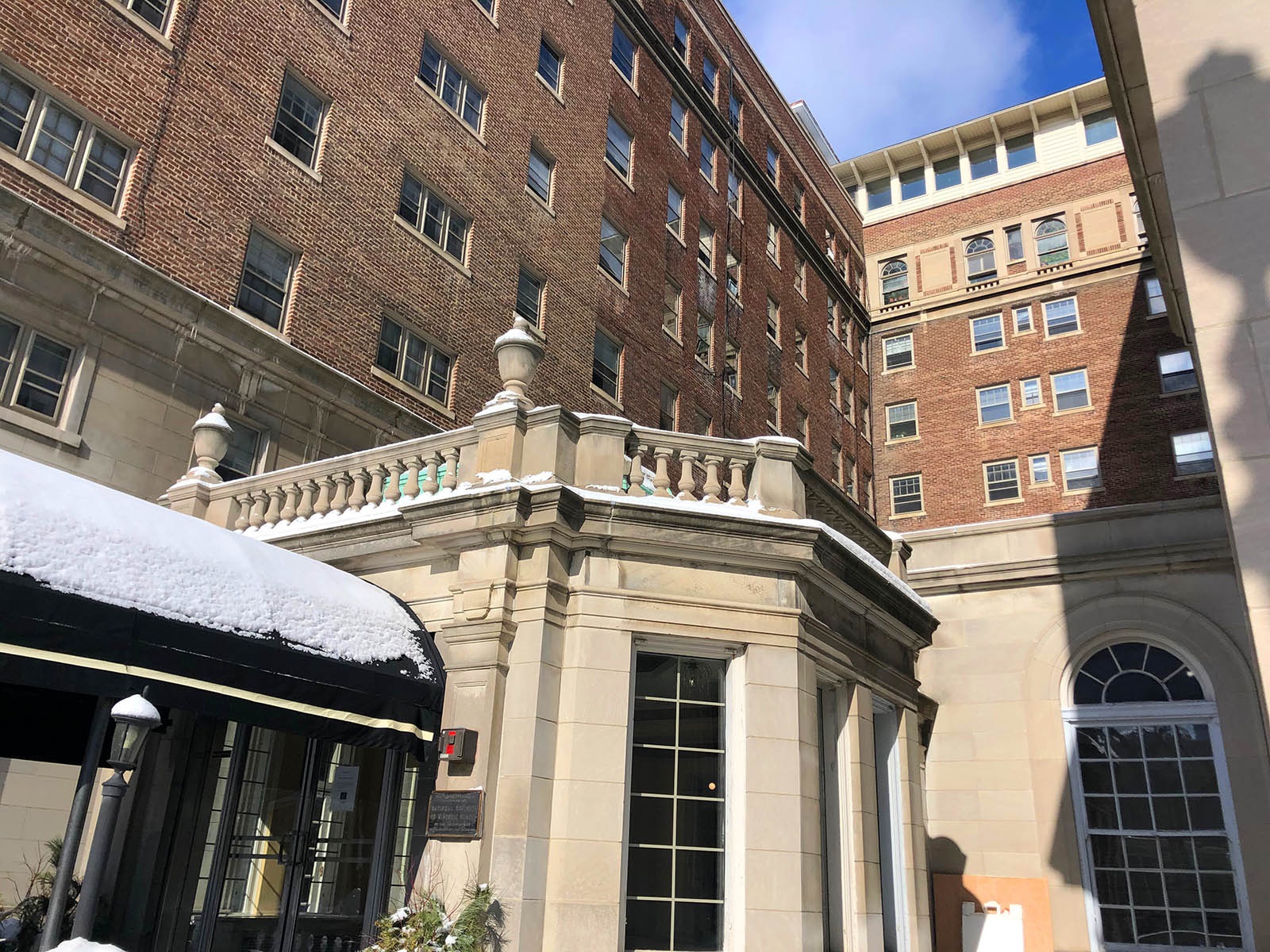 It had 115 apartments and 25 guest rooms, evidence that the Astor has always been configured as it is today, with a focus on long-term residences over short-term guests.
Inside its vestibule was a stained glass skylight – still there – and then a relatively narrow passage leading to the feeling of release when entering the broader main lobby.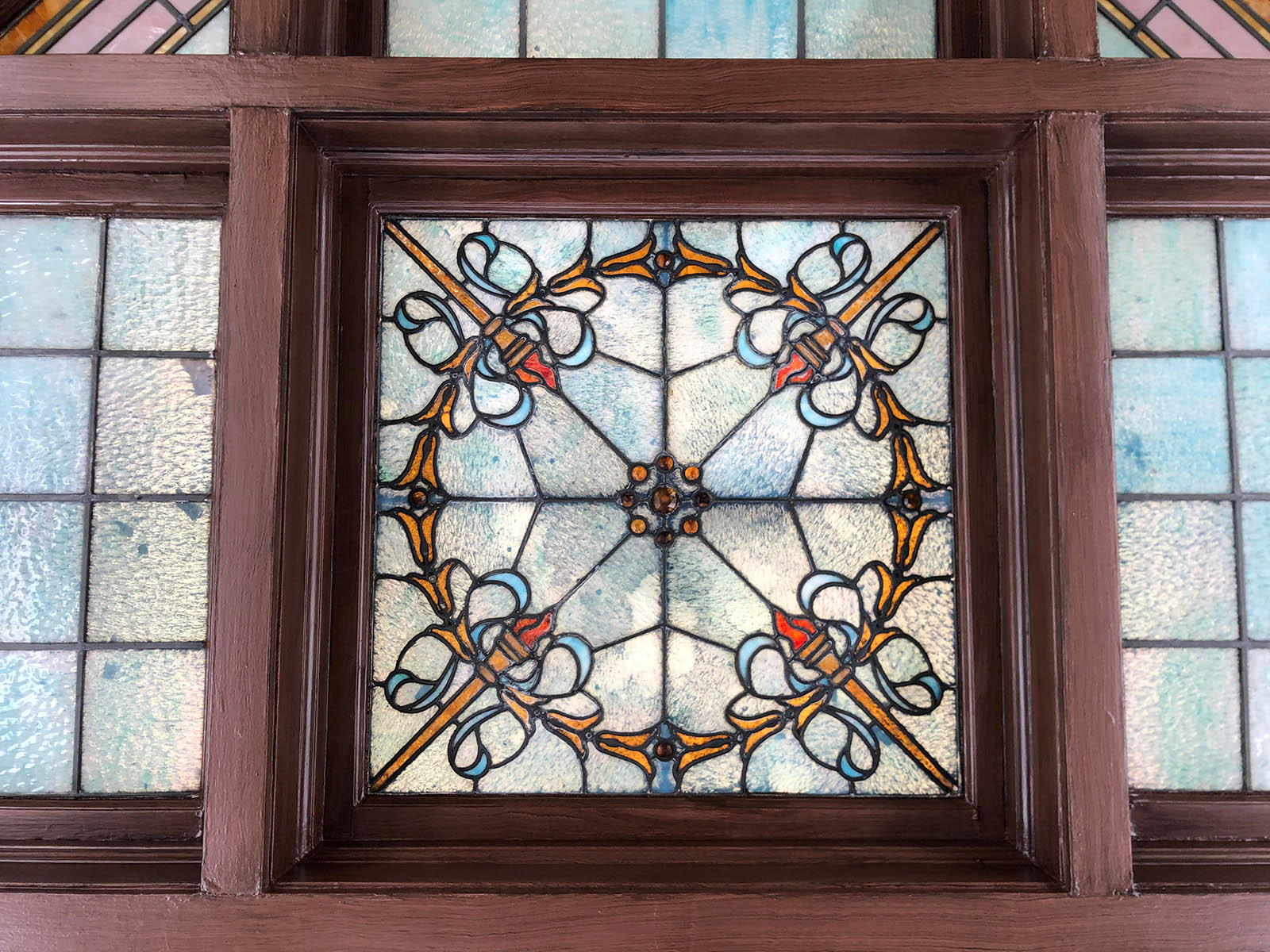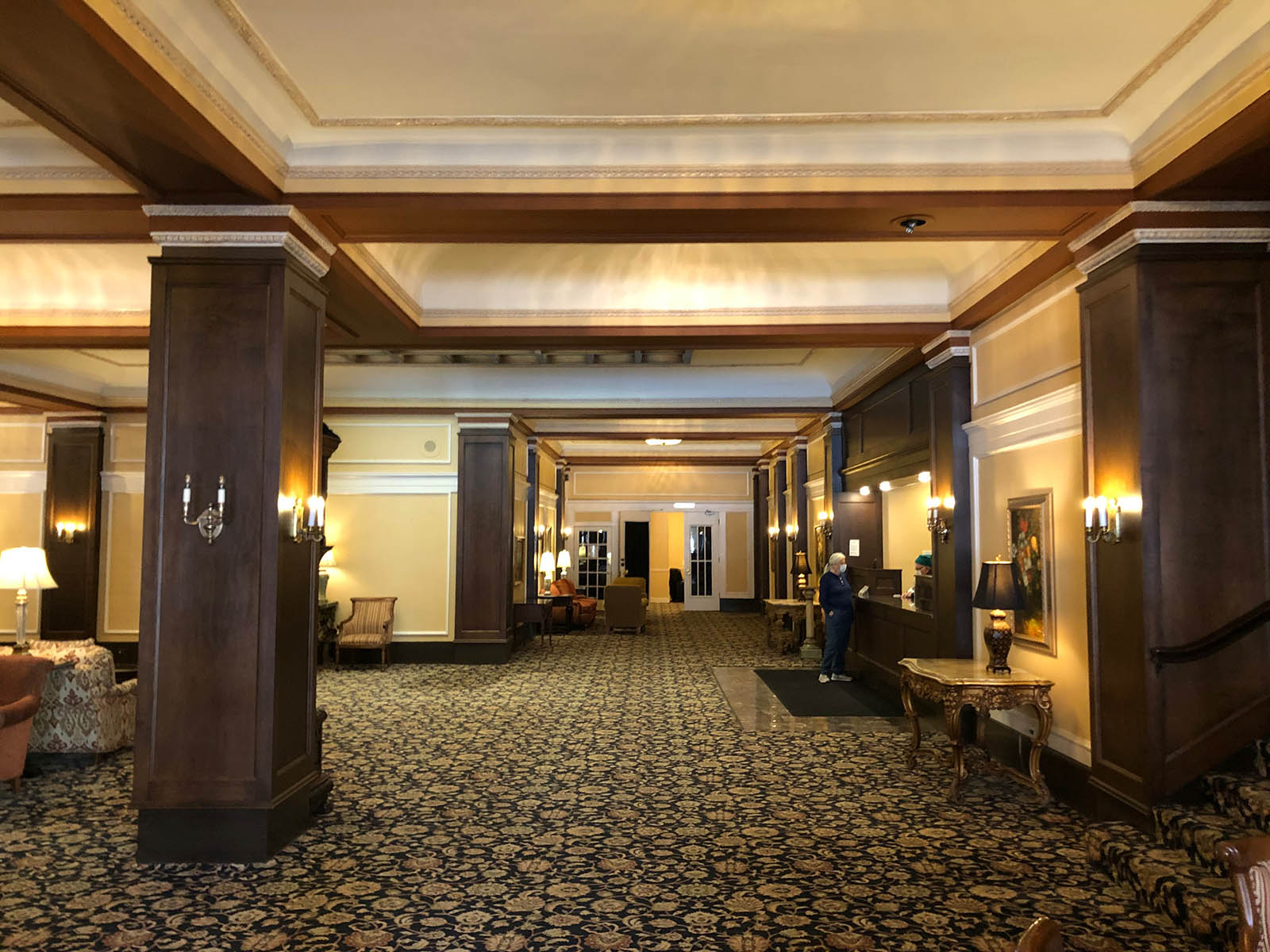 Straight ahead, the front desk. To the right, an exit to Astor Street and a pair of small apartments to the north of it. To the left, the men's and women's parlors.
In 1928, another large portion was added to the west, creating what looks from Juneau Avenue like and E-shaped building, though to view it from Marshall Street, you can see this wing has a recessed area to provide light and air to the 40 apartments it contained, so it's not exactly an E.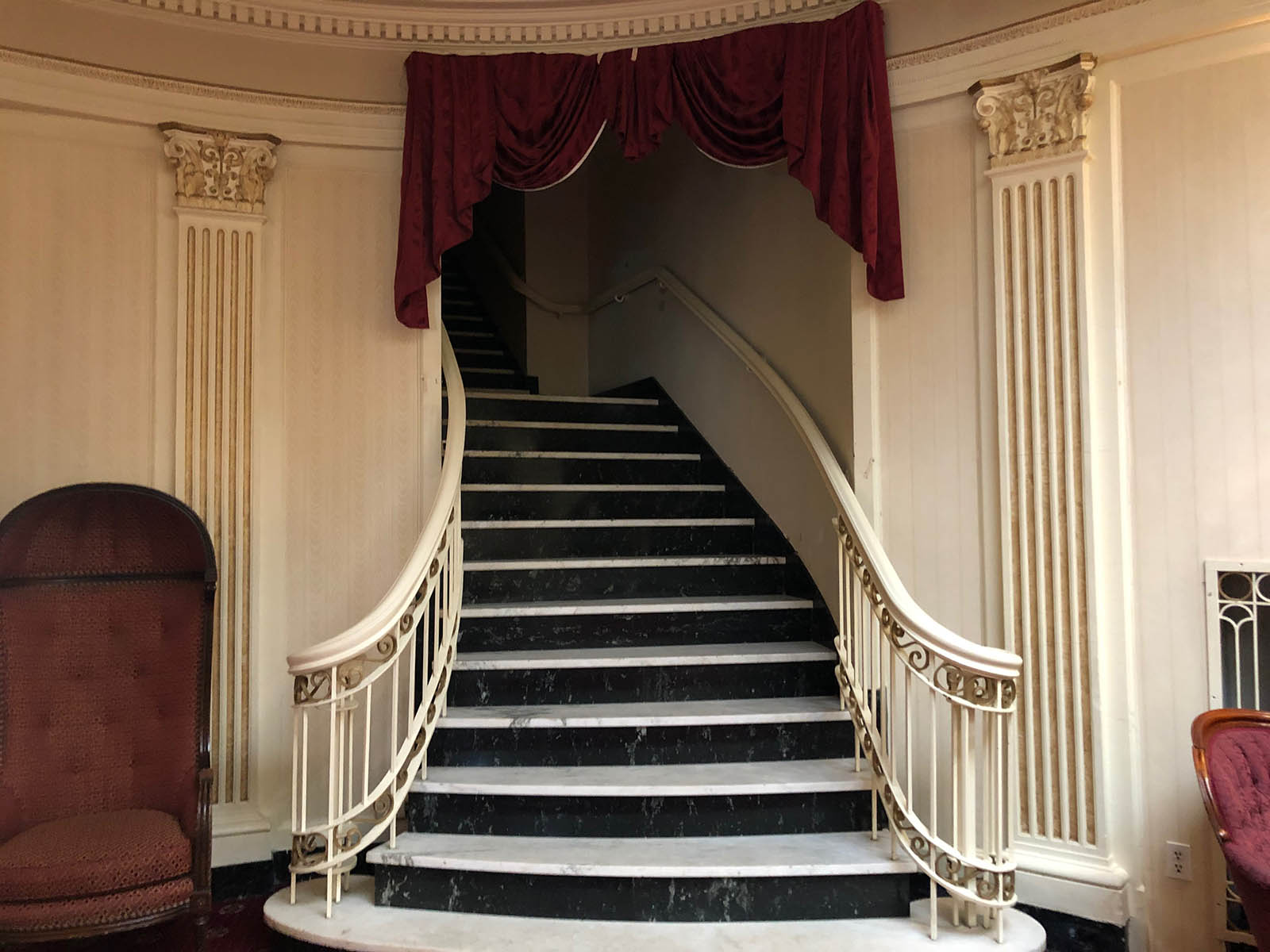 This wing also has the Venetian Room ballroom, with a reception area that includes a sweeping staircase up to a bridal suite, that is now a private apartment. This lounge space, called the Rotunda Room, has a spectacular stained glass dome.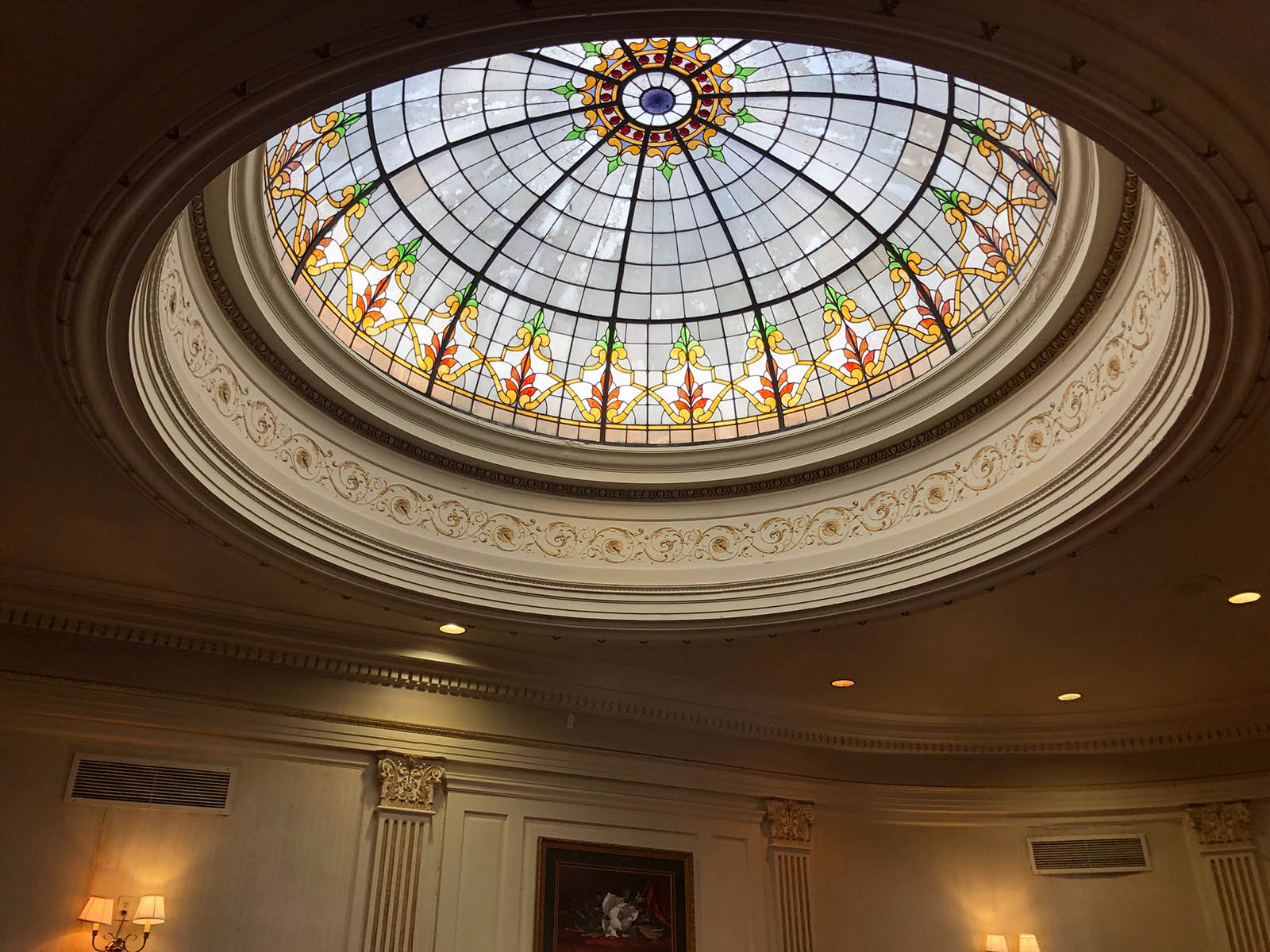 Interestingly, there is a wide door out to the parking area from the Venetian Room and employees recall that this space served for a time as a car dealership showroom.
That's a curiosity that appears to be supported by the application for inclusion on the National Register of Historic Places (the hotel was added in 1984), that notes of the Astor's retail spaces, "Early tenants included Rolls Royce, Lincoln and Dusenburg automobiles, the Wisconsin Telephone Company and an Oriental rug dealer – all of which underscore the quality of the clientele and the neighborhood.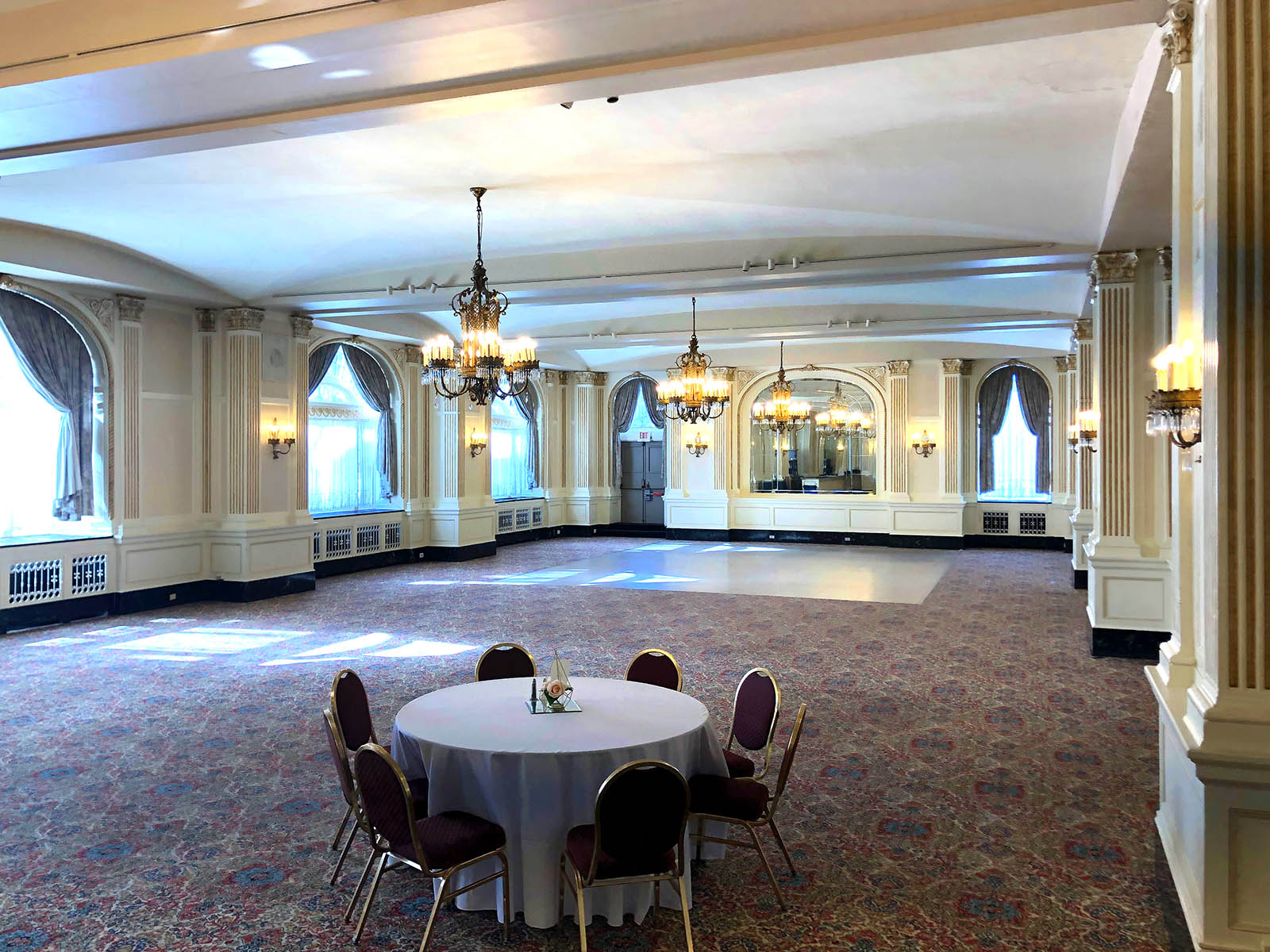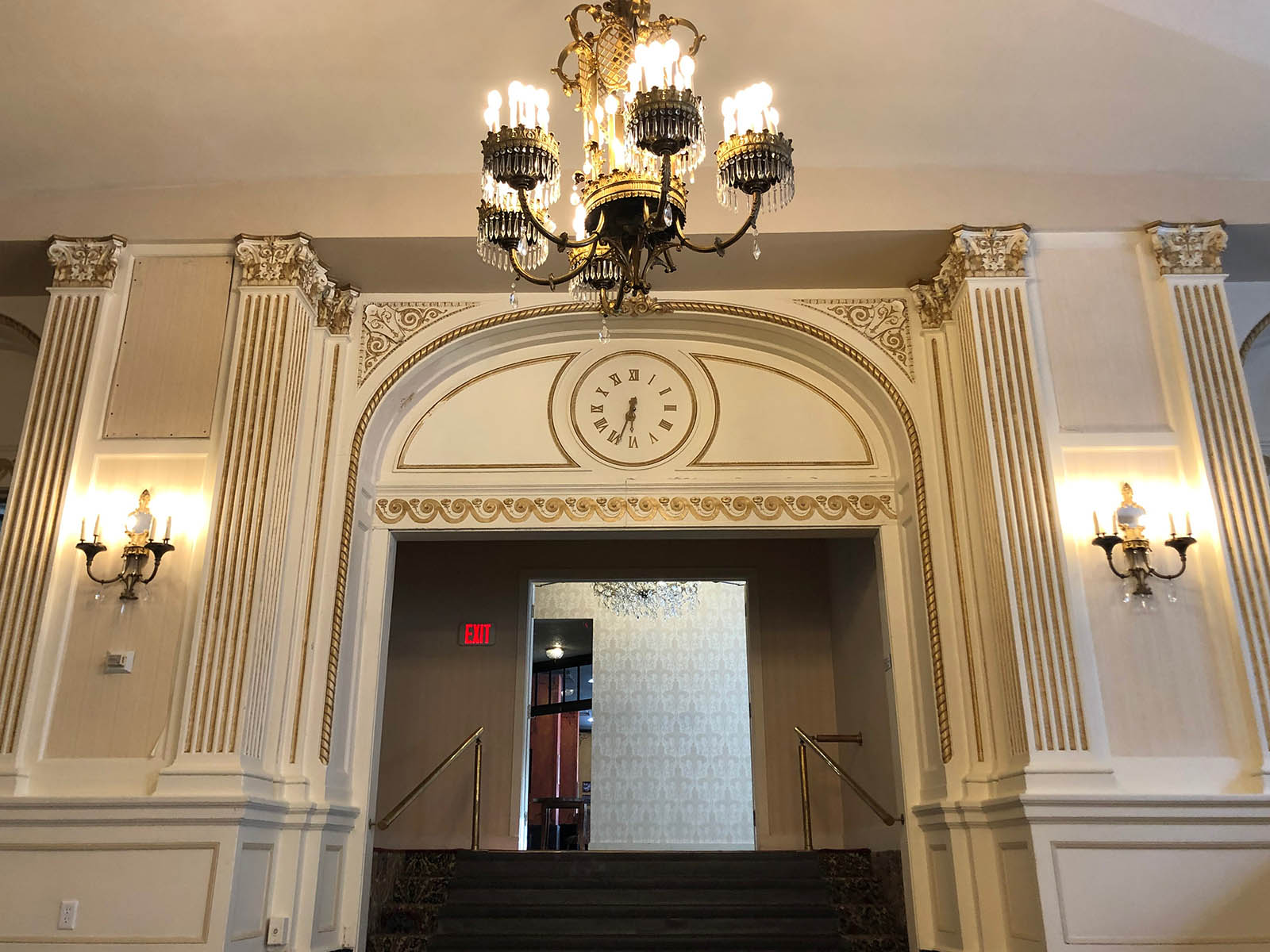 "The Great Depression brought hardship for all, including the Astor. Ford, Studebaker and Dodge replaced the prestige autos displayed in the 1920s."
A smaller Juneau Avenue entrance where the new and old wings meet is decorated with a lovely ceiling mural, marble wall facing and ornate moldings.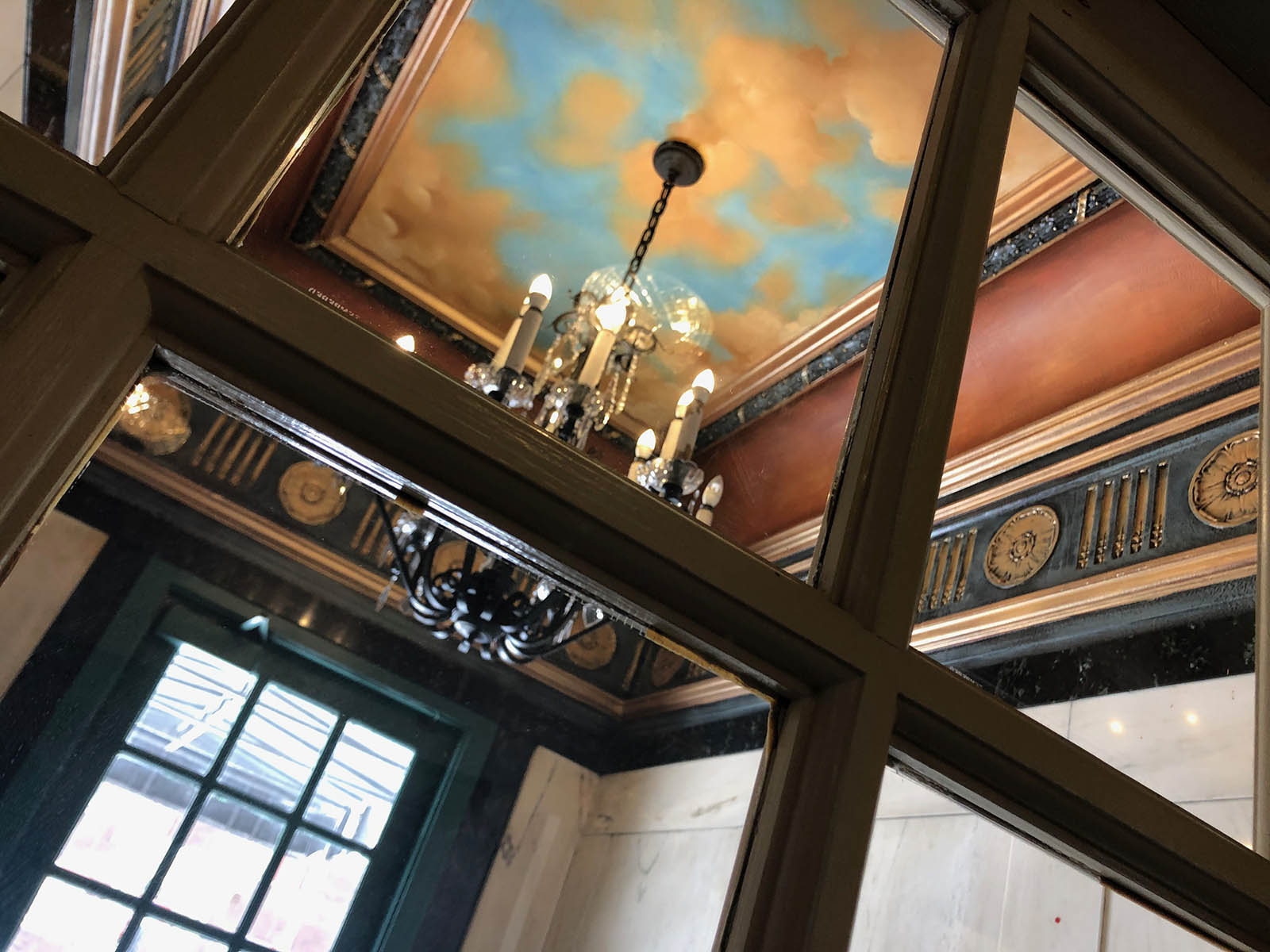 When the new wing was added, the rooms in the old wing were refurbished, according to a newspaper report. When complete, the Hotel Astor has 125 "large transient rooms" and 125 one-, two- and three-room suites.
For a time near the end of his life Schroeder himself lived in the Astor.
In February 1935, tragedy struck when an electrical fire started in the basement, driving tick smoke throughout the building.
Dead were 66-year-old Astor resident Oscar Teweles – whose father founded the eponymous seed company – and his 40-year-old nurse Elsie Saxinger, a widow, who was there caring for Teweles.
After suffering a stroke, Teweles – who worked as assistant secretary and treasurer of the Teweles Seed Co. – had been rendered deaf and mute and, according to newspaper reports, had been ill for a long time. Saxinger had begun working for Teweles just over a month before the fire.
In 1945, Milwaukee shipbuilder and contractor Ben Froemming spent $4,300 (though rumors swirled that he ponied up as much as $100,000) to convert the old rooftop ballroom into a six-room, three-bedroom penthouse apartment, with great views of the lake and the Downtown skyline.
Froemming had to seek permission from the War Production Board and the Federal Housing Administration because World War II and its limits on construction materials were still ongoing.
That apartment has been vacant for about a decade now, says Front Office Manager Stacey Miller, but is about to undergo a thorough renovation so that it can again be leased.
In later years, Nantucket Shores opened in the old drug store space, and became one of the most well-respected high-end restaurants in town. Later, the space became Pane e Vino and then the Astor Cafe & Pub.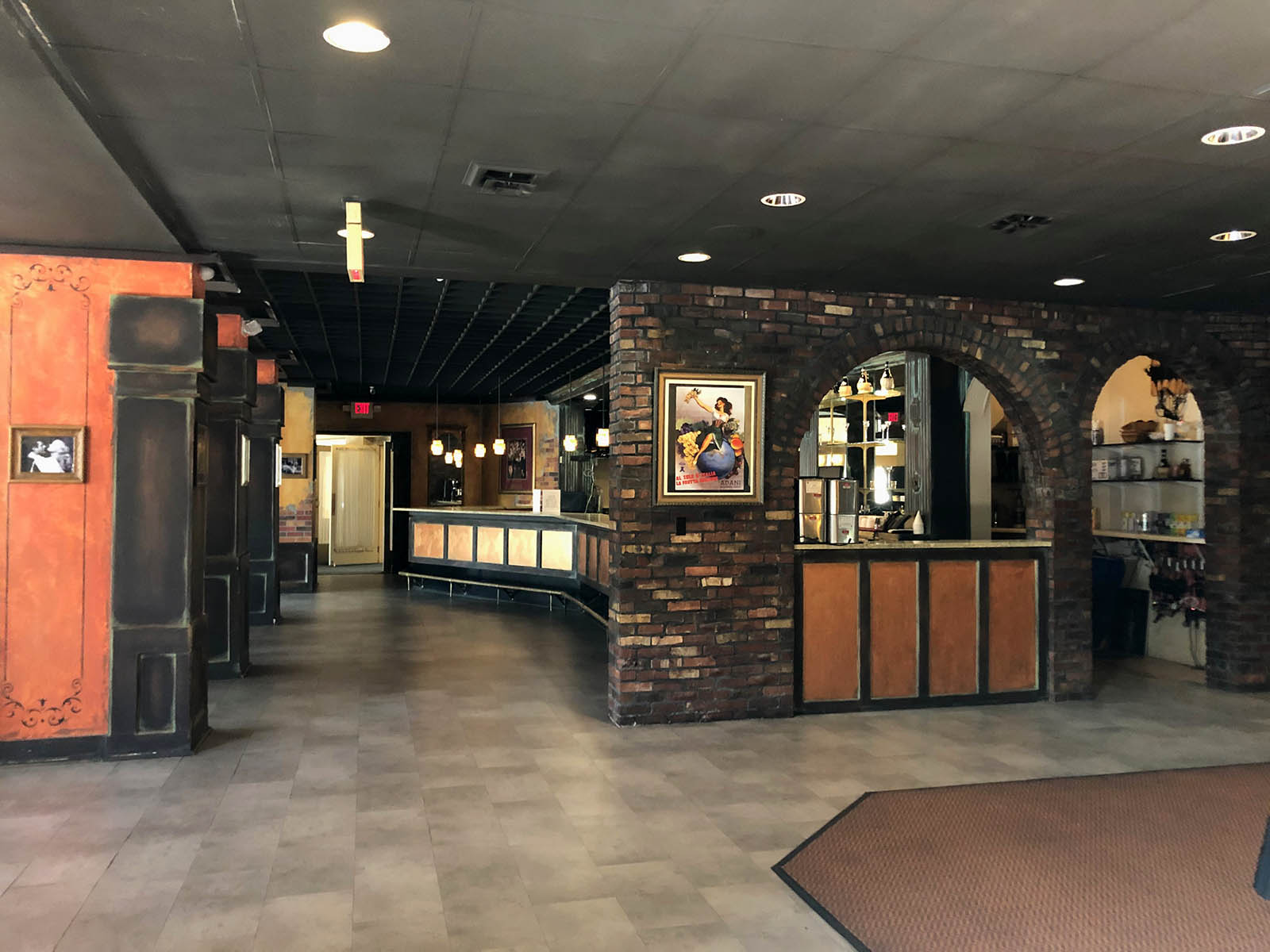 These days, while the Astor seeks a new restaurant tenant, it's used for a variety of events.
Early in February, Miller invited me over for a tour and we checked out the lobby and its variety of spaces – including a small event room that's currently filled with articles and memorabilia from the Astor's century of history – and peered into a space in the basement that a longtime employee says was rumored to have been a Prohibition-era speakeasy.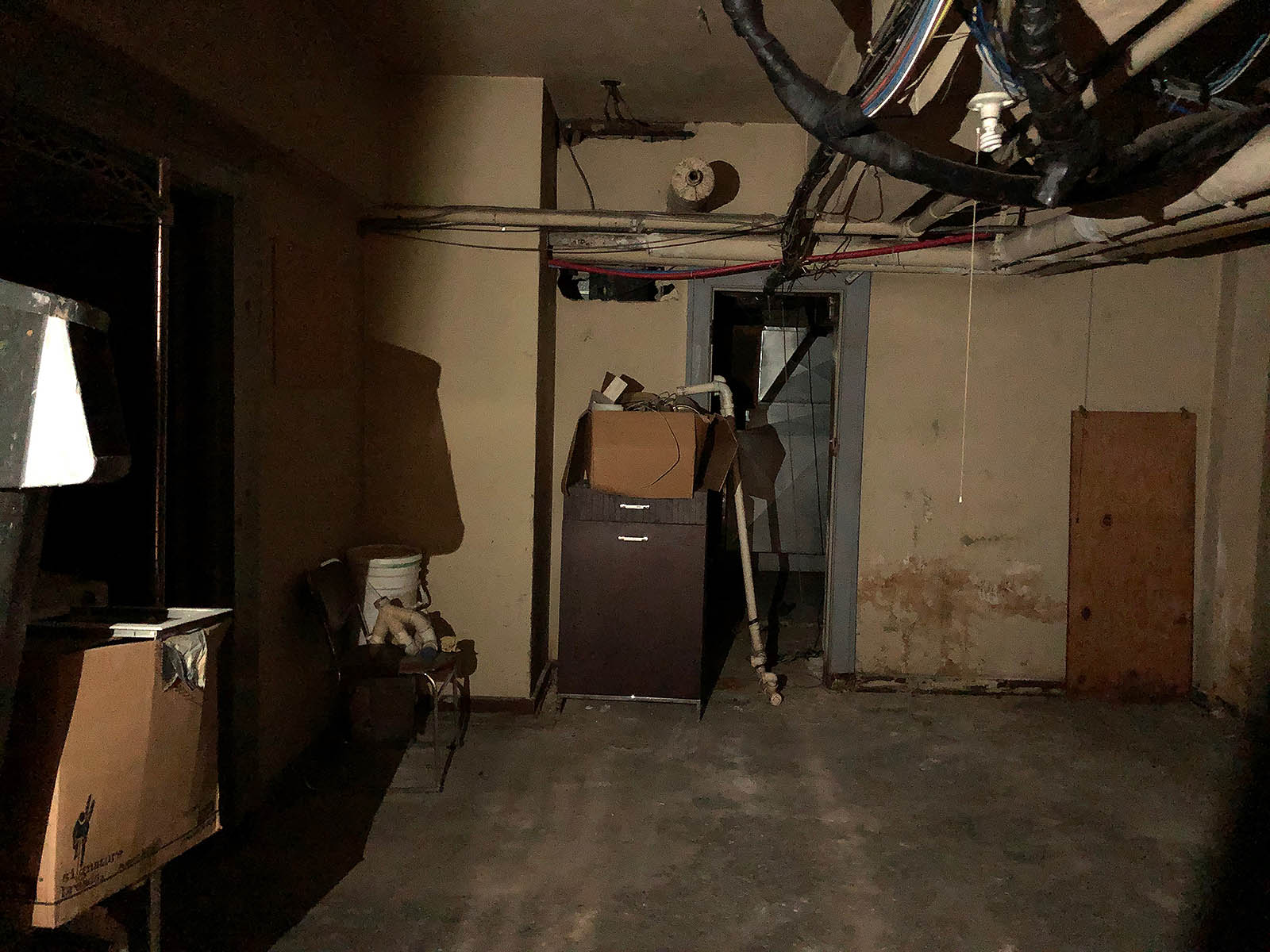 We popped into the George Walker Room, originally the men's parlor, and now a quiet, comfortable library, with a fine fireplace.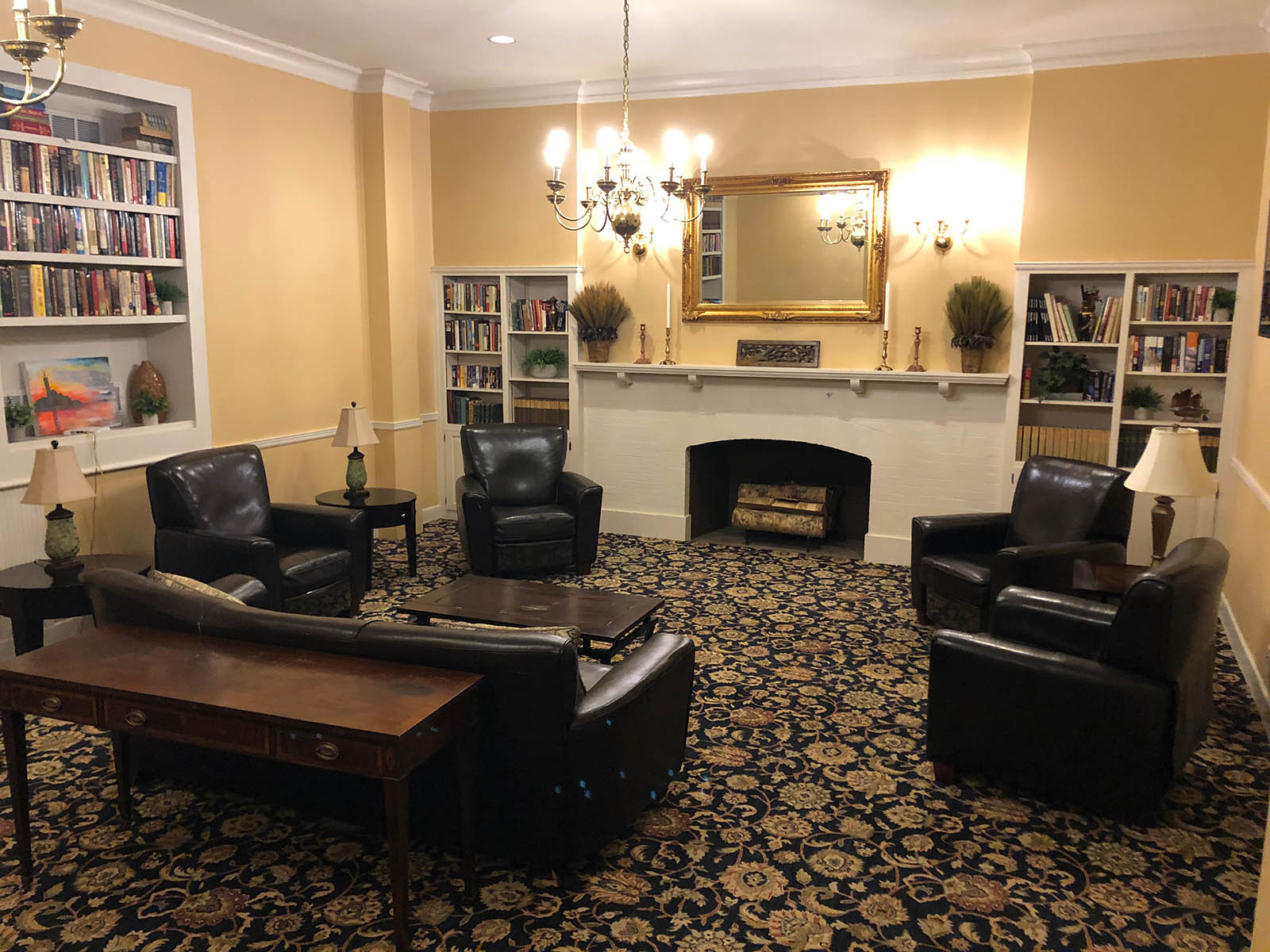 Up on the roof, we peeked into Froemming's penthouse (where I respected the "no photos" request before renovations begin) and out onto the deck, with its views that on fireworks nights are in especially high demand.

We checked out an apartment – did I mention that the Astor still has all its original coffered wood doors (pictured above) that allowed guests and residents to hang dry cleaning from the inside and staffers to retrieve said dry cleaning from outside? – which, also has a really nice view of the corner of Juneau and Astor, and a hotel room that was simple but clean and spacious and overlooks All Saints Cathedral (pictured below).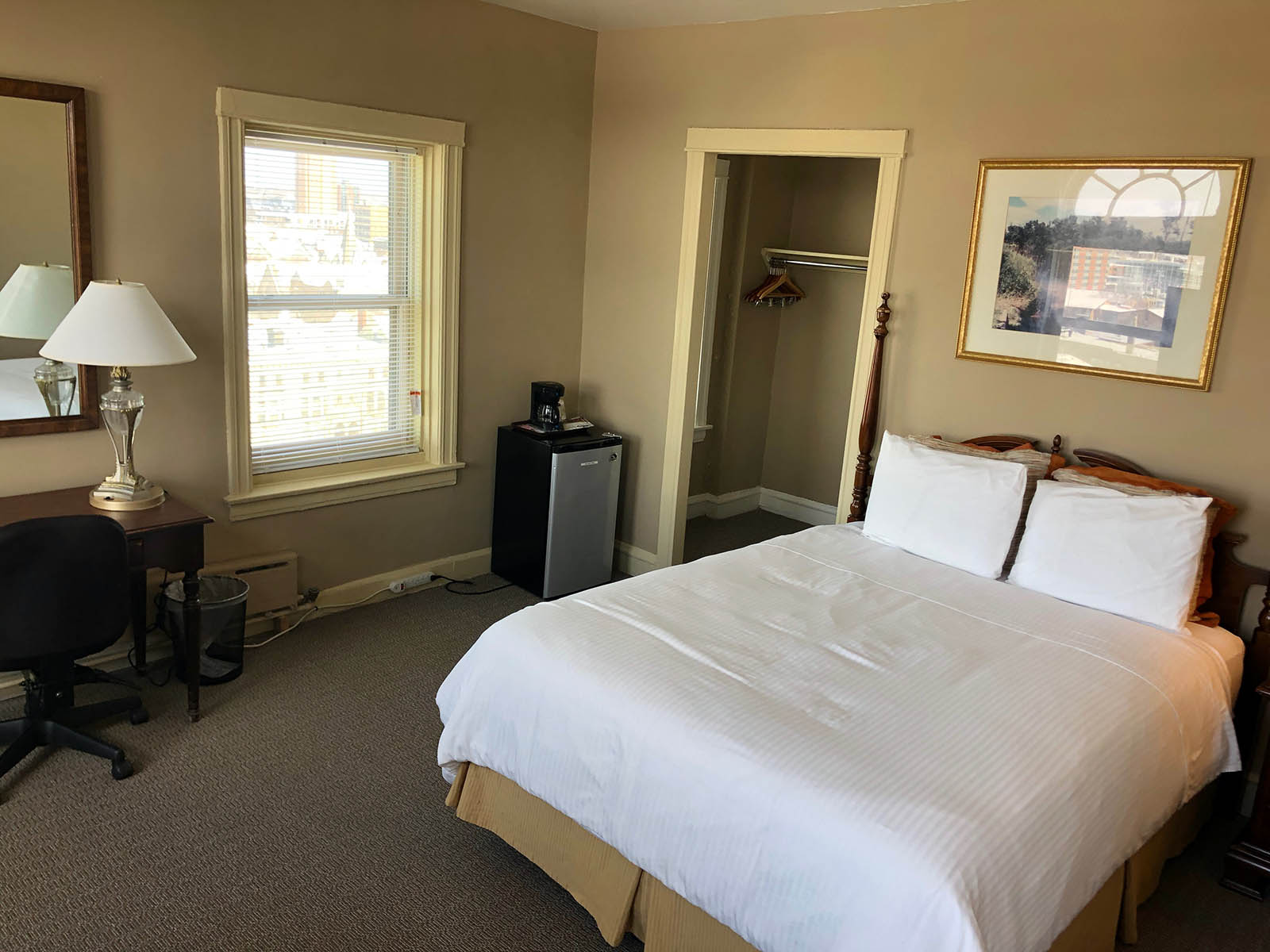 Miller says that while hotel capacity is a challenge at the Astor, as it is everywhere at the moment, the rooms are typically pretty booked up and the apartments – other than the penthouse – are all rented except for one or two, which is pretty impressive.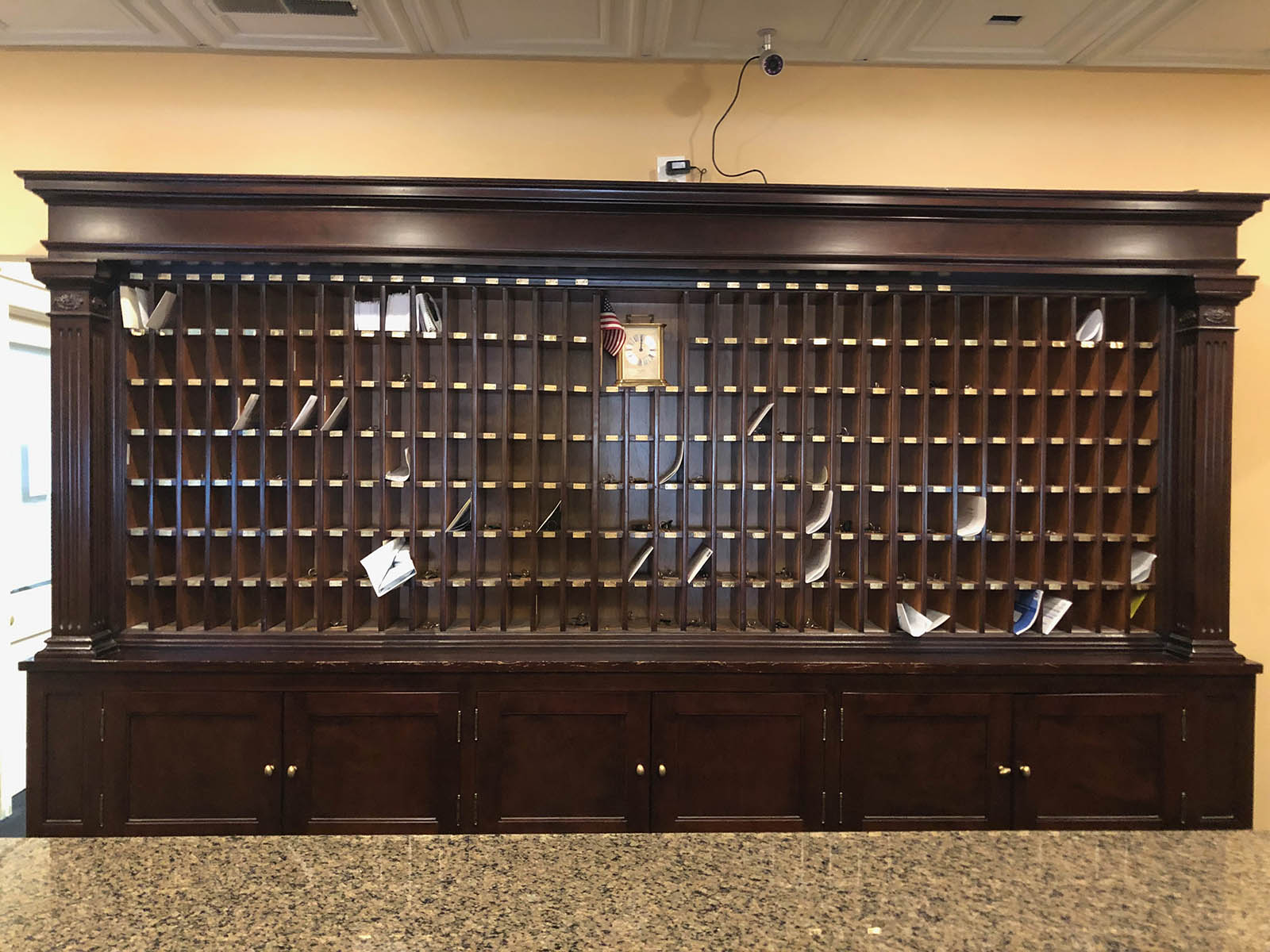 On the way back down we stop to see the rotunda at the back corner, which was added in the 1990s.
When, back down at the front desk – with its classic rows of mail slots (pictured above) – I get to meet Bob Steckhahn, he tells me he's worked at the Astor for 45 years, in a variety of roles.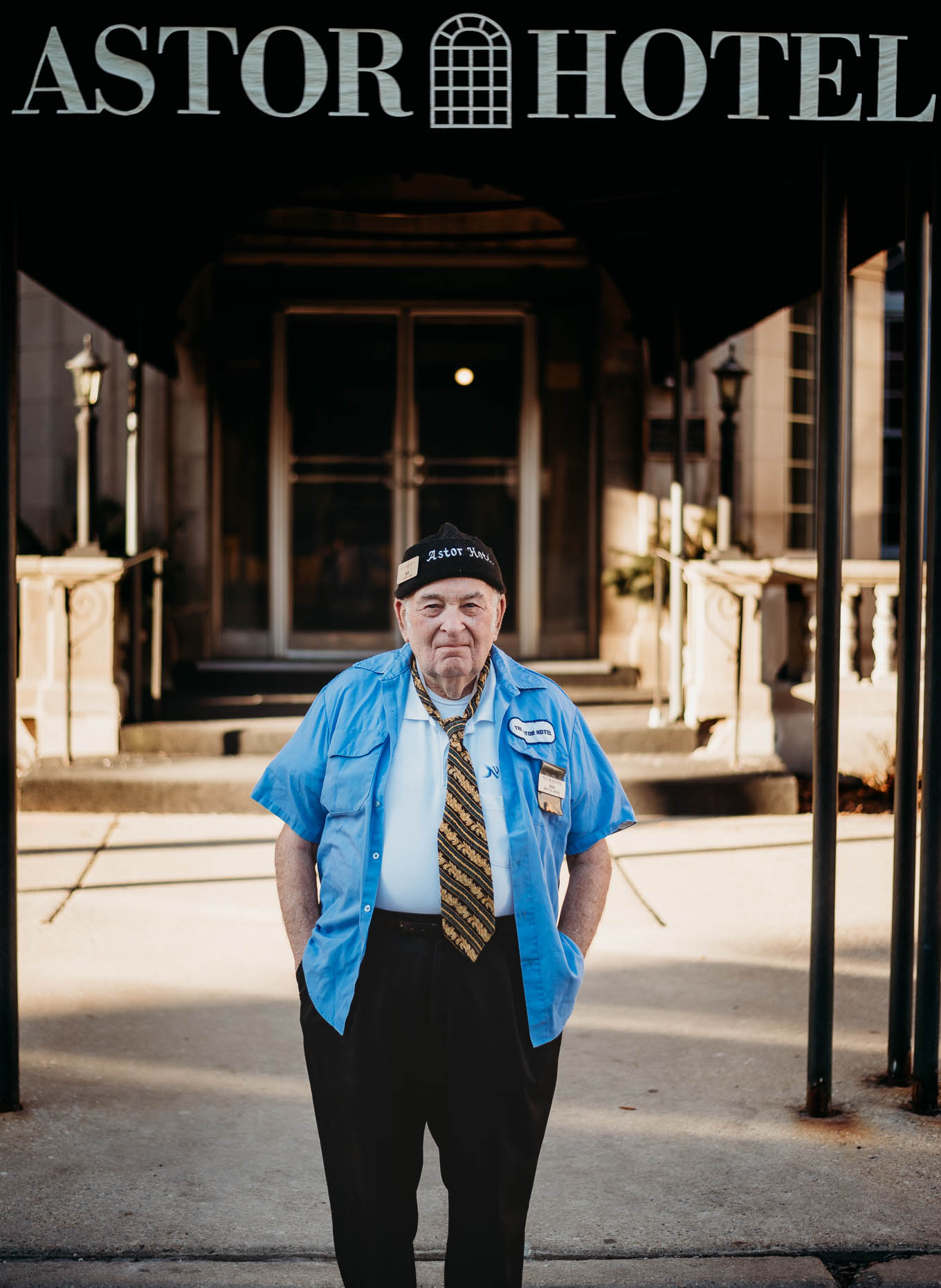 "I don't know nothing about the hotel," he jokes. "I just do the mail now, the shuttle, but when I first started working here, I worked in housekeeping. I used to clean the lobby. It's been a nice place to work."
He tells me that the Astor has a different feel now, thanks to a different clientele.
Miller says that the apartments are filled with a variety of folks connected to Downtown, including office workers.
"We have gotten very diverse," she says. "We have students who attend Milwaukee School of Engineering, Downtown workers who ride their bikes to work."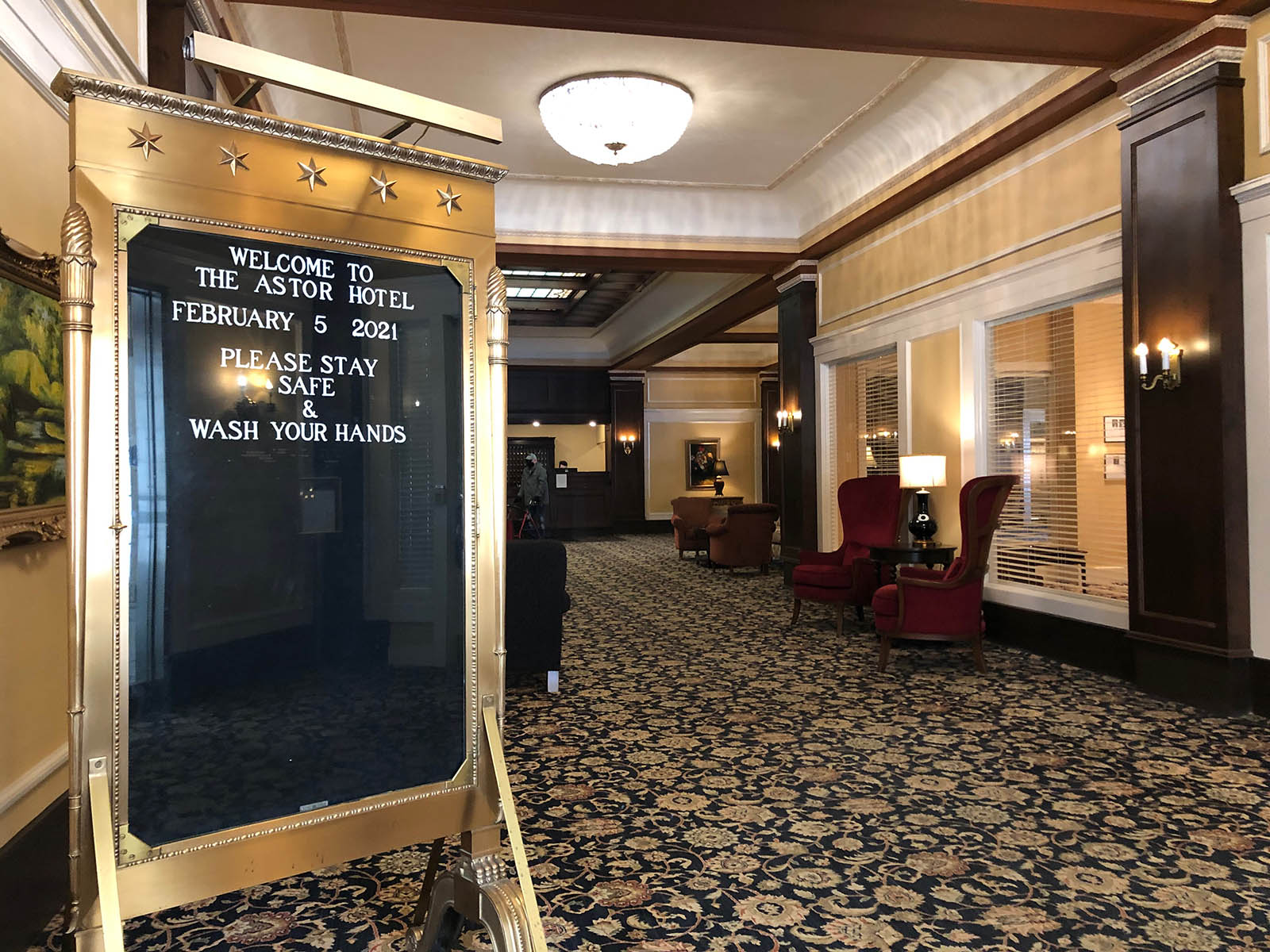 Steckhahn nods in agreement.
"A lot of elderly people lived here in the past," Steckhahn says with a smile, "when I first started working here there was a lot of older people. But now we got younger."
Born in Brooklyn, N.Y., where he lived until he was 17, Bobby received his BA-Mass Communications from UWM in 1989 and has lived in Walker's Point, Bay View, Enderis Park, South Milwaukee and on the East Side.
He has published three non-fiction books in Italy – including one about an event in Milwaukee history, which was published in the U.S. in autumn 2010. Four more books, all about Milwaukee, have been published by The History Press.
With his most recent band, The Yell Leaders, Bobby released four LPs and had a songs featured in episodes of TV's "Party of Five" and "Dawson's Creek," and films in Japan, South America and the U.S. The Yell Leaders were named the best unsigned band in their region by VH-1 as part of its Rock Across America 1998 Tour. Most recently, the band contributed tracks to a UK vinyl/CD tribute to the Redskins and collaborated on a track with Italian novelist Enrico Remmert.
He's produced three installments of the "OMCD" series of local music compilations for OnMilwaukee.com and in 2007 produced a CD of Italian music and poetry.
In 2005, he was awarded the City of Asti's (Italy) Journalism Prize for his work focusing on that area. He has also won awards from the Milwaukee Press Club.
He can be heard weekly on 88Nine Radio Milwaukee talking about his "Urban Spelunking" series of stories.