Check in early and stay late during OnMilwaukee's "Hotel Week" sponsored by VISIT Milwaukee. These seven days will be packed with stories about historic area hotels, reviews, history, food and drink, staycations and more. Find out what it's like to be a tourist in this town. (Chocolate on your pillow not included.)
This article originally ran on OnMilwaukee on July 27, 2017.
Take a walk down memory lane – assuming you're old enough to remember any of the 16 old Milwaukee hotels featured in this peek into Milwaukee's tourism history.
Abbot Crest
Guests were encouraged to "invest in rest" at the Abbot Crest, located directly across from Gesu Church on the Marquette campus at 1220 W. Wisconsin Ave. until it was razed in 1976.
Blatz Hotel
The Blatz Hotel was on the southwest corner of Water and Wells, kitty corner from City Hall. It began life as a four-story office building and became the 80-room Grand Central Hotel when it was purchased by Herman Nunnemacher in 1872. It was later called the Wellington. The distinctive mansard level was added when the building was enlarged to become the Blatz in 1897, which had a Blatz bar on the ground floor. It was torn down in 1968.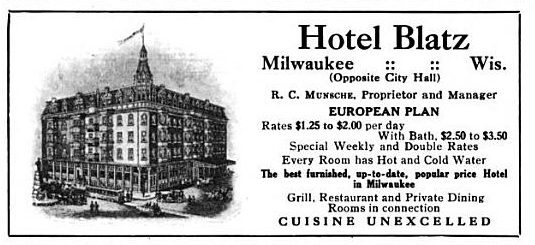 Davidson Hotel
Located on 3rd Street and Michigan, the Davidson Hotel and Theater opened in 1890, and just four years later, it became the scene of a horrific fire that claimed nine lives when a collapse dropped 20 firefighters into the basement with the roof falling down onto them. Rebuilt, the theater went on to host the likes of Katharine Hepburn, Paul Robeson, Lionel, Ethel and John Barrymore, Al Jolson, Sarah Bernhardt and other notables. It closed in 1954 and was demolished soon after.
East-Way
Located at 636 N. Van Buren St., the Hotel East-Way was part of a group of hotels operated by Ernst Clarenbach, which also included the Martin and the Medford. See below for more info. The site is now occupied by the U.S. Bank Center.
Hotel Gilpatrick
The romanesque revival Gilpatrick – with its rusticated stone and distinctive turret – was on 3rd and Kilbourn (a site occupied by the Hyatt Regency) and is best known as the scene of the attempted assassination of Theodore Roosevelt in 1912. It was built to house the Romadka Trunk Co., but M.P. Gilpatrick bought it and converted it into a hotel by 1907. The hotel closed in 1932, and the building was torn down in the early 1940s. An attached tavern managed to survive until 1970.
Hotel Juneau
The Hotel Juneau (aka Juneau Hotel) was located at 811 E. Wisconsin Ave. between Cass and Marshall Streets. Built in the 1890s, it was originally residential apartments before being converted to a hotel by owner Eugene Trimberger in 1910. As the card above notes, the hotel was famous for seafood, served in Eugene's Sea Food restaurant, which opened in 1919 and was advertised for a period by a giant lobster sign atop the hotel marquee.
Trimberger sold the business in 1948. The hotel, which was demolished in 1964, was the first one train travelers would come upon after arriving at the old Chicago and Northwestern Depot, a few doors to the east. Not to be confused with Juneau House Hotel, which was located in the old Cross Keys Hotel, which stood where the Milwaukee Public Market is located.
Hotel Martin
The Martin was built in 1889 as an apartment building at 201 Wisconsin Avenue, later 707 E. Wisconsin Ave., and was converted into a hotel in 1915. In its waning days – it was pulled down in 1958 – you could get a room for as little as $2, and you could enjoy seafood, steaks, ribs and barbecue chicken at Martin's Caribbean Cocktail Lounge and Dining Room, which was previously the Mir-O-Bar. The site is now occupied by the US Bank Center.
Maryland Hotel
Located at 625 N. 4th St., next to the old YMCA and a few doors down from the Randolph, the Hotel Maryland – where local record shop pioneers the Gunnis sisters performed – had 125 rooms on six stories. It was built in 1910 and razed in 1984.
Hotel Medford
There's a wealth of postcards out there detailing a number of features of The Medford, which boasted a coffee shop, the Famous Bamboo Room and the Oasis Tap Room, as well as a handsome children's play room (seen below) and air conditioned guest rooms.
Like its partners the East-Way and the Hotel Martin, The Medford was "operated by the Ernst Clarenbach Systems," a method of hotel accounting developed by, well, Ernst Clarenbach, the Sheboygan-born chairman of Uniform System of Accounting and president of the company that ran the hotels. He was also author of "Clarenbach System of Hotel Accounting."
The four-story Medford was built in 1916 on the northwest corner of 3rd and Michigan, next to the Davidson, and four more stories were added in 1924. It was torn down in 1964.
Milwaukee Inn
Completely remodeled inside and out, and now thoroughly lacking in helicopter traffic, this 1954 building operated as a hotel, The Park East, 916 E. State St., until September 2017. It is now being converted to apartments. There's also no longer a mailbox out front. Sorry, old timers.
The Pabst/St. Charles
Built on City Hall Square as the St. Charles Hotel in 1858 – and designed by pioneer Milwaukee architects George Mygatt and Leonard Schmidtner – Pabst purchased the building and hired Otto Strack to renovate and rebuild it for conversion into The Pabst Hotel in 1892. A Prohibition era raid in 1928 shuttered the place, and it was demolished four years later.
Plankinton House
This was the second iteration of the Plankinton House hotel, as seen in 1882. The first part – built in 1867 – can be seen at left. The entire structure was demolished in 1915 for the construction of the Plankinton Arcade.
Another hotel bearing the same name was later located just south of the Arcade and was demolished to make way for The Grand Avenue Mall. This hotel was home to the Sky Room.
The Randolph
Click here to read about the history of the Randolph, which got its start on 3rd Street (see below) but then moved into the swanky new quarters you see here on the corner of 4th and Wisconsin in 1927. It was torn down in 1985 and the site, like the site of the Maryland next door, remains vacant.
Republican House
Known as the birthplace of baseball's American League, which was organized here in 1900, the Republican House Hotel stood on the northwest corner of 3rd and Kilbourn from 1886 until 1961. You can see why it had to go; it's nowhere near as beautiful as the surface parking lot that replaced it.
Schlitz Hotel
Folks still talk about the iconic Schlitz Palm Garden in the foreground, but few remember the attached hotel on 3rd and Wisconsin, which operated from 1890 until 1921. The palm garden was shuttered in 1919 by Prohibition, and it was razed in 1964.
Terminal Hotel
The lovely little Terminal Hotel on the east side of 3rd Street near Wisconsin was adorned with decorative brickwork, leaded glass windows and decorative iron balcony railing, as well as a stately cornice. In 1907, Charles Clayton Randolph, who had worked at the Schlitz Hotel and Palm Garden, bought it and operated it as the Randolph Hotel until 1927, when a much larger new Randolph opened on the corner of 4th and Wisconsin (see above).
Born in Brooklyn, N.Y., where he lived until he was 17, Bobby received his BA-Mass Communications from UWM in 1989 and has lived in Walker's Point, Bay View, Enderis Park, South Milwaukee and on the East Side.
He has published three non-fiction books in Italy – including one about an event in Milwaukee history, which was published in the U.S. in autumn 2010. Four more books, all about Milwaukee, have been published by The History Press.
With his most recent band, The Yell Leaders, Bobby released four LPs and had a songs featured in episodes of TV's "Party of Five" and "Dawson's Creek," and films in Japan, South America and the U.S. The Yell Leaders were named the best unsigned band in their region by VH-1 as part of its Rock Across America 1998 Tour. Most recently, the band contributed tracks to a UK vinyl/CD tribute to the Redskins and collaborated on a track with Italian novelist Enrico Remmert.
He's produced three installments of the "OMCD" series of local music compilations for OnMilwaukee.com and in 2007 produced a CD of Italian music and poetry.
In 2005, he was awarded the City of Asti's (Italy) Journalism Prize for his work focusing on that area. He has also won awards from the Milwaukee Press Club.
He can be heard weekly on 88Nine Radio Milwaukee talking about his "Urban Spelunking" series of stories.