This content is presented in partnership with ADAMM.
The Greater Milwaukee International Car & Truck Show is not a supermarket for cars. It's more like a garden with flowers made of aluminum and steel in full bloom in the middle of winter.
And the weather's always nice.
Every year since 1907, the show has been the only place where you could see nearly every vehicle available under one roof. This year's show, which runs Feb. 23 through March 3 at the Wisconsin Center, is the result of more than a century of evolution that offers fun for the entire family in the form of kiddie car rides, mini golf – even a simulated roller coaster.
One of the most popular features each year at the auto show is the kids' test track, where little ones can drive battery-operated cars.
For starters, though, while manufacturer and local dealership reps are on hand to answer questions about the more than 400 SUVs, crossovers, pickups, minivans, sedans and sports cars displayed on three floors, making deals isn't allowed. You can, however, walk away with a business card or two, or book appointments to meet with reps and take test drives at area dealerships.
"There's no pressure to buy," says Jim Tolkan, president of the Automobile Dealers Association of Mega Milwaukee, which sponsors the show. "If you're shopping for a car, the show is a good place to start. If you're not, it's just exciting to see all the shiny, new vehicles."
He adds that the dealers want you to bring the whole family – or anyone who might use any vehicle you eventually do buy – to get into and out of and crawl around inside the wares. In fact, they want that so much that admission is free this year for everyone age 16 and under who attends with a paying adult.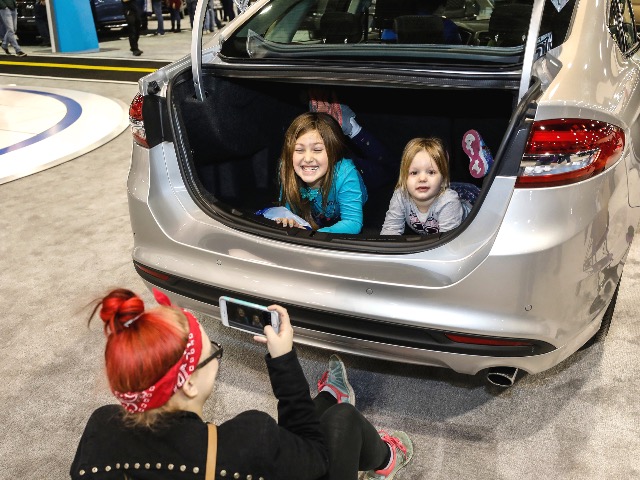 You can get in and out of the front seat, back seat and even the trunk at the auto show.
If you've already done some online research, the show also is a good place to compare and contrast vehicles that seem to be a lot alike, and those that are very different and totally out of your comfort zone. Seeing a vehicle up close, sitting behind the wheel, feeling the seats and leaning into the trunk can help you narrow your options without having to travel to several far-flung stores.
For example, if you're looking for a midsize crossover, the Chevrolet Traverse, GMC Acadia, Buick Enclave and Cadillac XT5 share structural, mechanical and design features to reduce production costs. But they differ greatly in price, and reviewers offer insights into where each stands in quality, ride, comfort, power, safety and fuel efficiency. At the auto show, you can experience other differences, such as how the interiors are laid out, the configurations of the tech and infotainment screens, and whether the third-row seats have easy access and enough room for whoever's going to sit there.
Luis Herrera, sales rep for John Paul's Buick GMC of Greenfield, says customers tell him the Acadia has bigger doors than the others, "so it's a little easier to get in and out." But, he says, not everyone agrees – and not everyone lists ease of getting in and out as a top priority.
Jeff Sardina, general sales manager for Uptown Ford Lincoln in Wauwatosa, says that through the years, Lincoln Navigator and Ford Expedition became linked in the public mind as being virtual twins, but once you climb in to both full-size SUVs, you'll see that "the leather's different, the interior configurations are different, the rides are different."
You can try out both in the Ford and Lincolns areas, but also head over to the FCA zone to sit in a Jeep Wrangler or Grand Cherokee, then check out the Toyota Sequoia, Nissan Armada, Volkswagen Atlas, Audi Q7 – and any other large SUV you can think of to compare and contrast.
There is plenty to do for adults and kids alike at the Greater Milwaukee International Car & Truck Show.
More to do at the 2019 auto and truck show:
Sip & Savor: Twenty-five area craft brewers and several restaurants will provide samples of more than 70 beers and bites to taste at stations intermingled with the cars during the evening on Feb. 25. Kaylee Pountney, marketing and events manager for the St. Francis Brewing Co., which will be represented at the show, said that, like the auto show itself, Sip & Savor will make it easy to sample several brands in one location. Tickets for the event, which Tolkan said would be the first of its kind at a major U.S. auto show, are available at sipnsavormilwaukee.com for $19.95 or at the door for $24 and include admission.
Mascot Day: UW Badgers Alumni Band, Bucky Badger, Bernie Brewer, Milwaukee Brewer's Racing Sausages and Milwaukee Admiral's Roscoe will appear in a parade around the show from 1:30 p.m. to 2:30 p.m. on Saturday, March 2.
Kids Track: Kids drive electric vehicles on a mini roadway 11 a.m. to 7 p.m. on Saturdays, 10 a.m. to 5 p.m. on Sundays and 4 to 8 p.m. on Friday.
Test Drives: Take a spin along the streets of Downtown Milwaukee in the latest models from Jeep, Dodge, Chrysler and RAM (both weekends), and VW (first weekend).
FCA Racing Simulator: In FCA area.
Bennett Coachworks Showcase: Milwaukee's own car restoration experts offer and exhibit "barn finds."
EVS Collection: Rare vehicles will be on display, including a U.S. Bicentennial 1976 Cadillac Eldorado convertible and a Trans Am once owned by Burt Reynolds.
Lowriders and exotic vehicles: Two collections of cars and motorcycles
Tricky Trails Golf Links: Family-friendly mini golf for a requested minimum donation of $2 to benefit Feeding America Eastern Wisconsin, running 10 a.m. to 6 p.m. on Saturdays and Sundays, 5 to 8 p.m. on Monday through Thursday and 3 to 7 p.m. on Friday.
Electric Room: Learn about electric vehicles, sponsored by Wisconsin Clean Cities.
Full list of activities and floor plan: Visit autoshowmilwaukee.com
Admission and tickets: $12 for adults, with discounts available for military and senior citizens. Tickets purchased through autoshowmilwaukee.com also are discounted.