Backstreet was back in Milwaukee last night as Nick, Brian, Howie, AJ and Kevin all returned to Wisconsin for one of Fiserv Forum's most anticipated concerts thus far. Currently promoting their newest album, "DNA," the Backstreet Boys' headlining tour of the same name is the band's biggest in over a decade and features a setlist with more than 30 of your favorite BSB tracks.
From the tour's massive stage and production to the decades of number one records, fans had plenty of reasons to fill the seats for the sold-out show on Wednesday night.
Here are eight reasons why you shouldn't have missed the Backstreet Boys' show at Fiserv Forum. (And to relive the night even more, check out OnMilwaukee's Instagram.)
1. It was their big return to Milwaukee
While the Backstreet Boys made a number of memorable tour stops in Milwaukee when promoting their first few albums over a decade ago, Nick, AJ, Brian, Kevin and Howie hadn't performed for their Milwaukee fans since their "Up Close & Personal Tour" in 2005.
Needless to say, fans had Wednesday marked on their calendars from the very moment tickets went on sale for last night's sold-out performance. With more "Oh my god, we're back again" shirts than I could count, fans filled Fiserv Forum to give a warm welcome to their favorite boy band. Hopefully it won't be another decade and a half until the guys return.
2. Ladies night
Girl power and mom power was in full force last night as most of the husbands stayed home so their wives could enjoy an evening with their first true loves. The 10-to-one female audience nearly shattered the glass in the luxury suites from their screams alone, while the few men in the crowd held purses and did their best to try to pretend like they didn't know every word to "Quit Playing Games (With My Heart)."
In the middle of the show, while flaunting their dad-bods, Kevin and AJ privately changed in front of their screaming fans in a large rectangular "BSB" box, where they "returned the favor" for years of underwear being thrown on stage in their direction by tossing out their boxers into the VIP pit of fans. Luckily I was seated outside the boxer brief radius.
3. The stage was massive
One perk to any arena concert is the amount of production that can go into a show. While some artists scale back and go for a more intimate vibe, other acts take advantage of this opportunity and craft stages and set designs that definitely couldn't fit in the Eagles Ballroom. The Backstreet Boys opted for the latter, boasting a huge stage for their "DNA Tour."
Complete with two massive video boards and a main stage which connected to a hexagon runway surrounding a VIP pit of fans, as well as a wide selection of lights throughout the set, the production was far from average. Although they're dads now, all five of the members still have moves, so they needed plenty of dancing real estate on Tuesday night.
4. This is their biggest tour in 18 years
From production value to ticket sales and tour stops, BSB's "DNA Tour" is their biggest tour in 18 years. Fans celebrated their comeback a couple years ago, and their Las Vegas residency and performances up until this year has really prepped the band for this newest tour. Having seen the Backstreet Boys live two times since their return, their performances have reached a new level in just a couple short years.
5. Kevin showed love to Wisconsin
Kevin may be your new favorite Backstreet Boy, as he showed some major love for the Dairy State on Tuesday. Sharing his and his families' love for Lake Geneva (which is almost Illinois, but we'll let it slide) when talking to the crowd, Kev also joked about making Old Milwaukee beer runs for the several years where he was the only member of legal drinking age. It's a little weird to think about a 21-year-old Kevin Richardson partying with a 12-year-old Nick Carter, but we dig his taste in beer nonetheless.
6. Focus on family
While the throwbacks were best received throughout the two-hour set, one highlight performance from the Backstreet Boys' newest album came with their performance of "No Place," which the guys sang while the music video played for fans on the video boards. The video showed the guys spending time with their families, with several "Backstreet Babies" stealing the spotlight. They may need to film a new version, however, as Nick's next child is expected in just a couple weeks.
Family was a constant theme of the night, even with the opening performance, as country pop singer Baylee Littrell, son of BSB's Brian Littrell, opened the show with an impressive performance. He isn't going the boy band route, but he is definitely following in his dad's footsteps.
7. 26 years of hit singles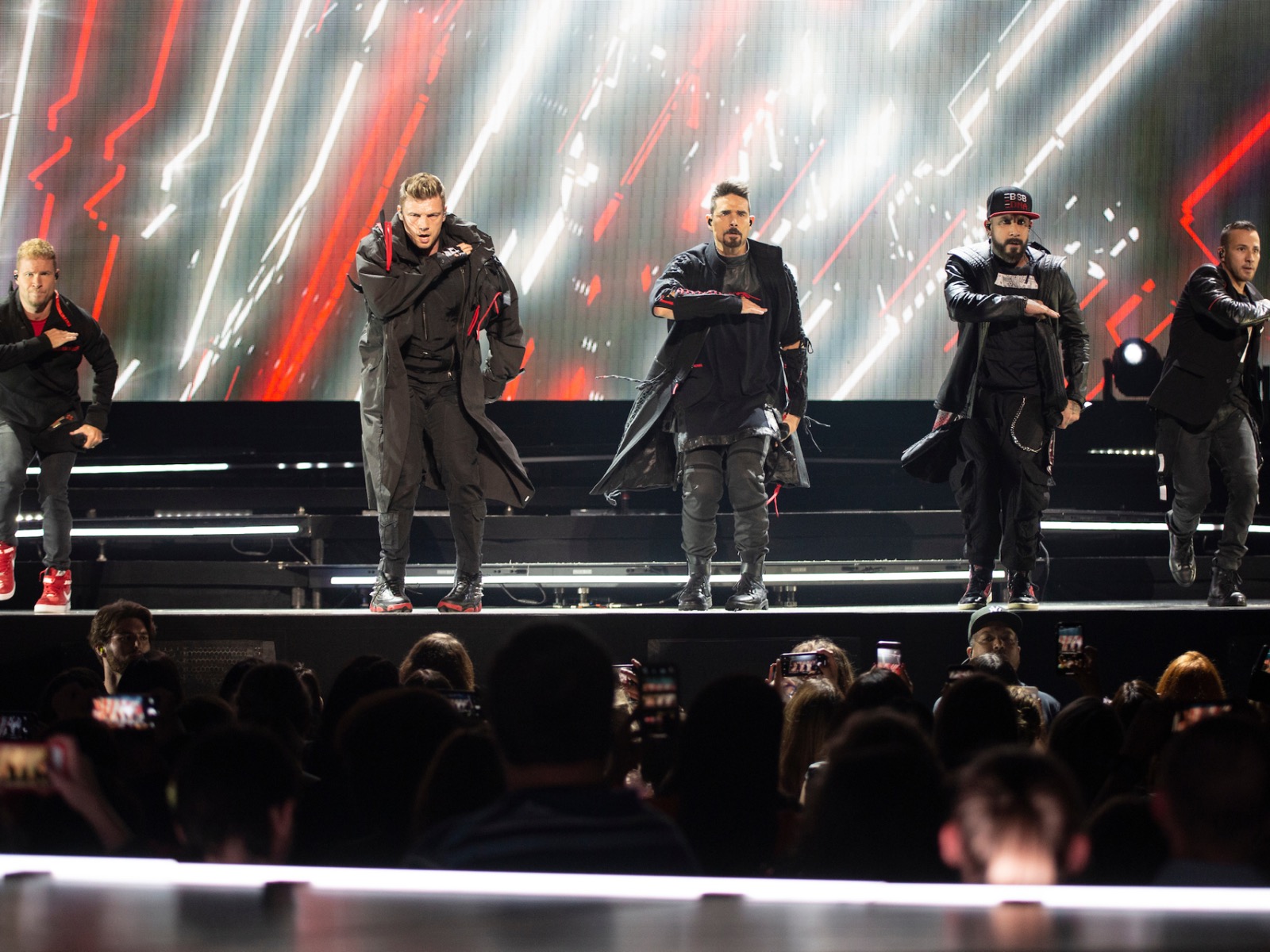 From "Quit Playing Games" and "We've Got It Goin' On" off their 1996 self-titled debut to their newest hit single "Don't Go Breaking My Heart," BSB provided fans with over two decades of nonstop hits on Tuesday night. Love 'em or hate 'em, with tracks like "Everybody," "Larger Than Life," "I Want It That Way" and "Shape of My Heart," just to name a few, there is no denying the catalogue of hit singles that BSB has delivered to pop music since the '90s.
8. The encore
As the rest of their set combined a perfect blend of the new with the old, BSB returned to the stage for two more performances for their encore: 2019's "Don't Go Breaking My Heart" and 1999's "Larger Than Life." All while rocking their custom Milwaukee Bucks jerseys, the encore reminded fans that although BSB was the biggest thing in music during the 2000s, they still got it in the year 2019.
Surely fans in attendance last night can't wait until the next time Backstreet's Back.