It's been nine years since viewers saw meteorologist Bart Adrian on FOX6, the station he called home for 28 years.
He's not retired, though. Now, Adrian is a senior lecturer in Atmospheric Science and Mathematics, and a STEM outreach specialist at UW-Milwaukee.
Recently, through UWM's Innovative Weather Center, you can hear Adrian on the radio, too, doing forecasts on 89.7 WUWM.
Adrian says his first love was always teaching, and he's busy shaping the meteorologists of tomorrow. We caught up with him over coffee to discuss life after TV, how the science of meteorology has evolved, and what got him in the business in the first place.
OnMilwaukee: I was listening to WUWM recently, and I heard your voice. I knew it was you right away. When did you start doing on-air work again?
Bart Adrian: I started last year helping out with UW Milwaukee's Innovative Weather Program, which is our atmospheric science program. It was spearheaded by professor Paul Roebber, and is essentially UW-Milwaukee's own in-house forecasting service. It gives students the opportunity to have forecast experience under near real game conditions.
We have clients, although we don't call them clients because it's not a strict quid pro quo relationship like you would have if we were a for-profit business. We call them partners because they're making an investment in our students' education. Some of our partners are We Energies, the Alliance Energy power company, which covers parts of Wisconsin and Iowa, and the Lake Express.
And these are partners in the custom weather forecasts?
They each get their own custom weather forecast and WUWM airs as our radio station partner. So we serve them by giving them forecasts at the time they ask us.
When did you join the Innovative Weather Center?
I guess officially I started helping out last year in the fall. But I got much more involved in it, in helping out with some forecast shifts this summer. And that's when I started appearing on WUWM more often.
It's been a while since you've been on the air.
Well, let's see, I left Channel 6 in October of 2010, so it's going to be nine years this fall.
It seems like yesterday.
Yes. It's pretty amazing. Time has flown and I had a great career there. And, and even better at UWM.
How did you get into this business?
Well, if I could take it back 28 years before TV, my original career goal when I finished up school was to go into teaching. I was looking for jobs in teaching math and meteorology in either a small four-year college or a junior college where I could teach without a PhD. I just had my Master's Degree.
Are you from Milwaukee?
I'm originally from the suburbs of Chicago and went to school and did my college at Northwestern in the Chicago area. And then I came to UW-Madison for graduate school. That's really when I came to Wisconsin, and I've never left since then.
What happened next?
So when I finished my Master's in Madison I thought, "Well maybe I should work for a year, just get some real world forecast experience." So I went to work for a private consulting forecasting company, like Innovative Weather – only a real for profit company called Weather Central in Madison – for a year.
And Weather Central did forecasts for all kinds of clients. We did crop dusting forecast for farmers. We did power company forecasts, and we did the weather for 40 radio stations in Wisconsin. That was my first broadcast experience, learning to talk about weather on the radio. Then I started looking for teaching jobs after a year, but then a friend of mine, his name is Vince Condella ... you might recognize his name ...
I know Vince.
Well, Vince and I were good buddies in graduate school. Our offices were next door to each other. We played on the department softball team. I played shortstop, Vince played third.
Vince had just started working at channel six in early 1982 and he called me up and he said, "Hey, Channel 6 is looking for another meteorologist." And I said, "Well, I'm not looking for jobs on TV. I'm looking for teaching jobs." He said, "Got any offers yet?" And I said, "Well, no." And he said, "Well, why don't you send a tape?" So I did. I got hired. I thought, "OK, I'm going to do this for two years and then I'm going to go back to Madison and look for teaching jobs." Well, two years turned into 28 and all kinds of great things happened during that time.
But you also taught, right?
I worked on getting certified as a high school math and earth science teacher. I taught many years, part-time here at UWM, and when my job ended at Channel 6 in 2010, the first place I went is to UWM and started to teach there. And the first semester I taught a meteorology course, but then I was given a chance because meteorology is a part of the math department at UW-Milwaukee.
It's a great blessing to me because I teach both math and meteorology and I can never make up my mind. I absolutely love teaching math, but when I teach math I think, "Oh, math is my favorite." But then when I go back to teaching meteorology and like, "No, meteorology is my favorite."
I didn't know they were in the same department.
We are a very mathematical science, and we are in the mathematical sciences department. So it's a great fit.
Do you think you got out of TV weather at the right time?
You know what, I got out of the TV at the right time for me because it was time for me to go into teaching. But I don't think I got out of TV because it was like the TV was falling apart. The model has always been changing and evolving. I think it's gone through some more rapid changes in evolution with the advent of phone apps and online availability and the changing of the audience style from a captive audience to one that wants forecasts on demand.
But my time working at Innovative Weather has affirmed that there is still, and I think there always will be, a need for a human being. So for example, we work with We Energies. They are one of our big partners and we send them forecasts every couple of hours. We send them a big spreadsheet with all the numbers and information you could possibly ever want. But when the weather is bad, somebody over there makes a phone call and it rings in our office and they're like, "OK, I see all of this. What are you guys really thinking? Is it really bad?" Because when the chips are down, people want to hear from another human being. They don't want to just see print and numbers. They want to hear a voice.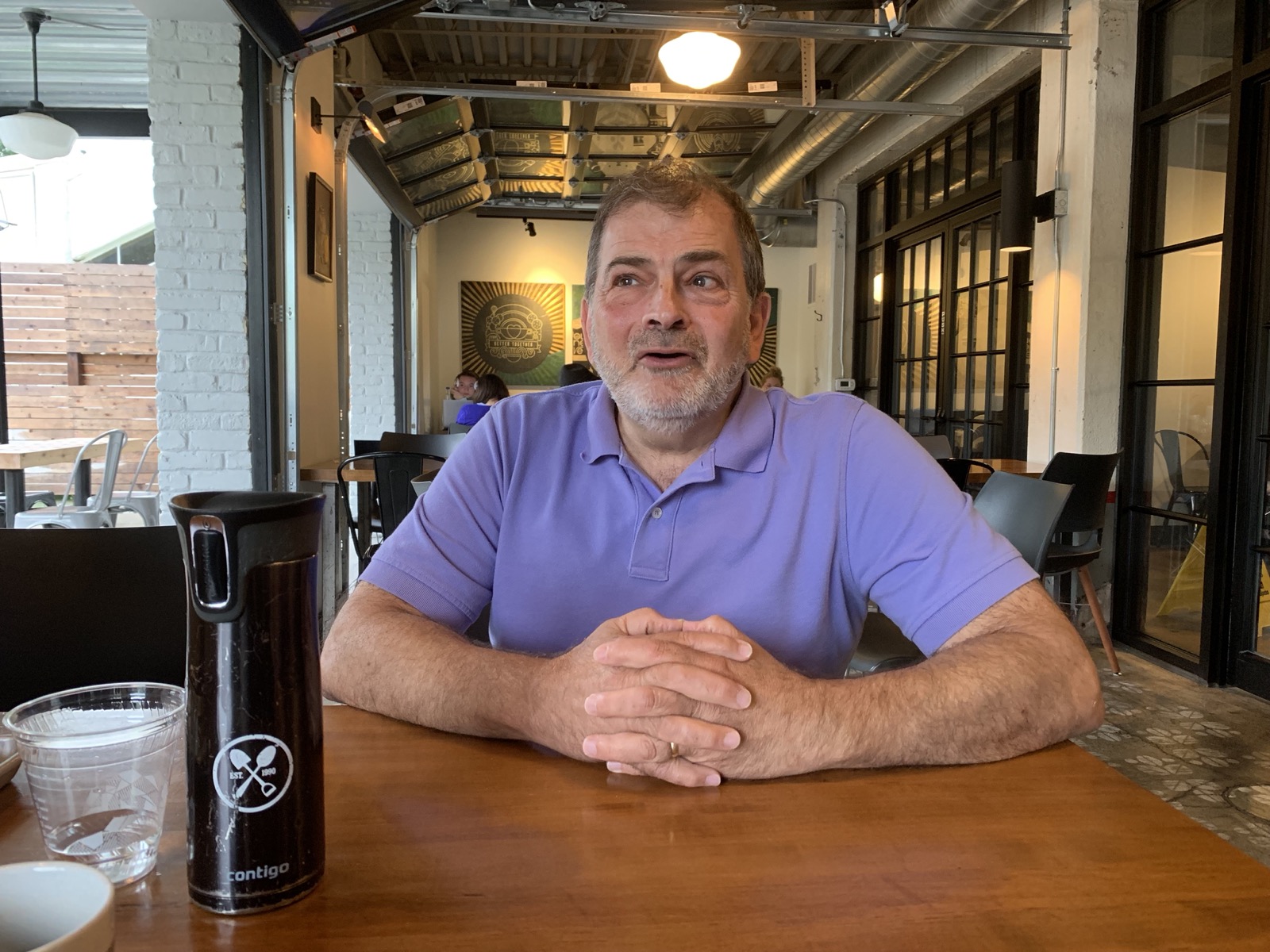 Some other meteorologists have told me over the years that doing a weather forecast in Milwaukee is harder than it is in, say, San Diego.
There is some advantage to being local, to being a local partner. And I think, every region of the country has its peculiarities, in terms of forecasting, and I'd be hard-pressed sometimes to say it's necessarily more challenging in one place than another. But we certainly have much more variety here in the Midwest. I mean we have, we have two seasons that are just like two different planets from winter to summer thunderstorm season, which is not the case in the Southern United States, especially in the Southeast.
But I think there is something that you said for the human touch or the local touch and there will always be a place for that. It's just that I think sometimes now we have to find that niche and are more pressed to do that.
When you're teaching these students, are you teaching them how to be TV meteorologists or are you teaching them how to be scientific meteorologists or both?
No, we're teaching them how to be good forecasters and communicators. And I think that that bridges a lot of different things. So I mean, I think communication skills are helpful whether you're in TV or radio or simply communicating one-on-one with a director from a board room.
When I started doing more shifts on the radio, the operations director was like, "Whoa, this is great." He said, "This is going to be old hat for you."
I said, "No, no, no, Mike. Treat me like an intern at first." And I may move through it quickly, but I want to go through it step by step because I have relearned how to forecast all over again in many ways this summer – because there's so many things that we look at that have just changed in the nine years since I've been out of operational weather on television. And it's not like I haven't looked at a weather map or made a forecast since then. But just the way we do things. One area that's particularly different, as you know, in television weather we would seek to just use words or tell people, "A chance of thunderstorms tomorrow. A slight chance, a big great chance."
Whereas in Innovative Weather, we have clients that are really concerned about objective risk assessment. So when we're forecasting for a client that's concerned about rainfall, they might ask, "OK, what do you expect for rainfall? What is your worst possible case? What is your best possible case, and what is your 80% case?" Wow, that's really different.
It sounds pretty different than TV weather.
Yes. And every client has their own set of risk assessments and this is great stuff for our students to learn because I think one of the areas where there are future employment opportunities for meteorologists is in risk assessment. I mean, a degree combo that I think buys you a job immediately today in meteorology.
If you graduate with a degree in meteorology and a minor in actuarial science or degree in actuarial science and a minor in meteorology, there are companies all over the place. They're looking to gobble up people who can do objective risk assessment.
I suppose We Energies needs to find out if their power lines are going to go down, and you can tell them that.
Right, and they're looking at even longer term planning. So do we need to have people on call, in case there's a big power outage?
What else do you teach students?
What's great about the Innovative Weather program is that our students come out with not just a degree and a grade point average, but they come out with real-world experience and with some very intangible types of experiences.
We've had a number of students who've gotten jobs with the National Weather Service just with their Bachelor's degree, which the weather service nowadays says you really should have a Master's degree before you even think of applying. But because they go in there with this experience on their resume, weather service managers will say, "Do you think you can handle shift work?" Because you work rotating shifts in the national weather service. Well, our kids can say, "Yes, because we worked 24/7 at Innovative Weather."
Andy is the president, publisher and founder of OnMilwaukee. He returned to Milwaukee in 1996 after living on the East Coast for nine years, where he wrote for The Dallas Morning News Washington Bureau and worked in the White House Office of Communications. He was also Associate Editor of The GW Hatchet, his college newspaper at The George Washington University.
Before launching OnMilwaukee.com in 1998 at age 23, he worked in public relations for two Milwaukee firms, most of the time daydreaming about starting his own publication.
Hobbies include running when he finds the time, fixing the rust on his '75 MGB, mowing the lawn at his cottage in the Northwoods, and making an annual pilgrimage to Phoenix for Brewers Spring Training.