It's been three years since Chef Karen Bell opened Bavette – a butcher shop and restaurant – in the Third Ward at 330 E. Menomonee St. The old-time concept of a neighborhood butcher shop is juxtaposed with a fun and classy modern decor that's both masculine and feminine, upscale yet casual.
The daily-changing menu features cheese and charcuterie, pates, salads, sandwiches and small plates. Because the eatery and butchery are connected, all of the meat for sale in the case (for home preparation) and on the menu is from the same animal each week.
By buying whole carcasses, Bell's goal is to achieve more sustainability and less waste. Plus, Bavette can trace all of its meat back to a singular farm and often a particular animal.
"At Bavette, the consumer will enjoy complete transparency of its food moving from farm to plate," says Bell. "We want to create the feeling of community and neighborhood that old world butcher shops did in the past. A place to come and enjoy a coffee in the morning, a sandwich in the afternoon or a glass of wine and cheese or charcuterie plate in the evening."
We recently stopped in for lunch at Bavette and, once again, were not disappointed.
Type of food: Meat-centric, fresh, seasonal sandwiches, salads, raw foods, soups, small plates, cheese and charcuterie, desserts and more. Bavette has a liquor license.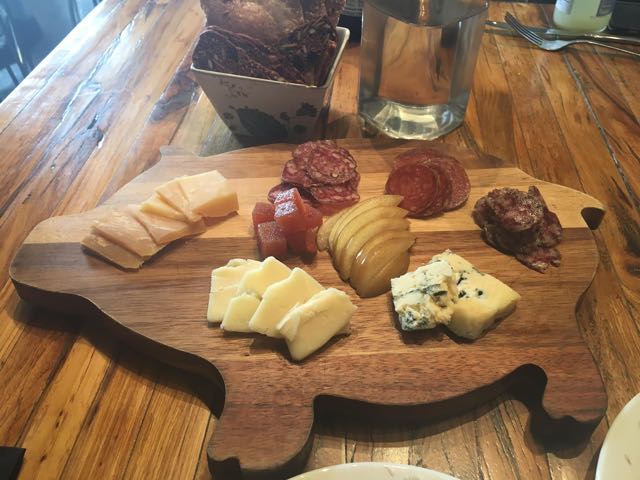 Prices: The menu changes daily, but in general, sandwiches run between $10 and $14 (with chips); salads are $11.75-13; and cheese and charcuterie from $10 to $24.
Vegetarian friendly? There are vegetarian salads on the menu and usually one sandwich. However, Bavette is, at heart, a meat enthusiast's feast.
Hours: Monday and Tuesday from 11 a.m. to 5 p.m. Wednesday through Saturday from 11 a.m. to 9 p.m.
Parking: Meter parking is available on Menomonee Street, as well as surrounding Third Ward streets.
Vibe/dress: Guests will feel comfortable wearing anything from professional garb to yoga pants.
Hits: The steak tartare with green chimichurri (a flavorful uncooked sauce similar to pesto) and harissa (Tunisian hot chili pepper paste made primarily from red peppers) is a raw meat lover's dream. Served with a generous offering of lightly grilled bread rounds, it's veggie fresh and decadently carnivorous at the same time. We lovingly called it "fancy cannibal sandwiches."
The Cuban is also a hit, made with pressed ham, bacon, cheese, pickles, pickled jalapeño and mustard. The bread is firm and the perfect thickness to allow the tastes from the inside of the sandwich to shine through. Warning: might kick wanderlust into full gear and make you yearn to travel to Cuba.
We also enjoyed the open-faced egg salad sandwich with white anchovies, fennel, olive and sun-dried tomato and the charcuterie plate which came with three different meats, cheese and fruits.
The decor was also a hit, with artistic takes on animal skulls, southwestern crosses, sophisticated wallpaper (no, that is not an oxymoron) and lots of natural light.
Misses: This is a rare situation, but we couldn't think of anything that was a miss. It was a lovely experience, from start to finish.
Insider's Tip: Be daring! Don't be afraid of the corned beef tongue Reuben or bone marrow butter. You can order a burger next time.

Molly Snyder started writing and publishing her work at the age 10, when her community newspaper printed her poem, "The Unicorn." Since then, she's expanded beyond the subject of mythical creatures and written in many different mediums but, nearest and dearest to her heart, thousands of articles for OnMilwaukee.

Molly is a regular contributor to FOX6 News and numerous radio stations as well as the co-host of "Dandelions: A Podcast For Women." She's received five Milwaukee Press Club Awards, served as the Pfister Narrator and is the Wisconsin State Fair's Celebrity Cream Puff Eating Champion of 2019.