For the 10th straight year, October is Dining Month on OnMilwaukee, presented by the restaurants of Potawatomi Hotel & Casino. All month, we're stuffed with restaurant reviews, dining guides, delectable features, chef profiles and unique articles on everything food, as well as voting for your "Best of Dining 2016."
Bollywood Grill's lunch buffet
1038 N. Jackson St., (414) 271-8200
The words "lunch" and "buffet" generally bring joy to people's hearts and stomachs, and the Bollywood Grill, 1038 N. Jackson St., has a particularly pleasing one.
Bollywood Grill, which was formerly Mayura on the East Side, is named for the Hindi-language film industry based in Mumbai, India. This tribute is reflected in the decor, which includes posters of Bollywood stars, fancy sconces and, if you get lucky, Bollywood movies screening on the television sets.
The massive, 7,000-square foot space features a bar, dining area and a banquet hall. The menu is also large as is the lunch buffet, which is available seven days a week.
Type of food: Indian.
Prices: Affordable – and cheaper than Maharaja, which is $13. Weekdays, the price at Bollywood Grill is $11.65, while on weekends, it's $12.65.
Vegetarian friendly? Yes. There are many vegetarian dishes available, as well as soup, salads and desserts.
Hours: 11 a.m. to 3 p.m. Monday-Friday and from 11:30 a.m. to 3:30 p.m. on the weekends.
Parking: Diners may park in the Metro Market parking lot which is to the north of the restaurant. Street parking on Jackson Street is also available.
Vibe / dress: The restaurant is vibrant and upbeat, and the lunch crowd ranges from Downtown workers to college students to families. It is a very food-focused event with everyone pretty much stuffing themselves with plates of food, completely ignoring the reality of the impending after-lunch food coma.
Hits: High points of the large, multi-station buffet included the mushroom masala, which was flavorful but not spicy and featured soft button mushrooms, perfectly sautéed onions and a rich gravy. The chicken tawa was also stand-out, literally, as it was showcased in a large serving platter set aside from the other options, but also in taste thanks to small, tender pieces of chicken slathered in a zippy but not spicy sauce.
In general, the lunch buffet pairs well with a Maharaja Indian pilsner. Even though it's lunch, you can do just one. We won't tell.
Misses: Although the servers were very nice, the service was a bit iffy. It took a while to get our check and pay our bill. However, because of the high quality and assortment of food, the wait was well worth the experience.
Pro-tips: Get there before noon, if possible. It gets crowded most days after 12. Also, depending on the soups of the day, drop the tasty spinach pakora bites into a bowl of it for heartier soup.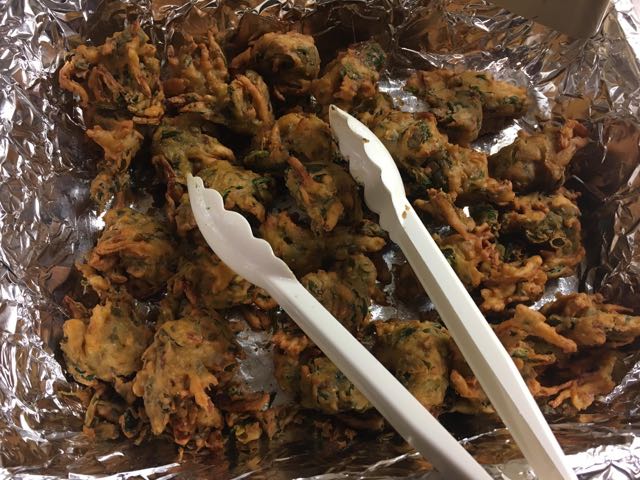 Molly Snyder grew up on Milwaukee's East Side and today, she lives in the Walker's Point neighborhood with her partner and two sons.
As a full time senior writer, editorial manager and self-described experience junkie, Molly has written thousands of articles about Milwaukee (and a few about New Orleans, Detroit, Indianapolis, Boston and various vacation spots in Wisconsin) that range in subject from where to get the best cup of coffee to an in-depth profile on the survivors of the iconic Norman apartment building that burned down in the '90s.
She also once got a colonic just to report on it, but that's enough on that.
Always told she had a "radio voice," Molly found herself as a regular contributor on FM102, 97WMYX and 1130WISN with her childhood radio favorite, Gene Mueller.
Molly's poetry, essays and articles appeared in many publications including USA Today, The Writer, The Sun Magazine and more. She has a collection of poetry, "Topless," and is slowly writing a memoir.
In 2009, Molly won a Milwaukee Press Club Award. She served as the Narrator / writer-in-residence at the Pfister Hotel from 2013-2014. She is also a story slam-winning storyteller who has performed with The Moth, Ex Fabula and Risk!
When she's not writing, interviewing or mom-ing, Molly teaches tarot card classes, gardens, sits in bars drinking Miller products and dreams of being in a punk band again.