As musical events go, a Beck show in Milwaukee is about as rare as it gets. It's been 20 long years since Beck last visited Brew City, and I was there for his show at New Rock Fest in 1997 – which barely counts since he was but a small part of a long day of headliners.
I felt blessed to see him perform a few years later in Chicago, but he was reserved and even sullen back then.
Not tonight at the Riverside.
Beck Hansen's music has always been a Venn diagram of art, with balls-out semi-unironic rap occupying one circle, and beautiful melodic folk in the other. Right in the middle is when Beck rocks, and it was super cool to see all slices of him in a live performance.
If you look at his recent work, you might think that the 47-year-old Beck takes himself too seriously, but tonight he reminded us that he, in fact, does not. With a prolific 25-year body of work from which to choose, Beck played an awful lot of songs I would've requested if he had asked me.
He even managed to take songs I wouldn't have, like "Paper Tiger," and made them sound hauntingly pretty. Because I'm especially partial to his albums "Odelay" and "Midnite Vultures," and played those CDs until I wore them out, I was delighted to hear a few songs from both – but really, I appreciate everything he's done.
My preference has always been for Fun Beck over Melancholy Beck, and he tonight he gave us plenty of both.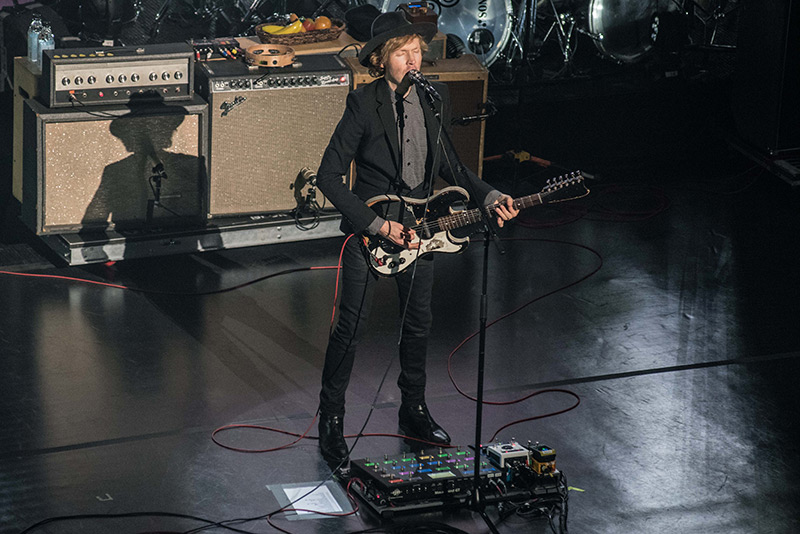 Unfortunately, the sound was really muddy in the beginning for "Devil's Haircut," and it didn't get better for the first four songs. I don't think it sounded great for Beck, either, who fiddling with his earpiece throughout and was forced to shout some lyrics instead of singing them. It makes sense; Beck doesn't play a zillion shows – the one before this was a month ago. I wouldn't call this a super polished concert, and that's fine. He made up for it with a more gritty performance, and really, he sounded happier than I've heard him before.
And Beck didn't let the sound issues distract him. In his black hat, black jacket and black skinny jeans, he still looks like he did in 1993, jumping around during "Loser" like it was a another time. (Side note: I love watching Beck dance like a lanky old-timey gold prospecting robot.)
It helped that Beck surrounded himself with an amazing band. Weaving "I Feel Love" by Donna Summer into the middle of "Think I'm In Love" was funky and wonderful. The sound improved by the time he dropped the word "Milwaukee" into "Mixed Bizness," and with eight people on stage, Beck showed he could make a song sound layered and dense or sparse and stripped down.
After concluding with a raw, slightly sloppy version of "Sex Laws," Beck reemerged (in a white hat) for his encore, leading with "Where It's At." He paused to break it down and introduced the band and banter a bit. "What do you need, Milwaukee? I have lotion for you, Milwaukee. I can make doves cry." He played a very full 90-minute set of 20 songs in this most memorable performance, wrapping with "E-Pro."
Playful and funny, Beck is a magical musician, a living legend – and he promised to return next time on a Friday night (he kept referring to this sold-out Wednesday show as a Tuesday night, but that's OK).
Any day of the week, after 20 years, I'll take what I can get.
"Odelay, Milwaukee!" he shouted in the middle of several of his songs. Odelay, Beck. And gracias, Guero.
Set list:
Devil's Haircut
Black Tambourine
The New Pollution
Qué Onda Guero
Think I'm in Love
Soul of a Man
Mixed Bizness
Dreams
Go It Alone
Paper Tiger
Lost Cause
Blackbird Chain
Say Goodbye
Blue Moon
Loser
Girl
Wow
Sexx Laws
Encore:
Where It's At
E-Pro
Andy is the president, publisher and founder of OnMilwaukee. He returned to Milwaukee in 1996 after living on the East Coast for nine years, where he wrote for The Dallas Morning News Washington Bureau and worked in the White House Office of Communications. He was also Associate Editor of The GW Hatchet, his college newspaper at The George Washington University.
Before launching OnMilwaukee.com in 1998 at age 23, he worked in public relations for two Milwaukee firms, most of the time daydreaming about starting his own publication.
Hobbies include running when he finds the time, fixing the rust on his '75 MGB, mowing the lawn at his cottage in the Northwoods, and making an annual pilgrimage to Phoenix for Brewers Spring Training.