Welcome to OnMeowaukee Cat Week, a meowsome bunch of articles, photos, videos and an Instagram contest celebrating all aspects of Milwaukee cats. Sponsored by Bark N' Scratch Outpost, these seven days are dedicated to those creatures with nine lives who make our lives more paw-sitive.
My 7-year-old daughter is a big fan of cats, and not coincidentally, she's a big fan of our veterinarian, Dr. Becky Banks, from the Small Animal Hospital.
Interestingly, I met Becky when I, too, was about 7 – we went to elementary school together, and she's one of the kindest, smartest vets I've ever met. Small Animal Hospital has been taking care of our pets from some 15 years.
Both Becky and I are delighted that little Mara has taken such an interest in animal welfare, raising money for the Wisconsin Humane Society with her own bake sale, and also that she's connected so strongly with the vets who care for her two cats.
In honor of OnMeowaukee Cat Week – and Becky and Mara's friendship – my daughter prepared nine questions about cats for Dr. Banks, which I shared with Becky over coffee. Here they are, in Mara's own words:
OnMilwaukee: Is milk bad for cats' stomachs?
Becky Banks: I give my cat milk every so often. It shouldn't be a lot. Mara, if you picture Barbie, and two gallons of milk for her size – a gallon in each hand – and that's how much milk I would say is probably OK for most cats, once a week. It should be an infrequent treat.
OnMilwaukee: Is there a such thing as a cat toothbrush?
Banks: In theory, a cat toothbrush would be like a small rodent, because if you have not domesticated them it would be a natural thing, crushing up bones and all that. However, since most of our cats don't have free-range mice, with the exception of mine in my house, I would say that there are a lot of products now that help you to do it. Dental hygiene in cats is super important, and they don't get that with most of their diets, so they have these little finger puppets that have bristles on the end that you can use. You can use a soft toothbrush, but really anything with friction, like a piece of gauze, or a washcloth with a pet toothpaste on it. Which has delicious flavors such as poultry and cheese.
OnMilwaukee: How do you clean a cat?
Banks: Very carefully. I would say most cats don't need cleaning. They should be grooming themselves well. If they're not, then there's a reason and you should find out why.
OnMilwaukee: What if my cat is straining to poop?
Banks: I think that's a very wise question, Mara. First, is your cat straining to poop or to pee? They're two different things; they look a lot alike for most people. Both of them are not good things. Make sure that it's poop or pee, and then either way, get it checked out.
Sometimes they are straining, but they aren't necessarily constipated. Usually that there are issues that are making them have too hard poop, too big a poop or the opposite, which could be certain gut issues that make it like they're straining but there is nothing to come out. There is inflammation there. That should be medically addressed.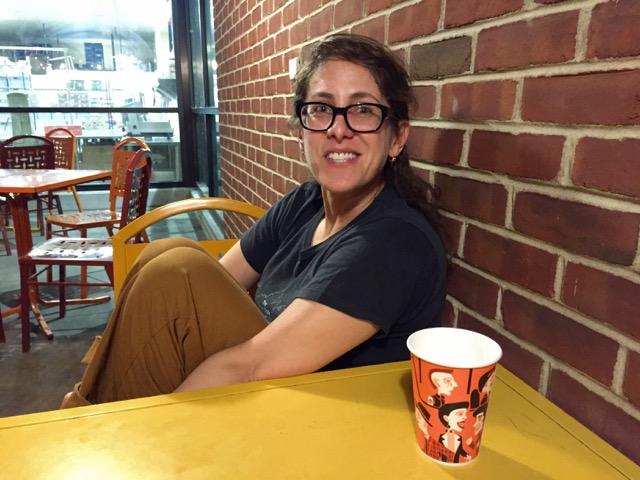 OnMilwaukee: What kind of food should I feed my kitty?
Banks: Until they're done growing at about a year of age, they should eat kitten food. This is a very impressionable age. If you give your cat little crunchy triangles a lot, they will think that is food. They will be very inflexible about what they see as food. I'm a huge fan of wet food. In fact, if people wanted to do 100% canned food in the pate format, I'd be all in favor. It's not that practical for most people, so I say minimally, make it 50 percent of their diet.
OnMilwaukee: This is kind of a four-part question from Mara: Are cats bored in their lives? What kind of toys should I get my cat? How do I stop my cat from pouncing on my leg, and what do cats do all day?
Banks: Like 16 hours, give or take a few, this is what they do: Sleep, sleep, eat, eat, sleep, eat, sleep, eat, sleep, eat, play, sleep, eat, sleep, eat, play, groom, sleep, eat, play and poop. Yes, I think cats are bored in their lives. This, too, is a really complex question because it's really hard to mimic the things that they would do in their lives had we not brought them into our homes.
I find that enriching a cat's environment is huge. They're hunters and they would have hunted. We want to try to mimic things that they would have done.
OnMilwaukee: Can you teach a cat to use a toilet?
Banks: I know one cat that I believe goes both in the toilet. The cat does not flush, however.
OnMilwaukee: Should I concerned if my cat breaks out of her collar?
Banks: I think the cats that tend to sneak out or go outside should absolutely have collars. I am a fan of the collars that snap, that are very strong, because there are cases of cats that unfortunately strangle themselves because they don't have a break-away collar.
OnMilwaukee: The final question which we kind of touched on but I just like Mara's wording so much: How can I make my cat happy, healthy, and not lonely?
Banks: Such a good question, Mara. I think that sometimes cats are difficult to read whether they are happy, healthy or lonely. I think some cats are probably not happy or not healthy. I think health is a really hard thing; it took me over $125,000 to figure out and several years of studying to know if a cat was healthy.
OnMilwaukee: In other words, average pet owners can't figure that out?
Banks: I think there are signs and clues and big things to look for, like sudden, dramatic weight loss and not grooming well. Being in pain daily, vomiting more than once a month. There are things to me that are red flags that I would look for. Breaking of patterns; I think cats tend to be ritualistic in their habits. Cats are stoic, and they're very hard to read on the outside.
In terms of happiness, I really think that's also difficult. I look at my cats constantly and stare into their eyes deeply and say, "Are you happy?"
OnMilwaukee: And they don't answer.
Banks: I think they have ways to tell you when they are unhappy. They need your attention. They need you to play with them a lot.
Andy is the president, publisher and founder of OnMilwaukee. He returned to Milwaukee in 1996 after living on the East Coast for nine years, where he wrote for The Dallas Morning News Washington Bureau and worked in the White House Office of Communications. He was also Associate Editor of The GW Hatchet, his college newspaper at The George Washington University.
Before launching OnMilwaukee.com in 1998 at age 23, he worked in public relations for two Milwaukee firms, most of the time daydreaming about starting his own publication.
Hobbies include running when he finds the time, fixing the rust on his '75 MGB, mowing the lawn at his cottage in the Northwoods, and making an annual pilgrimage to Phoenix for Brewers Spring Training.