"Bar Month" at OnMilwaukee is brought to you by Miller Brewing Company, calling Milwaukee home since 1855. For the entire month of March, we're serving up fun articles on bars, clubs and beverages – including guides, the latest trends, bar reviews, the results of our Best of Bars poll and more. Grab a designated driver and dive in!
Milwaukee's best new bar embodies that old-school Wisconsin tavern feel and is nestled in one of the most up-and-coming areas in the city. Drink Wisconsinbly Pub may resemble a 2016-17 version of a 1960s tavern with its kitschy lamps emblazoned with Wisconsin postcards and brewery logos, but the fun never stops flowing from their bubbler-esque tap of Soul Boxer Old Fashioned. Beer lovers won't be disappointed with the Sconnie-focused tap list either.
OnMilwaukee editors' pick: The Outsider at Kimpton Journeyman Hotel
Runners up:
2. Good City Brewing Company
3. The Outsider at The Kimpton Journeyman Hotel
4. Bavarian Bierhaus
5. Third Space Brewing
This year we also asked a variety of prominent Milwaukeeans to weigh in on their pick for specific categories. For this category, we consulted Brian West, publisher of Alcoholmanac.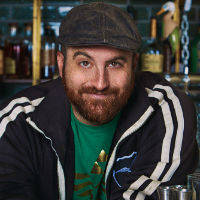 West's pick: Phoenix Cocktail Club
Milwaukee saw an impressive number of high-quality bar openings this past year, and picking one as "the best" sure isn't easy. But with a figurative gun to my head, I'd give it to Phoenix Cocktail Club. Their innovative, fun, playful cocktail program is accompanied by a stellar menu featuring dishes inspired by cuisine from all over the world. The vibe is swanky yet approachable. Where else can you feel equally comfortable getting fancy with a cocktail while in jeans and a tee, or slumming it with a slushie in a suit and tie?