It took a long time for the greatest jazz singer in history (fight me) to make it Milwaukee, but as one review noted, it was well worth the trip to that debut.
Born in 1915 in Philadelphia, Billie Holiday's career really took off when she met record producer John Hammond – who also recorded Robert Johnson, Bob Dylan, Bruce Springsteen and many others for Columbia Records – in 1933.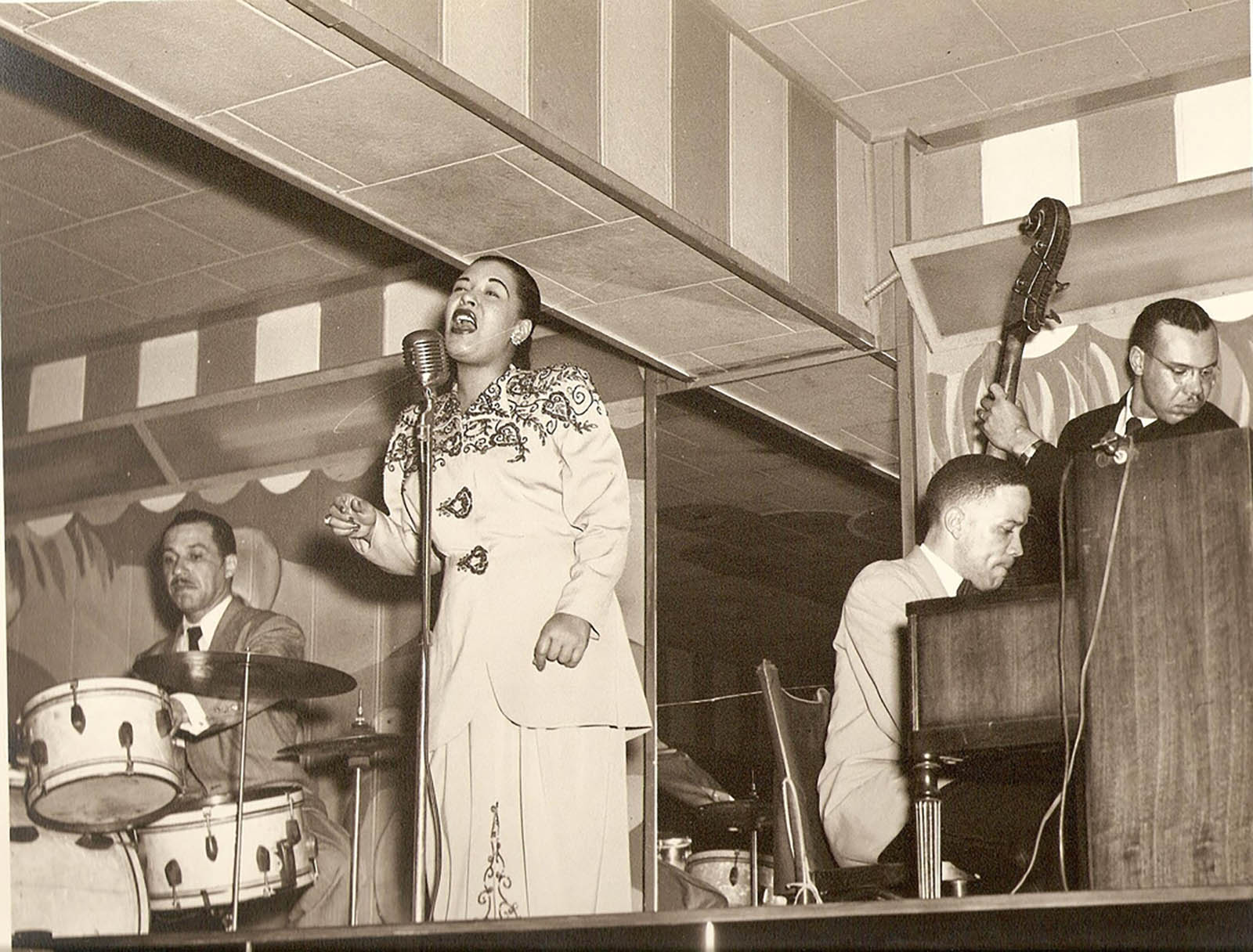 Hammond paired her on her first recordings with no less than Benny Goodman, for an auspicious debut.
In '35 she began working with Teddy Wilson and two years later with Count Basie. She partnered with Artie Shaw in 1938.
This was an astronomical career trajectory that only soared higher when she recorded the hard hitting "Strange Fruit" in '39 for Milt Gabler and Commodore Records. The song, about a lynching would become one of her most enduring songs – as well as a powerfully iconic one – and would propel her onto pop stardom.
"God Bless the Child," recorded soon after, cemented that success, which blossomed throughout the 1940s.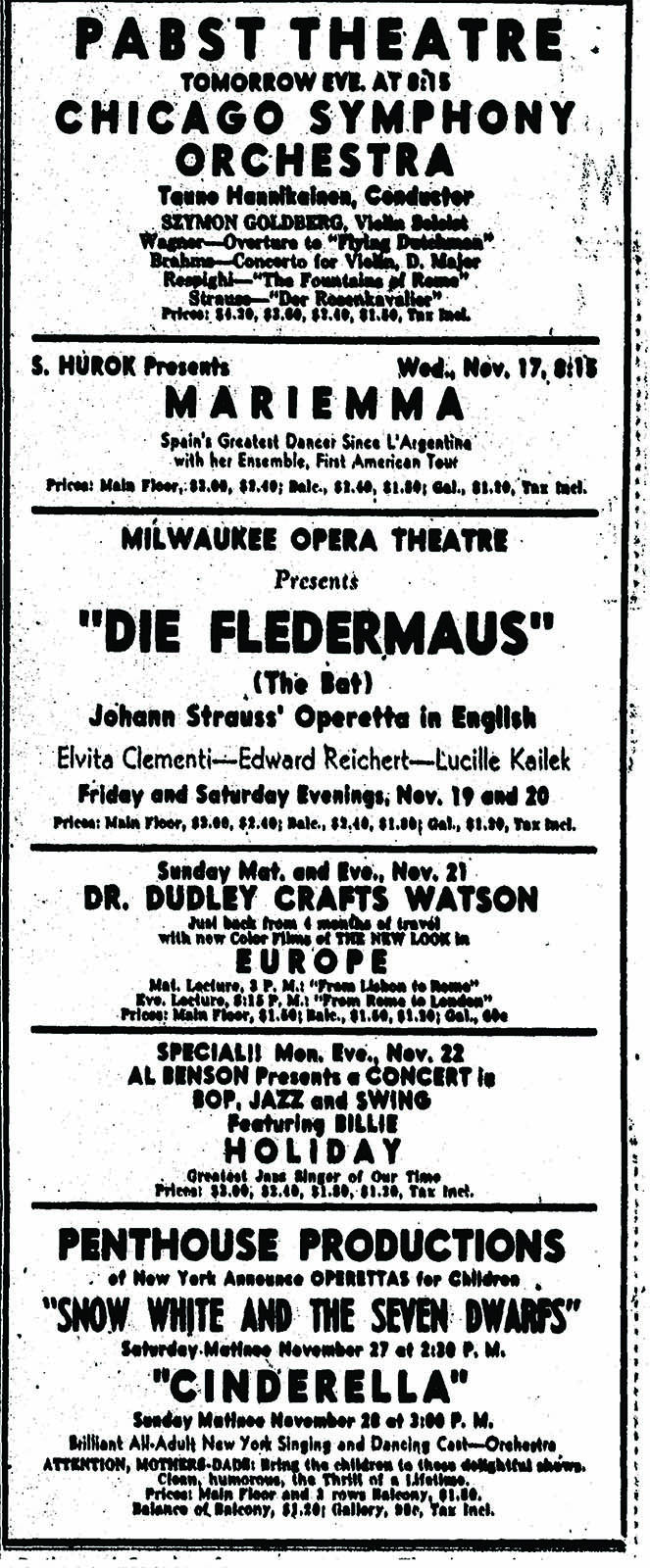 But Holiday's first Milwaukee appearance – if newspapers of the day are to be trusted – didnt come until 1948, when Lady Day appeared at The Pabst Theater ... as if we needed another reason to love that place.
The Nov. 22 concert was announced eight days earlier via newspaper ads and a notice in the Journal.
"Billie Holiday, who has risen to the heights in the field of jazz singing, will headline an unusual bill," the paper wrote. "This will mark the first appearance of the young Harlem star who has won renown and notoriety in jazz circles.
"On her Milwaukee appearance her colleagues will include Gene Ammons, Miles Davis, Max Roach, Allen Eager, Jackie Parris, Dolores Bell and the Chicago disk jockey Al Benson and a group of his entertainers."
The advertisement noted that already Holiday was the, "greatest jazz singer of our time." (Sssh! Don't tell Ella.)
Tellingly, the newspaper blurb also noted what had become Holiday's well-known struggle with addiction; one that would plague her for much of her adult life.
"A big New York favorite, Miss Holiday was in the headlines a few months ago when she was involved in a narcotics case. She was sent to a correctional institution, and she complained of the false friends who had defrauded her of $250,000."
Holiday had been released from prison in March of '48 and 11 days later sold out Carnegie Hall in record fashion.
When she came to Milwaukee, the fans were ready and according to a brief review in the Sentinel the morning after the show, so was Holiday.
"There have been larger houses at The Pabst than last night's. But rarely has that joint jumped so happily. The concert was a hummer by Billie Holiday and her company. Hearing Miss Holiday, this (reviewer) understood why her fanatic admirers call her THE contemporary artist, while the program notes describe her as 'Queen of the Blues.'
"When Miss Holiday sings such masochistic love songs as "My Man" and her own "Don't Explain," she seems to be singing about something more than personal heartbreak, perhaps the racial heartbreak of her 'Strange Fruit,' or the universal pain of frustration."

Frustration was something Holiday knew well. The following January she was once again arrested on drug charges.
That summer of '49, however, Holiday was back on the road and returned to Milwaukee, where she played a stint at The Continetal Theaterbar on 16th and National, one of a number of near South Side jazz joints that might make one question our notions of the racial/geographic dynamics of Milwaukee in the 1940s and '50s.
Details of that visit are slim as advertisements only announced the opening night, so we don't know how long she stayed and I was unable to find reviews of the performances, at which she may have been supported by the Eddie Getz Quintette.
Getz was a local alto saxophonist who performed here for decades afterward and reportedly also worked with singer Patti Page.
Though we don't know for sure who was in the quintette in '49, seven years later, when Getz's group recorded a self-titled LP for MGM seven years later, it included Milwaukee stalwarts like guitarist Don Momblow and pianist Sig Millonzi, along with bassist James Del Pierre and drummer Clyde Hornburg.
An interesting side note: Getz recorded a number of sides released on 78s, including this quirky one called a "Mystery Disc," that played two different songs on the same side depending on which of the two side-by-side grooves you dropped the needle into:
The sole press mention of the Continental run talked more of Holiday's woes than the shows or her music.
"Billie Holiday, song stylist who opens at the Continental Theater bar Friday, was making as much as $5,000 a week just a little more than a year ago. Then she took a drug cure, and the skeptics shook their heads sadly, saying that Billie was through. She's now on the complete mend – and well on the way to reaching again that $5,000 a week goal."
Despite personal and professional struggles, Holiday continued to create and in 1952 signed with Verve Records, where, to my ears, she made some fabulous sides ("Comes Love"!).
That same year, Billie returned for what appears to have been a one-night stand at the long-since-demolished Riverview Ballroom, which stood on the northwest corner of Cambridge and North, now the site of a UW-Milwaukee dormitory.
Other than an advertisement with a photo of a dour photo of Holiday, I found nothing on this appearance, beyond the fact that it was promoted by politician, civic leader and civil rights leader Isaac "Ike" Coggs.

In '53, she was back in town to perform "a limited engagement" at the Ron De Voo Ballroom, which hosted a mix of live music, boxing and wrestling events in a ballroom in the Bahn Frei facility run by Milwaukee's Turnerverein on the North Side.
You can read an in-depth story about the Bahn Frei – which still stands today at 11th and North – here.
Again, details are fuzzy, but it appears that Holiday opened on Aug. 8 and performed nightly through Aug. 11. In a familiar refrain, the press paid little attention again, with but a single, short mention.
"The girl who popularized the tune, 'I Cover the Waterfront,' is back in Milwaukee at the Ron De Voo Ballroom," the Sentinel noted. "Billie Holiday, with her rich, sultry voice and sporting a $11,000 wardrobe should be a must on everyone's calendar."
As Holiday's health continued to fail her, she continued to record and tour and in 1958, she returned to Brew City for a week-long run.
Following on the heels of a one-night stand by the 18-piece orchestra of her early collaborator Count Basie, Billie took up residence at the fabled Brass Rail on 3rd and Wells, performing with pianist Mal Waldron.
Local singer Tommy Sheridan and his trio opened for the six-day stint beginning on July 29, and it seems from one source that there were multiple shows, at least on some, if not all, nights.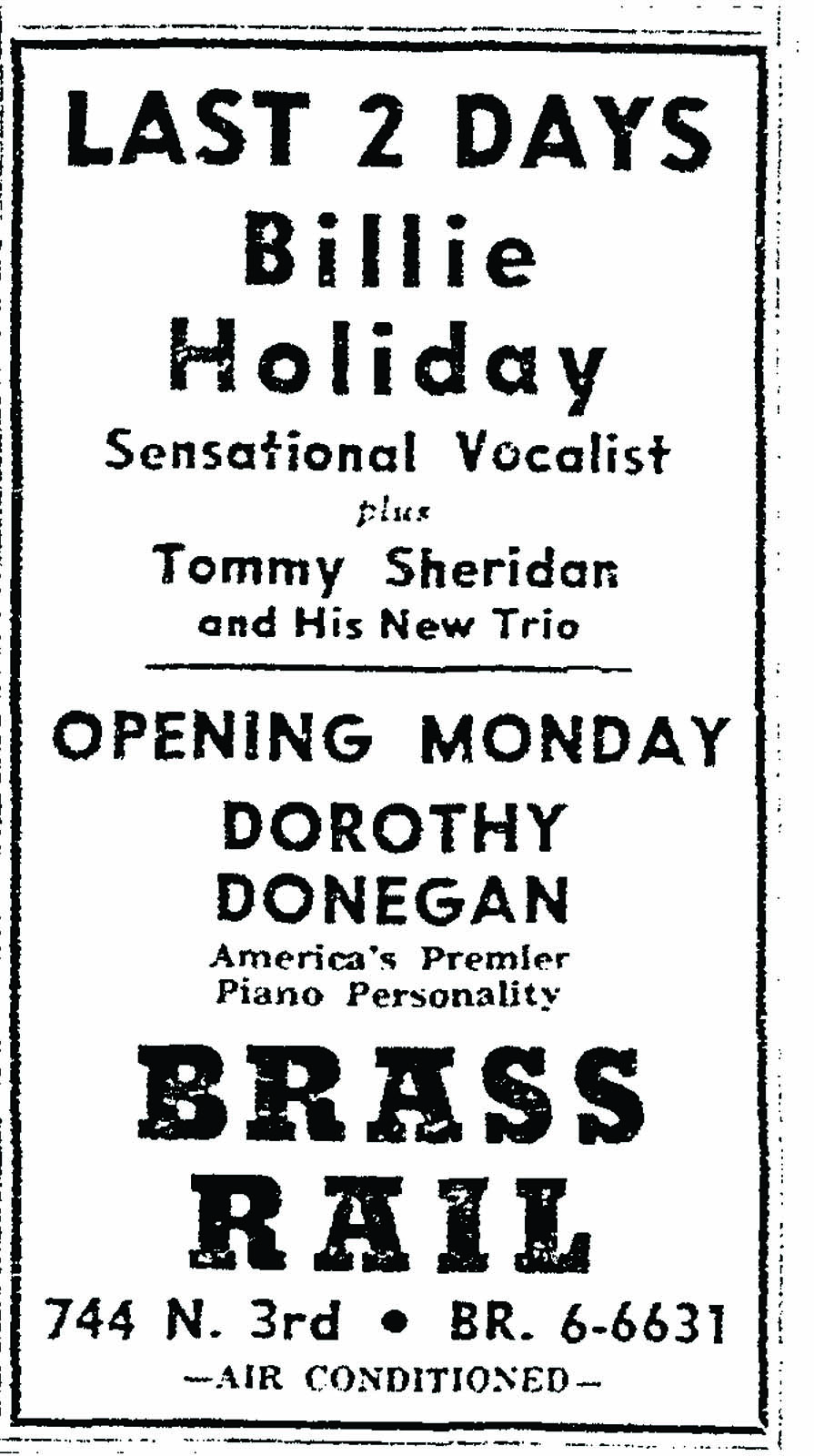 Fortunately, we have two records of this Milwaukee swan song.
The Milwaukee Journal reviewed opening night, writing, "Eleanora (Billie) Holiday slithered onto the stage in a low cut gown. She needed only a couple of numbers to convince the audience that she still had the blues touch.
"She went far back into her repertoire Tuesday night as she opened a six-night stand in the Brass Rail, 744 N. 3rd St. For instance, 'What a Little Moonlight Can Do' was first recorded with Teddy Wilson's orchestra when Billie was just 20.
"When she finished 'God Bless the Child,' there were sighs from the audience. She made several other standard blues numbers sound just right, including 'When Your Lover Has Gone,' 'I Only Have Eyes For You' and 'Willow Weep for Me'."
The Sentinel's Joe Boyd appears to have caught a later show – perhaps the second night – with his review running in the paper on July 31.
"Her evanescent, precarious voice has survived personal abuse which few other singing instruments could have withstood," he wrote. "That's an indication that God has blessed the child. She still has her own.
"The blues bird known as Lady Day will surprise those who accepted the widespread rumor that her voice has coarsened with years of adversity. It hasn't, at least not in the first set of the evening.
"'Easy to Remember' and "Oh, What a Little Moonlight Can Do' still have the wicked glitter they did 20 years ago ... Ellison of gossamer and husky tones is one of her geniuses. Her diction, from an academic point of view, is inexcusably sloppy, but to her fans it amounts to a new semantic dimension, imparting more subtle and varied meanings to familiar words.
"Billie looks grand. Her ebony hair swings below the shoulder blades in a pony tail Josephine Baker would envy. Her new, slender figure is fetchingly displayed in a gown which negotiates the curves and trails off in a train a duchess would be proud to kick around.
"Billie will be at the stand through Sunday night, ably back by her accompanist Mal Waldron. This is a good week to take a Holiday."
The review was headlined, "Jazz Singer Holiday Well Worth the Trip."
It's unclear what trip that referred to, but looking back more than 60 years later, a chance to see Holiday with Mal Waldron in a small club like the Brass Rail (which you can read more about here), would be worth a journey from most anywhere on the planet.
Alas, that appearance would be Holday's last in Milwaukee, as the following year, she was diagnosed with cirrhosis of the liver and in May she was hospitalized for that, as well as heart troubles. In her final days, lying in the hospital, she was again arrested and handcuffed on drug charges, a police guard assigned to her room.
On July 17, 1959, at the age of 44, Lady Day went quietly into the night.
Born in Brooklyn, N.Y., where he lived until he was 17, Bobby received his BA-Mass Communications from UWM in 1989 and has lived in Walker's Point, Bay View, Enderis Park, South Milwaukee and on the East Side.
He has published three non-fiction books in Italy – including one about an event in Milwaukee history, which was published in the U.S. in autumn 2010. Four more books, all about Milwaukee, have been published by The History Press.
With his most recent band, The Yell Leaders, Bobby released four LPs and had a songs featured in episodes of TV's "Party of Five" and "Dawson's Creek," and films in Japan, South America and the U.S. The Yell Leaders were named the best unsigned band in their region by VH-1 as part of its Rock Across America 1998 Tour. Most recently, the band contributed tracks to a UK vinyl/CD tribute to the Redskins and collaborated on a track with Italian novelist Enrico Remmert.
He's produced three installments of the "OMCD" series of local music compilations for OnMilwaukee.com and in 2007 produced a CD of Italian music and poetry.
In 2005, he was awarded the City of Asti's (Italy) Journalism Prize for his work focusing on that area. He has also won awards from the Milwaukee Press Club.
He can be heard weekly on 88Nine Radio Milwaukee talking about his "Urban Spelunking" series of stories.