Black Is Beautiful is a series of interviews with interesting, intelligent and immersed-in-their-passion local African American women.
Marquayla Ellison is a self described "hardcore Milwaukeean" who uses her creative skills and talents to improve the lives of many residents. Recently, she was hired by the City of Milwaukee Department of Health to create marketing materials that speak to underserved communities about the importance of COVID-19 vaccinations and mask wearing.
"This is some of the most fulfilling work I've done in my life so far," she says.
Ellison started her design business, Ellastic Designs, when she was a junior in college and will celebrate its 10-year anniversary next month. Along with the Health Department, her clients include Historic King Drive BID, Near West Side Partners, Traci Braxton, Signature Dance Company, Milwaukee Film, Goodwill Industries of Southeastern Wisconsin, the ACLU-WI and more.
Ellison is also the president of Social X MKE, a young professional (YP) diversity and inclusion consulting group. "Our goal is to entertain and retain," she says.
OnMilwaukee recently chatted with Ellison about her many endeavors and her thoughts on living and working in Milwaukee.
OnMilwaukee: Are you a lifelong Milwaukeean?
Marquayla Ellison: Yes, I was born and raised in Milwaukee. As a kid, I lived on the North Side, and for all of my adult life I've been on the East Side and Riverwest.
Where did you attend high school? College?
I graduated from Harold S. Vincent High School and UWM (University of Wisconsin-Milwaukee) in design and visual communication.
You mentioned your mom had a huge influence on your passion for entrepreneurship. Can you share more about that?
My mom is a serial entrepreneur. She was also a single mom, so I used to tag along with her a lot to her meetings and watch my brother. But I also sat and watched her work. Watching her was very inspirational to me. So starting my own business came very naturally to me.
You started your first and current business while you were still in college, right?
Yes, I started my design business, "Ellastic Designs," 10 years ago next month when I was still a junior in college. I have many different clients, from small businesses to the City of Milwaukee, where my role is to help them visually communicate the missions and goals of different efforts.
Lately, I've done a lot of work (for the city) around COVID-19 – the mask mandate and encouraging folks to get the vaccines. My job is to find ways to simplify and visually communicate the importance of these things to black and brown communities. Making sure it's relatable content everyone can understand.
How is this work fulfilling to you?
My work challenges me. And there's a lot of variety in the work, which I need. I enjoy doing work for so many local businesses because then I get to sit back and watch them flourish and know that I helped them get there.
As a hardcore Milwaukeean, it feels good to curate designs that speak to what I love about Milwaukee, or what I'm questioning or concerned about Milwaukee. I'm a professional who's navigated predominately white spaces, but it's really great when I'm able to cater to black and brown people in the city.
The work I've been doing with the Health Department is some of the most impactful work I've done in my life. I did the design for the free-mask program. The City of Milwaukee was to distribute 500,000 cloth, reusable masks in the city and they hired me to help spread the message that would distribute more masks in more neighborhoods. The program was super successful and distributed 580,000 masks throughout the city.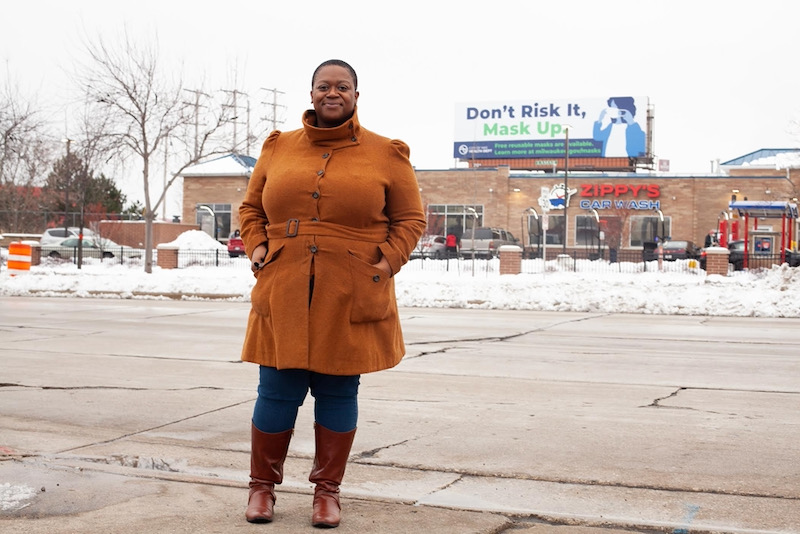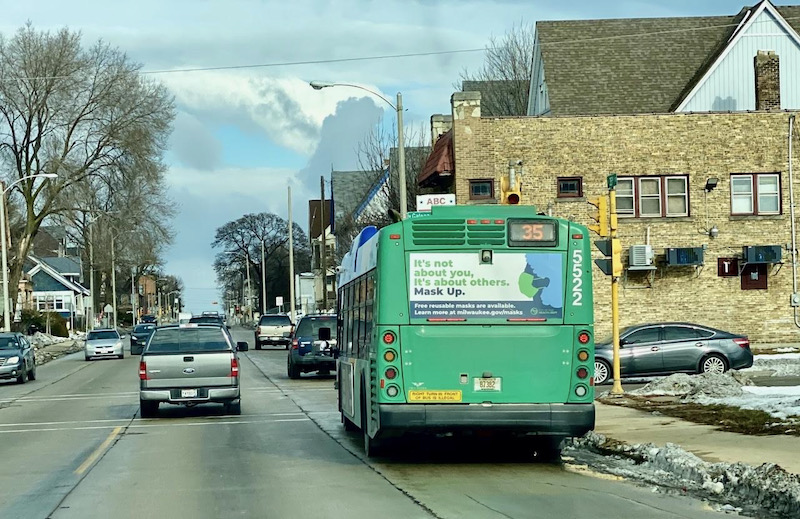 What specifically did you design for this campaign?
I did all the marketing materials, signage and billboards. They were all translated into Hmong and Spanish to make sure these communities were getting the messages. I also hosted town meetings in different neighborhoods to address some of the misconceptions people had about getting vaccinated and to help relieve their concerns.
Didn't you design a label for Broken Bat Brewery recently, too?
Yes, it was for a limited-edition stout called "Black is Beautiful." All of the proceeds went to the Milwaukee Relief Fund.
You are also the president of Social X MKE. Can you share a little more about this group?
Our mission is to entertain and retain young black and brown professionals. We provide opportunities for them to network and connect throughout Milwaukee. We have about 4,000 people who follow this group. I became the president in 2018.
What other volunteer and / or professional roles do you hold?
I am the chairwoman for the City of Milwaukee Millennial Task Force; a mentor for the UWM African American alumni and I assist with UWM's Peck School of the Arts arts design and visual communication program which means I frequently return to assist the students in various different ways.
Have you ever thought about moving from Milwaukee?
I thought about it during college. I considered moving to Austin, Tex. But overall Milwaukee is good to me. Business is good. Life is good. I'm fine being here. As long as I can still travel.
Where do you like to travel?
I do a lot of solo traveling: Seattle, New Orleans, Orlando.
What is one thing you don't love about Milwaukee?
I wish there was a bigger sense of pride, outside of sports. I wish we got more recognition for the artists here. When I travel, I feel this sense of deep pride that fluctuates in Milwaukee. It comes and goes around the peaks, but doesn't remain when things are low. Sometimes I wish Milwaukee had a better self image.
What is one thing you love about Milwaukee?
How easy it is to make connections and seeing people I know wherever I go. I go to Pick 'N Save and I always see people I know. I enjoy that. I never feel alone. We're all just two degrees of separation in Milwaukee.
Follow Ellastic Designs on Instagram here and Facebook here.

Molly Snyder started writing and publishing her work at the age 10, when her community newspaper printed her poem, "The Unicorn." Since then, she's expanded beyond the subject of mythical creatures and written in many different mediums but, nearest and dearest to her heart, thousands of articles for OnMilwaukee.

Molly is a regular contributor to FOX6 News and numerous radio stations as well as the co-host of "Dandelions: A Podcast For Women." She's received five Milwaukee Press Club Awards, served as the Pfister Narrator and is the Wisconsin State Fair's Celebrity Cream Puff Eating Champion of 2019.