Black Is Beautiful is a series of interviews with interesting, intelligent and immersed-in-their-passion local African American women.
Angela Lang is a lifelong Milwaukeean who is currently the executive director of Black Leaders Organizing For Communities (BLOC). The organization's mission, according to the website, is "unapologetically advocating for issues, policies, and candidates that directly impact people of color in the City of Milwaukee."
Specifically, this means focusing on issues including mass incarceration, racial bias in police forces, achievement gaps in education, economic inequality and more.
"The best way to fix a problem is by starting at the root: that's why we're listening to voices from our community and fighting for measures that will actually make an impact," says Lang.
OnMilwaukee recently caught up with Lang and chatted about her work, her commitment to Milwaukee and her discontent with East Side parking.
OnMilwaukee: How long have you lived in Milwaukee?

Angela Lang: I was born and raised in Milwaukee. I went to Riverside High School and went to UWM. It wasn't my intention to stay here for college but it was hands down one of the best decisions I made.
What is your current job title and what do you do?
Although I'm the Executive Director of BLOC, I still consider myself an organizer at heart. We work to have a year-round civic engagement program and do civic education so people understand the power and agency they have to participate in the political system.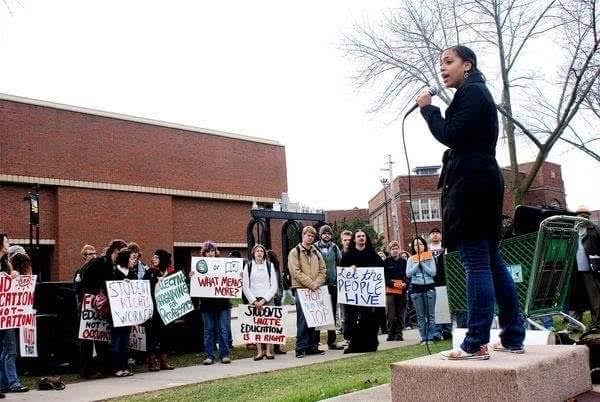 How is this work fulfilling for you?
I honestly don't know what I would be doing if I wasn't an organizer. I've been organizing for almost 14 years now and even when I tried to not organize, it just wasn't in me. I love being able to build real meaningful relationships. I think Milwaukee, while it has its challenges, has so much beauty and potential and I want to be a part of that.
How does your work move Milwaukee forward?
We believe that the people closest to the pain are closest to the solution. We need to make sure that our community is represented, heard, and centered in policies directly impacting our community. Sometimes getting involved civically can be daunting, frustrating, or intimidating. If we are able to meet folks where they are at and have meaningful conversations about moving our neighborhoods forward, we can move Milwaukee forward.
How else are you involved in your community?
In addition to BLOC I currently serve on the board of Diverse and Resilient as well as Vice President of the ACLU of Wisconsin Board.
What is one thing you love about Milwaukee?
I love how resilient we are as a community. We have gone through so many tragedies over the years and we always find a way to pull together and get through it together.
What is one thing you don't love about Milwaukee?
I hate winter parking on the east side. I'm so grateful to have an indoor parking spot now but street parking and digging your car out of the snow sometimes on some really narrow streets is the worst!
Why do you stay living in Milwaukee?
I've never lived anywhere outside of Milwaukee. It wasn't something I intended to do, I dreamed of living in New York and it just didn't work out the way I planned and so I stayed here. Since then, staying here has been a choice. I've thought about leaving but Milwaukee is my home. In some ways I feel like Milwaukee raised me and I'm not ready to leave just yet.

Molly Snyder started writing and publishing her work at the age 10, when her community newspaper printed her poem, "The Unicorn." Since then, she's expanded beyond the subject of mythical creatures and written in many different mediums but, nearest and dearest to her heart, thousands of articles for OnMilwaukee.

Molly is a regular contributor to FOX6 News and numerous radio stations as well as the co-host of "Dandelions: A Podcast For Women." She's received five Milwaukee Press Club Awards, served as the Pfister Narrator and is the Wisconsin State Fair's Celebrity Cream Puff Eating Champion of 2019.