Black Is Beautiful is a series of interviews with interesting, intelligent and immersed-in-their-passion local African American women.
Black Is Beautiful is a new series of interviews with interesting, intelligent and immersed-in-their-passion local African American women.Milwaukee's Angela Smith lives and works for beauty, healing, self-awareness, change and empowerment. Specifically, under the company name The Zen Dragonfly, she is certified holistic life coach, tarot and osteomancy (divination using bones, shells, curios and found objects) reader, certified crystal Reiki master, Reiki master teacher, herbalist, doula, yoga instructor and community activist.
She's also an incredible conversationalist, empath and infuses the space around her with warmth and wisdom.
After many years of working for Milwaukee-based companies and non-profits, Smith decided to move her work into her home, a welcoming-three story building in the Merrill Park neighborhood. Working from her home, and for herself, has been one of her best decisions to date, and she says it allows her to fully unleash her gifts and talents.
"It was a new beginning for me, pure freedom. I just couldn't let it all out – the whole me out – until I worked for myself, in my house," says Smith.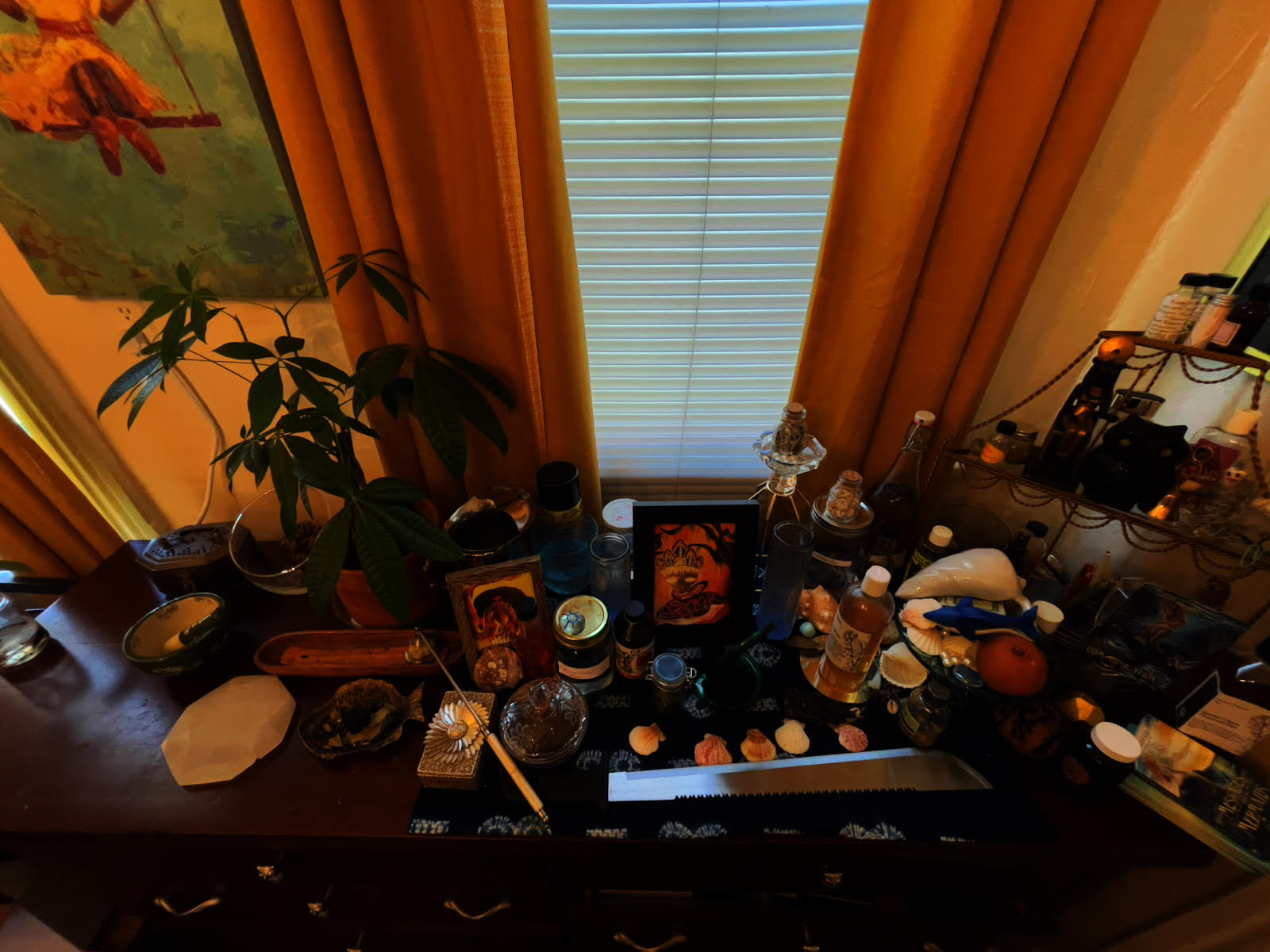 During a recent visit, I had slated 90 minutes for our interview, but ended up spending hours with Smith, talking, laughing and getting my very first "bone reading." (Like a tea leaf or tarot card reading, but with bones and trinkets instead.) Here is a portion of our illuminating conversation.
OnMilwaukee: Where were you born and raised?
Angela Smith: I was born in Alabama, in a little town called Anniston. When I was five, we moved to Milwaukee, and with the exception of seven years in Georgia, I've lived here ever since.
What led you back to Milwaukee after living in Georgia?
I missed my mother and father and I had nieces and nephews I had never met before. And Atlanta is really fast compared to Milwaukee. I was ready to slow down and come home.
Your house is obviously a very special place for you in which you've invested so much love and creativity. What is the story behind your house?
My mama drove past this house everyday dropping off my nephew at Marquette High School and one day she saw a "for sale" sign on it. This was the beginning. "Angela," she said. "I found this amazing house. You have to look at it." But when she told me where it was, I was like, "No way, lady, I'm not gonna live over there." Back then, the neighborhood was baaaad. But my mama wanted to look at it anyway, and so we did. From the porch we could see what was going on: lots of drug dealing, people drinking in cars in front of the house. But instead of being turned off by it, my mama said, "Angela you could stop this. You are that fierce." The house would become a place for family, friends, clients and Airbnb guests to recharge and rest their heads. My house is a constant work in progress – like all of us.
So did you make positive changes to the neighborhood and, if so, how did you do it?
I was vigilant like a little security guard all the time. If someone was in front my house, I would ask them to move. I was bold. I would walk onto my porch at any time – 2 a.m., 3 a.m. – and I'd sit on my porch with my phone in view. Sometimes people would say to me, "What's up? We don't want any problems," and then I'd say, "well then you gotta keep it moving."
Were you ever scared?
I wasn't so much scared as I was determined to live in my home in safety and peace. Over the years a lot changed. People started to care more about where they lived. More houses were sold as family homes, not just investments. The neighborhood started to look different as more white people moved in.
As a long time homeowner, does the gentrification of the neighborhood bother you?
Of course it does. I get letters all the time from investors asking me if I want to sell my house. And most of these people don't live in the state. I understand why it's so desirable. It really is a great neighborhood and it's close to the expressway. But there are people who need affordable housing all over this city and I would never sell my house to an investor.
I don't know much about the Merrill Park neighborhood. Can you share a little more?
This is a neighborhood has always been a very mixed neighborhood. And the majority of the people here are just trying to live their best lives and give their kids the best lives they can, too.
It had a neighborhood association and I feel it was a bright and vibrant location at one time, homes owned by generations of families and easy to get around. I feel like it's coming around again slowly.
Where did you go to high school? College?
I went to Brown Deer High School. I was in the 220 program when it started. I should have gone to (Rufus) King. That would have been my neighborhood school. At Brown Deer, I continued my love for French and loved the DECA program that helped me to have the confidence to speak in public. After high school I got a scholarship to Carthage College and a car from my daddy to get me to stay in the state for school.
I majored in International Business and French. Although I didn't finish, I did work in my field of study for a short time. I do see how it helped me where I am now.
So then what did you do after college?
I started a sewing business. I have been sewing since I was 13. I started making high-end Edwardian children's fashion from African fabrics. Then I started making hats, too. I was wearing the first hat I ever made at Pieces of Eight (now Harbor House) and this lady comes up to me and says, "That hat is stunning where did you find it?" I told her I made it and she bought it off my head. I started my business Soul Stitch shortly after.
Then I worked for Milwaukee Seasonings in customer service and the Milwaukee Public Theater as an artist coordinator, which I loved.
My last job working for someone else was at Walnut Way, where I worked for five years. I started working my business The Zen Dragonfly full time in 2018. It was a new beginning for me, pure freedom. I just couldn't let it all out – the whole me out – until I worked for myself, in my house.
So tell me about your business?
It's called The Zen Dragonfly, and I offer many different services. I'm a certified holistic life coach, intuitive tarot and bone reader, a certified Reiki master, an herbalist, spiritual doula, yoga instructor and natural healer. I also host drum circles, offer healing ritual baths, retreats and make natural products.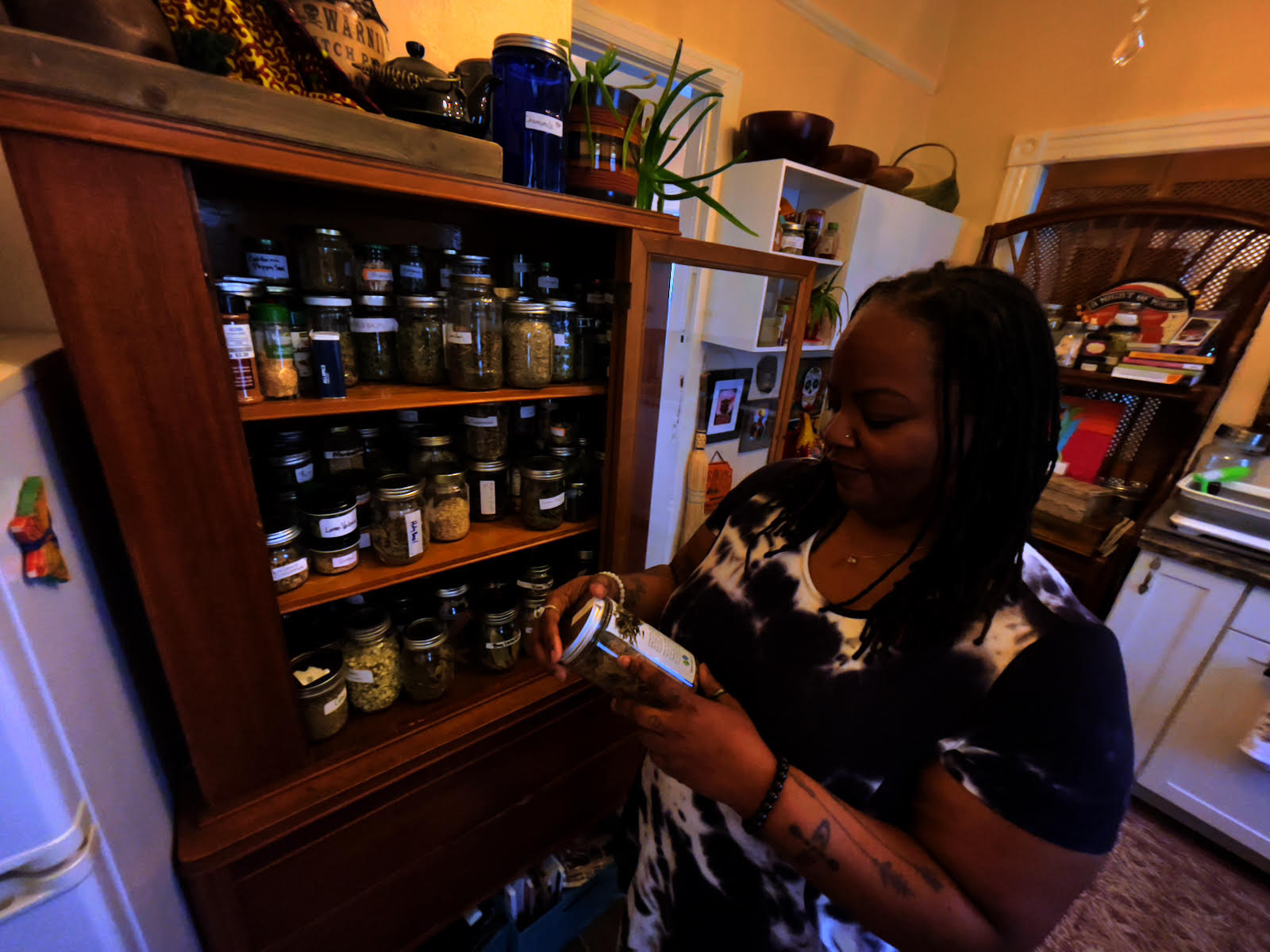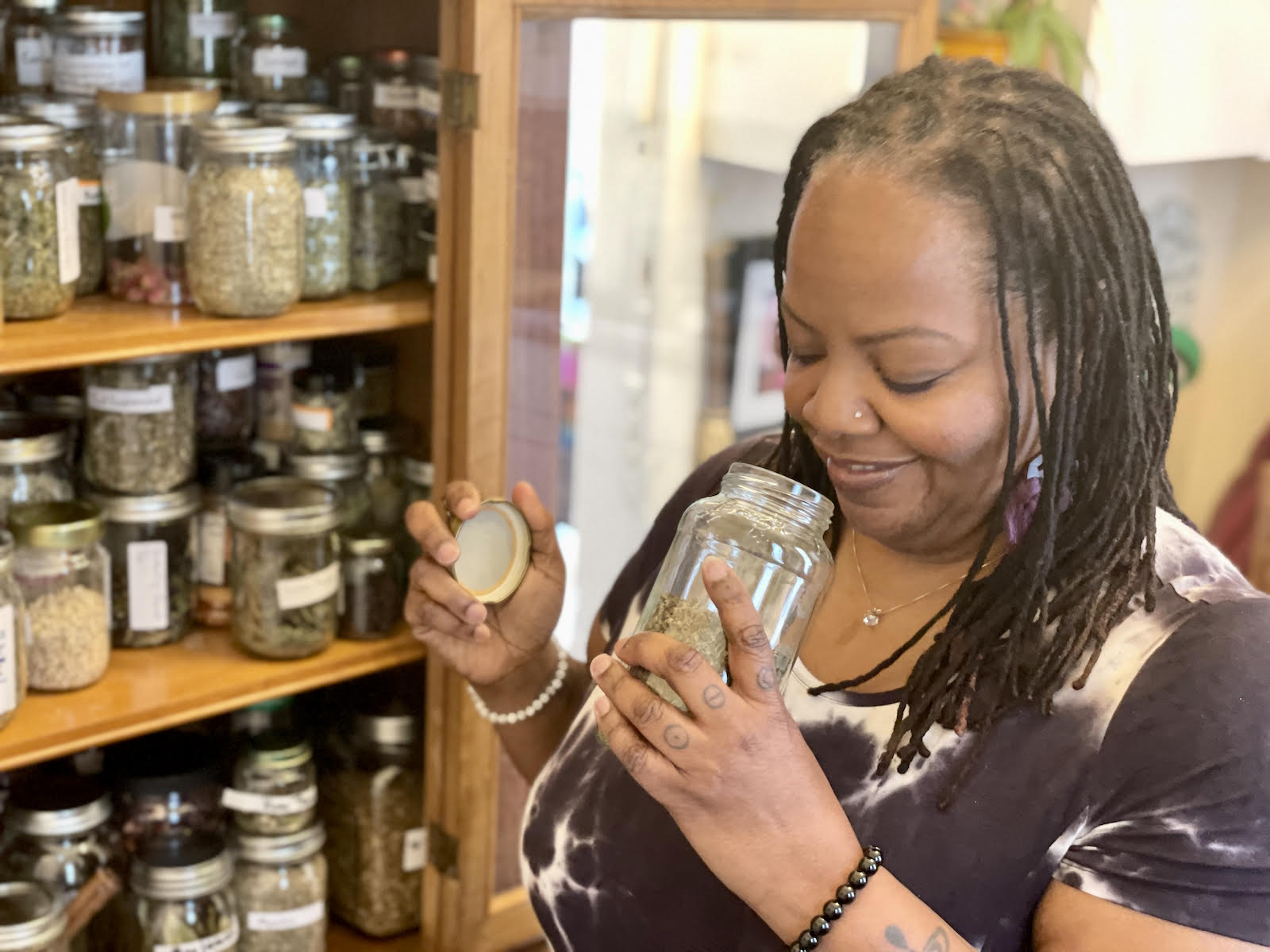 Most of these things I learned because there were so few Black people at these tables, doing these things. I wanted to learn as much as I could and then teach more people of color how to do it themselves.
Do you have family members with similar gifts?
Yes. My grandmother and my aunties. They taught me, loved on me, and breathed their life and culture into me. They treated me like I was a baby goddess. Over the years I have trained and gotten certified in some areas, but for the most part, it still feels like this work and life have been lived by me before – it's something I already knew. A way that comes to me very naturally. It is both my lifestyle and my work – in this old house, 365 days a year. It has been my joy to share this with others.
Last year during the pandemic I started the School of Good Juju. It has been a way to share my practice in empowerment, manifestation and abundance through old Black Folk traditions shared with me through my family, study and my daily practice. A way to keep what we call the Ashe flowing (ashe is life force in all living things). I am thankful for the ancestors' presence in it.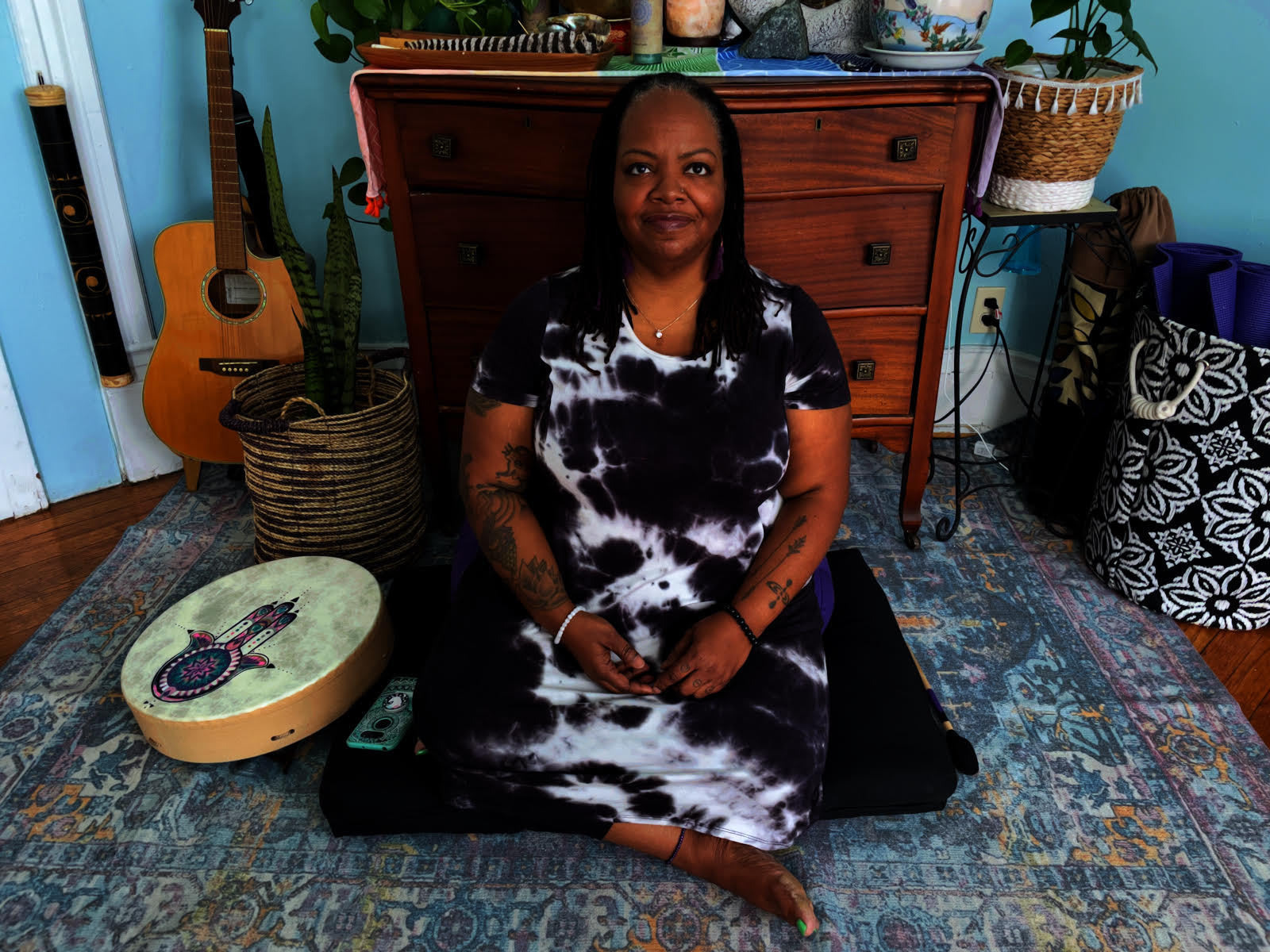 Molly Snyder started writing and publishing her work at the age 10, when her community newspaper printed her poem, "The Unicorn." Since then, she's expanded beyond the subject of mythical creatures and written in many different mediums but, nearest and dearest to her heart, thousands of articles for OnMilwaukee.

Molly is a regular contributor to FOX6 News and numerous radio stations as well as the co-host of "Dandelions: A Podcast For Women." She's received five Milwaukee Press Club Awards, served as the Pfister Narrator and is the Wisconsin State Fair's Celebrity Cream Puff Eating Champion of 2019.