Black Is Beautiful is a series of interviews with interesting, intelligent and immersed-in-their-passion local African American women.
Black Is Beautiful is a new series of interviews with interesting, intelligent and immersed-in-their-passion local women of color.
Deirdra Kendrix moved to Milwaukee from the East Coast almost a deacde ago, and during this time found the love of her life and built a successful business that is now flourishing in both Wisconsin and Texas.
Milwaukee, however, is still – and will always be home – to Kendrix.
OnMilwaukee: Where were you born, raised, etc.?
Deirdra Kendrix: I was born and raised in New York and spent most of my life on the East Coast. My formative to college years were predominantly spent between Long Island, NY and Brooklyn, NY. I went to high school in Queens. After high school, I went to a college no one has ever heard of. It's not exactly Marquette, but I'd say it got the job done, lol.
OnMilwaukee: How did you end up in MKE?
DK: Prior to moving to Milwaukee, I spent my entire career in banking. In 2012, I received an email from a headhunter who said the Bank of Montreal (we know as BMO Harris) had acquired M&I Bank. They were restructuring a bit, and creating room for some new senior leadership, and thought my experience seemed suited for an area president role in Milwaukee or Central Wisconsin.
I will never forget my first reaction. I was like: who lives there?! No really, clearly people lived here, but I couldn't think of absolutely any I knew that did. I had no intention of responding to the email. Shortly later, I was talking to a peer mentor of mine and I mentioned the email. He asked me when I was interviewing, and I was like, "Are you kidding me? I'm not pursuing this. It's in Wisconsin."
And then he said, "I didn't realize that you – a person without the concern of having children or family to worry about – have reached this point in your professional career that you can pick great opportunities based on geographical preference." It was such a grounding moment. It immediately hit me. I told him, "You're absolutely right." At the end of the day, it was really fear of the unknown because I had never lived anywhere except the East Coast. I was within a 5 hour drive to anything and anyone who meant the world to me.
So I interviewed for the job and ironically they decided I was best suited to lead their Chicago region. I completely shocked myself when my response was "I'll only take the job if you put me in Milwaukee, Wisconsin."
Why did you want to move to Milwaukee? Had you been here before?
I had never been to Milwaukee prior to the interview. But after recognizing that fear was driving my hesitation, I dove headfirst into researching the city. While there was a ton of rich history and strong city pride, the city carried dismal statistics for people of color. But that's exactly what made me want to go to Milwaukee. I felt that even though Black women executives were rare in banking, in Chicago, there's almost one of me on every corner looking to make an impact. Here, in Milwaukee, it was clear there just wasn't enough of "me" at the right tables to make a deep and consistent impact. I wasn't looking to be a savior or hero, but I simply loved the opportunity to come to Milwaukee to try to make a difference, wherever I could, and however I could.
So are you still happy with your decision?
Absolutely! It was the best decision of my life. At first, the plan was to come and only stay for two years. But then I shifted roles and I met the man who is now my husband and well, the rest is history. (Her husband is Ossie Kendrix, CEO, African American Chamber of Commerce.)
What's your current job title and what do you do?
On paper, I'm the CEO and Chief Strategist of DC Global Group. We are a boutique consulting firm currently based in Milwaukee and Dallas. We specialize in executive advisory and organizational culture and strategy. We call ourselves cultural gladiators. At the end of the day, we get into the arena of business and life with our clients, and we help them get unstuck - we help them do the hard soul work required to deliver the transformation and profitable wins they want and need.
So you help businesses with diversity or inclusivity?
Yes, and a lot more than that. Our initial business model and scope was all about helping companies to implement intentional diversity and inclusion strategies into workplaces. But what I discovered was that diversity is a small part of a much bigger issue. So we took a much deeper look at outcomes, or the lack thereof, and asked ourselves, "how do we provide deeper value?"
It became pretty clear that our mission needed to shift to helping unlock the hidden power of leadership and culture in every person and company. And that's exactly what we do! We do that by taking leaders and organizations back to the basics of leadership and culture. Our services include everything from executive coaching to leadership programs, workshops, keynotes, and training around creating belonging and community.
How is this work fulfilling for you?
I call myself a "recovering executive." I have two long decades of career experience that left me obsessed with creating authentic spaces for transformation and growth.
I thrive when I see humans evolving and experiencing a life they didn't think they could have. And I'm beyond energized when businesses are living out their mission and values in a way they didn't think was possible. It's such a privilege to show up as the gladiators I was afforded to encounter and witness throughout my leadership journey. It's even more of a blessing to show up as what I needed but didn't have during the two long decades of my corporate experience.
How does your work move Milwaukee forward?
While our client roster includes Fortune 100 and 500s in Milwaukee and beyond, a certain sector of our client roster is reserved for non-profit and small Black businesses. Our non-profit partners are responsible for some of the heaviest lifting in the city and state, yet they don't typically have the budget for our kinds of services, so we make it accessible, and give the corporate (level) executive support they need. When you create space to serve the soul of organizations that are the soul of this city you can't help but contribute to a collective ascension and growth.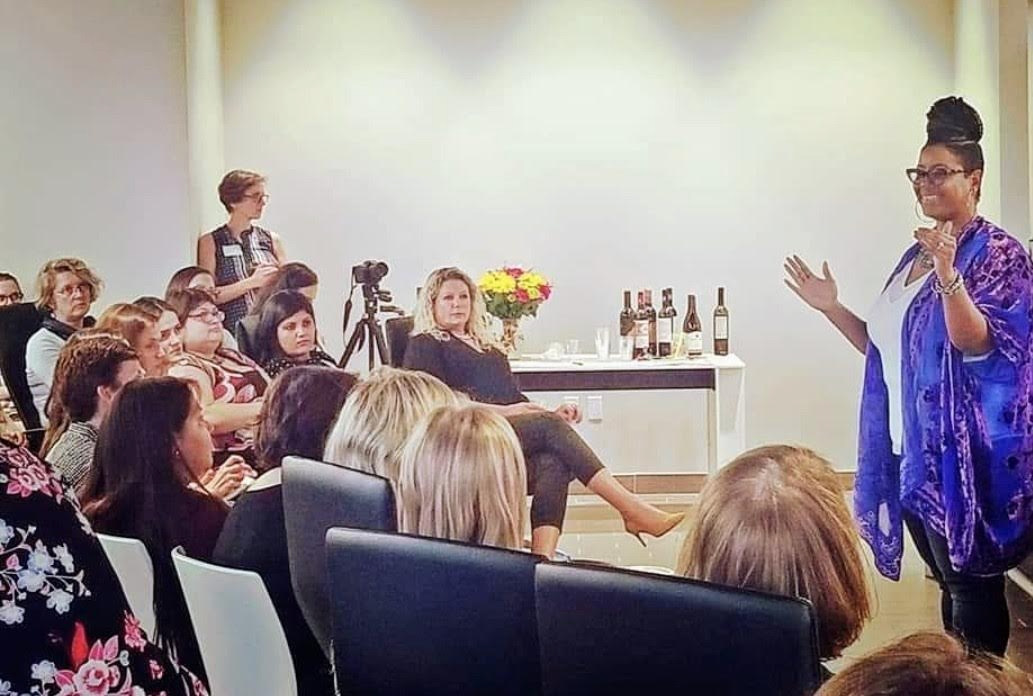 Do you ever think about moving from Milwaukee?
So we currently split our time between Milwaukee and Dallas. My husband was born and raised in Milwaukee and I've lived here for eight years. Milwaukee is our home base. That feels right within my soul and spirit.
Did the pandemic change your business?
Yes, the pandemic changed my business. During the pandemic, two things happened. For one, we established some pivotal relationships in Texas. The other thing that happened is I realized the need for me to actually be in the room shifted. My clients needed more access to me, but they don't need me to physically be in the same room. Now, 80 to 90 percent of my work is done remotely and virtually, which actually allows me to service more partners in more creative ways.
What don't you love about Milwaukee?
There's not much I don't love. But I don't like that it's so dark and so cold for so long throughout the year. The second thing, as Milwaukeeans we get in our own way for the tomorrow we really want to see for our beloved city. We are a city of individuals who want a ton of change but we fight against it and dismiss it when it shows up in ways that we don't recognize or can't 100% percent connect to.
What do you love about Milwaukee?
Oh. My. God. I'll name just a few things. We are the only city that I know where everyone knows your name even if they don't really your name. Ha! The whole city is Cheers. Milwaukee is very family-oriented and full of people who love to congregate in a deep and intentional way.
I also love how defensive we are about the way people view us. We can talk about us, but you better not try to talk about us.
Finally, Milwaukee summers are legit the best. The festivals, the food and there literally is a happy hour on every corner.
Watch this fun video with Deirdra and Ozzie from 2019 as they drink a Tiki Love Bowl and talk about their relationship.

Molly Snyder started writing and publishing her work at the age 10, when her community newspaper printed her poem, "The Unicorn." Since then, she's expanded beyond the subject of mythical creatures and written in many different mediums but, nearest and dearest to her heart, thousands of articles for OnMilwaukee.

Molly is a regular contributor to FOX6 News and numerous radio stations as well as the co-host of "Dandelions: A Podcast For Women." She's received five Milwaukee Press Club Awards, served as the Pfister Narrator and is the Wisconsin State Fair's Celebrity Cream Puff Eating Champion of 2019.