Black Is Beautiful is a series of interviews with interesting, intelligent and immersed-in-their-passion local African American women.
Karole Shirley Kimble's godmother was Vel Phillips. Her uncle was Don Shirley, the jazz musician portrayed in the film "Green Book." Her parents were friends with Martin and Coretta King.
Equally as interesting is that Kimble, who is Black and in her forties, grew up in the Milwaukee suburb of Bayside where even currently the population is 2 percent African American. She was also an intern to legendary local TV news anchor Jill Geisler when she was 14 years old.
Today, Kimble continues to live an extraordinary life – still in the northern suburbs of Milwaukee – with her husband and two "miracle" children. (More on that later!) She owns and operates a marketing company, Kimble Communications, that focuses primarily on crisis communications, diversity, equity and inclusion, and organizational development. Her clients are some of the biggest names in Milwaukee industry.
"We have the opportunity to recreate the power structure of the United States," says Kimble. "And we must."
Read on for a fascinating interview with one of Milwaukee's fiercest women who delves into topics like growing up Black in an all-white suburb, what her family really thinks about the film "Green Book," and details from the outings and weekends her parents spent with the Kings.
"My family has had a beyond-exceptional life," she says. "My sisters, brother and I had beyond amazing trails blazed for us."
OnMilwaukee: Where were you born and raised?

Karole Shirley Kimble: I was born and raised in Milwaukee County. My parents moved to Bayside after the Fair Housing Act was adopted. Vel and Dale Philips had become great friends of my parents, and even became my godparents. My father wanted to move out here partially because he wanted land and a quiet living, but the number one issue was the fact "they" said Black people couldn't live in these neighborhoods!
Your extended family has been incredibly successful in many aspects of life. How did education play a role in this?
Both of my parents were the fourth generation in their respective families to go to college; my generation being the fifth. This is almost unheard of in White America much less Black America. We are a family of doers – with a lot of educators and doctors. For us, going to college is not a choice or something to consider. It's like going to Kindergarten. We just go…
OK, I'm instantly fascinated by your family. Where did your mom and dad meet?

My dad and mom met at Atlanta University. They were there for their fifth and sixth degrees respectively.
Wait, what? 5th and 6th degrees each?

Yeah, my parents have 15 degrees and certificates between the two of them. Professionally, they are retired social and mental health workers - one was a psychologist and the other, a psychiatrist. Anyway, back to the "how they met story." My dad saw my mom whilst she was standing on the steps of the administration building. He found out who she was and switched classes so they would be in almost all classes together! They attended the same church while in Atlanta. That church was where Dr. (Martin Luther) King (Jr.) preached, and he and Mrs. Coretta (Scott King) asked some of the "poor graduate students" to eat meals at the Kings' house after service. My parents were able to spend a lot of time together with them, and they developed a friendship.
Your parents were friends with Martin and Coretta King?

They were. My father was always one of the ONLY students to own a nice, flashy car, which was rare for young, Black students back then and there. He would drive Dr. And Mrs. King away from the fray when it got to be too much, and they needed solace. They'd leave in the middle of the night and drive south to Florida and meet up with my uncles in Miami. My Uncle Edwin owned a yacht, and they'd all go out fishing to relax and decompress.
That's incredible! And you are related to the famous classical and jazz pianist and composer Don Shirley, right?

Yes, he's my uncle – my Dad's older brother. I affectionately called them, "The Brothers 4!" My father was the youngest. Now Uncle Donald had lots of amazing friends, as well. He was dear friends with Duke Ellington, Count Basie, Lionel Hampton, Paul Robeson, Josephine Baker, Judy Garland, Thelonious Monk, Quincy Jones, and other artists and savants. My family has had a beyond-exceptional life. My sisters, brother and I had beyond amazing trails blazed for us.
Your Uncle Donald was one of the two main subjects in the film "Green Book," but what did your family think about his portrayal in this film?

We were very unhappy with the film. It was the typical "white savior" trope. No one in my family was contacted in the writing or making of the film. And we are very easy to find. The are 65 of us in a Shirley family group on Facebook and we've been interviewed by people around the world, but not one person from "Green Book" bothered to reach out.
You mentioned earlier your dad recently passed away. What were some of the main things you learned from your dad?

My father was an amazing human being. He was very educated, professional, well-dressed man, but I watched him many times help the janitors take out the trash. He had no belief in a "station or class" in life. He would be wearing a three-piece suit, have his pipe in his mouth, and still empty trash cans, laughing and chatting with the janitors. He would get in the truck and plow snow in the parking lot, and then get out and toss salt over where he had just cleared. That was my dad. My mom was the same way. She was always the first woman of color in every position she held in the Milwaukee County Mental Health Complex, and if someone needed help, she was right there. They just taught us that they worked in HUMAN services, so everyone should be treated for their humanity and we should be of service.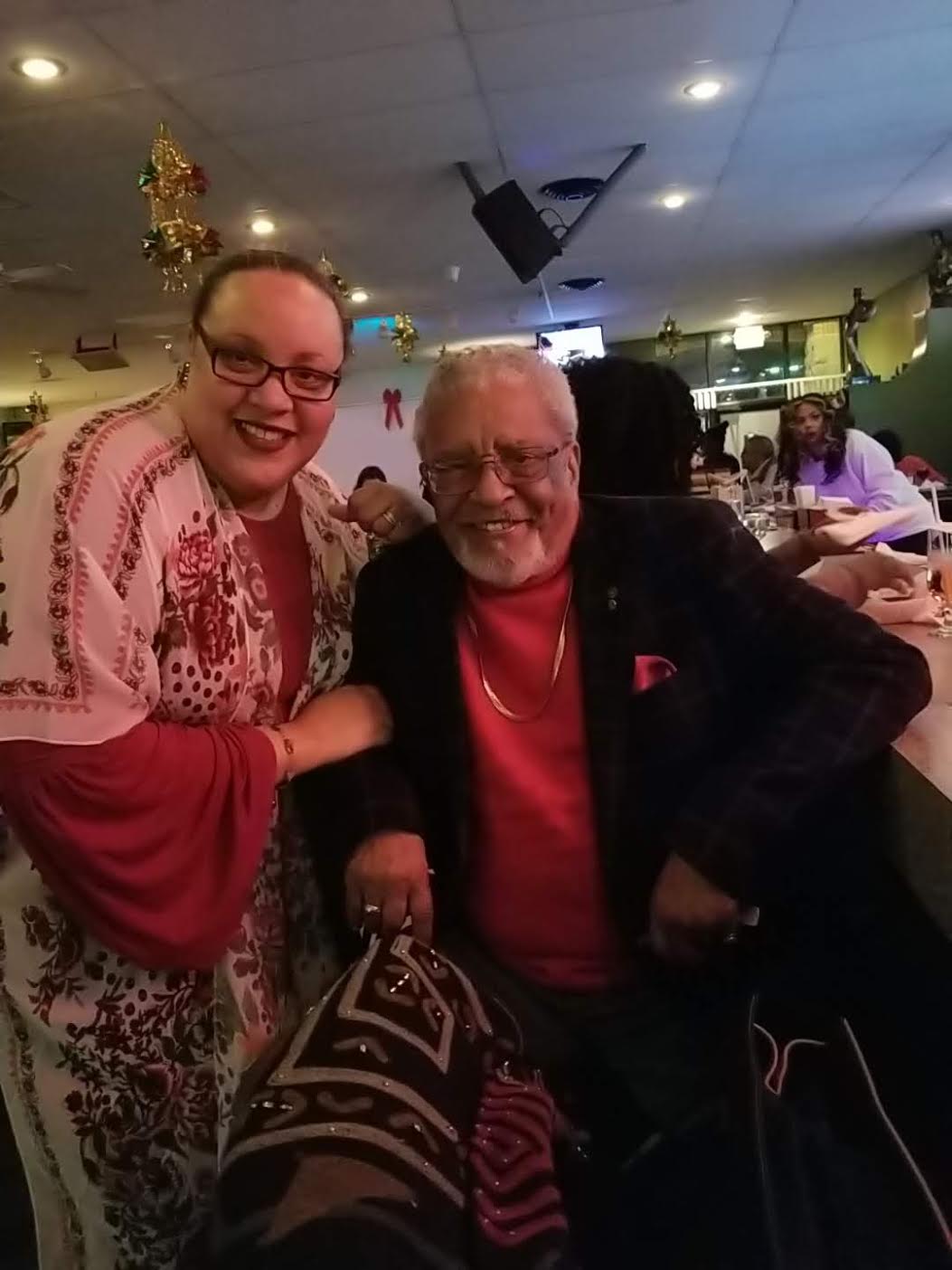 You grew up in the northern suburbs of Milwaukee. Where did you go to school and what was that like in the 70s and 80s? Were you one of only a few Black students?

I went to Indian Hill, Maple Dale and Nicolet High School. And yes, from K4 to 3rd grade there were only five Black students in my grade, and two of them were bussed through the Chapter 220 Program. From the fourth to eighth grades, there were only about 10 Black students in the entire school. By the time I got to Nicolet, the 220 Program had grown such that there was a larger representation of Black students which was amazing for me. Out of almost 2,700 students, probably 200 to 300 were Black, LatinX or Asian.
Wasn't it during high school that you first got into radio and television?
Yes. When I was a sophomore at Nicolet I was doing some modeling, and I did a presentation on scarves and shoulder pads at TJ Maxx. This dates me, I know. Shoulder pads! Anyway, Jill Geisler from Channel 6 (CBS at the time) walks in and stops to watch the presentation… I was shocked. I almost passed out when I saw her. I saw her many times on the news and was always in awe. She was such a beautiful woman – a former pageant queen – but, she was also smart and made people take her seriously, which was difficult back then.
After my presentation, she came right up to me and said, "Young lady you are amazing." We chatted, and she gave me her card and asked me what I wanted to do someday. I told her that I wanted to be an anchor, like her, and she told me when I was ready for an internship to give her a call. So, I called her two weeks later! Coincidentally, I found out that I needed to do an internship for an AP class. When Jill found out I was only 14 and still in high school, she was beyond surprised. I was 6-foot-1-inch by the time I was 14, and she thought I was in college! She gave me a chance anyway. I was mostly a gopher, but I also got to edit scripts. My grandmother was an English professor, and she drilled everything about grammar into us! I could spot a dangling modifier a mile away. I learned so much during that internship, not only from Jill Geisler, but also from Tom Hooper, Tom Pippins, Mark Concannon, Mike Miller, Nancy Chandler, and Mickey Leach – who is a brilliant photojournalist. Everyone was so incredibly good to me. After I graduated from Nicolet, I went to college and got another part-time job right away in radio and TV.
Where did you go to college?

I went to St. Augustine's in Raleigh, North Carolina. I was an honors student in high school, and my counselor had other plans for me, but I wanted to go to St. Augustine's. My grandfather helped found it as a college for Blacks, my dad graduated from there, and my older sister had just transferred there from Emory. I really needed to immerse myself in my culture. I needed to be around Black people. I am Black, but there was always a struggle, because I am multiracial. In high school, I was treated and often felt "too white to be black and too black to be white." Kids usually meant well, but white students (supposed friends) would come back from a vacation and "wanna compare tans" with me to see if they were darker than I. I really started to have an identity crisis by the end of high school, so going to a Black university with family ties was the perfect choice for me. And it was the best time of my life.
Before your current career, you were in radio and television. Is that what led you back to Milwaukee?

Yes. My dad co-owned a bar here, and because there was no way to listen to a radio station in another city back then, he would call me at the jazz station during my shows, and I would put him on hold. When you're placed on hold at a radio station, you can hear the live programming while waiting. So, I'd leave my dad on hold, and he would put a microphone up to the telephone receiver and blast my show throughout the bar. One day, Willie Davis and Don Rosette walked into the bar and asked who the DJ was. My dad proudly said something like, "That's my baby girl!" and then they told him, after listening a little longer, that they would like to interview me. I ended up getting offered a job, with Eric Von, on Milwaukee's 1290AM WMVP, which later became WMCS. We started "The Morning Magazine," and I also did sports and news reporting. I was there from 1992 to 1995.
What inspired you to transition from media to starting your own communications business?

I started to get irritated by how people of color were both treated and represented in the news. We were called a "niche market," and we are so much more than that. So, in 1994, I started my own business and in 1999, when I got married, renamed and incorporated the business I still have today, Kimble Communications, Inc.
So tell me about your family?

I met my husband in 1999. I walked into the salon where he worked, and he saw me and told everyone in there, that he knew instantly, I was going to be his wife. After one conversation with him, I knew he was to be my husband – it freaked me out, but I just knew! We were married only 6 months later. This went against every rule I had about dating and marriage, but I knew, in my spirit, he was the one. We've been married for 21 and a half years now, and have two beautiful, miracle children. They are miracles because we buried two and miscarried four before we had them. So, I count them among the greatest gifts I've ever received.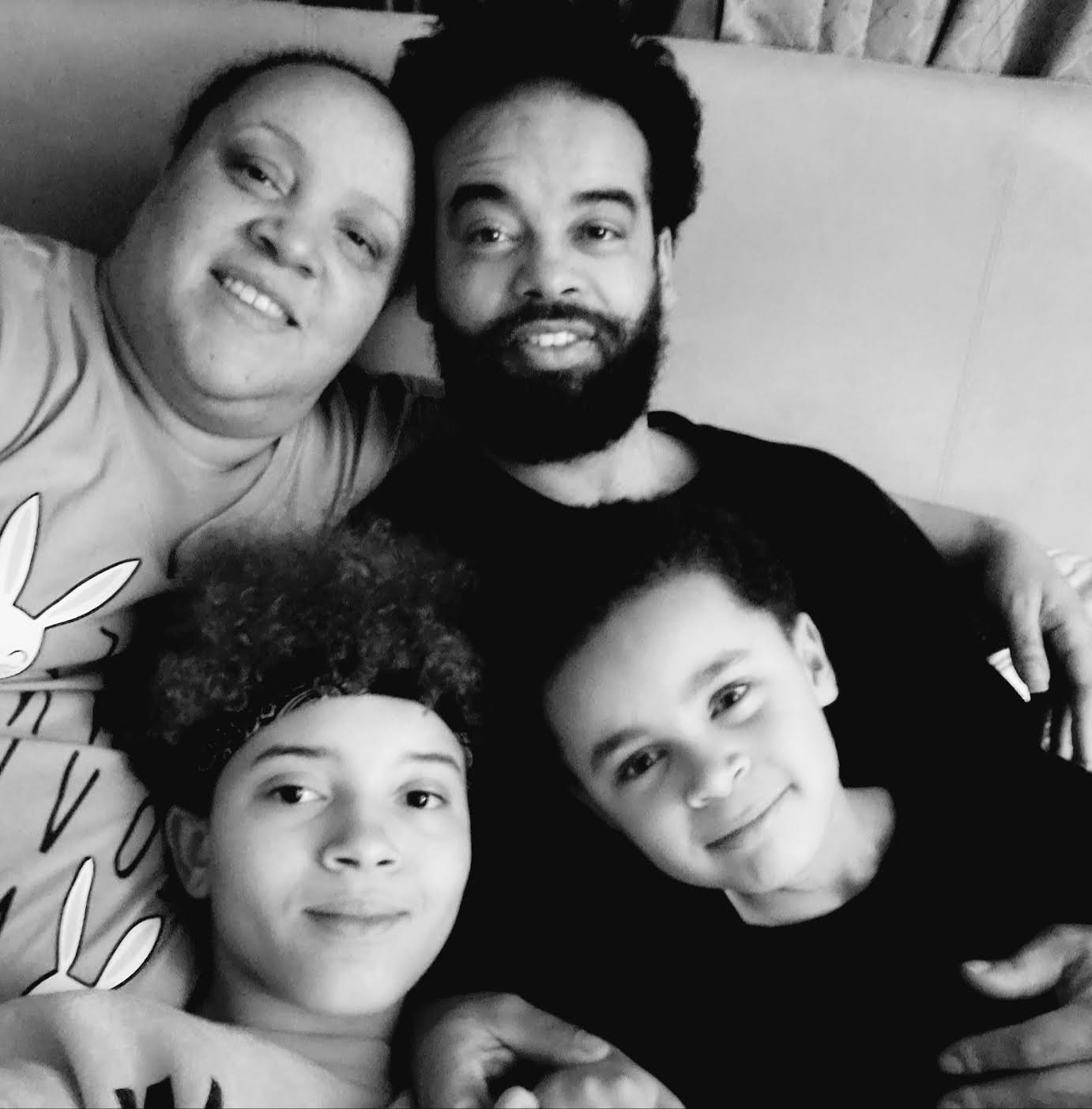 What services does Kimble Communications provide?

Communications of all kinds. One of the largest things I do is marketing, from branding to social media to direct marketing. The last 10 years, however, I have worked heavily with companies on crisis communications, diversity, equity and inclusion, and organizational development. I teach companies that "diversity" YES, is a sexy term these days, but it's NOT EVER a part of HR or a legal department. Once you assume that, you've lost all chance at really achieving real, meaningful inclusion, because then, it's a punitive thing vs. a cultural thing. And Diversity, Equity and Inclusion (DEI) is cultural. And I'm not only talking about ethnicity here, either. Particularly in the last five years, I have been stressing to companies to focus on learning to understand and appreciate their people, and to look at their people beyond a "bottom line." It's called "internal realignment." It's a human capital and value-based approach. When companies really value their creative people – I'm talking about the empaths, the intuitive, and even the introverts – and stop seeing them in terms of the outdated version of personnel or staff, that's when they really see productivity rise, expectations exceeded, and quantifiable, measurable success. And then, ironically, the bottom line is positively affected. It's simply good business acumen.
What is something predominantly white businesses unintentionally do wrong all the time but don't know it?

This is a great question. I have two answers: one pre-George Floyd and one post-George Floyd. In Black communities, we've seen much worse than what happened to George Floyd. George Floyd, most unfortunately, was a Tuesday to us. But, what happened to George Floyd affected more white people, and the world, than any of the other situations from the past. The concept of a man putting his hands in his pockets and looking indignant and pleased while taking another man's life. The palpable disbelief that you watched a man die – LIVE – at the hands of the very ones who are oath-sworn to "Serve and Protect," was a hard pill to swallow for some. A grown man crying out for his mother as he knows he's going to meet her again in death... this made white people stop and say, "Holy crap, this is so undeniably wrong!" So, pre-George Floyd, the biggest mistake was the continuation of the devaluation of who and what people of color – people of the global majority – represent. The thought that there are a different set of circumstances, abilities, concepts, talking points, and rules for people of color... when there should NOT be; and in so doing this, companies were and are missing huge opportunities for service, critical input, and ultimately, growth. They are missing values and viewpoints that can only increase their reach and thus, their bottom line. Now, post-George Floyd, the mistake is thinking that shame is a positive outcome and will affect change. When white people have a fear of saying and doing the wrong thing, it causes them to just freeze and not be able to take the necessary steps forward towards change. And then the issue can't be solved. It's talked about. It's planned for. But it doesn't happen, and then, nothing changes and opportunities are lost for everyone. This is what I deal with most often right now.
So what does this mean for the future?

We cannot get to a resolved and successful future without acknowledging the past, learning from our errors, forgiving our grievances and restoring all peoples wronged. We have the opportunity to recreate the power structure of the United States. And we must. The white male power structure is starting to come to grips – through great grief and consternation – with the fact that if we do not change the structure, the U.S. is going to fall off at an increased rate. We are already falling off in the global marketplace. In terms of technological breakthroughs, financially feasible manufacturing, brain trusts and academically/scholastically for our future leaders. This construct of racism is actually working against us, and it always has, but until our systems change nothing else can change. It's time for meaningful action.

Molly Snyder started writing and publishing her work at the age 10, when her community newspaper printed her poem, "The Unicorn." Since then, she's expanded beyond the subject of mythical creatures and written in many different mediums but, nearest and dearest to her heart, thousands of articles for OnMilwaukee.

Molly is a regular contributor to FOX6 News and numerous radio stations as well as the co-host of "Dandelions: A Podcast For Women." She's received five Milwaukee Press Club Awards, served as the Pfister Narrator and is the Wisconsin State Fair's Celebrity Cream Puff Eating Champion of 2019.