Black Is Beautiful is a series of interviews with interesting, intelligent and immersed-in-their-passion local African American women.
Robin Reese is pure Milwaukee: born here, raised here, highly educated here, raising a family here, contributing to the lively music scene here and working to make the city a better place every single day.
Currently, Reese serves as the manager of the Fond du Lac and North Avenue Business Improvement District #32. As a lifelong Milwaukeean and someone who grew up in or near the neighborhoods she represents, Reese is a natural fit for the work she does.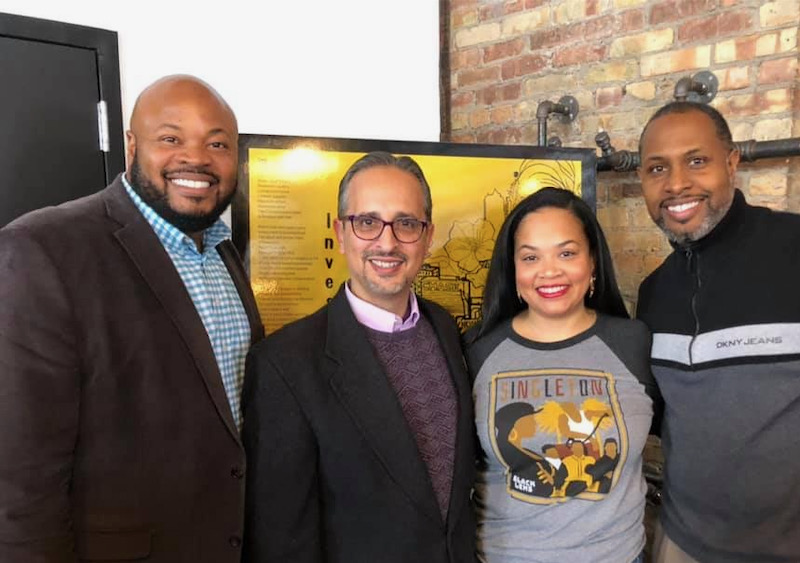 But Reese isn't all work and no play. During non-pandemic times, she's an R&B singer who loves to promote and support other local musicians. She's also the mother of two sons, on a slew of boards, a dedicated church member, an enthusiastic festival-goer and even a contributing writer for OnMilwaukee.
OnMilwaukee: You are 100 percent Milwaukee born and bred, but specifically, where have you lived and attended school in Brew City?
Robin Reese: I was born and raised in Milwaukee on the East Side in the neighborhood currently known as Riverwest/Brewer's Hill area. I've pretty much lived in the same half-mile radius my entire life. I went to Rufus King High School, UW-Milwaukee for undergrad and Cardinal Stritch University for my MBA.
What is your current job title and what does your work entail?
I am the manager of the Fond du lac and North Avenue Business Improvement District #32 (BID 32). The BID is focused on strategies to support commercial development in our designated area. We aim to accomplish this through engagement and programs that: (1) support real estate development projects; (2) increase the number of property facade improvements; (3) advance corridor maintenance and streetscape projects; (4) and initiate safety and security practices for all property owners within our district.
In addition to these, I promote collaboration and community engagement. I started a live music series in Fondy Park located in the BID in 2019 and I hope to bring this back this year, pandemic willing. I am the only staff person and I am supported by a Board of Directors that are property or business owners in the district.
How is this work fulfilling for you?
This work is a culmination of all my experience up until now. It marries my love for real estate development and overall love for Milwaukee to my passion for helping the community and small businesses/underserved populations. The BID is very close to the neighborhood I grew up in, so I feel connected to it and want this area to thrive.
How does your work move Milwaukee forward?
If I just look at the last 12 months, I know that some of the businesses in the BID would not have been able to sustain had it not been for support from us. Through our partnership in Brew City Match as well as being supported by the Zilber Family Foundation, we were able to provide grants to businesses to pay rent and/or payroll while they weren't able to generate income due to the shutdown of retail and food businesses. Small businesses are the heart of our communities and being able to keep them going, prevent more buildings from becoming empty and boarded up, I believe is definitely moving Milwaukee forward.
How else are you involved in your community?
I am very involved in the community outside of work. I sit on a few volunteer boards: Milwaukee Center for Independence, Riverworks Development Corp. and Skylight Music Theater. I am also on the Women's Fund of Greater Milwaukee's Grants Advisory Board and the newly formed Milwaukee Film Artistic Committee. And finally, I am a Mayoral appointed member of the City of Milwaukee's Board of Review. I am also a member of Christ the King Baptist Church, however we are currently still virtual.
Music is a huge part of your life and you have such an extraordinary voice. Can you share what genre of music is your favorite to sing and some of the highpoints from your musical career? Also, do you play any instruments?
I typically sing R&B, but I've done some jazz, a little blues. Although I took piano lessons and learned to read music at a young age, I don't play an instrument. It's on my bucket list to get some lessons on a few. Maybe once I retire, haha. I have a few proud moments: I've been blessed to be on many stages and to even open for and perform with some superstars, but my proudest are when my father is in the audience to see me perform.
At what age did you get into music? Was your family musical? If so, was that your inspiration?
I was born into music – or "born on stage" as I like to say. I come from a musical family on both sides of the tree. It was only natural for me to be a music lover and performer. My grandparents were musicians, most of my uncles play instruments and/or sing, my aunts sing, my mother sings and my father has played piano since he was about 5 years old and is a singer as well. As far back as I can remember a band was playing or rehearsing around me. My first time performing at Summerfest, I was about 11.
Are you still involved in music today?
I am always involved in music, but in literal "today," due to the pandemic, I have not been performing. Lately, it's been seeing live local band performances every now and then. We are slowly opening up so I'm hoping that there will be more opportunities and I'll grace the stage once again.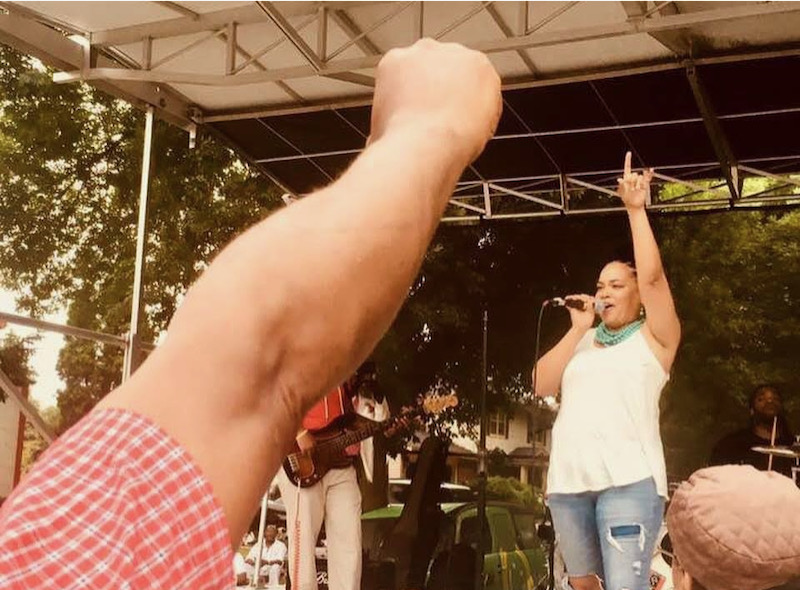 What keeps you in Milwaukee? Have you ever thought about leaving Milwaukee?
I have stayed living in Milwaukee because I love this city. Not just because it's home, but all of my work and other community involvement has had me metaphorically tied here. I feel connected to the city and I want to be part of it becoming an even better place. I think most that end up leaving aren't as involved with what's happening. If your hands are in it, it's hard to walk away. Now with that said, my siblings relocated from here almost six years ago and I have definitely thought about relocating myself. Some days I think of it more than others. Stay tuned!
Can you share with us a little about your sons?
I have two sons, Andrew (22) and John (14). I'm a boy mom! They taught me about and essentially made me like Dragonball Z, WWE and Marvel amongst other things. They keep me on my toes, whether it's current rap music or just celebrity "gossip." I can't keep up. I must point out they both love older music; they're my kids. Aside from that, they are my joy and the reason I'm always trying to do and be a better human and to make Milwaukee a great place. I work hard to show them a good example while also teaching them to be their own person, have their own thoughts and their own dreams.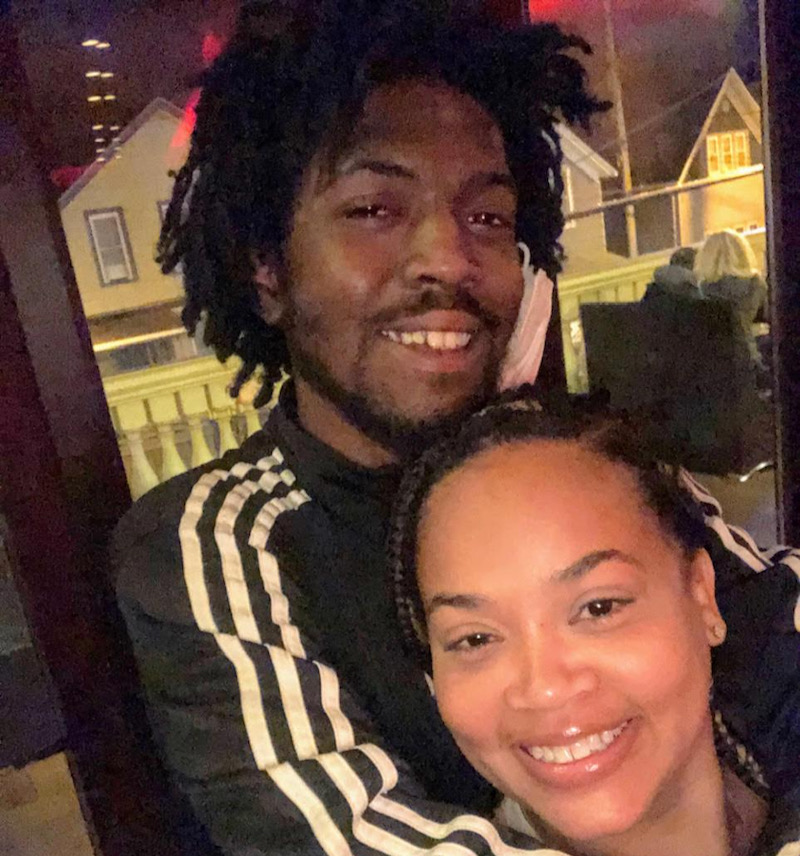 Family in general seems to be very important to you, would you agree?
Yes! I was raised in a very close household with my parents and siblings. My mom always said we're all we got and we treated each other as such. To this day. Before I had any friends, or any job or went to any school, I had my family and I love them more than anything.
What is one thing you don't love about Milwaukee?
I don't love the racial inequities across the board: education, employment, incarceration, housing, income, etc.
What is one thing you love about Milwaukee?
I love the festivals and I LOVE the lake. I know that's two things, but the big festivals are on the lake and I really love them both.

Molly Snyder started writing and publishing her work at the age 10, when her community newspaper printed her poem, "The Unicorn." Since then, she's expanded beyond the subject of mythical creatures and written in many different mediums but, nearest and dearest to her heart, thousands of articles for OnMilwaukee.

Molly is a regular contributor to FOX6 News and numerous radio stations as well as the co-host of "Dandelions: A Podcast For Women." She's received five Milwaukee Press Club Awards, served as the Pfister Narrator and is the Wisconsin State Fair's Celebrity Cream Puff Eating Champion of 2019.