CHICAGO – A few weeks ago, on a visit to the new Saint Kate Arts Hotel in Milwaukee, Marcus Hotels & Resorts' Greg Marcus observed that, "People want to experience something when they travel; get a little more out of their time away."
No hotel in Chicago seems to have embraced that notion more than the historic Blackstone Hotel, an Autograph Collection property at 636 S. Michigan Ave., across from Grant Park.
The Blackstone – where more than 25 years ago I caught performances by some of the great names in jazz – seems to know me as well as any hotel does these days.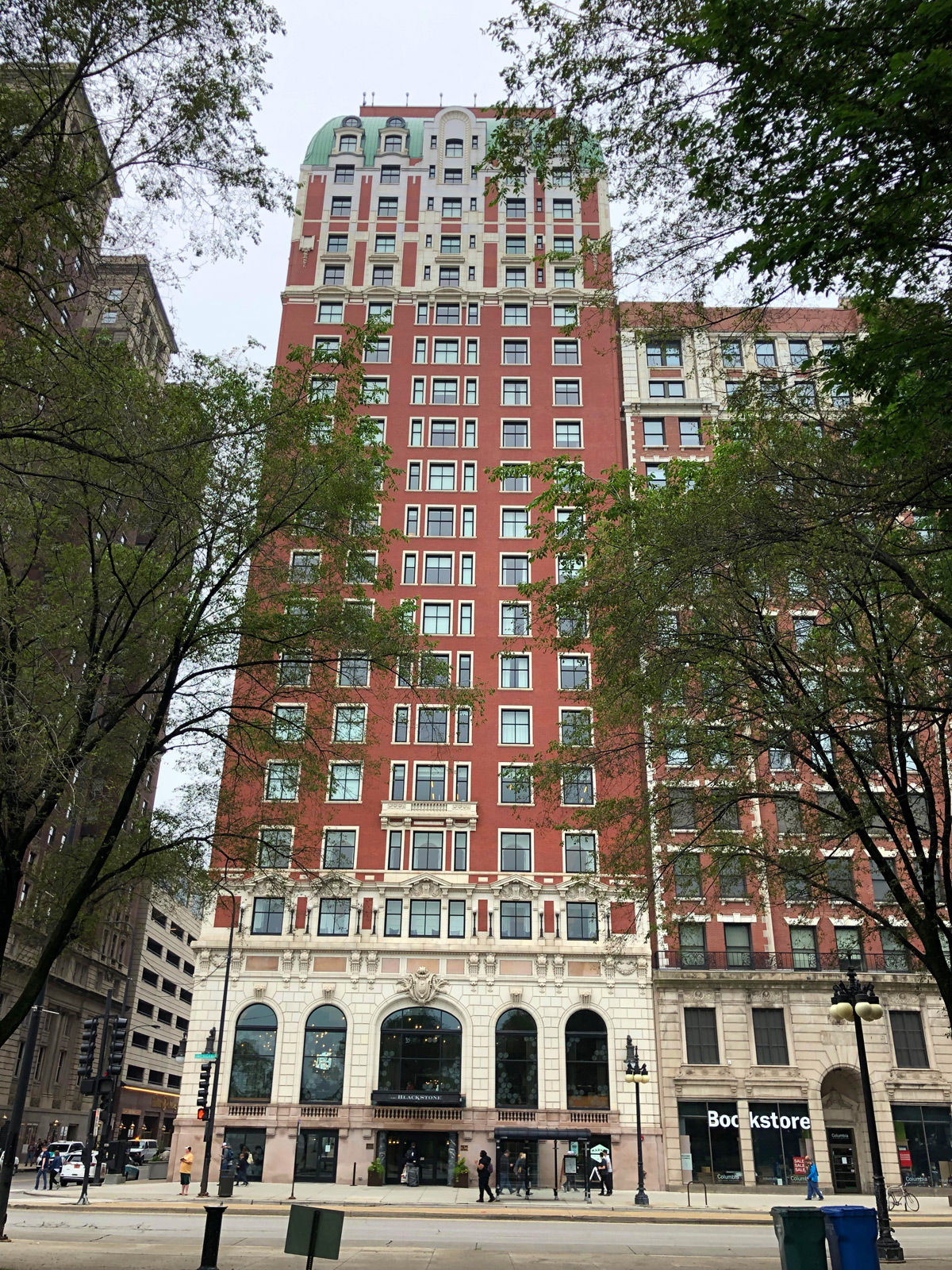 Fully restored and reopened in 2008 after a decade sitting empty and decaying, the Blackstone is a gorgeous piece of architecture – once the tallest building along Michigan Avenue – packed to the gills with history and decorated from head to toe with art, most of it by Windy City artists.
Add a current "Tapping the Barrel" package deal with Chicago's Koval Distillery that includes a make-your-own Old Fashioned in your room with a 200ml bottle of bourbon, a private distillery tour and tasting – including free transportation there and back from the hotel – and more, and it's like the Blackstone and I are old friends.
And I guess we are, if you consider all those visits to the late Joe Segal's Jazz Showcase – now located nearby – when it was in the Blackstone lobby, to see and hear the likes of Kenny Burrell, Milt Jackson, Stanley Turrentine, the Dirty Dozen Brass Band and others.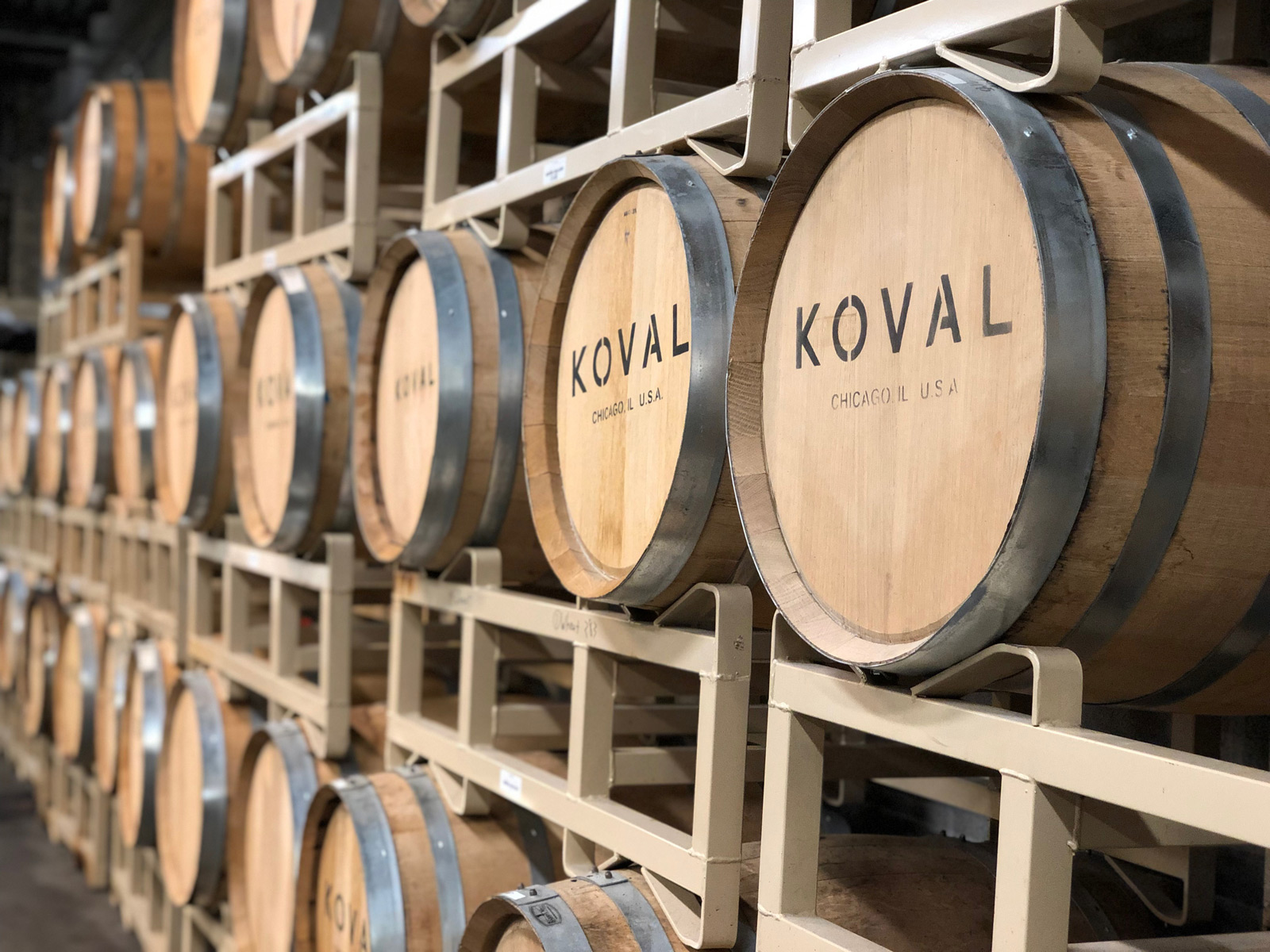 After the private tour at Koval, I feel like I have new friends, too. The staff there on a cool, rainy June morning was knowledgeable and welcoming, doting on us like we were besties.
The distillery – founded in 2008 by Robert and Sonat Birnecker, who ditched their academic careers to follow in the footsteps of Robert's grandfather in Austria, who was a brandy distiller – makes a wide range of products, from brandies and liqueurs to gin and vodka.
But it is the assortment of interesting whiskies that caught my ear and palate.
All of the whiskies here are aged in 30-gallon, No. 4-charred new American oak barrels from Minnesota, and all but two have mash bills that are 100 percent single-grain. Those grains are 100 percent organic and sourced from within about 150 miles of the distillery, according to Outreach Coordinator Emily Williams, including from Wisconsin.
"We are the only Kosher, organic distillery in the world," she says proudly, as we sample whiskies made from 100 percent rye and wheat, but also oats and, rather uniquely, millet.
Each is quite distinctive and the smooth, with the millet, unsurprisingly, offering the most unexpected results: smooth and sweet with a nice splash of vanilla.
Interestingly, the Koval bourbon balances its 51 percent corn with 49 percent millet, a popular grain in Africa and Asia – it's commonly distilled in Nepal – but rarely used in American whiskey.
A four-grain whiskey, at a somewhat punchier 94 proof, is the only expression that uses malted barley. Balanced with rye, wheat and oats, this one is spicier, but laced with hints of banana.
Koval has now shifted most of its production to a larger distillery about a mile away to accommodate the booming demand that comes from its presence in nearly all 50 states, as well as abroad, and plans to close its spot at 5121 N. Ravenswood Ave., near the popular Andersonville neighborhood, sometime in the coming year.
But for now, you can still stop in for a tour and to shop its retail outlet that, refreshingly, sells 200ml versions of some of its whiskies – including a trio in a gift set – that makes it easy to take home a little variety.
While you're there, taste the new cranberry gin liqueur, which is just 60 proof, and uses Wisconsin cranberries. It's cranberry-forward, with a light touch of juniper.
Back at the Blackstone, I get a tour of the property from Director of Security Thomas Coroneos, who shows me the coolest spaces in the place, built in 1910 by hoteliers the Drake brothers on the site of the mansion of railroad magnate Timothy Blackstone. The adjacent theater – no longer affiliated with the hotel – was built at the same time.
Designed by Chicago's Marshall & Fox – who also drew the Northwestern Mutual headquarters in Milwaukee, and Chicago's Hotel Julian – the 23-story hotel, with its distinctive green roof, cost the equivalent of $28 million in today's money.
The building was added to the National Register of Historic Places in 1986 and was designated a Chicago landmark 12 years later.
In addition to its stunning visuals – the plasterwork and brass railings inside are among the many charms of the Second Empire and Beaux-Arts mashup – the hotel hosted 12 consecutive U.S. presidents through Jimmy Carter, as well as notorious gangsters like Al Capone and Lucky Luciano.
The 1920 Republican National Convention met at the hotel and in one of the suites – dubbed the "Smoke-Filled Room" by AP reporter Raymond Clapper on hand – party leaders selected Warren G. Harding to be the party's candidate that November.
In 1931, Luciano and Capone were on hand in the gorgeous ballroom for the first so-called "crime convention." Capone also frequented the barbershop, which survives on the lower level (pictured below) – with its glorious fountain – and is used for meetings.
The ballroom was also used in the filming of the movies "The Color of Money" and "The Untouchables." Parts of "The Hudsucker Proxy" were also filmed in the hotel.
Outside the ballroom – which looks like the scene of a fairy princess' ball – is the equally ornate "Art Hall," which, in the past, accessed the ballroom balcony, now closed off because its railing is too low to guarantee guest safety.
According to Coroneos, this space, which houses artworks by Chicago artists, was designed to be an art gallery from the day the hotel opened in 1910. –
(Though the Blackstone doesn't tout itself as an "arts hotel," Coroneos says there are about 1,600 original artworks throughout the hotel and even the guest room key cards have works by Chicago artists!)
Here, you can get an up-close look at the stunning plasterwork and other decoration, much of it restored after a 10-year period in which the building was owned by the Beatles' spiritual advisor Maharishi Mahesh Yogi, who, Coroneos says, bought the building in 1994 hoping to convert it into high-priced condos for his followers.
"He bought it and he closed it (in 1999)," says Coroneos. "The historical society came in and there was all these lawsuits and injunctions going back and forth, and he was doing all this un-permitted construction for about 10 years.
"He wanted to sell these condos for like $8 million apiece in the 1990s, which is unheard of even today, and he wanted the construction companies to build it on good faith that he'd would be able to sell it for that price to his followers. So it sat vacant for a few years."
A lot of damage had been done during those years, including holes cut into walls to accommodate an air conditioning system. Luckily, enough detail work survived to allow craftsmen to repair the decoration from castings during the three-year, $128 million restoration.
And, fortunately, spaces like the English Room were mostly untouched.
"The walnut walls were originally brought over from a manor in England," says Coroneos. "The architects Marshall and Fox really liked this place, which was being torn down. So they bought this room and reassembled it here when they were building the hotel."
(PHOTO: Marriott.com)
The 335 rooms now are modern and finely appointed. Ours boasted a view of Lake Michigan and, the stunning Buckingham Fountain, and is, like most, decorated with original artwork, including a print featuring the Maharishi.
The lobby – where back in the day, you could find President Harry Truman sipping bourbon and playing the piano – is lively and comfortable, with a small bar – featuring Koval distillates, of course – and a welcoming staff.
The only thing is, I had stop myself being drawn as if by a magnet to the door that once led to the Jazz Showcase. Old habits die hard.
Born in Brooklyn, N.Y., where he lived until he was 17, Bobby received his BA-Mass Communications from UWM in 1989 and has lived in Walker's Point, Bay View, Enderis Park, South Milwaukee and on the East Side.
He has published three non-fiction books in Italy – including one about an event in Milwaukee history, which was published in the U.S. in autumn 2010. Four more books, all about Milwaukee, have been published by The History Press.
With his most recent band, The Yell Leaders, Bobby released four LPs and had a songs featured in episodes of TV's "Party of Five" and "Dawson's Creek," and films in Japan, South America and the U.S. The Yell Leaders were named the best unsigned band in their region by VH-1 as part of its Rock Across America 1998 Tour. Most recently, the band contributed tracks to a UK vinyl/CD tribute to the Redskins and collaborated on a track with Italian novelist Enrico Remmert.
He's produced three installments of the "OMCD" series of local music compilations for OnMilwaukee.com and in 2007 produced a CD of Italian music and poetry.
In 2005, he was awarded the City of Asti's (Italy) Journalism Prize for his work focusing on that area. He has also won awards from the Milwaukee Press Club.
He can be heard weekly on 88Nine Radio Milwaukee talking about his "Urban Spelunking" series of stories.