The BMO Harris Bradley Center is entering its last season, and to celebrate 30 years as a landmark of metropolitan Milwaukee, the Downtown venue announced today that it will host a rare public open house on Oct. 7.
The free, behind-the-scenes event will feature interactive stations, access to typically private areas, memorabilia displays, special guests and more. It will also be an interactive opportunity, as fans can scale the catwalk, see themselves on the scoreboard, mingle with each other and reminisce about the iconic arena.
The event, from 10 a.m. to 2 p.m. on Saturday, is the first in a series of public open houses that are planned for the venue's final season, which commemorates the lasting legacy of Jane Bradley Pettit and her unprecedented gift to the local community. The BMO Harris Bradley Center – the only major, public assembly facility in North America with construction underwritten through the philanthropy of a single family – will be demolished within the next two years, following the completion of the Milwaukee Bucks' new Downtown arena.
"As we look ahead to the excitement to come during our final season and the outstanding events and performances already scheduled, we also reflect on the past three decades and the many memories and experiences we have been proud to offer the Milwaukee community," Steve Costello, BMOHBC president and CEO, said in a statement. "In the spirit of Mrs. Pettit and her generous gift to the people of Wisconsin, we are thrilled to host this public open house event to celebrate our past, present and future. We invite everyone to join us on this special day."
Opened in 1988, the BMO Harris Bradley Center is home to the Bucks and Marquette men's basketball team, and hosts an estimated 1.5 million people each year for sporting and entertainment events.
During the open house, people can tour the Bucks and Golden Eagles locker rooms, as well as the dressing rooms and backstage areas that have been used for concerts by Bruce Springsteen, Sir Elton John, Janet Jackson and others. Also on display will be the Bradley Center's suites and theater boxes, video and mechanical rooms, and many areas not normally open to the public. Visitors can walk into the arena lower bowl to stand on the basketball court, see the center-hung scoreboard up close and enjoy photo and autograph opportunities with team mascots and special guests.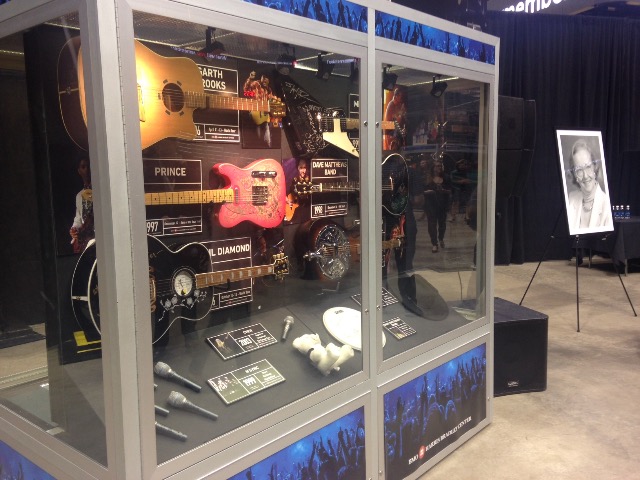 In addition, the Bradley Center will showcase memorabilia items from historic performances and events over the venue's three decades, including the likes of Robert Plant, Jimmy Page, The Eagles, Prince, Faith Hill, the Dixie Chicks and more. There will also be stations where visitors can share their memories of the arena on video and in writing. Read what OnMilwaukee staffers best remember here.
The open house also features guest appearances from the Admirals, the Wave and local sportscasters. Complimentary parking will be offered during the event at the BMO Harris Bradley Center parking structure on 6th Street. To learn more, go to BMOHarrisBradleyCenter.com.
Prepare yourself for the experience by reading Bobby Tanzilo's behind the scenes story here.
Born in Milwaukee but a product of Shorewood High School (go 'Hounds!) and Northwestern University (go 'Cats!), Jimmy never knew the schoolboy bliss of cheering for a winning football, basketball or baseball team. So he ditched being a fan in order to cover sports professionally - occasionally objectively, always passionately. He's lived in Chicago, New York and Dallas, but now resides again in his beloved Brew City and is an ardent attacker of the notorious Milwaukee Inferiority Complex.
After interning at print publications like Birds and Blooms (official motto: "America's #1 backyard birding and gardening magazine!"), Sports Illustrated (unofficial motto: "Subscribe and save up to 90% off the cover price!") and The Dallas Morning News (a newspaper!), Jimmy worked for web outlets like CBSSports.com, where he was a Packers beat reporter, and FOX Sports Wisconsin, where he managed digital content. He's a proponent and frequent user of em dashes, parenthetical asides, descriptive appositives and, really, anything that makes his sentences longer and more needlessly complex.
Jimmy appreciates references to late '90s Brewers and Bucks players and is the curator of the unofficial John Jaha Hall of Fame. He also enjoys running, biking and soccer, but isn't too annoying about them. He writes about sports - both mainstream and unconventional - and non-sports, including history, music, food, art and even golf (just kidding!), and welcomes reader suggestions for off-the-beaten-path story ideas.