It's pretty uncommon to develop a new technique for something that has been done for hundreds of years, but that's exactly what one could call the hand-inked hats created by John McLaughlin at Brass Rooster, 2252 S. Kinnicinnic Ave. in Milwaukee's Bay View neighborhood.

For the past six years, the Brass Rooster co-owner has been working on a process for making hand-inked hats.
"The process, the movement with your hand, is actually more akin to tattooing than it is to painting," said McLaughlin, who presses the pigment into the fabric, which is gradually absorbed by the individual fibers.
Generally, felt hats such as fedoras are made in one color of dyed felt and completed with a contrasting color band, then accented with a medallion or feather. This style of hand-inked hats opens new possibilities for how one can accessorize and adorn a typically monochromatic headwear style.
A possibile his/hers combination?
When purchasing a hat that features hand-inked art, it's essentially a piece of art that has been handcrafted twice. Firstly, it's a hat that's been handmade in-house, and then secondly as a painted three-dimensional canvas. A brimmed backdrop, it it turns out, can prove more dynamic than a flat canvas.
"A lot of artists stretch their own canvases; our canvases are just a lot more involved," smiled McLaughlin.
He says that any color hat can be hand-inked, and like any background canvas, it simply changes the selection of pigment options that can be paired with that specific background color. That concept as a three-dimensional canvas affects how McLaughlin will hand-ink individual hats. In that way, he says, it's more like creating a sculpture, and a painted sculpture, because he tries to imagine it being perceived from every angle.
The Brass Rooster decked out for the holidays at 2252 S. Kinnickinnic in Bay View.
"I've got to consider every possible perspective that a person will see that hat from while it's on the customer's head," he noted. "How will it look from above? How will it present in a darker room? How will a person who is taller or shorter than the wearer view the hat?"
For McLaughlin, making these hand-inked art pieces usually takes place long after the Brass Rooster's closed sign has been flipped and everyone else is asleep.
"Like most people when they get ideas, I never really know when mine will come to me," he said. "My last hat I spent working on from about 11 at night until 4 in the morning."
For both John and Kate McLaughlin, who are partners in business and life, creativity happens in the margins between work and sleep – after their son is tucked in for the night.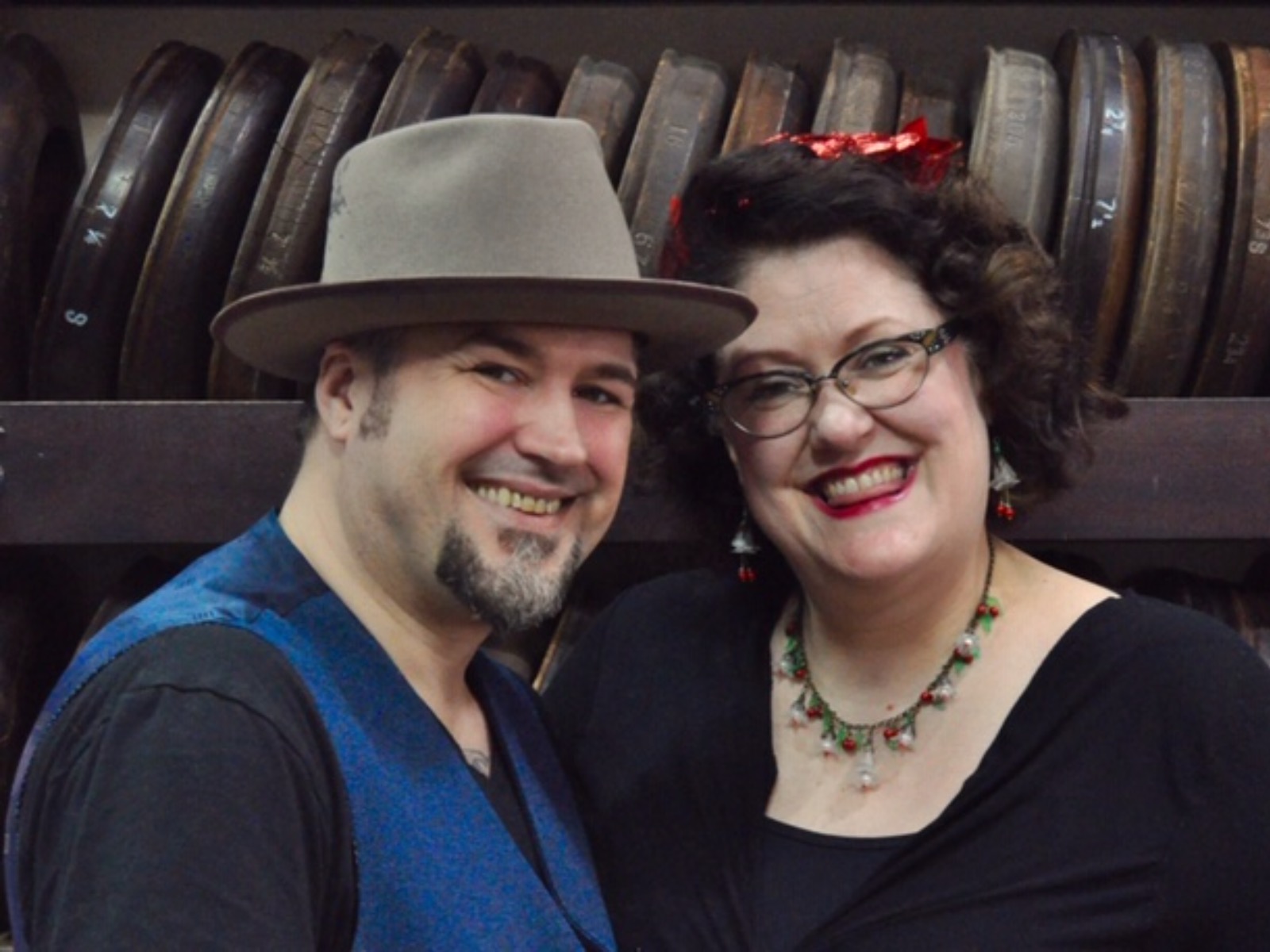 The Brass Rooster and The Hen House are the creation of life and business partners John
and Kate McLaughlin. "Part of what I love about being a McLaughlin is 'laugh' is in the
name," says Kate.
The store is a match made in millinery matrimony between the John and Kate, who, when the store first opened, was the milliner and craft supervisor at the Milwaukee Rep. She's since transitioned to the business full-time due to demand, and they've opened a sister store: the neighboring Hen House, which focuses on more women-oriented designs.
The whole process of turning a hat into a hand-inked art creation takes about a month for the colors to set, and heat is used to permanently embed pigment into the felt. The vast majority of Brass Rooster hats are made from rabbit, wild hare or beaver fibers, although some custom blends are used from animals such as mink, nutria, water buffalo or red deer. The pigments are permanently embedded into the fibers of the felt and are completely safe to get wet.
Brass Rooster customer Bennett Williamson celebrates "new hat day."
He opted for a classic single hue.
"When the hat gets wet with rain or snow, the portions I've painted tend to disappear for a bit, especially on the darker colored hats, but as the hat dries, the colors reappear in full bloom," John said. "It's really remarkable to watch happen."
He says that's the reason he's been working on this process for so long: He went through years of trial and error to make sure the result could stand up to daily use.
Detail on a women's hat in progress, complete with a handmade felt flower.
Initially, when opening on Derby Day in 2010, The Brass Rooster sold hats made by outside producers. About a year after opening, the McLaughlins purchased tools and equipment from Henry the Hatter of Detroit, Michigan, who was leaving the business and became a mentor. Since then, the store continues to offer hats made by a variety of purveyors, while also creating and selling their own handmade in-house designs.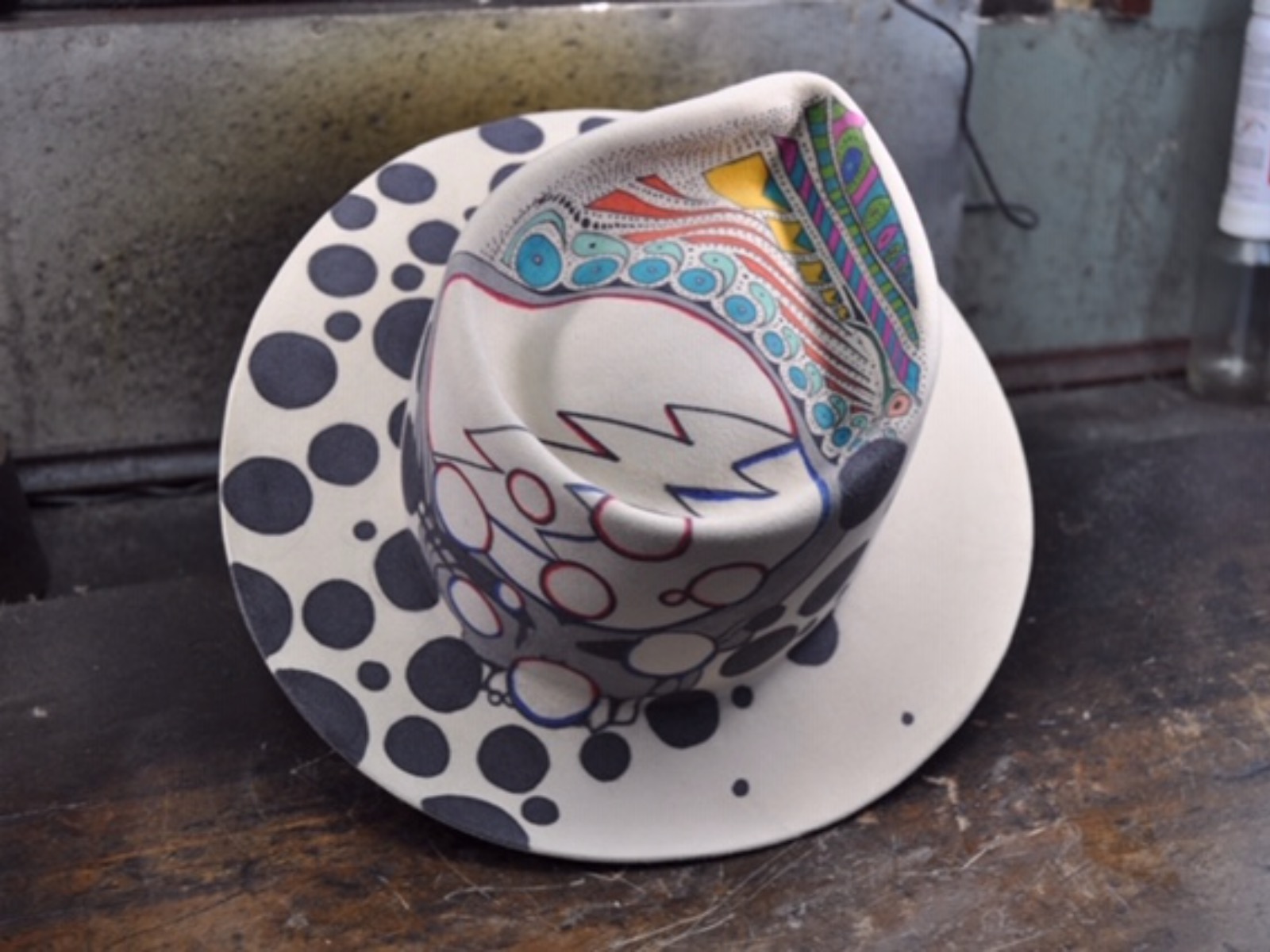 A hand-inked hat in progress, commissioned by a customer who is a big fan
of The Grateful Dead.
Always a maker of things with his hands, John demurs at being termed an artist, as he believes it carries certain connotations that he's not sure fit him. He prefers to think of himself as a craftsman who simply works with his hands creating things that people can use every day.
"Most people aren't used to holding a piece of art in their hands," he said, "They're used to getting scolded – 'Hands off!'"
John's pieces, however, are meant to be worn in rain or snow, on bright days and in dark.
"I love inviting people to bring something beautiful with them every day when they leave the house … the chance to make something beautiful just because I can," said John, before adding, "And without a doubt, putting something out into the world simply for the sake of beauty is a completely valid reason all on its own."