Over the weekend, the Brewers celebrated the 35th anniversary of their 1982 American League Championship team. The main event of the festivities was a reunion of the 1982 squad in an on-field ceremony at Miller Park before Saturday's game against the Philadelphia Phillies, which the NL Central division leaders won, 3-2.
On Saturday, members of the AL Pennant-winning team took the field again together, led by Baseball Commissioner Emeritus and former Brewers owner Allan H. (Bud) Selig. The 1982 squad was introduced and recognized, and players, coaches and staff met with fans, signed autographs and participated in various activities at Miller Park.
The 1982 Brewers went 95-67 and won the AL East division. They beat the California Angels in the American League Championship Series, 3-2, to advance to the World Series, where Milwaukee lost to the St. Louis Cardinals, 4-3.
That season, Robin Yount was the American League Most Valuable Player, Cecil Cooper won the Silver Slugger award, pitcher Pete Vuckovich won the AL Cy Young award and Harvey Kuenn was named the Associated Press AL Manager of the Year.
Gorman Thomas finished as the AL leader in home runs with 39. Paul Molitor's 136 runs not only led the American League, but also were the most scored in the league since 1949.
Among the big names that attended were Yount, the fan favorite and Hall of Famer, Cooper, Thomas, Vuckovich, former Cy Young Award-winner Rollie Fingers, slugging outfielder Ben Oglivie, pitcher Mike Caldwell, infielder Jim Gantner and catcher Ted Simmons.
Also in attendance were Jerry Augustine, Dwight Bernard, Jamie Easterly, Larry Haney, Moose Haas, Larry Hisle, Audrey Kuenn (on behalf of her late husband Harvey Kuenn), Pete Ladd, Don Money, Charlie Moore, Ed Romero, Jim Slaton and Harry Warner, as well as members of the front office staff.
Here are 11 photos from the event:
1. Bud Selig speaks to reporters
2. Owner Mark Attanasio and broadcaster Bob Uecker share a laugh
3. Bud Selig and Mark Attanasio talk on the field
4. Bud Selig and Bob Uecker reminisce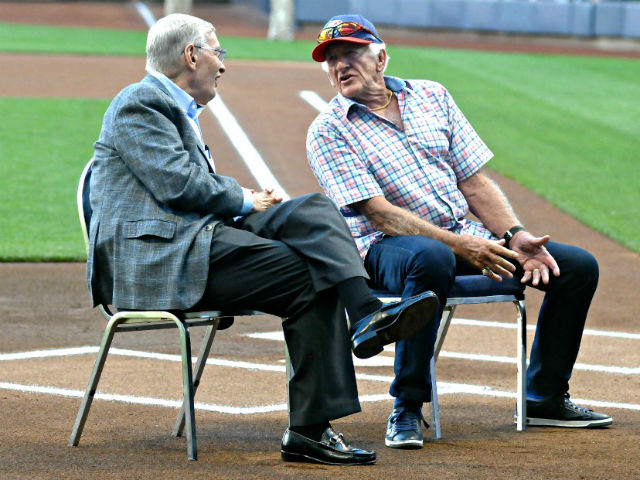 5. Bud Selig, Mark Attanasio and Bob Uecker
6. Pitchers (from left) Jerry Augustine, Dwight Bernard, Mike Caldwell and Jamie Easterly
7. Ben Oglivie had 34 home runs and 102 RBI in 1982
8. Mark Attanasio congratulates Jim Gantner, who hit .295 in 1982
9. Popular reliever Rollie Fingers had 29 saves in 50 games
10. Robin Yount walks onto the field during the reunion ceremony
11. Robin Yount waves to the adoring crowd
Born in Milwaukee but a product of Shorewood High School (go 'Hounds!) and Northwestern University (go 'Cats!), Jimmy never knew the schoolboy bliss of cheering for a winning football, basketball or baseball team. So he ditched being a fan in order to cover sports professionally - occasionally objectively, always passionately. He's lived in Chicago, New York and Dallas, but now resides again in his beloved Brew City and is an ardent attacker of the notorious Milwaukee Inferiority Complex.
After interning at print publications like Birds and Blooms (official motto: "America's #1 backyard birding and gardening magazine!"), Sports Illustrated (unofficial motto: "Subscribe and save up to 90% off the cover price!") and The Dallas Morning News (a newspaper!), Jimmy worked for web outlets like CBSSports.com, where he was a Packers beat reporter, and FOX Sports Wisconsin, where he managed digital content. He's a proponent and frequent user of em dashes, parenthetical asides, descriptive appositives and, really, anything that makes his sentences longer and more needlessly complex.
Jimmy appreciates references to late '90s Brewers and Bucks players and is the curator of the unofficial John Jaha Hall of Fame. He also enjoys running, biking and soccer, but isn't too annoying about them. He writes about sports - both mainstream and unconventional - and non-sports, including history, music, food, art and even golf (just kidding!), and welcomes reader suggestions for off-the-beaten-path story ideas.