Game 3 of the NLDS shifted to Atlanta, but the Brewers still found themselves swinging the same ice cold bats as in Milwaukee on Saturday, ultimately resulting in a 2-1 series in favor of the Braves.
With 18 innings of zero-run baseball now in the books for the Brewers, it's hard to say that this game didn't feel that different from Saturday's blanking. Once again, the Crew had their chances with runners on base multiple times throughout this one, but the team could not bring in a single one of them. Double plays, good defense and lack of timely hits were the culprits – but this offense has got to be able to produce for a pitching staff that has kept them in each and every one of these ballgames.
Through three games, the series now turns in favor of Atlanta, and the Brewers are going to need to pull whatever magic they have up their sleeve to get some offense. For now, let's take a final look at how Game 3 in Atlanta played out.
1. Arriving in style
GOAT sighting in ATL 🐐 #ClawsUpMKE pic.twitter.com/LXiOFa5z1d — Milwaukee Brewers (@Brewers) October 11, 2021
Mr. Baseball himself was on the scene early, sporting the shades and, of course, a Brewers hat. If only the Brewers' offense could show up in style like Bob Uecker did on Monday.
2. New ballpark, same series
View from the booth in Atlanta. Game 3 #NLDS #MLBonTBS @Brewers @Braves pic.twitter.com/OFFGeuI7qz — Don Orsillo (@DonOrsillo) October 11, 2021
Truist Park in Atlanta became host to its first playoff game of the postseason, and it was met with a sellout and some loud baseball fans. The hot Atlanta sun sat high for most of this one, making for great baseball weather.
3. Brew Crew showing up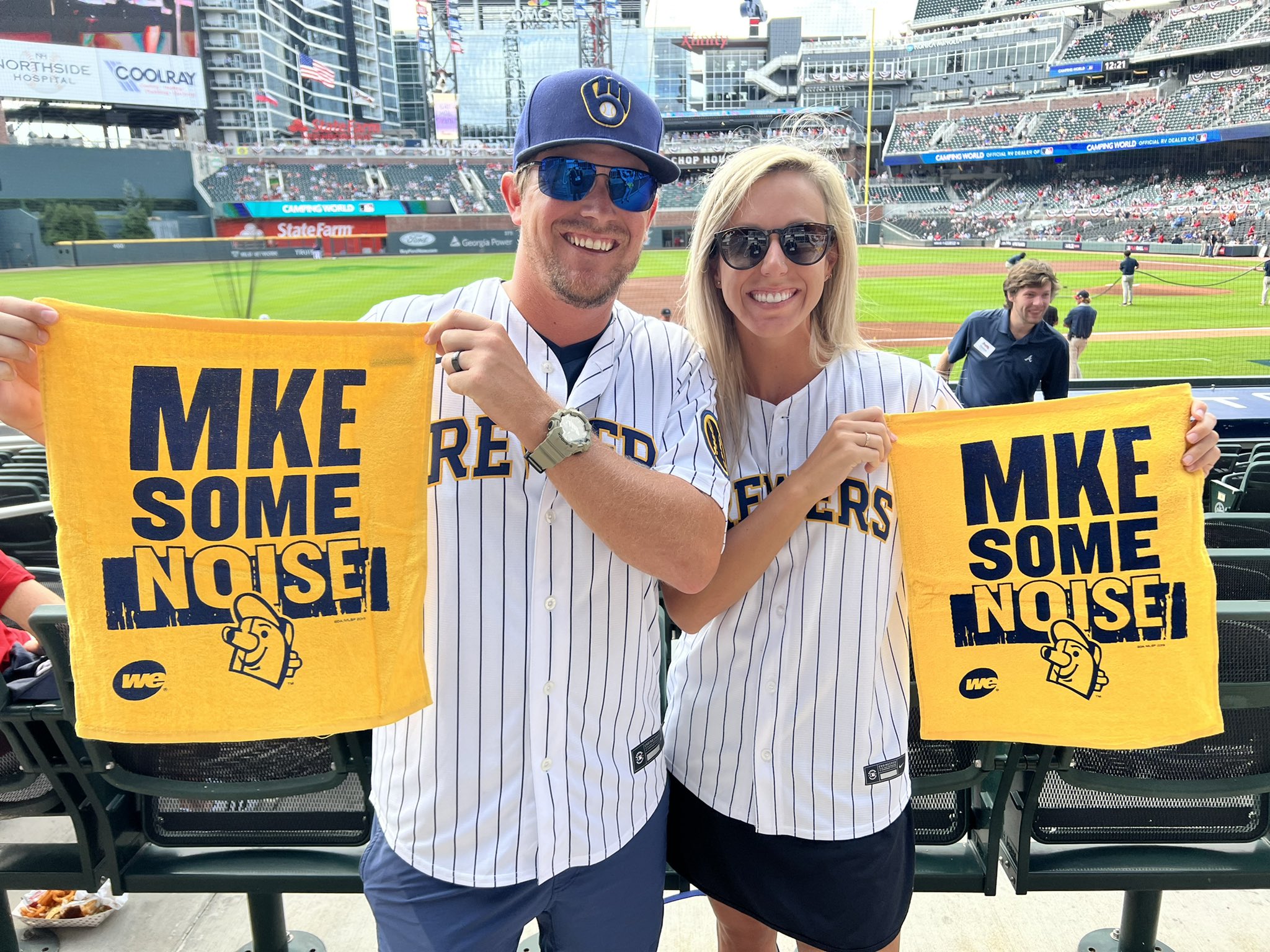 Brewers fans proved their loyalty as some even made the trip to Atlanta to enjoy some NLDS action featuring the hometown Crew. Sporting Brewers gear and bringing along the bright yellow rally towels made for a strong Milwaukee presence at Truist Park.
4. Heads-up defense
Wow, no run scored for the Braves on this double play to end the second inning. pic.twitter.com/SuzNdAUwor — Adam McCalvy (@AdamMcCalvy) October 11, 2021
The Braves hoped to break the scoreless tie early via the sacrifice fly in the second inning, but a heads-up play from Christian Yelich – assisted by some not-so-great baserunning – allowed the Brewers to escape the inning unscathed.
5. Fastball Freddy
Freddy Peralta GAS to strand the runner at third pic.twitter.com/GgY4OPMkU1 — Talkin' Baseball (@TalkinBaseball_) October 11, 2021
The Brewers Game 3 starter went four shutout innings while striking out five Braves batters on just 57 pitches thrown. This particular fastball up and away, combined with the whiff, and the ability to work out of a few jams gives a great summary of Peralta's afternoon – he was fantastic.
6. "Joctober" is not a nice time of year in Milwaukee
Joctober! pic.twitter.com/ESnQWExoHI — MLB (@MLB) October 11, 2021
Joc Pederson provided Atlanta with a big boost in the fifth inning by way of a three-run blast that broke the scoreless tie. It was Pederson's second pinch hit home run of the series – but this time the Brewers bats were not able to overcome it.
7. A familiar sight
Dansby Swanson made this look waaaaay too easy.

Smooth.

(via @mlb)pic.twitter.com/x3Q4xb4UGF — Bally Sports (@BallySports) October 11, 2021
After grounding into a game-ending double play on Saturday, the Brewers continued to be haunted by the double play ball in Game 3 as well. An eighth inning rally was cut short by a Christian Yelich grounder, which Dansby Swanson made a great play on to turn two and escape the inning. It was one of the better opportunities to score all day, but the Brewers were shut down yet again in this series.
8. At least we got to see this happen
Oh no! Chipper Jones can't make the play in the stands at the #Braves playoff game 😅

(via @PitchingNinja) pic.twitter.com/jtV77g26WD — FOX Sports: MLB (@MLBONFOX) October 11, 2021
While the Braves seemed to catch everything today – especially third baseman Austin Riley, who made an amazing catch on a would-be Brewers double in the ninth – their recent Baseball Hall of Fame inductee Chipper Jones did not live up to Atlanta's on-field play, letting a foul ball slip right through his hands while sitting in the stands. It's a good laugh to enjoy on an otherwise disappointing day of baseball for Milwaukee fans – and hey, maybe this is a sign of things to come for Atlanta. Down 2-1 in the series, we'll take whatever we can get.