After several days of rest and anticipation, the Milwaukee Brewers and the Los Angeles Dodgers will finally throw out the first pitch of their anticipated National League Championship Series battle tonight.
The two teams bring big names and even bigger bats to the diamond, and experts across baseball have mulled over stats to figure out who has the edge in what's expected to be a tight, entertaining series. Can Christian Yelich keep up his MVP-deserving tear? Who's better: the Dodgers fearsome starting pitching or the Brewers fireballing bullpen?
But most important: Who cares?
The really important, essential questions about the NLCS are taking place off the diamond. Whose stadium is better? Whose famous fans are better? (Probably know the answer to that one already.) Dodger Dogs or Hank the Dog? These are the truly important factors to determining the National League Champion (and also runs and hits and blah blah blah).
So here is our very scientific, nine-matchup series between the Dodgers and Brewers. Let's throw the first pitch!
The battle of the ballparks
Miller Park vs. Dodger Stadium
(PHOTO: David Bernacchi and WikiCommons/Junkyardsparkle)
Typically Miller Park would have an advantage thanks to its retractable roof, meaning when you come to see the Brewers, you're getting a game – no matter what. Rainouts? WE DON'T EVEN KNOW THE MEANING OF THE WORD. However, who needs a roof when you play in sunny, gorgeous Los Angeles, with nary a cloud in sight? That's not just a cute California cliche either; the last rainout at Dodger Stadium was in 2000, with the last rain delay briefly hitting Chavez Ravine in 2015.
Without the bonus of guaranteed baseball, Miller Park still registers as a very nice stadium, but it's hard to compete with the nostalgic history and classic vistas of Dodger Stadium.
Point: Dodgers
Celebrity fan smackdown
Chord Overstreet vs. Every Celebrity On The Planet
(PHOTO: WikiCommons/X4n6, Adam Bielawski, Tom Sorensen and Peabody Awards)
No, Front Row Amy doesn't count. To qualify as a famous fan, you have to be famous for something more than being fan. In that case, the Brewers have Chord Overstreet, which isn't just a jumble of magnetic fridge poetry words but an actor from "Glee" as well as Emma Watson's now ex-boyfriend. He announced its Brew Crew pride years ago on Twitter and then repped the Brewers at the 2011 All-Star Game. He would wear Rangers gear the following year, but we'll forgive that because ... well, he's all we've got.
Meanwhile, the Dodgers have Ice Cube and Bryan Cranston and Alyssa Milano and Danny DeVito and Jessica Biel and Jason Bateman and Mila Kunis and Ashton Kutcher and Kirsten Dunst and George Lopez and ...
Point: Dodgers
Dog fight
Hank the Dog vs. Dodger Dog
(PHOTO: Jimmy Carlton and WikiCommons/Farmer John)
A Dodger Dog is a 10-inch hot dog and a baseball icon. It is not a sandwich, but you may debate whether you'll get it steamed or grilled.
Hank the Dog is an 11-pound dog and a baseball icon. He is also not a sandwich, but you may debate whether Hank the Dog is actually dead, the current pup serving as a fluffy, adorable imposter. (Or would that be an "impawster"? Dawww!)
A tough choice, but I'm going with Hank the Ballpark Pup because while a Dodger Dog comes with the typical condiments, Hank comes with a truther conspiracy befitting of three-hour Oliver Stone paranoid thriller. Plus, WHO COULD SAY NO TO THAT PWECIOUS WIDDLE FACE!?
Point: Brewers
Mascot melee
Racing Sausages and Bernie Brewer vs. "It"
(PHOTO: David Bernacchi and Twitter/Adam Neylan)
The Racing Sausages are a sports institution, arguably an event even more fun than the game itself (not that hard for those who lived through the Brewers of the '90s and early '00s). And as the phrase goes, imitation is the sincerest form of flattery as teams across the MLB have borrowed the concept of sprinting mascots to jazz up their game presentations. I haven't even mentioned Bernie Brewer, who's a spirited delight even if he no longer slides into a foamy pint of beer anymore.
The Dodgers, meanwhile, introduced their first mascot just a few years ago. Surely a historic and showbiz savvy organization will come up with something fun and respectable ...
https://t.co/AvQPJz2Oda @Dodgers mascot sneaking up on a Fam-Bam... Hee hee pic.twitter.com/C0LfiSkYBH — #LetsGoDodgers #LADetermined 💙⚾️👍🏽👏💪☀️😎 (@123KOWSKI) August 27, 2017
And instead came up with Chucky the Killer Doll's older brother. RUN CHILDREN!
Of course, the new mascot was not received well – no help thanks to the Dodgers who comically insisted that their very mascot-looking mascot was actually not a mascot and, in my research, never even bothered to give the thing a name. I'll name him then; I shall call him "The Cause of My Nightmares for the Next Week."
Point: Brewers
Football/futbol fracas
Baker Mayfield and Tom Brady vs. Christiano Ronaldo
(PHOTO: Twitter and YouTube)
The Brew Crew's recent success earned the team endorsements from the other side of the sports world, as quarterback stars old (Tom Brady) and new (Baker Mayfield) have gotten drunk on Milwaukee's exciting playoff Brew. Brady recently told reporters that he's pulling for the Brewers thanks to his friendship with owner Mark Attanasio, while Mayfield's been one of Christian Yelich's loudest MVP campaigners over the past few weeks.
Meanwhile, the Dodgers scored a famous fan from the other kind of football: Christiano Ronaldo, arguably the best soccer player in the world. However, he also did this:
He may be great on the soccer pitch, but for the public's safety, he should probably never be allowed near the first pitch ever again.
Point: Brewers
Musician matchup
John Cooper vs. Ice Cube and Justin Timberlake and John Fogerty and Psy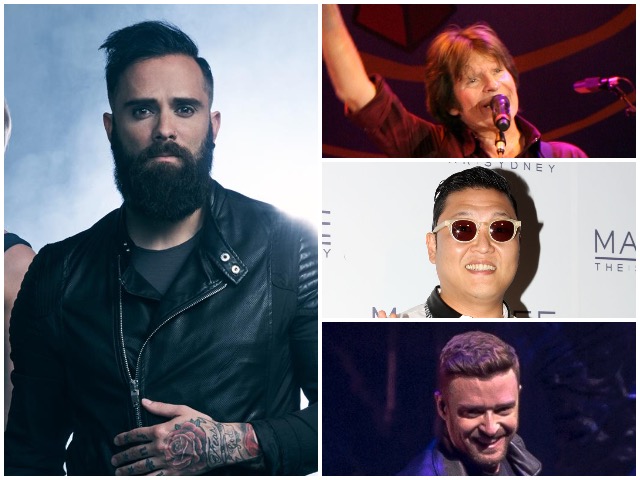 (PHOTO: Skillet Facebook, WikiCommons/Marco Annunziata, WikiCommons/Eva Rinaldi and Ty Helbach)
Justin Timberlake's Wisconsin sports loyalty apparently only extends to the Green Bay Packers, as the pop star calls the Dodgers his favorite baseball team. So does "Gangnam Style" star Psy and John Fogerty and the previously mentioned Ice Cube and Randy Newman and John Legend and OK FINE ENOUGH. Meanwhile, the Brewers have John Cooper, whose band Skillet provides the walkup music for former turkey bacon pitchman and current cult hero Erik Kratz. And while he has outstanding facial hair, there's only so much even the finest beard can do. Just ask Eric Thames.
Point: Dodgers
News nuclear war
Kato Kaelin vs. Larry King
(PHOTO: Twitter and WikiCommons)
Two names that inspire the question: "Oh, he's still alive?" Milwaukee native and infamous O.J. Simpson trial witness Kato Kaelin is indeed still kicking it, starring in "The Last Sharknado" and cheering on the Brewers on Twitter. Well, mostly ridiculing. It's frankly a miracle that his caps lock key still works.
On the other side of this men in the news mano a mano is Larry King, who's still noshing on Nate 'n Al's for a diner breakfast and still cheering on the Dodgers at the age of 84. (The New York native was alive for when the team played in Brooklyn, even claiming to have attended Jackie Robinson's first game.)
Whether talking about it or participating in it, neither is around the news much anymore. But I think it's fair to say the person who doesn't have "Sharknado" in his resume gets the win.
Point: Dodgers
The voice of the team tussle
Bob Uecker vs. Vin Scully
(PHOTO: YouTube and WikiCommons/Floatjon)
Bob Uecker and Vin Scully are absolute legends, and the real winner of this matchup is any baseball fan who's listened to one of their one-of-a-kind broadcasts. Both are not only great play-by-play men with long, prestigious careers – 67 seasons for Scully, 47 for Bob Uecker – and iconic calls, but just simply great storytellers, people who you don't mind taking an inning to tell a random story about WWII or, I don't know, alpaca sweaters.
But I do have to pick a winner – and I have to go with Mr. Baseball. For one, his nickname is literally Mr. Baseball. Second, Bob Uecker hosted "Saturday Night Live." Did Vin Scully ever host, much less appear, on "SNL"? I didn't think so. Former cast member Harry Shearer once busted out a Vin Scully impression ... during the very episode that Bob Uecker hosted. Last, but most important, there's this:
Been a while since I posted this pic of Bob Uecker (far right) lounging in a way-too-small swimsuit: pic.twitter.com/YBR0PSNUmL — SI Vault (@si_vault) March 26, 2013
Point: Brewers
The ultimate fan feud
Brewers fans vs. Dodgers fans
(PHOTO: Andy Tarnoff and WikiCommons/KennethHan)
It only seems right that this off-field fight would come to down to the fans – not the famous faces in the crowd or the people paid to dress up, but just your average folks in the audience. DEMOCRACY IN ACTION.
Anyways, Dodgers fans are famous for arriving three innings late and leaving three innings early. Brewers fans, on the other hand, are famous for tailgating three hours early and leaving three hours after the final pitch to drink in the parking lot. I think we have a clear winner.
Point: Brewers
So there it is: The Brewers win, 5-4! No bias here – no sirree! Now to see if the actual team on the field can similarly pull off the win.
As much as it is a gigantic cliché to say that one has always had a passion for film, Matt Mueller has always had a passion for film. Whether it was bringing in the latest movie reviews for his first grade show-and-tell or writing film reviews for the St. Norbert College Times as a high school student, Matt is way too obsessed with movies for his own good.
When he's not writing about the latest blockbuster or talking much too glowingly about "Piranha 3D," Matt can probably be found watching literally any sport (minus cricket) or working at - get this - a local movie theater. Or watching a movie. Yeah, he's probably watching a movie.