Every year – since 1998 – I've made the trip to Arizona to watch the Brewers get ready for a long, long season of baseball. It's my favorite work/fun trip (edging out even Las Vegas) that I get to take, but with all the fun and sun in the desert, it's surprisingly easy to forget to pay attention to the baseball on the field.
It's true. Spring Training is really distracting for the average fan. Between the weather shock and all the other things going on in Phoenix and Scottsdale, the games are just so quiet and peaceful. It's easy to just zone out while the sights, sounds and smells of wonderful, glorious baseball lull you into total relaxation.
So each year, I make a mental checklist of what I want to see from the Brewers in March. This season, I have lots on my mind. Because if a few things go wrong, I fear the Brewers could be way out of contention by June. On the other hand, this was a team that owned the NL Central for most of 2014, and not all that much has changed. Hope, as we all say a lot this time of year, springs eternal.
Over the years, some readers have asked how I can make a judgement on a team that I only see for a few days each spring. Well, I'll tell you: I knew in 2008 and 2011 that the Brewers would be great. And last year, I didn't see that spark at all. Don't even ask me what the Crew looked like in 2002. You can really glean a lot from what you see in the Cactus League … as long as you are paying attention.
In no particular order, here's what I'll be looking for when I'm in Arizona March 15-18.
Ryan Braun's thumb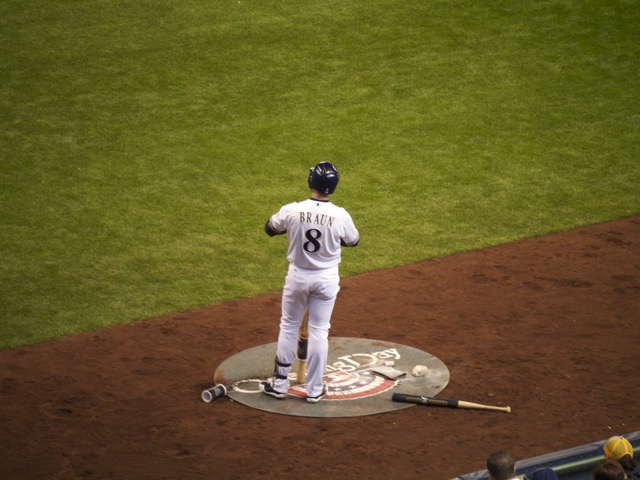 Is his thumb actually healed? To answer that, I'll get my first look at not just his hitting, but his demeanor. It was clear to me last year that he wasn't himself. Is Braun a power-hitting MVP candidate, or a .260 singles hitter? If it's the latter, this team is toast.
Jean Segura's bat

Same with him. Understandably, he hasn't been the same since his son died, not to mention being hit in the hat by Braun and his bat. The Brewers need to see the player they acquired for Zack Greinke. If not, what does this infield look like?
Jimmy Nelson
's arm
What did the Brewers lose by trading Yovani Gallardo? I think a ton. Nelson won't take his place, but is he a worthy fifth starter?
Jeff Levering's voice

I am legitimately sad every time I think about Bob Uecker slowing down (he's 81), but my early opinion of his partial replacement, Jeff Levering, is positive. I hope to meet him, and see and hear his style in the relaxed environment of the Cactus League. I love listening to the Brewers on the radio, but I'm not personally fond of Joe Block's radio style. I need something special to keep when tuned in when Uecke has the day off.
The team's chemistry

In 2008 and 2011, the Brewers looked like they were having fun in Spring Training. Last year, they did not. I'm not sure I'd call it obvious, but after 17 Spring Trainings, I can see the difference. Guys like Tony Plush made the team looser. So who are the new characters out there? How does this team mesh? Dontrelle Willis could be that team leader, if he makes the team. I'll be on the lookout for who's smiling and joking around, and who treats these games as a necessary evil.
Maryvale's improvements

The Grapefruit League in Florida wants the Brewers, but Phoenix is far more practical for LA-based owner Mark Attanasio. Still, charming as it may be, the Maryvale Baseball Park simply can't compete with any other park in the Cactus League. I've been to Spring Training for every year of its existence, and the stadium looks exactly the same, if not more faded. What is Maryvale and/or greater Phoenix doing to keep the Brewers? If the answer is nothing, then they might not be compelled to stay much longer – and that would be a real shame.
Andy is the president, publisher and founder of OnMilwaukee. He returned to Milwaukee in 1996 after living on the East Coast for nine years, where he wrote for The Dallas Morning News Washington Bureau and worked in the White House Office of Communications. He was also Associate Editor of The GW Hatchet, his college newspaper at The George Washington University.
Before launching OnMilwaukee.com in 1998 at age 23, he worked in public relations for two Milwaukee firms, most of the time daydreaming about starting his own publication.
Hobbies include running when he finds the time, fixing the rust on his '75 MGB, mowing the lawn at his cottage in the Northwoods, and making an annual pilgrimage to Phoenix for Brewers Spring Training.