On Monday, the Brewers announced they'd signed veteran Chris Capuano, a familiar face for the franchise, to a minor-league contract with an invitation to spring training.
The 37-year-old left-hander pitched for Milwaukee from 2003 through 2007, and then again in 2010 after injuries interrupted his career. He came to the Brewers from the Diamondbacks in the blockbuster Richie Sexson trade and made 120 starts in Milwaukee. Capuano won 18 games in 2005 and was an All-Star in 2006. He underwent Tommy John surgery for the second time in 2008, missed more than a year and had another brief stint with Milwaukee in 2010.
Since leaving the Brewers after that season, Capuano spent time with the Mets, Dodgers, Red Sox, Rockies and Yankees. Last year in New York, he went 0-4 with a 7.97 ERA in 22 games (four starts), pitching worse than even Matt Garza and Kyle Lohse. In 300 games overall (225 starts), Capuano is 76-91 with a 4.39 ERA.
The young, rebuilding Brewers are far from being a contender and don't have an open spot in their rotation (assuming health and Garza remaining with the team, both of which could certainly change). At this point in his career, if the finesse-style Capuano made the team, it would be as a versatile reliever who could make spot starts.
Still, he was a popular player in Milwaukee and is a well-known name, and the Brewers need to glean as much goodwill from fans as they can to try and keep interest and attendance from spiking in what's expected to be a difficult near future. The team also on Monday brought back Cesar Jimenez, who pitched for Milwaukee last year after being claimed off waivers, signing the lefty reliever to the same minor-league deal with a spring-training invite as Capuano.
So that's a start. Let's let the good (old) times keep rolling and leverage some more nostalgia. Here are 11 recent former Brewers, none of whom are currently on a team, that we'd like to see back in Milwaukee.
1. Nyjer Morgan

Instant fandemonium. The lunatic outfielder, with his absurd antics and gentleman alter ego Tony Plush, is eternally beloved in Milwaukee – both for his charismatically crazy personality and his series-clinching, walk-off base hit in the 2011 NLDS against Arizona, the Brewers' first playoff series win since 1982. Morgan/Plush, who had 14 hits in 41 at-bats for the Indians in 2014 but spent last season playing in Korea, would grab attention and headlines and inject big life into the clubhouse. AHHHH BEAST MODE!
2. George Kottaras
Don't do it for his .215 career batting average; do it for the ladies.
3. Yuniesky Betancourt
Look, if you're rebuilding, you need high draft picks. And if you need high draft picks, you've got to lose. And no one helps a team lose better (worse?) than Yuni B. He had a .212 batting average in 137 games the last time he played for Milwaukee, in 2013, which was also the last time he was in the major leagues. His combination of terrible plate discipline (strategy: swing at the first pitch every at bat, no matter what) and legendarily incompetent (or at least indifferent) fielding would make him an excellent candidate to once again be the unworthy first baseman of the Brewers. Plus, he's the ultimate fan scapegoat, which is something every scuffling organization needs.
4. Kameron Loe
Intimidation factor. The bald-headed 6-foot-8 righty was in Milwaukee from 2010 to 2012 and was arguably their best reliever that first season. He's only 34; give him another run.
5. Dave Bush
The consummate No. 5 starter. From 2006 through 2010, he averaged 29 starts, nine wins and a 4.93 ERA per season. Now that's mediocrity you can set your scorecard to! He hasn't been in the majors since 2013, when he pitched three innings for the Blue Jays, but odds are he could come right in and immediately give the Brewers 5 2/3 innings of seven-hit ball and allow just four runs.
6. Brian Shouse/Mitch Stetter/Ray King
Any of these left-handed specialists that pitched for the Brewers around 2007 would be a nice addition to the 2016 team. Both Shouse and King are in their 40s, played for half a dozen teams and haven't pitched professionally in about six years, so they could add veteran poise, wisdom and worldliness. Stetter had a 3.60 ERA with 20 holds in 2009.
7. Tony Gwynn Jr.
The son of one of the greatest hitters in baseball history, Gwynn Jr. was drafted by the Brewers and played serviceably for the club from 2006 to 2008. He could have name recognition among baseball fans who haven't followed the sport in a decade or two. And he batted just .152 in 80 games with the Phillies in 2014, so he is available for work.
8. Todd Coffey
The corpulent reliever, who spent part of last season playing in Mexico, is best known for his full-speed, maniac sprints from the bullpen to the mound. The Brewers introduced "Coffey Time," a scoreboard graphic that timed his runs, when he was with Milwaukee from 2008 to 2010. Let's bring that all back. If pitching doesn't work out, he could at least be a nightly Sausage Race contestant.
9. Vinny Rotino
The gritty, gutsy, grinding utility man who was born in Racine, went to UW-La Crosse and signed with the Brewers as an undrafted free agent was always a local favorite and hometown-hero storyline. He only had 24 at-bats in parts of three seasons (2006-08) with Milwaukee and hasn't been in the bigs since 2012. If nothing else, signing Rotino would be a huge boost for marketing efforts in Racine.
10. Derrick Turnbow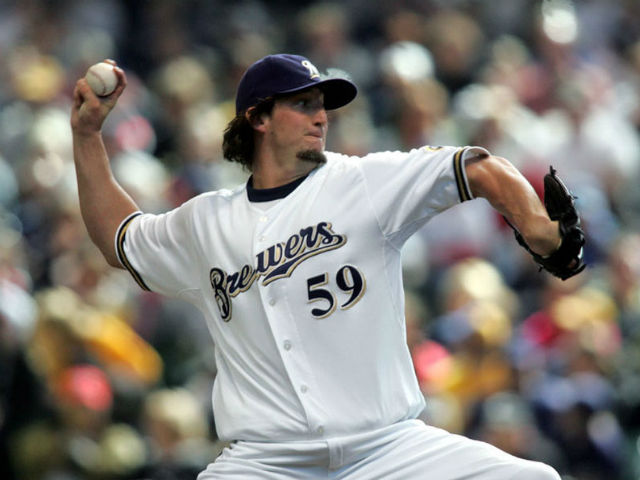 After losing a lot of velocity on his fastball, the Bow retired in 2010 and is now 38 years old. But there are surely ways to enhance his performance again, aren't there?
11. Gary Sheffield
Just kidding! Sheffield's the worst.
Got any other former Brewers you'd like to see the team bring back? Leave your suggestions in the comments! Pre-2011 Ryan Braun doesn't count.
Born in Milwaukee but a product of Shorewood High School (go 'Hounds!) and Northwestern University (go 'Cats!), Jimmy never knew the schoolboy bliss of cheering for a winning football, basketball or baseball team. So he ditched being a fan in order to cover sports professionally - occasionally objectively, always passionately. He's lived in Chicago, New York and Dallas, but now resides again in his beloved Brew City and is an ardent attacker of the notorious Milwaukee Inferiority Complex.
After interning at print publications like Birds and Blooms (official motto: "America's #1 backyard birding and gardening magazine!"), Sports Illustrated (unofficial motto: "Subscribe and save up to 90% off the cover price!") and The Dallas Morning News (a newspaper!), Jimmy worked for web outlets like CBSSports.com, where he was a Packers beat reporter, and FOX Sports Wisconsin, where he managed digital content. He's a proponent and frequent user of em dashes, parenthetical asides, descriptive appositives and, really, anything that makes his sentences longer and more needlessly complex.
Jimmy appreciates references to late '90s Brewers and Bucks players and is the curator of the unofficial John Jaha Hall of Fame. He also enjoys running, biking and soccer, but isn't too annoying about them. He writes about sports - both mainstream and unconventional - and non-sports, including history, music, food, art and even golf (just kidding!), and welcomes reader suggestions for off-the-beaten-path story ideas.