At one point during the seven-hour wintertime extravaganza that is Brewers On Deck, a floor below all the action in a crowded hallway inside the bowels of the downtown Wisconsin Center, there were four colossal racing sausages with foam heads grazing the ceiling, two women vividly dressed as clowns, Hank the Ballpark Pup attracting photos and adoring attention, a legion of attentive volunteers and a throng of reporters standing around waiting for the next member of the team to become available for interviews.
At the same moment, one of the Brewers' many new acquisitions, lanky outfielder Keon Broxton – wearing a jersey bearing his name – walked by virtually unnoticed, except for a red-shirted security worker who asked a fellow employee standing nearby, "Who is that?"
Which is probably a decent-enough metaphor for the 2016 Brewers season: a lot of sideshow, some players you don't really know and hopefully a bit of fun.
It's a fool's errand to try and draw broad conclusions or make real baseball predictions off Milwaukee's annual fan fest – other than that the well-oiled marketing and events staffs are in midseason form. The team will probably not be very good on the field in 2016, which most people already figured, and it will have to leverage the loyalty and goodwill of supporters built from a decade of contention in order to achieve any sort of bottom-line success.
But one clear, positive takeaway from Sunday's affair was that during this time of organizational change, especially in the first year of the much-discussed rebuild, the Brewers – from their players and manager to their front office and owner to their fans and media – are all on the same page.
They're not pretending they won't be bad; but no one's saying the process has to suck, either.
The numerous unfamiliar faces of young prospects like Broxton, the circuslike atmosphere with the mascots and gimmicks (the Brewlywed Game and Lip Sync Battle, in particular, were smash hits) and the amusing, no-pressure vibe surrounding Brewers On Deck gave it a minor-league game sort of feel. And while spring training is only a month away – pitchers and catchers report on Feb. 19! – everyone at the Wisconsin Center seemed to understand that it's really about the bigger picture.
With fresh, future-minded management at the field and front-office levels, a competitive owner approving the philosophical shift toward talent development, an off-field operations staff demonstrably capable of delivering creative results through adversity and a knowledgeable fan base that appears to appreciate the means to the end, there's reason for optimism and confidence – or at least intrigue – with these Brewers.
Manager Craig Counsell said Sunday that part of the excitement will be about the unproven players who emerge as "positive surprises" this season. General manager David Stearns was confident that Milwaukee's savvy fans recognize how "really successful organizations have been built." Owner Mark Attanasio spoke of "embracing the experience," and outfielder Ryan Braun said he was looking forward to "the special challenge."
Outspoken pitcher Matt Garza just came right and used the 'R' word.
It is indeed a rebuild, folks. That's for certain. But as the first public event of the new era showed, it can still be fun. Here are 11 things we learned from Brewers On Deck.
1. Patience is a virtue; owner cultivating it
Attanasio is ambitious. The Los Angeles investor bought the Brewers in 2004 and, as he noted, since that first offseason when they traded for Carlos Lee, his team always "went right at it" in trying to improve and make the playoffs. That's not the case this year, he said, "it's completely different."
But the passionate principal owner, who wrote a letter to fans a couple months ago encouraging endurance, is on board with the grander plan, the "new experience" – even if it's difficult for him.
"It's really hard to be patient. It is really hard to look at a rebuild," he told reporters. "I don't want to sugarcoat things for the fans. I think I was pretty direct in the letter I wrote in December. I've told (Stearns and assistant GM Matt Arnold) I'm patient. We've seen in the case of Chicago and Houston, it took five years. We're hopeful we can do it quicker, but it will be what it will be. I don't want them to feel any pressure.
"I want them to not look season to season and at the calendar, but I want them to look at what we need to do to get back to the playoffs. If that takes a few years, it takes a few years."
Attanasio said he's going to evaluate the Brewers' progress less quantitatively, such as with wins and losses, and more by qualitative measures – focusing on player development at the major- and minor-league levels. "That's not a cop-out. We would like to see some players surprise us this year, and find guys we can build our team around when we are next contending," he said. "We have to put a team on the field we can be proud of and we want to get back to playoff baseball in Milwaukee."
2. Fans cultivating it, too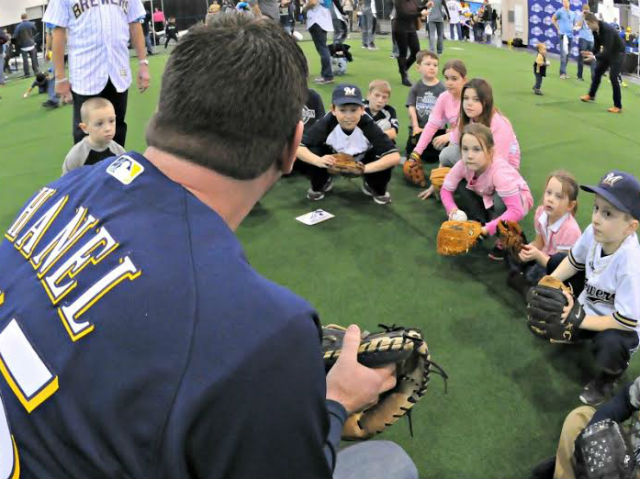 Brewers On Deck attracted 11,763 people, which was about the same number as last year's event, according to the Business Journal. Neither a dreary, rainy day nor the team's dank projections could apparently dampen fans' enthusiasm. They stood in line, young and old, waiting to take pictures with and get autographs from players, many of which were relatively unknown.
On one side of the convention hall, a woman darted behind a partition to look at the back of the signer's jersey to find out who he was ("It's Colin Walsh," she told her friends quizzically, before they all decided to get in the Rule 5 second baseman's line). On another side, a family of four, all wearing Milwaukee gear, eagerly approached team mascot Bernie Brewer. In between, teenagers battled reliever Michael Blazek on the FIFA video game and small children happily had a catch with longtime bullpen catcher Marcus Hanel in an open play area.
During a fan Q&A session with Attanasio and Stearns, many questions were about specific personnel decisions, rather than interrogations of the macro plan. And a late-20s man named Brian said between sips of Miller Lite that he was "fine with a rebuild, especially if it gets us Braun, Fielder – the kinds of guys we had, like, a decade ago."
Also, some fans, mainly female ones, seemed to be pretty into new infielder Garin Cecchini for some reason.
One of my new favorites @GarinCecchini #BrewersOnDeck pic.twitter.com/SiUaIGBrA0 — Melissa Sellers (@MelSell24) January 31, 2016
3. Stearns satisfied with offseason moves
Since officially taking over as GM in October, Stearns has made eight trades, four waiver claims, two Rule 5 draft selections, a big-league free agent deal and several minor-league moves. He also fired and replaced five of the Brewers' seven coaches and restructured the front office. It's been a busy offseason for the 30-year-old, who the night before the On Deck event traded shortstop Jean Segura and young pitcher Tyler Wagner to the Diamondbacks for three players.
"At this point, we're comfortable with where we are from an offseason perspective," Stearns said Sunday. "Player transactions never end. We're always talking. We're always trying to improve the team and the organization. We may be able to pull something off the next three weeks or we may not. But we're happy with how the offseason has gone so far."
While the organization might not know how good its prospects are for another few years – or even more; in his wheeling-and-dealing, Stearns has acquired a few teenagers – he's confident the farm system is stronger than it was before his hire.
Attanasio said he's stressed to Stearns that "you don't have to make a trade every few months," but he's been very pleased with the active behind-the-scenes work, both externally and internally.
"David has completely revamped our player development," Attanasio said. "We have made huge strides in how we communicate with our minor leaguers. That might not be transparent to any of us."
Braun, who came up in 2007 and was part of a prominent bunch of Milwaukee prospects then, agreed. "I think we have probably more potential, young impact players (now) than we've had in a long time – probably since I've been part of the organization," he said. "If you look at it from that perspective, it's exciting."
4. Braun's back behind schedule but feels good
Braun underwent lower-back surgery in October to repair a herniated disk. On Sunday he said he was a couple weeks behind his usual offseason schedule but still encouraged by his progress and recovery.
"I just got cleared to do rotational exercises about two weeks ago, so just started swinging a bat literally this last week, but so far so good," he said. "I won't be 100 percent at the start of spring training, no. But I feel pretty good."
The right fielder, who hit .285 with 25 home runs and 84 RBI in 2015, said he didn't foresee any reason that he wouldn't be ready by Opening Day, which is April 4 at home against the Giants. But, he cautioned, "until I get out there and start doing things at full speed, it's hard to say."
Braun missed 22 games last year and 27 in 2014. In 2013, when he was suspended for the remainder of the season in July for violating MLB's drug policy, he missed 101 games. But his WAR of 3.8 last season shows that, when healthy, he remains a valuable outfielder in the league.
5. MVP becoming leader?
Not one of the more vocal or accessible players on the Brewers, the even-keeled Braun, even when he was an MVP, has never been considered one of their leaders. He isn't usually one to speak publicly on issues inside the clubhouse. The nine-year veteran acknowledged that to some extent on Sunday, saying he's always been an actions-speak-louder-than-words type.
But at 32, older than Stearns ("strange," he said) and nearly every Milwaukee player, Braun suggested he's now embracing more of a leadership role. When he was asked about the comments of catcher Jonathan Lucroy, who's widely regarded as the team's emotional leader but said recently he'd welcome a trade to a contender, Braun was unusually frank.
"I made it clear to him that's not how we are going to handle the situation," Braun said. "He means well. You guys know 'Luc.' He's a really good guy. He's coming from a good place. But sometimes comments are taken out of context, sometimes guys get frustrated, sometimes guys act emotionally. He knows that's just now how we are going to handle it."
Later, on stage and relatively at east in front of fans during Brewers Jeopardy, Braun overcame a faulty buzzer and an ignorance of pop culture to take a huge lead over prospect Brett Phillips and Hall of Famer Rollie Fingers, before ultimately losing it all in the final round.
Rollie Fingers and @Brett_Phillips8 tied in #Brewers Jeopardy! #BrewersOnDeck pic.twitter.com/ydzqFucfJu — Milwaukee Brewers (@Brewers) January 31, 2016
6. Phillips is fun
Speaking of Brett Phillips, the 21-year-old outfielder was the unofficial champion of Brewers On Deck. Besides co-winning Jeopardy with Fingers (who was gifted a couple hundred points just to be able to compete), the charismatic Phillips was one of the more popular photo, autograph and interview requests.
Phillips, who was acquired from the Astros in the Carlos Gomez trade, was recently named one of MLB's top 10 outfield prospects. Speaking to a few reporters on Sunday, he said his strong throwing arm – and the fact that he could "run a little bit" – was what initially got him drafted, but his work ethic over the past four years has helped him mature and get better.
"When you go to a new team you want to show them what they traded for," Phillips said of being with the Brewers in spring training. "That's going to be an opportunity for me to go out there and show them the type of player and person that I am."
He made sure to give Bernie Brewer a hug, called the event "awesome" and said he wanted fans to be able to put his face to his name. "It's been great; everyone's been so nice. I'm trying to meet as many people as I can," he said.
Also, he's still trying to spell this tricky word.
.@Brett_Phillips8 answered many "miscellaneous" ?'s from fans @ #BrewersOnDeck: https://t.co/0y7K0t9gPn #AskMaverickhttps://t.co/RqA88Lfpcf — Milwaukee Brewers (@Brewers) February 1, 2016
7. Position battle: Center field
When the season begins, the Brewers will likely have four new position players and one new starter in the rotation. One spot that is particularly up for grabs is center field, where as many as eight players could be competing.
"I think center field is probably the place where we are going to have to make the most evaluations in the spring," Counsell said.
Domingo Santana, the other prize from Houston in the Gomez trade, started 21 games in center last year, even though it's not his natural position. While Phillips will almost surely begin the year in Triple-A, he'll get a look in the spring, too. And then there's Broxton, Rymer Liriano, Ramon Flores, Kirk Nieuwenhuis, Eric Young Jr. and Michael Reed.
"At some point you have to decide how you want to make up the roster and what skills you want on the roster and how guys complement each other," Counsell said. "That's going to be important."
The 23-year-old Santana brings power, with six homers in 38 games in Milwaukee in 2015. Phillips and Broxton bring defense and speed. Nieuwenhuis and Reed have major-league experience at the position.
Counsell said Braun and Khris Davis have right and left field "locked down," respectively. He added that Santana would be in the conversation in center. "We're trying to use his talents to win baseball games," Counsell said. "It's an option for Domingo. That's an option we'll consider."
8. Chris Carter: a monster
Fans may not have been particularly well-acquainted with the free-agent first baseman Milwaukee signed to a one-year, $2.5 million contract in early January, except maybe to know he's a slugger.
Chris Carter hit .199 with 24 home runs and 64 RBIs in 129 games for the Astros last year. The 29-year-old right-hander socked 37 homers in 2014, which was the second-most in the majors. Over three seasons in Houston, he had 90 homers, or one every 15.6 at bats; he also had 545 strikeouts, or one every 2.6 at bats.
So, lots of moonshots, lots of whiffs. What else? Well, Phillips played with Carter in the Astros' organization for a few years, and all he could do was ardently reiterate the 6-foot-4, 250-pounder's prodigious power.
"He's an absolute monster. And by monster, what I mean is he's got the most pop I've ever seen," Phillips said. "You see the guy take BP and it's majestic. You're going to see a lot of home runs from him, and he's a great guy. He's big, he kind of looks scary, but don't let that fool you, he's very nice."
9. Garza's 2015 exit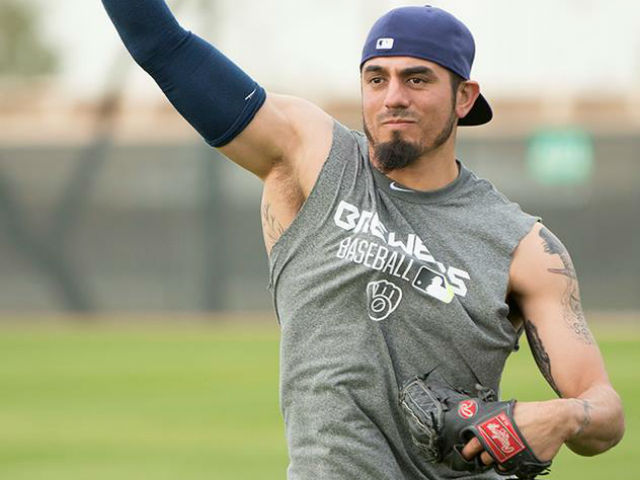 During a lengthy interview with media in which he was open and sometimes contradictory, Garza explained the circumstances of why he left the team last season, his feelings toward the organization and new management and his new mantra of pitching only for himself.
The veteran starter was 6-14 with a 5.63 ERA in the worst year of his career in 2015. Late in the season, the Brewers removed him from the rotation and asked him to pitch out of the bullpen, a role Garza rejected and excoriated, which led to him taking a leave from the team.
At the Wisconsin Center, an upbeat and candid Garza said the demotion wasn't the reason he left Milwaukee. Rather, his wife, who was pregnant at the time, had been bedridden for eight weeks before that and wouldn't give birth to twins for another six weeks afterward.
"My wife needed me at home," he said. "Whatever was written, whatever was said, it is what it is. People can take whatever they want, like, I left the team. Whatever. But my family comes first. Always has and always will. If I have to go home, I have to go home."
When asked if he regretted his decision to leave the Brewers, Garza replied pointedly, "If someone told you they were taking your job away, would you just accept it or fight it?" But he then followed that by saying, "That wasn't why I went home. I would have stuck around, but they told me I wasn't starting, so it was like, I can go home and help my wife."
Garza said he'd had a discussion with Stearns, who thought he "had a grudge or ill will toward the organization," which the veteran pitcher dismissed. Garza insisted it's in the past and over with; "if I'm pissed off about it, it's my own fault," he said.
10. "I'm going to pitch for me"
When the conversation Sunday shifted to this season, Garza had some more interesting things to say. After declaring that he hadn't properly prepared, physically, before last year ("I'm 32; I was training like I was 25"), he said he revamped his entire offseason regimen, hiring another trainer, a Pilates instructor and "killing myself seven hours a day for the last four months."
Why all the extra effort?
"To get back to being me. I've been trying to please people to stay places and it's just the point in my career where I'm over it," he said. "As long as I keep playing, that's all I'm worried about now. I'm going to pitch for me. I haven't done that in my whole career, but I think it's time I pitch for me. I hate to say it, but I deserve it. That's what I mean by pitching selfishly. I'm pitching to be me."
Garza also noted he'd been through a rebuild once before with the Cubs and didn't approach it the right way then.
"Last time when I was in Chicago, I wanted out," he said. "This time I want to stay. I want to see it through. I want to be here when all the fruits come bearing. I'm going to do what I've got to do to stay here. That's be myself. That's be the old Matt Garza. Not the one that was an anomaly last year." Got it.
11. Smith and Jeffress do Adele
Let's end on a good note. Near the end of Brewers On Deck, relievers Will Smith and Jeremy Jeffress faced off in an epic Lip Sync Battle (kind of like what the Bucks have done). How did it go? Well, let's just let this video take us home.
Born in Milwaukee but a product of Shorewood High School (go 'Hounds!) and Northwestern University (go 'Cats!), Jimmy never knew the schoolboy bliss of cheering for a winning football, basketball or baseball team. So he ditched being a fan in order to cover sports professionally - occasionally objectively, always passionately. He's lived in Chicago, New York and Dallas, but now resides again in his beloved Brew City and is an ardent attacker of the notorious Milwaukee Inferiority Complex.
After interning at print publications like Birds and Blooms (official motto: "America's #1 backyard birding and gardening magazine!"), Sports Illustrated (unofficial motto: "Subscribe and save up to 90% off the cover price!") and The Dallas Morning News (a newspaper!), Jimmy worked for web outlets like CBSSports.com, where he was a Packers beat reporter, and FOX Sports Wisconsin, where he managed digital content. He's a proponent and frequent user of em dashes, parenthetical asides, descriptive appositives and, really, anything that makes his sentences longer and more needlessly complex.
Jimmy appreciates references to late '90s Brewers and Bucks players and is the curator of the unofficial John Jaha Hall of Fame. He also enjoys running, biking and soccer, but isn't too annoying about them. He writes about sports - both mainstream and unconventional - and non-sports, including history, music, food, art and even golf (just kidding!), and welcomes reader suggestions for off-the-beaten-path story ideas.