By now, you know Milwaukee lost its season opener to San Francisco, 13-3, on a frigid Monday afternoon at Miller Park. Like the weather outside, it wasn't pretty.
There was plenty of the expected – brats, beers, a Brewers beat-down – and some things quite unexpected (snow flurries in April; Scooter hitting a lefty). But Opening Day of the baseball season, especially one commencing an unabashed rebuild of the team, is about much more than just the game – and that's reassuring because the game was not excellent.
Opening Day is all about the sensory experience of being at the ballpark – the sights and sounds, smells and tastes. It's about the sentimentality of beholding America's proud pastime, witnessing the spectacle of competitive sport. Or, in Milwaukee on Monday, it was about the sensation of not being able to feel your fingers but resisting the urge to put down your beer and the splendor of watching majestic home runs soar over the outfield wall over and over and over again in the eighth inning at the hands of overmatched reliever Ariel Pena.
Baseball is back, Brewers fans, and Jonathan Lucroy said the team is even going to "win some games" in 2016. Well, they lost the first one, but it was still a special occasion for everyone in attendance, from club officials to dashing meat mascots to regular fans.
Here are six highlights from the Opening Day experience, the silver linings in the dark cloud of a dismal game.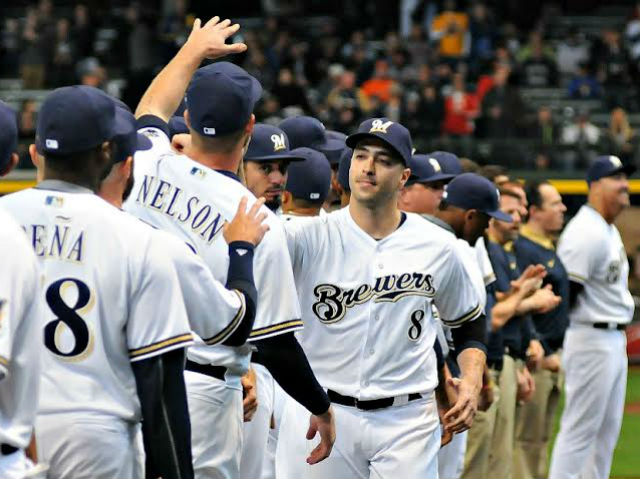 1. All on the same page
As they've been for a few months now, Brewers leadership was unitedly on-message throughout its communications about the team's rebuild. Before the game, energetic owner Mark Attanasio said "it's very exciting to be at the ground floor of something" and reiterated that he was concerned more with qualitative progress than quantitative measures this year.
"We've never had a season like this, where we're going to be focused on players and player development," he said with a grin. "We all know we're at the beginning of something here, and we'll all be able to look back at this and say, 'I remember when,' and that's actually fun." When asked if this was an important juncture of his ownership tenure, Attanasio said it was, adding that, ultimately, the "goal of getting a World Series is critical."
Then there was general manager David Stearns, more subdued but also smiling. While he said the Brewers were not setting a timeline on when they'd be ready to compete again – "because you can both oversell or undersell your current group and your future group" – he expressed reserved self-confidence that the rebuilding plan was the right one to get them back to the playoffs. "We're excited about this group of players we have in this clubhouse right now," Stearns said. "We're also excited about the next wave of talent and frankly the talent that's coming behind that, that will be able in future years to complement this group."
Manager Craig Counsell, when asked about specific goals for his squad to have a successful season, was on board and issuing the company lines, as well. "We're building a foundation; where that leads us this year, wins and losses, I'm not sure," he said. "We're going to try and be a team that improves every day, that stays together every day, stays connected every day … and if we do that, I think it's going to lead to wins."
2. It was (supposedly) a sellout
Though parts of the upper-deck corners looked to be sparse, the stands were mostly occupied (at least by the third inning, and until about the eighth), as the team announced a sellout crowd of 44,318, which would mean Miller Park was actually 105.8 percent filled, based on its regular-season capacity. But even if a few thousand fans seemed perhaps to have never quite made it into the stadium (or to move in very slowly) to substantiate that number, it was still a good showing.
The pregame scene of thousands of convivial and cornhole-playing tailgaters, their grills and their breath clouding the parking lots on a 35-degree afternoon, was as picturesque as ever. That the Brewers could claim a sellout on the cold Opening Day of a season predicted to be equally gloomy was impressive and important for the organization.
While the park was quiet for much of the day, fans made their voices heard during pregame introductions (cheering loudly for Lucroy, Ryan Braun and Counsell) and in saluting veteran reliever Chris Capuano, who pitched for the Brewers from 2004-10 and threw a perfect frame in the sixth inning.
3. Scooter smacked a southpaw
Second baseman Scooter Gennett entered Monday's game with just 14 hits in 113 career at-bats against left-handed pitchers, which was good for a .124 batting average that often had him sitting on the bench in such situations. Last year, he was 4 for 35 (.114 average) against southpaws.
But facing Giants ace Madison Bumgarner, one of the best lefty pitchers in baseball, Gennett validated Counsell's decision to give him the start. In his first at-bat of 2016, in the game's second inning, Gennett sent a Bumgarner fastball rocketing 406 feet over the right-field fence. It was Gennett's first career home run off a left-hander and tied the game at 2-2.
"I know I can hit lefties. I know I can hit righties," Gennett said after the game. "Just going out there and basically doing what I can and that's putting the bat on the ball and swinging at good pitches. That's what I can control."
The long ball continued a strong spring for the 25-year-old, who batted .424 with a team-high-tying four homers in 33 at-bats in Arizona.
4. Contributions from the new guys
There were five players in the Brewers' lineup that weren't on the team on Opening Day last year, including four that are brand new this season. Three of the five (shortstop Jonathan Villar, right fielder Domingo Santana and center fielder Keon Broxton) are 25 years old or younger and considered potential parts of Milwaukee's long-term plans.
On Monday, all five, including slugging first baseman Chris Carter and veteran third baseman Aaron Hill, contributed something positive. Batting leadoff, Santana singled in two of his first three at-bats, showing good contact ability and scoring the Brewers' initial run in the first inning. In the two-hole, Villar blasted a third-inning solo home run off Bumgarner. Hitting fifth, Carter was 0 for 2 but he drew a pair of walks, including one for a bases-loaded RBI, and did not strike out. In the No. 6 spot, Hill had a single and helped start Milwaukee's only double play.
Batting ninth, Broxton, who earned one of the last roster spots based largely on his physical tools and raw ability and whom we predicted would be an Opening Day starter, went hitless in two at-bats before being replaced in the sixth inning by Ramon Flores. Still, he showed impressive speed and defensive range tracking balls down in the outfield.
5. A nod to Neugey
Unsurprisingly, Braun jerseys were the most commonly seen in Miller Park, followed by Lucroy and the usual array of Robin Younts, Paul Molitors and various personalized shirts.
But it was a rare throwback that caught my eye. Major points to the guy in the 200-level behind home plate who was wearing a Nick Neugebauer uniform, honoring the former top prospect that pitched unremarkably for the Brewers from 2001-02 before a shoulder injury cut his career short.
6. Holey Moley
In the bottom of the eighth inning, after Pena allowed five runs on three Giants homers, I slipped out of the press box and down to the first-level concourse concessions in Section 111 to get my food fix.
After the Brewers and Holey Moley introduced the "Baby Spice," a new custard-stuffed sugar doughnut sandwich with salted caramel and chocolate ganache, at the Miller Park media open house event a couple weeks ago, I was immediately and forever hooked.
I ate the thing quickly and shamefully alone. Nevertheless, every person in Milwaukee needs to make it to a Brewers game at least once this season solely to indulge in a Baby Spice or one of Holey Moley's other custard-stuffed doughnuts.
Born in Milwaukee but a product of Shorewood High School (go 'Hounds!) and Northwestern University (go 'Cats!), Jimmy never knew the schoolboy bliss of cheering for a winning football, basketball or baseball team. So he ditched being a fan in order to cover sports professionally - occasionally objectively, always passionately. He's lived in Chicago, New York and Dallas, but now resides again in his beloved Brew City and is an ardent attacker of the notorious Milwaukee Inferiority Complex.
After interning at print publications like Birds and Blooms (official motto: "America's #1 backyard birding and gardening magazine!"), Sports Illustrated (unofficial motto: "Subscribe and save up to 90% off the cover price!") and The Dallas Morning News (a newspaper!), Jimmy worked for web outlets like CBSSports.com, where he was a Packers beat reporter, and FOX Sports Wisconsin, where he managed digital content. He's a proponent and frequent user of em dashes, parenthetical asides, descriptive appositives and, really, anything that makes his sentences longer and more needlessly complex.
Jimmy appreciates references to late '90s Brewers and Bucks players and is the curator of the unofficial John Jaha Hall of Fame. He also enjoys running, biking and soccer, but isn't too annoying about them. He writes about sports - both mainstream and unconventional - and non-sports, including history, music, food, art and even golf (just kidding!), and welcomes reader suggestions for off-the-beaten-path story ideas.